I AM A PIZZA SNOB!
Make your own gourmet pizza at home for a lot cheaper than restaurant pizza!  This Grilled Bruschetta Pizza has a thin crispy crust.  My favorite!  It's also topped with a tomato salad.  This is seriously the BEST pizza I've ever made!
Create your own Recipe Box and save your favorite Lady Behind The Curtain recipes.  Make a Meal Plan with your favorite recipes and ZipList will automatically add the ingredients to a Shopping List.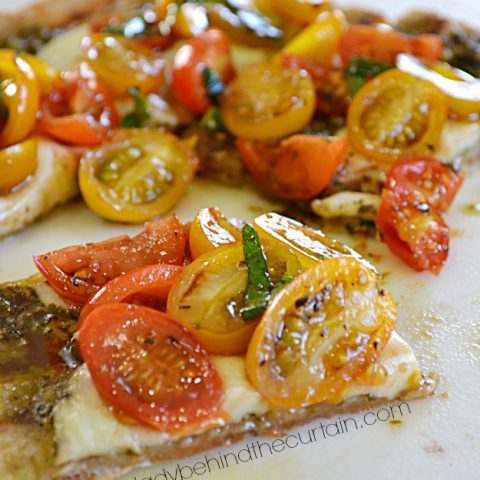 Grilled Bruschetta Pizza
Ingredients
For the Tomato Salad:
1 pint Heirloom Medley Cherry tomatoes, sliced in half
1/8 cup balsamic vinegar
1/8 cup olive oil
1/2 teaspoon salt
1/4 teaspoon black pepper
4 large fresh basil leaves, sliced
For the Pizza:
7 to 9 ounce whole wheat pizza dough (from your local pizzeria)
olive oil
pinch of salt and black pepper
8 ounce fresh mozzarella, sliced
4 ounce store bought pesto
Instructions
For the Tomato Salad:
In a small bowl combine the tomatoes, vinegar, oil, salt, pepper, and basil.
Toss to coat and set aside.
For the Pizza:
Heat grill to a high heat.
Drizzle some olive oil on the back of a 10 x 15-inch baking pan.
Stretch pizza dough on the back of the pan as thin as you can. Preferably until it almost reached the sides.
Evenly coat the dough with olive oil.
Sprinkle salt and pepper on dough.
Keep dough on pan, take to the grill and carefully flip the seasoned side onto the grill.
NOTE: If the pizza falls on the grill folded. Use tongs to adjust it flat.
Grill 5 to 7 minutes, turn over, spread on the pesto and sliced mozzarella cheese.
Cook with lid down until cheese is melted and the dough is cooked through.
Once pizza is cooked, with a slotted spoon add tomato salad.
Slice and enjoy

MORE PIZZA RECIPES
1. LIGHT VEGETABLE PIZZA  2. HAWAIIAN BUBBLE PIZZA  3. DEEP DISH TACO PIZZA  4. BARBECUE CHICKEN PIZZA SLAB PIE