Pear Crostada with Almond Cream
Lady Behind the Curtain
Posted on
by
Sheryl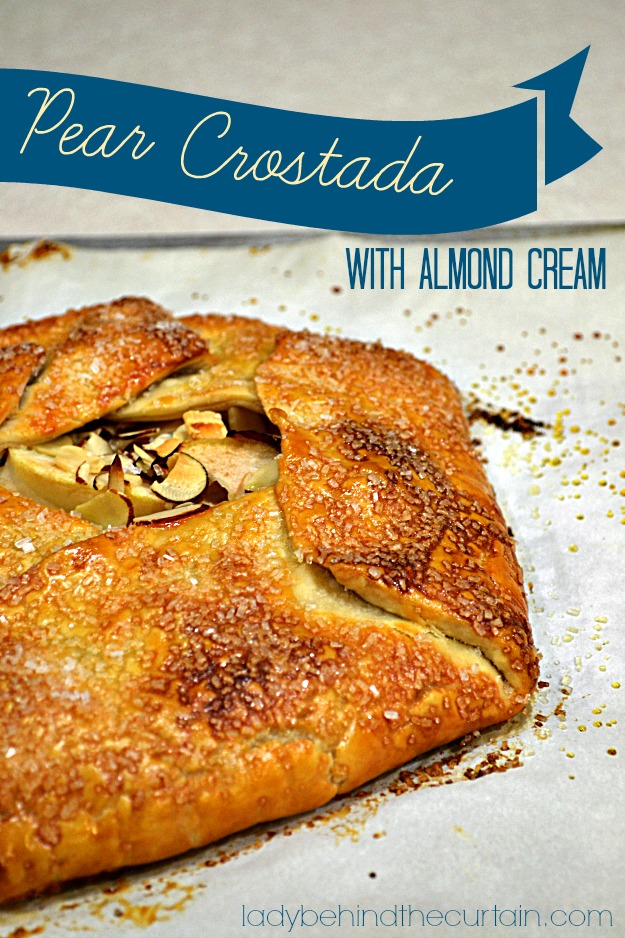 I love how easy this pear crostada with almond cream is to make.
Do you know what a crostada is?  A crostada is an Italian baked tart and a form of pie.  What makes it easy is the free form crust.  This pear crostada with almond cream is even easier because it's made with store bought Pillsbury pie crust dough.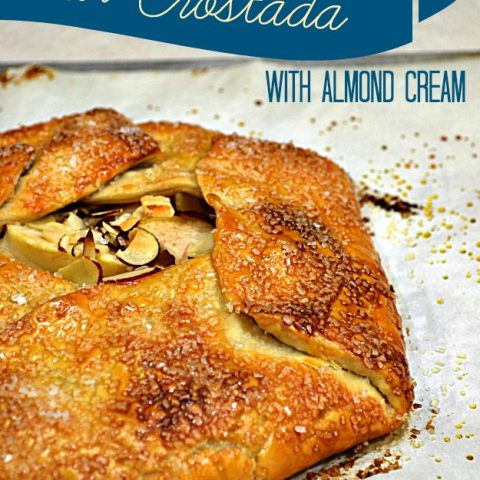 Pear Crostada with Almond Cream
Total Time:
1 hour
20 minutes
Ingredients
For the Almond Cream:
4 tablespoons unsalted butter, softened
1 large egg yolk
1/2 cup almond flour (see note below)
1/4 cup plus 2 tablespoons granulated sugar
2 teaspoons all-purpose flour
1/4 teaspoon lemon zest
1/4 teaspoon almond extract
For the Pear Crostada:
1 package Pillsbury refrigerated pie crusts (2 sheets)
1 large egg, lightly beaten
2 Bartlett pears, peeled, cored and sliced (about 2 cups)
1/2 teaspoon lemon zest
1 teaspoon fresh lemon juice
1 cup almond cream
2 tablespoons sliced almonds
1 tablespoon coarse sugar
Instructions
For the Almond Cream:
In a large bowl on medium high, beat butter, egg, almond flour, sugar, flour, zest and extract until pale in color and sell combined. (approx. 2 minutes)
Refrigerate 3 hours before adding to pie crust.
For the Pear Crostada:
Preheat oven to 400 degrees.
Line a baking sheet with parchment paper.
Set aside.
On a lightly floured surface, place 1 pie crust.
Brush with egg; top with remaining pie crust.
Roll into a 14-inch circle, transfer to prepared pan.
In a medium bowl combine the pears, lemon zest and lemon juice.
Spread chilled almond cream in center of pie crust, leaving a 3-inch border.
Spoon pear mixture over cream layer; top with almonds.
Gently fold edges in a pleating pattern over filling.
Dough does not completely cover filling.
Brush edges of dough with egg and sprinkle with coarse sugar.
Bake 40 to 50 minutes or until center is set and golden brown.
Let cool to room temperature.
Notes
ALMOND FLOUR: To make a 1/2 cup of almond flour, pulse 1/2 cup blanched almonds in a food processor until finely ground but not creamy, 30 seconds to 1 minutes.
This recipe was adapted from the Southern Christmas 2013 issue.
This recipe is from Lady Behind The Curtain