Buttermilk Pancakes with Blueberry Sauce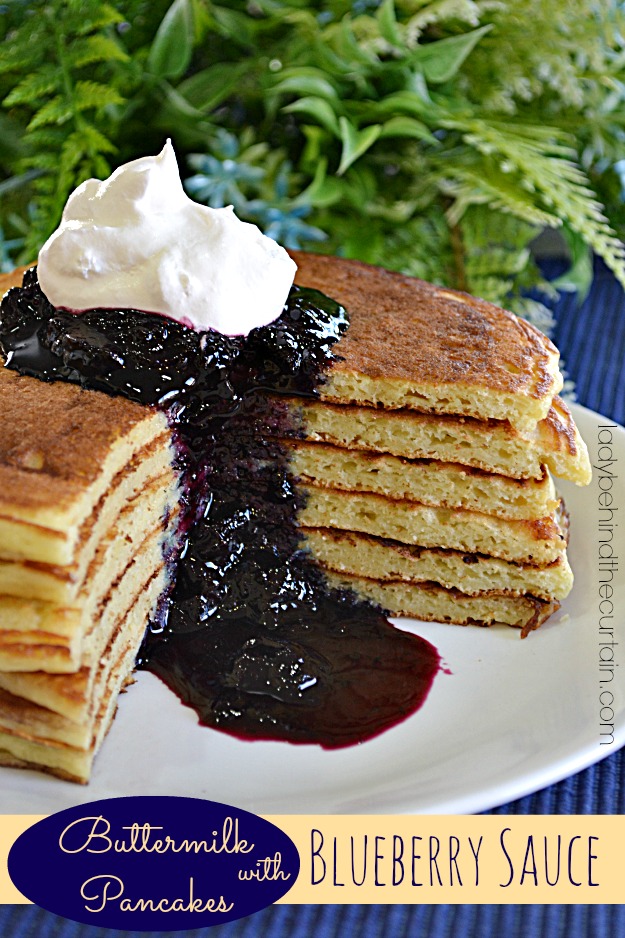 MAKE BREAKFAST SPECIAL THIS WEEKEND!
The buttermilk pancakes are light a fluffy and the blueberry sauce adds just the right amount of sweetness.  Top this fluffy buttermilk stack with blueberry sauce and whip cream.  NO syrup needed here.  🙂
NOTE:  you can make the sauce the night before but wait until you're ready to cook the pancakes to make the batter.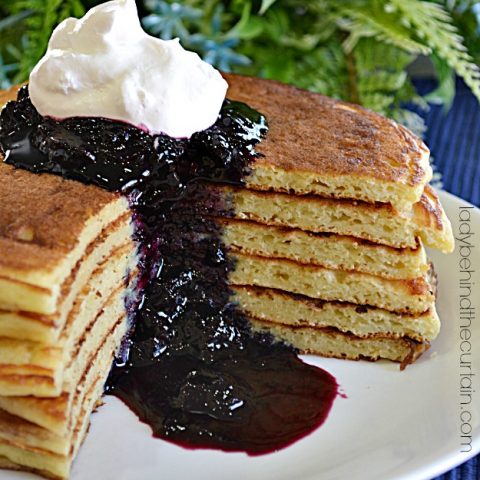 Buttermilk Pancakes with Blueberry Sauce
Ingredients
For the Buttermilk Pancakes:
3 cups all-purpose flour
3 tablespoon granulated sugar
3 teaspoons baking powder
1 1/2 teaspoons baking soda
3/4 teaspoon salt
3 cups buttermilk
1/2 cup milk
3 eggs
1/3 cup butter, melted
For the Blueberry Sauce:
4 1/2 cups fresh or frozen blueberries
1 cup granulated sugar
Instructions
For the Buttermilk Pancakes:
In a large bowl combine the flour, sugar, baking powder, baking soda and salt.
In a medium bowl mix together the buttermilk, milk eggs and butter.
Pour into the flour mixture and combine.
Lightly oil or butter a griddle or frying pan.
Heat on medium high or when water is dropped on the hot pan the water sizzles.
Measure 1/2 cup of batter per pancake.
Pour batter onto hot griddle or pan.
Cook until the edges start to cook and bubbles appear.
Turn over and cook until brown.
While pancakes are cooking preheat oven of 200 degrees.
Store cooked pancakes in a pie plate, cover with foil and put in heated oven.
For the Blueberry Sauce:
To a medium saucepan add the blueberries and sugar.
Cook on medium low for 10 minutes.
Smash the berries with a potato masher.
Turn heat up to medium and bring to a rapid boil.
Once berries start to boil across the whole surface, turn heat back down to medium low and simmer 15 minutes.
Stir occasionally.
Pour into a jar and store in the refrigerator.
Makes a little over one pint.