Blueberry Cheesecake Ice Cream
Cheesecake and ice cream two of my favorite desserts!  Now I can have BOTH!  I love this Blueberry Cheesecake Ice Cream because of two things one, you make it with PHILADELPHIA BLUEBERRY CREAM CHEESE and two, you don't need an ice cream maker!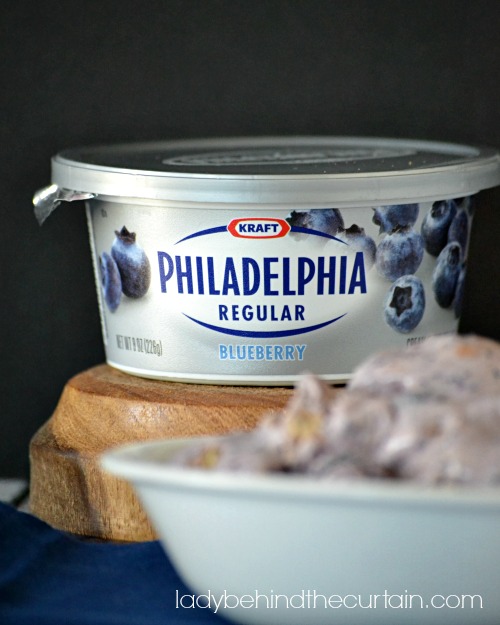 Bring a little happiness to the table by serving ice cream!  You can either make ice cream pops or serve it in a bowl.  Just what you would expect from an ice cream.  Creamy, full of blueberry flavor, fresh blueberries and chunks of graham crackers because, what would cheesecake be without the graham cracker crust.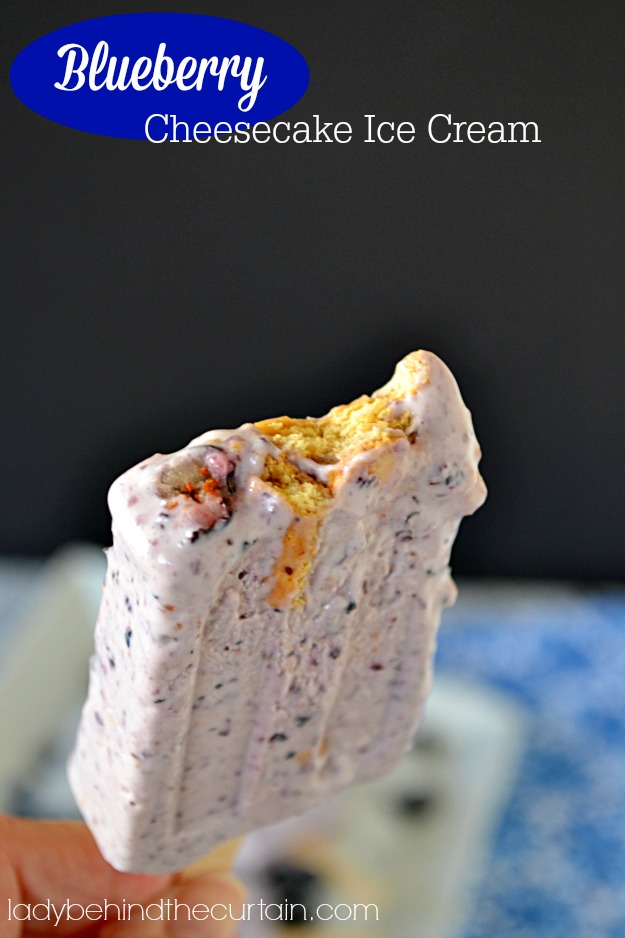 Okay, so now you know you can make a delicious Blueberry Cheesecake Ice Cream using  PHILADELPHIA Cream Cheese.  Now you need to know where to get it.  Walmart!  That's right,  I was VERY pleased to see this delicious cream cheese at Walmart.
Create your own Recipe Box and save your favorite Lady Behind The Curtain recipes.  Make a Meal Plan with your favorite recipes and ZipList will automatically add the ingredients to a Shopping List.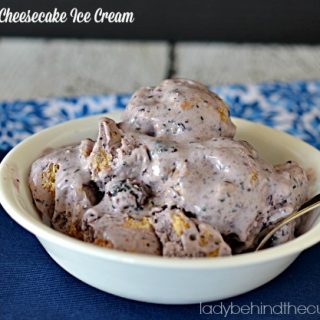 Philadelphia Cream Cheese – Blueberry Cheesecake Ice Cream
Yield:
Makes 13 popsicles or about 3 Cups
Prep Time:
8 hours
30 minutes
The perfect after school treat!
Ingredients
2 1/2 cups fresh blueberries, divided
1 (8 ounce) tub PHILADELPHIA Blueberry Cream Cheese Spread
3 ounces PHILADELPHIA cream cheese
1 (14 ounce) sweetened condensed milk
1/3 cup heavy cream
3 graham crackers, chopped
Instructions
Place 1 1/2 cups blueberries in a blender and blend until smooth.
In a mixing bowl beat both kinds of cream cheese until creamy.
Add the milk, heavy cream and blueberry puree.
Mix until combined.
Fold in graham crackers and the remaining 1 cup fresh whole blueberries.
Pour into ice cream Popsicle molds or a 9x5-inch metal baking pan.
Freeze 8 hours.