What is a torte?  A torte is a multilayer cake that is filled with whipped cream, butter cream , mousse, jam, or fruit.  This impressive Caramel Pumpkin Torte has four layers of cake and four layers of pumpkin whipped cream.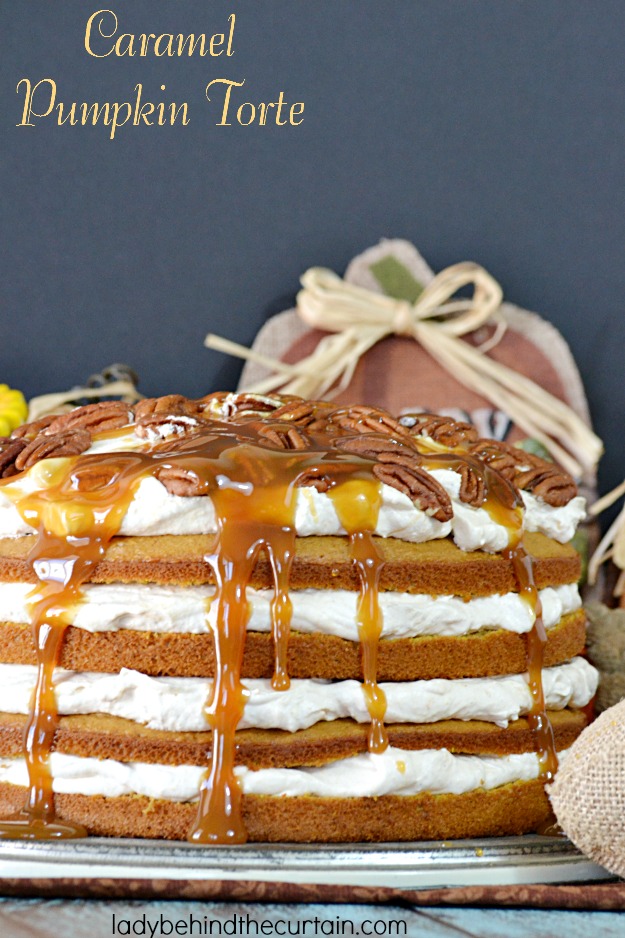 The good news is…it may look difficult to make but I promise you ANYONE can make it.  Starting with a spice cake mix!  NOTE:  If you live in a country where you can't find a spice cake mix, you can use a yellow cake mix and add cinnamon, ginger, nutmeg, cloves or allspice and make your own.  The most important piece of advice I can give to you regarding this beautiful Caramel Pumpkin Torte is patience.  Yes, patience, meaning take your time cutting the cake into four layers and take your time adding the whipped filling.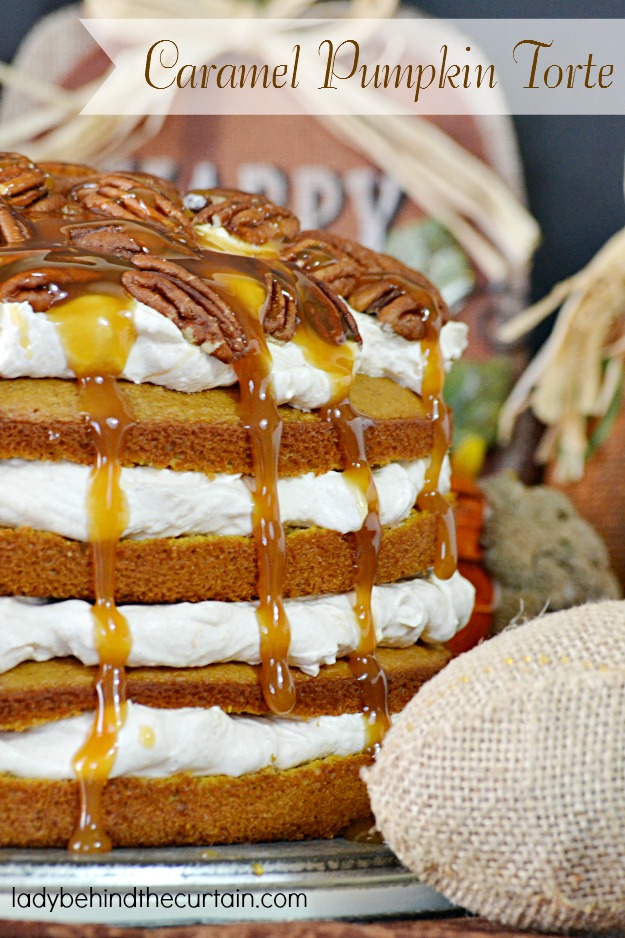 This is the MOST IMPORTANT tip I can share with you….When cutting a layer of cake into two layers use a large serrated knife, only insert it to the center of the cake and turn your cake to cut. Don't make the mistake of thinking you can simply cut across and it will be straight.  Sure, it will be straight on your side but the back side WILL NOT be straight.  I SPEAK FROM EXPERIENCE WHEN I SAY IT WON'T.  🙂  Once that part is over you can relax and create!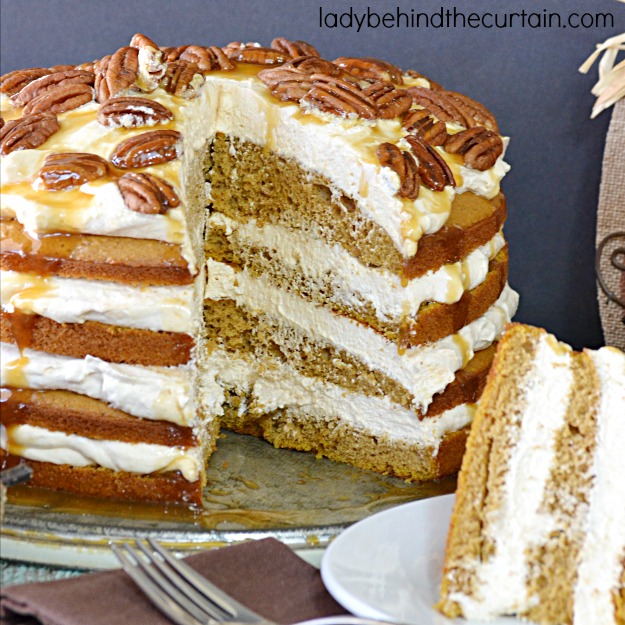 LAYER ONE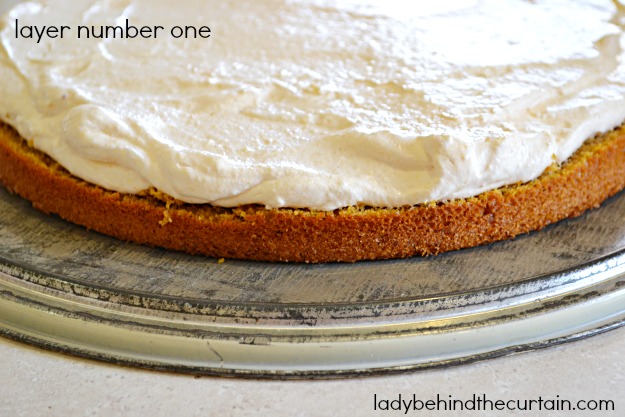 LAYER TWO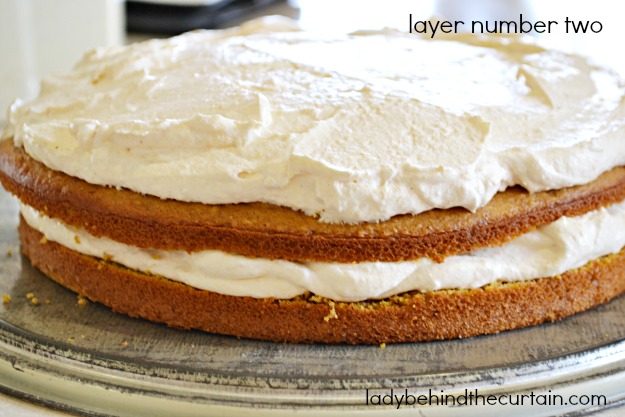 LAYER THREE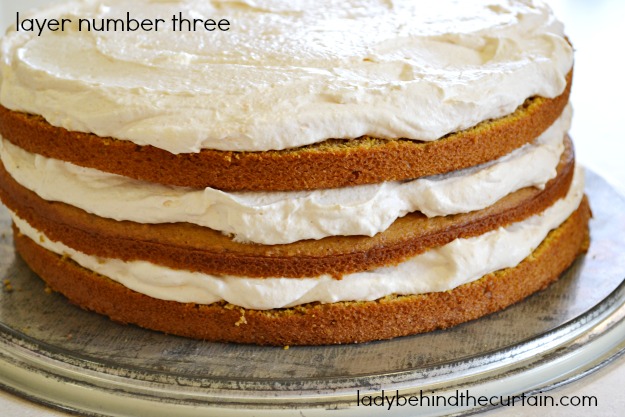 FINISHED!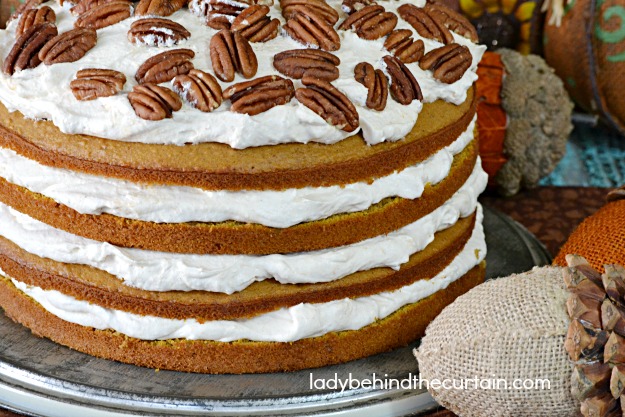 DON'T FORGET TO PIN THIS ON YOUR FALL BOARDS!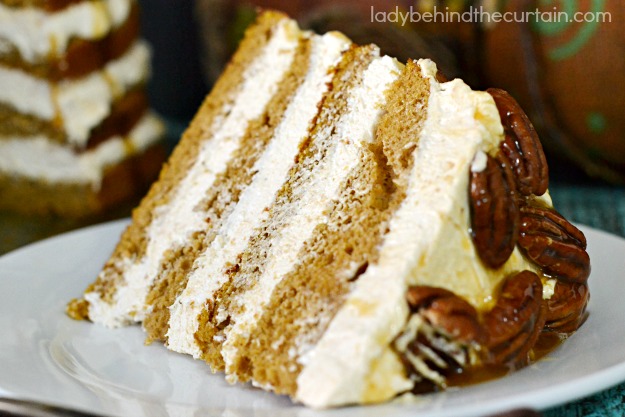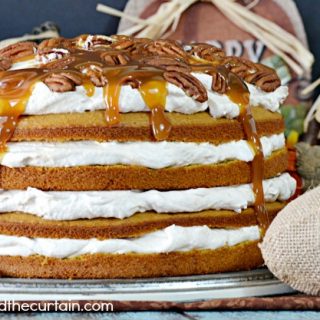 Caramel Pumpkin Torte
Ingredients
For the Cake:
1 spice cake mix
1 (15 ounce) solid-pack pumpkin, divided
1/2 cup milk
4 large eggs
1/3 cup vegetable oil
1 1/2 teaspoon spice blend below ,divided
For the Whipped Filling:
1 (8ounce) cream cheese, softened
1 cup confectioners' sugar
1 (16 ounce) container frozen whipped topping, thawed
1/4 cup caramel ice cream topping
1/2 cup pecan halves
For the Spice Blend:
1 teaspoon ground cinnamon
1/2 teaspoon ground ginger
1/2 teaspoon ground nutmeg
Instructions
For the Cake:
Preheat oven to 350 degrees.
Line the bottom of TWO pie pans with parchment paper and spray with non stick cooking spray.
In a large mixing bowl add the cake mix, 1 cup pumpkin, milk , eggs, oil and 1 teaspoon on spice blend.
Beat until all ingredients are combined and creamy.
Pour into prepared pans (about 2 1/2 cups of batter for each pan).
Bake 25 to 30 minutes or until a toothpick inserted into the center comes out clean.
Cool on a wire rack 15 minutes.
Take out of pans, place on wire racks and cool completely,
Using a serrated knife cut each layer into two layers for a total of four layers.
For the Whipped Filling:
In a large bowl beat the cream cheese until light and fluffy.
Add the confectioners' sugar, remaining pumpkin and remaining spice blend, beat until smooth.
Fold in whipped topping.
Place one layer of cake on a cake plate or platter, add 1/4th of the filling, continue with the next three layers.
Top with pecans and drizzle with caramel ice cream topping.
Store in refrigerator.
For the Spice Blend:
Mix together the cinnamon, ginger and nutmeg.
MORE RECIPES USING PUMPKIN

1. PUMPKIN CHEESECAKE  2. PUMPKIN LATTE MUFFINS  3. STUFFED PUMPKIN SPICE MINI CAKES