Pumpkin Spice Biscuits | IT'S PUMPKIN SPICE SEASON!   What better way to get your fall grove on than with these Pumpkin Spice Biscuits?   These light and fluffy biscuits are even better slathered with my Pumpkin Spice Butter (recipe below)!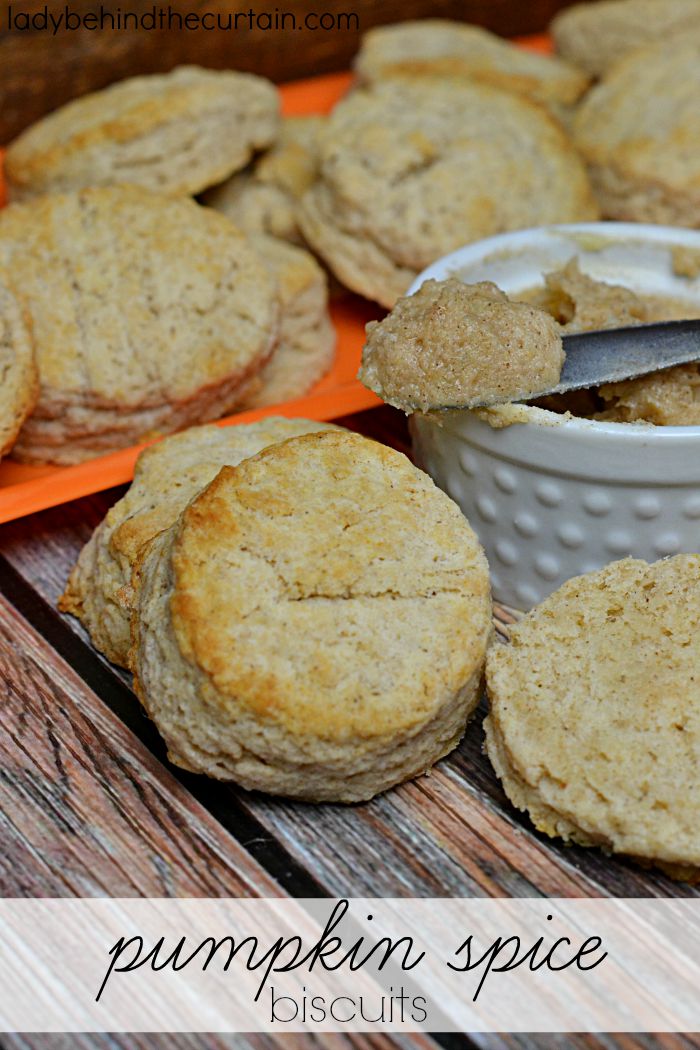 Plan ahead!  The busy season is quickly approaching.  So, make a batch of these Pumpkin Spice Biscuits before the holiday season gets here and freeze them.  You can freeze them baked but I would recommend freezing them before you bake them.  All you do is follow the steps of making the dough, cut our the biscuits, place on a cookie sheet lined with parchment paper, place in the freezer and freeze (times will be different from freezer to freezer).  Once the biscuits are frozen transfer to a zip top bag.  Defrost on a parchment lined cookie sheet and bake according to directions below.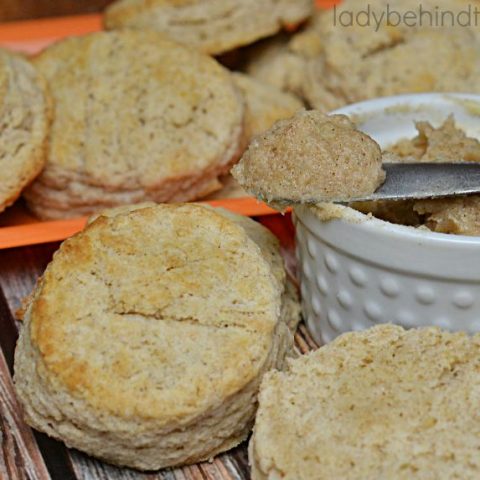 Pumpkin Spice Biscuits
Ingredients
For the Pumpkin Spice Biscuits:
2 1/2 cups all-purpose flour
1/2 teaspoon salt
2 1/2 teaspoons baking powder
1/2 granulated sugar
1 tablespoon Pumpkin Pie Spice
3/4 cup cold unsalted butter, cubed
3/4 cup buttermilk, chilled
2 tablespoons unsalted butter melted
For the Pumpkin Spice Butter:
1/2 cup unsalted butter, softened
1/3 cup confectioners' sugar
1 teaspoon Pumpkin Pie Spice
1/4 teaspoon kosher salt
Instructions
For the Pumpkin Spice Biscuits:
Preheat oven to 425 degrees.
Line a rimmed baking sheet with parchment paper.
In a large bowl, whisk together the flour, salt, baking powder, sugar and pumpkin pie spice.
Using a pastry blender cut the butter into the flour mixture until the butter is the size of peas.
Stir in buttermilk.
Turn dough out onto a lightly floured surface, counter.
Knead dough several times; If dough is too sticky add more flour and mix in.
Pat into a 10x9-inch rectangle; use a 2 1/2-inch round cutter dipped in flour, cut dough and place on prepared cookie sheet spacing about 2-inches apart..
Reroll scraps as needed.
Brush tops with melted butter.
Freeze until chilled (about 10 minutes).
Bake 12 minutes or until golden brown.
For the Pumpkin Spice Butter:
In a small bowl cream together the butter, sugar pumpkin spice and salt.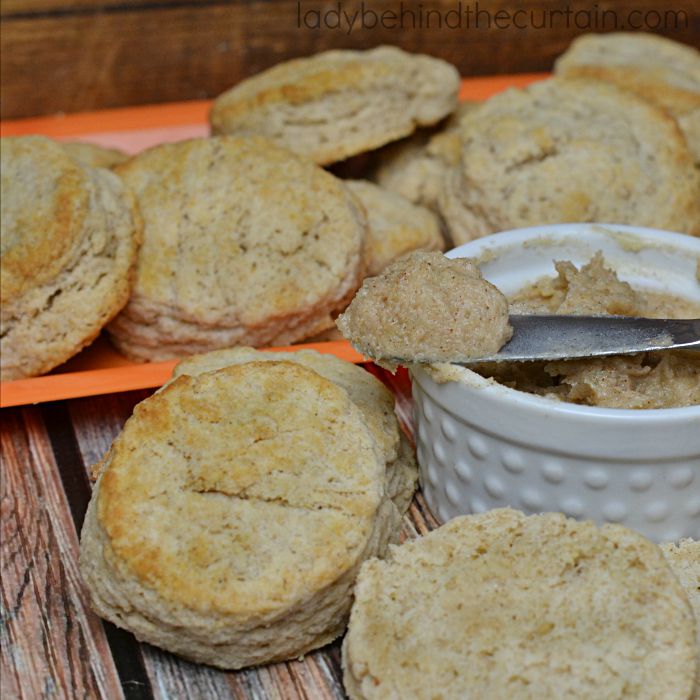 PUMPKIN SPICE RECIPES

1. PUMPKIN SPICE LATTE FUDGE  2. PUMPKIN SPICE INSTANT HOT CHOCOLATE MIX  3. STUFFED PUMPKIN SPICE MINI CAKES