Light Ham and Cheese Scones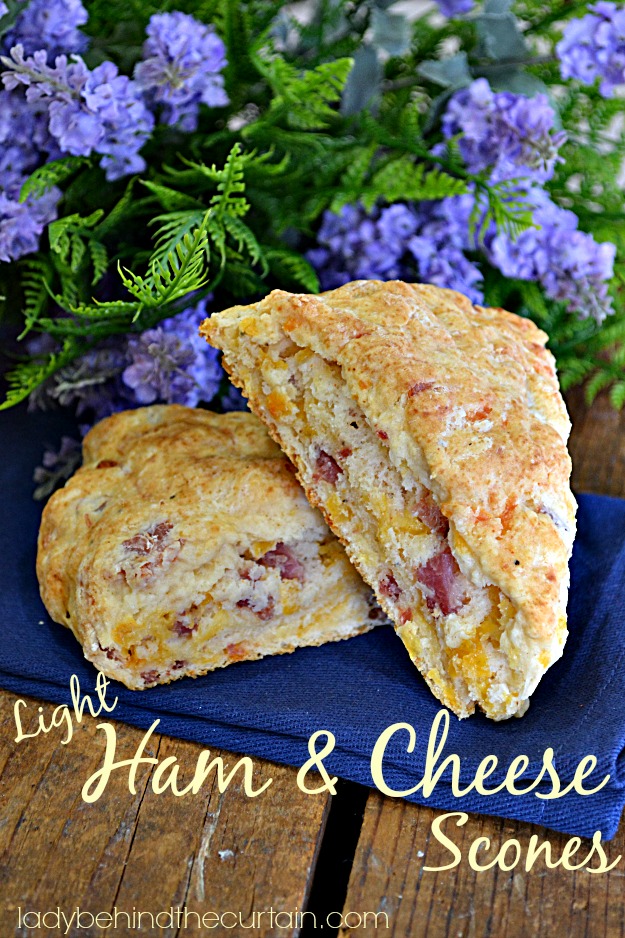 FINALLY a scone I can have and not feel guilty about eating.  Did you know a Blueberry Scone from Starbucks is about 460 calories?  WOW!
What a TREAT!  I'm so excited!  Now I can have a scone at only 217 calories.  These light ham and cheese scones are a generous portion too!
Light Ham and Cheese Scones
Ingredients
2 cups all-purpose flour
1 tablespoon baking powder
2 teaspoons granulated sugar
1/4 teaspoon salt
1/4 teaspoon ground red pepper
3 tablespoons chilled butter, cut into small pieces
3/4 cup shredded reduced-fat extra sharp cheddar cheese
3/4 cup finely chopped ham (I used a ham steak from the deli)
3/4 cup fat-free buttermilk
2 large egg whites
cooking spray
Instructions
Preheat oven to 400 degrees
Combine flour, baking powder, sugar, salt, and pepper in a large bowl; cut in butter until mixture resembles coarse meal ( I just use my fingers to do this job).
Stir in cheese and ham.
Combine buttermilk and egg whites, stirring with a whisk.
Add to flour mixture, stirring just until moist.
Turn out onto a floured surface; knead 4 to 5 times with floured hands.
Pat into an 8-inch circle on a baking sheet coasted with cooking spray.
Cut into 8 wedges, cutting into but not through dough.
Bake at 400 degrees for 20 to 25 minutes or until lightly browned.
Notes
This recipe was adapted from The Best Of Cooking Light 2006 Cookbook
https://www.ladybehindthecurtain.com/ham-and-cheese-scones/