Christmas Sugar Cookie Puppy Chow
Serve Santa this Christmas Sugar Cookie Puppy Chow instead of cookies this year.  Maybe add an extra bag for Santa to take to the elves!  Full of Christmas fun like holiday vanilla cupcake Gold Fish graham snacks, holiday shaped pretzels and holiday mini red & green M&M's.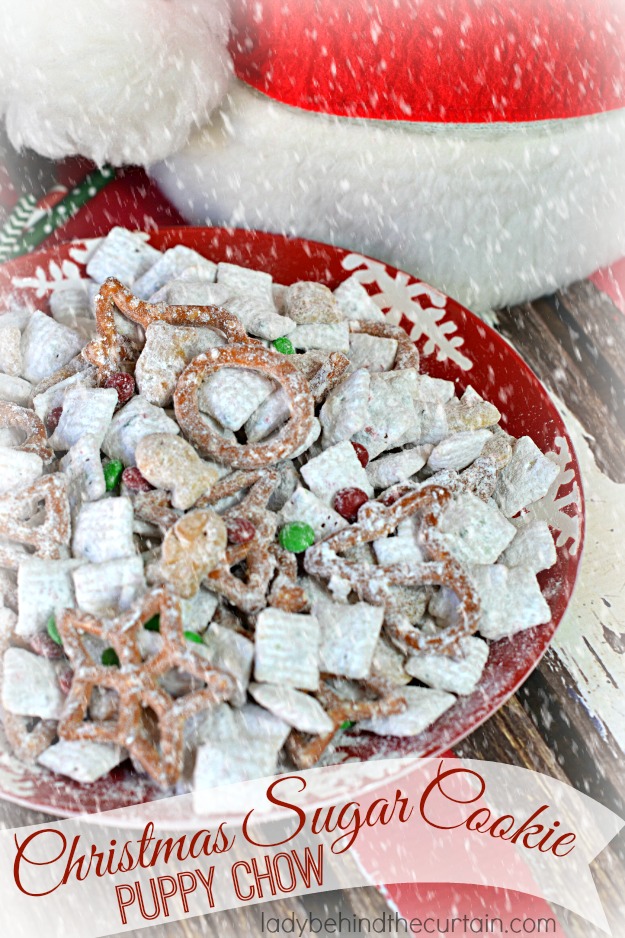 This snack food favorite will fit in perfectly on your holiday dessert table or bag up this Christmas Sugar Cookie Puppy Chow and give as a Secret Santa Gift!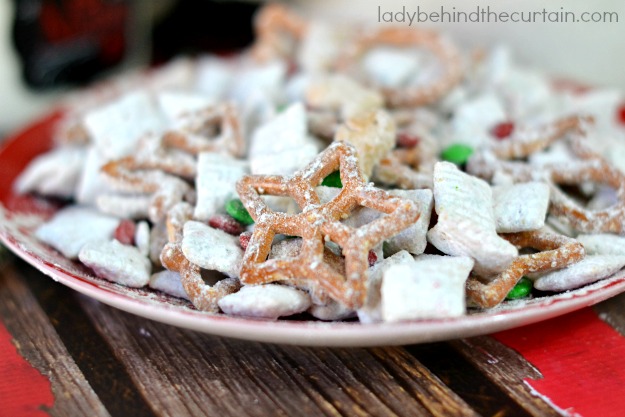 Pin this for later as a great SECRET SANTA GIFT or ELF FOOD!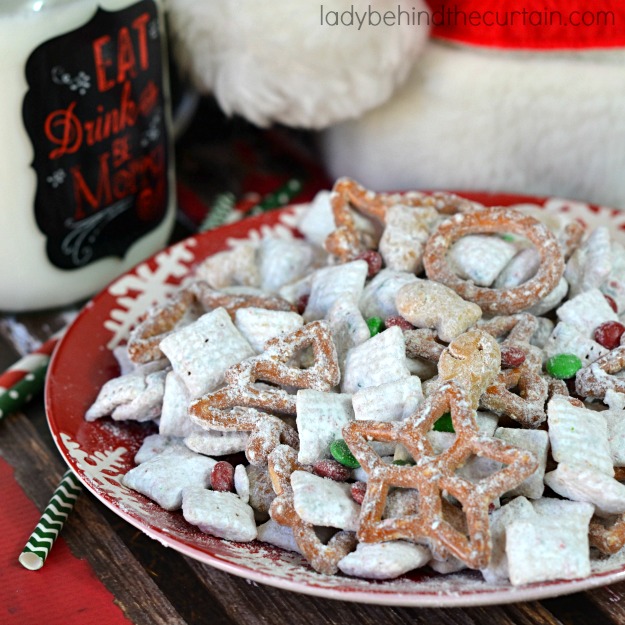 NOTE:  I found the Sugar Cookie candy melts at Walmart.  If you can't find them, white chocolate or white candy melts will work too.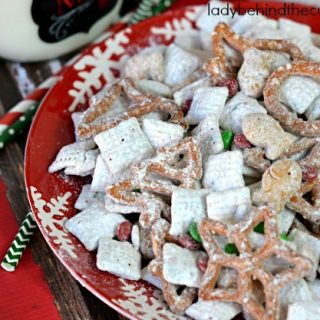 Christmas Sugar Cookie Puppy Chow
Ingredients
For the Puppy Chow:
8 cups corn chex cereal
3 cups confectioners sugar
1 pound sugar cookie flavored candy melts
6 tablespoons of sprinkles (3T-red and 3T-green)
For the Mix:
all of the puppy chow
1 (6.6 ounce) package vanilla cupcake flavored gold fish graham snacks
3 cups holiday pretzels
1 cup holiday red and green mini M&M's
Instructions
Line a cookie sheet with wax or parchment paper.
Add the corn chex to a large bowl.
Add the confectioners' sugar to a large paper sack or plastic bag.
Pour cupcake flavored candy melts into a medium microwave safe bowl.
Microwave on high 1 minute, stir and return to the microwave 1 more minute, stir until smooth and creamy.
Pour melted candy over corn chex and stir until all the cereal is coated.
Add HALF of the sprinkles, stir to equally disburse.
Add the remaining sprinkles and stir.
Pour coated cereal onto prepared cookie sheet.
Equally disburse the cereal and leave to dry (about 1 hour).
Pour coated cereal into a large bowl, add the vanilla cupcake gold fish, pretzels and M&M's.
Stir to combine and coat with the loose confectioners' sugar.
Store in an airtight container.
MORE PUPPY CHOW RECIPES

1. PEANUT BUTTER AND JELLY PUPPY CHOW  2. CHERRY CHEESECAKE PUPPY CHOW  3. ORANGE DREAM PUPPY CHOW