Apple Pie Decorated Pretzels
These super easy Apple Pie Decorated Pretzels are made with apple pie spice and sprinkled with a generous amount of freeze dried cinnamon apples. Just like a delicious apple pie! These versatile treats are great on a dessert table, as a party favor or a classroom party. The pretzels are coated with a creamy melted white chocolate (I used Ghirardilli) that has been mixed with apple pie spice which creates the perfect sweet and salty combo.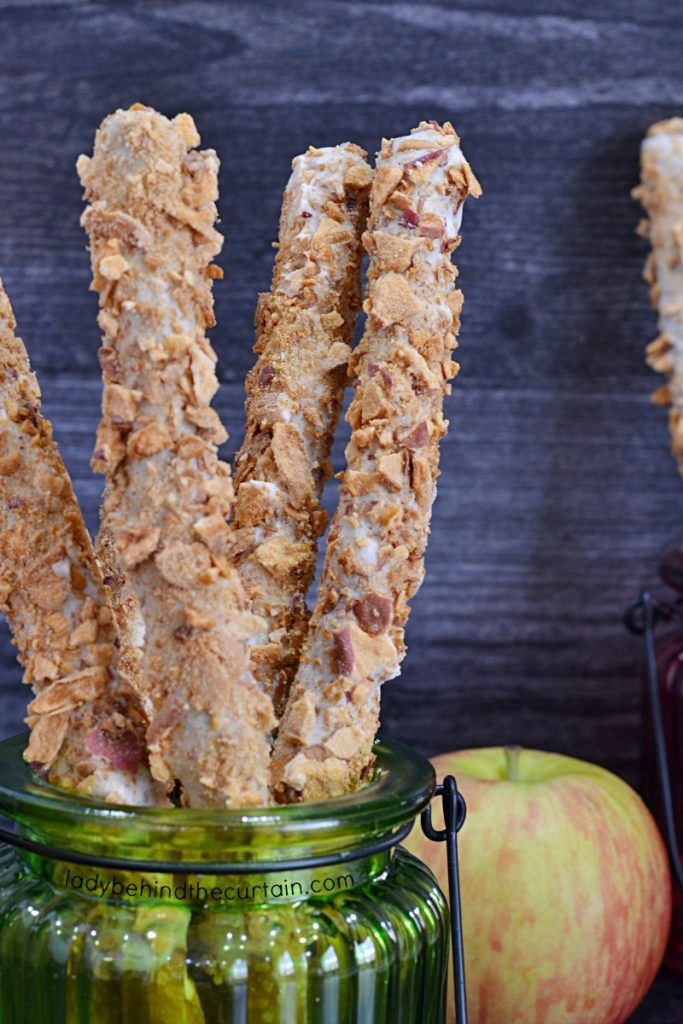 A FUN THANKSGIVING KIDS TABLE IDEA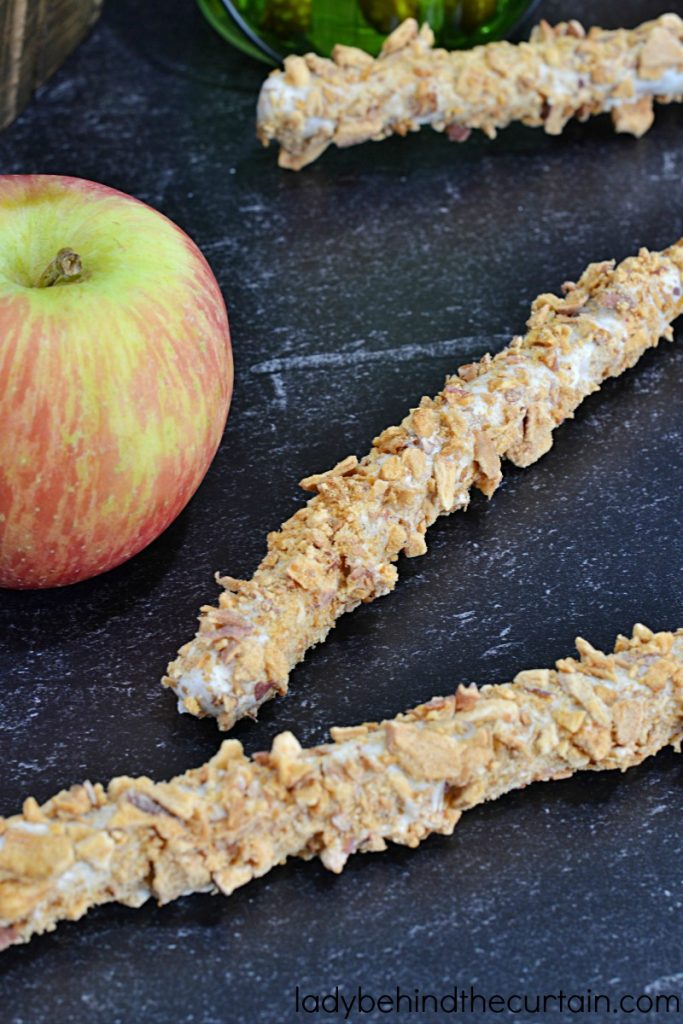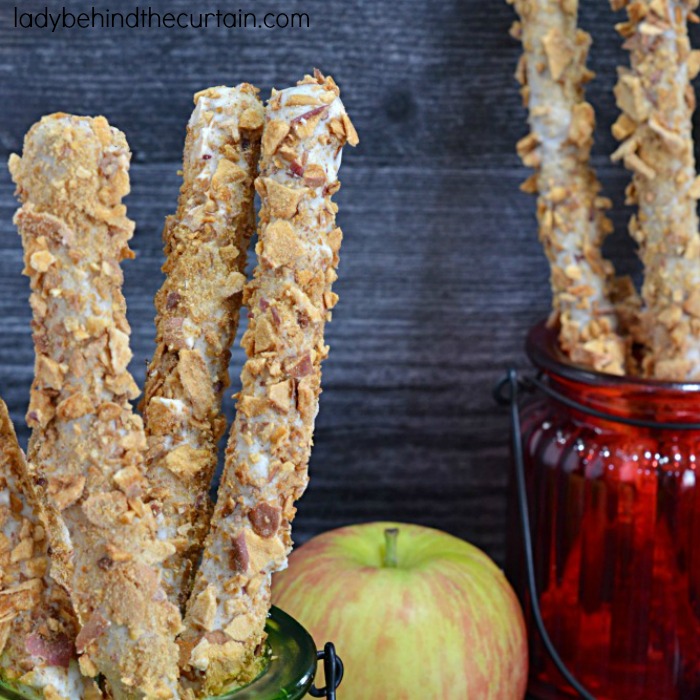 5 EASY TIPS ON HOW TO CREATE THE PERFECT DECORATED PRETZELS EVERY TIME
The best tool for keeping your candy melted is a melting pot from Wilton. It will not only melt candy but keep piping bags filled with the colors you use for drizzling hot and melted
DO NOT over heat your candy. Make sure when melting your candy to keep the microwave at 70% and heat in 30 second intervals, stirring between each time.
If adding sprinkles: have them ready to go before coating your pretzel. Add sprinkles while the candy is still wet.
If drying flat: line a cookie sheet with parchment. If drying upright, a container filled with rice works best for keeping wet pretzels upright.
If candy is too thick: add a tablespoon of shortening NOT oil (per bag of candy) to the melted candy, stir to melt.
SOME OF MY FAVORITE DECORATED PRETZELS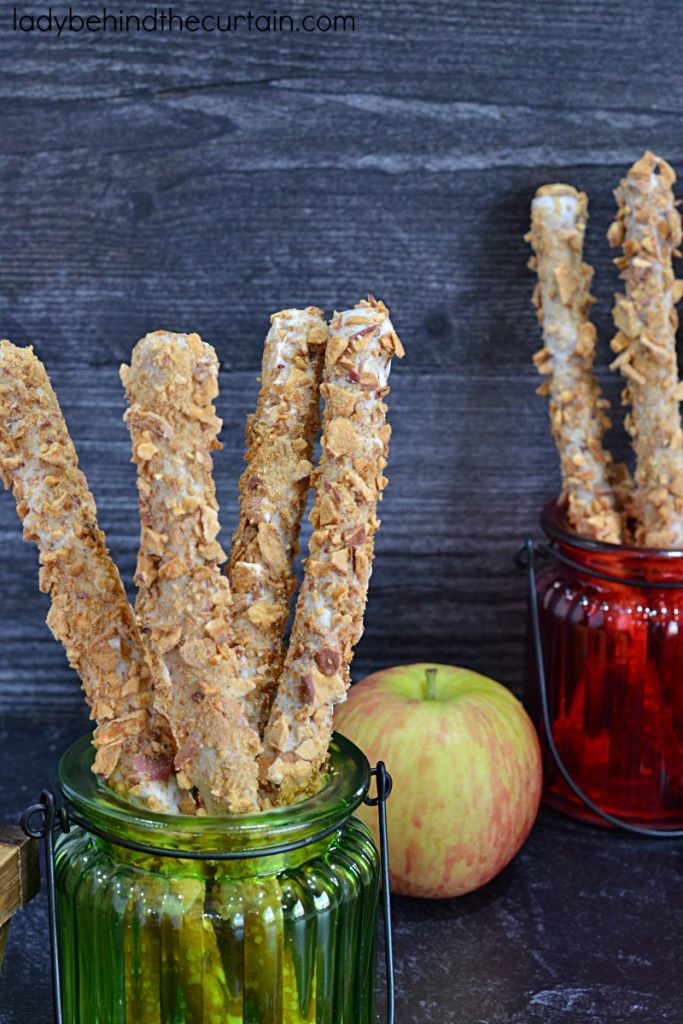 DID YOU KNOW?
If you don't see something in my favorites list above, I have a whole category dedicated to pretzels! Click here for OVER 25—->>>>DECORATED PRETZELS.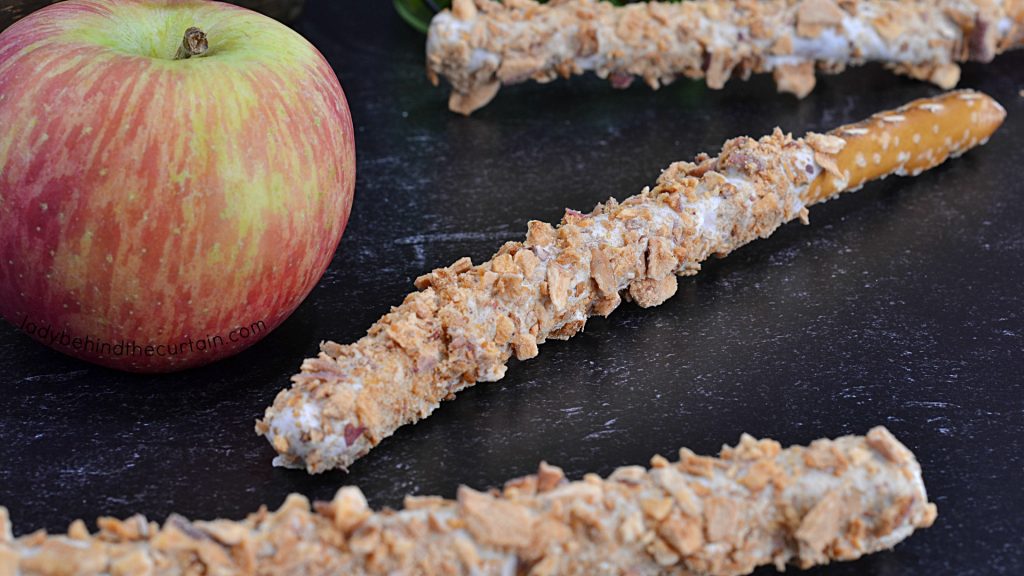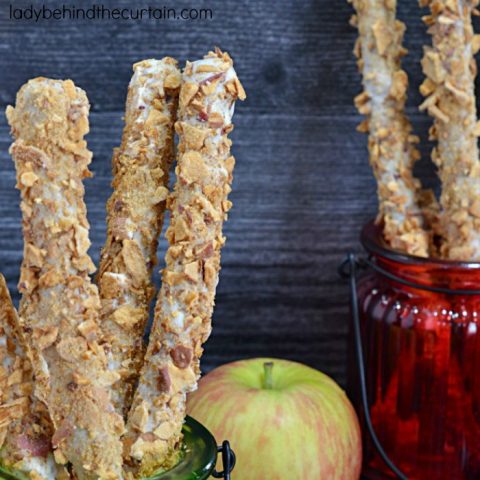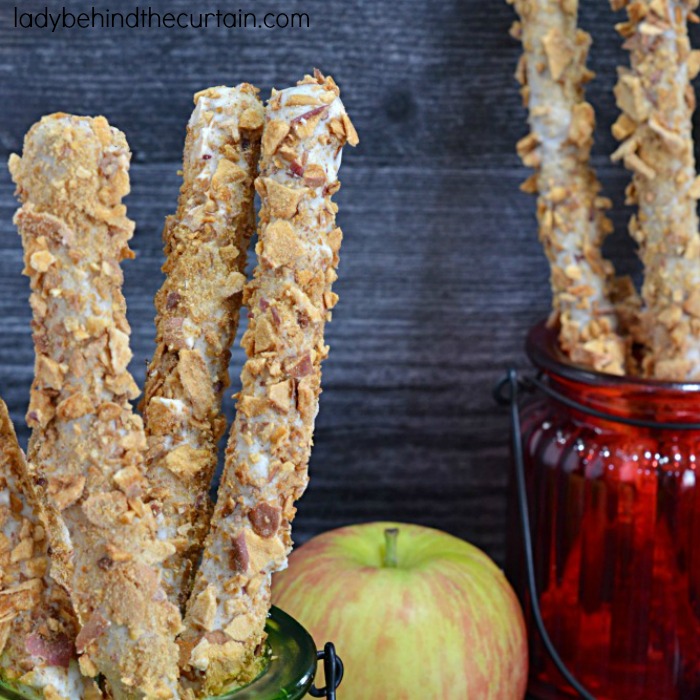 Apple Pie Decorated Pretzels
Yield:
20 Decorated Pretzels
These easy to make fun treats make a great party favor or kid's table centerpiece.
Ingredients
20 pretzel rods
1 (3.4 ounce) bag freeze dried apple cinnamon chips (crushed)
1 (10 ounce) bag of white chocolate wafers ( I used Ghirardelli)
1 teaspoon apple pie spice
Instructions
Lin a cookie sheet with parchment paper.
Pour apples into a large zip top bag. Use a rolling pin to break up the pieces; set aside.
Pour chocolate wafers in a medium microwave safe bowl. Heat in 30 second intervals, stirring between each at 70% heat until the chocolate is melted and creamy (about 1 minute 30 seconds). Stir the apple pie spice into the melted chocolate. Spoon melted chocolate over pretzel rods, tap off the excess, sprinkle apple pieces all over the coated pretzel. Place on prepared cookie sheet to harden.
NEVER MISS A POST
More fun Fall treats you might like. REESES'S TURKEYS and OWL CUPCAKES.