Get your grills ready!  It's backyard barbecue time!  Memorial Day is the perfect time to get together with friends and family!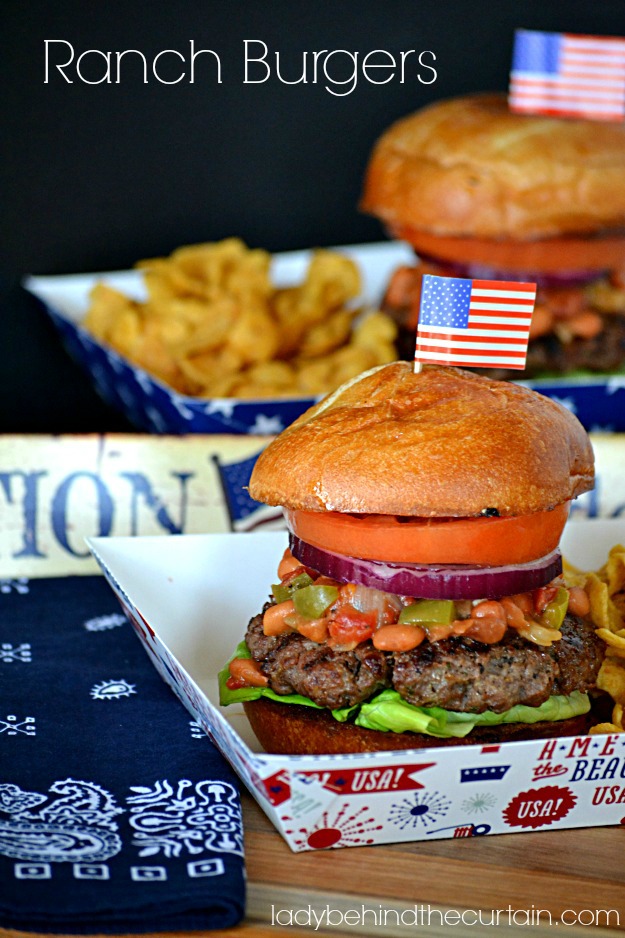 My family was complaining about having the same old burger.  So, I went rummaging through my pantry to see what I could create.  I found a container of dry ranch dressing, some beans and came up with these delicious juicy Ranch Burgers!  Now when they ask "what's for dinner" and I say "burgers"!  They ask (while jumping up and down)  RANCH BURGERS PLEASE!
Are you up for the challenge?  Can you get your mouth around this juicy burger?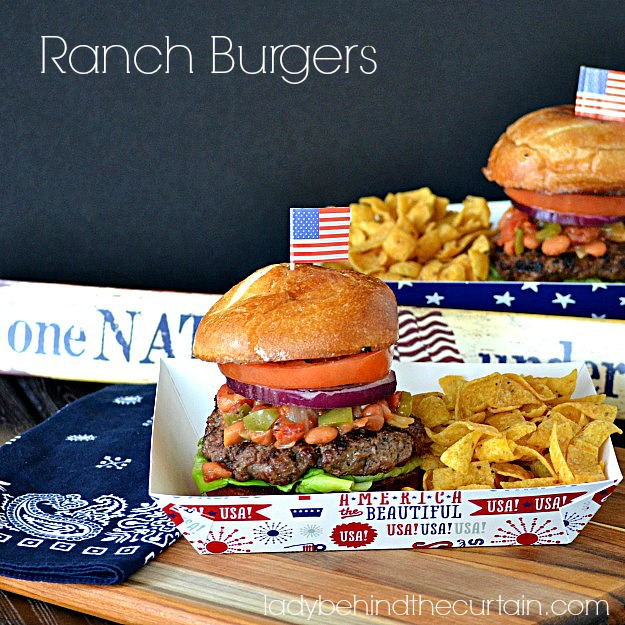 These smokey Ranch Burgers are juicy and full of ranch flavor.  Add dry ranch dressing to the burger, top with my Ranch Style Beans to complete these delicious burgers.
Add my Chile Lime Baked Corn and Potato Casserole for a great meal!
Create your own Recipe Box and save your favorite Lady Behind The Curtain recipes.  Make a Meal Plan with your favorite recipes and ZipList will automatically add the ingredients to a Shopping List.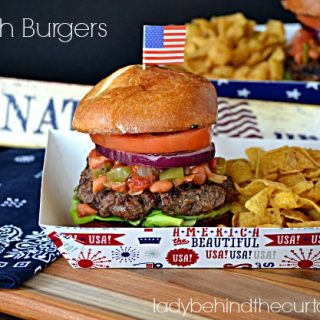 Ranch Burgers
Yield:
Makes 3 large burgers
It's backyard party time!
Ingredients
1 pound ground beef
2 tablespoons dry ranch salad dressing mix
1 teaspoon salt
1/2 teaspoon black pepper
lettuce
red onion, sliced
tomato, sliced
1 Ranch Style Bean Recipe
3 to 4 grilled hamburger buns
Instructions
Place hamburger in a medium bowl.
Add the ranch dressing mix, salt and pepper.
Grill.
On the bottom bun add the lettuce and hamburger patty.
Using a slotted spoon add a large spoonful of the Ranch Style Beans.
Top with sliced red onion and sliced tomato.