Tex-Mex Sloppy Joe Tacos:  These tacos are full of flavor without all the work!  It's time to mix it up!  Serve a spicy, saucy taco for dinner made in your slow cooker!  This recipe is so good you could serve it at your next Tex-Mex Party!  Make it special with a build-your-own taco bar!
I love making dinner in my slow cooker especially in the summer when I don't want to heat up my kitchen.  There's nothing more satisfying then walking in the door after a busy day to the smell of dinner!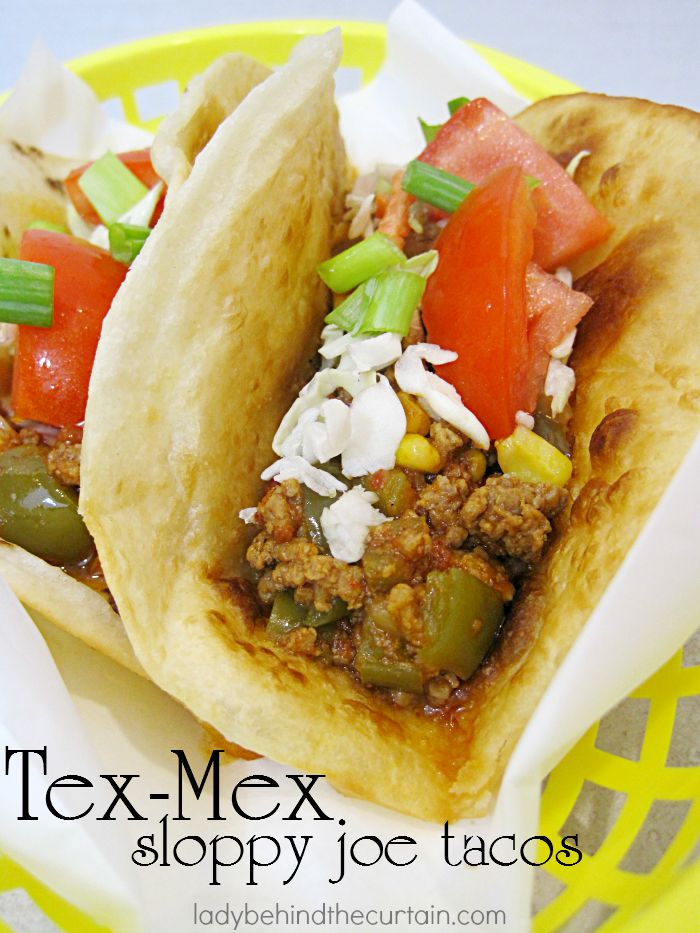 Don't forget to pin this to your slow cooker board.  Don't have a slow cooker board?  Let me help you create one!  I have one that can get you started on some great recipes.
LBC – Slow Cooker Recipes (link)
Tex-Mex Sloppy Joe Tacos
Yield:
Makes 16 to 20 Tacos
Total Time:
4 hours
20 minutes
Ingredients
3 pounds ground beef
2 cups chopped onion (2 large)
4 cups bottled salsa (Medium hotness)
1-1/2 cups chopped green bell pepper
1-1/2 cups fresh corn or frozen whole kernel corn
2 tablespoons chopped canned chipotle pepper in adobo sauce (*tip below)
1 tablespoon chili powder
1-1/2 teaspoon ground coriander
1-1/2 teaspoon garlic salt
16 to 20 6-inch flour tortillas or hoagie rolls, spit and toasted
vegetable oil for deep frying tortillas
assorted toppings
Instructions
In a large skillet brown hamburger and onions until tender; drain off fat.
In a 4- to 5- quart slow cooker combine meat mixture, salsa, peppers, corn, chili powder, coriander, and garlic salt.
Cover and cook on low-heat setting for 3 to 4 hours.
Fry tortillas, fold in half, place on rack lined with paper towels. Let cool.
Use a slotted spoon to fill tortillas with meat mixture.
Add assorted toppings.
TIP: If you don't like spice, seed and take ribs out. (I even rinsed the peppers to make sure all the seeds were gone and added some adobe sauce.)