Halloween Witch Cupcake Push Up Pops
Halloween Witch Cupcake Push Up Pops: Transform cupcakes into a fun Halloween Party Treat. These Halloween cupcakes are easy to make. Make with Halloween lemon lime cupcakes both topped and filled with a cream lime cream cheese frosting. Not only cute but tasty too! Your guests are going to love these fun push up pops! Don't have push up pops? Don't worry I've got you covered. Scroll down for other options.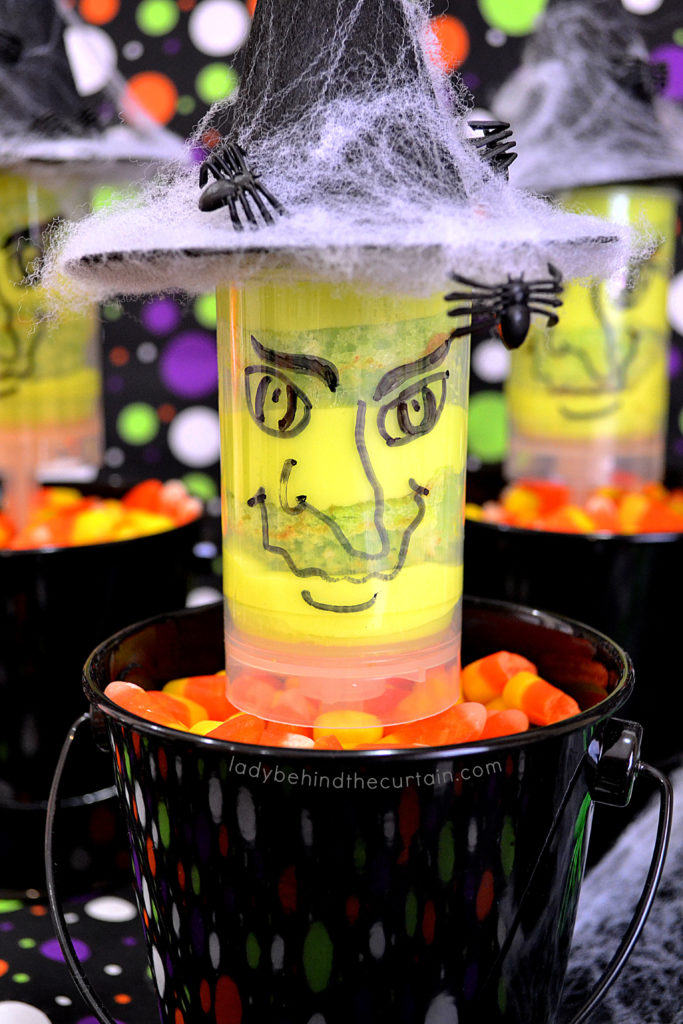 What is a Cupcake Push Up Pop?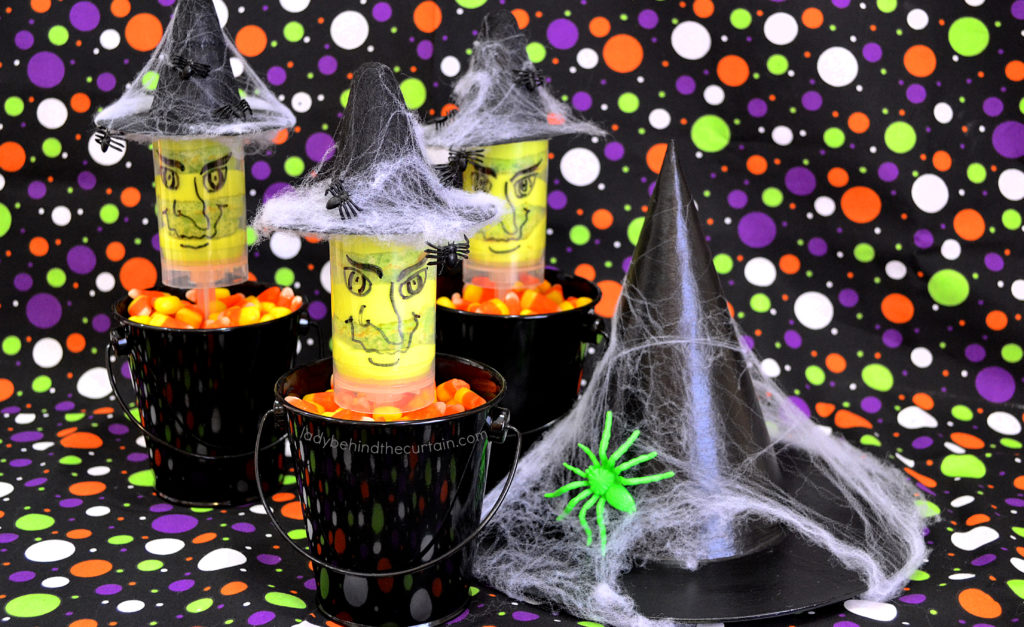 How to Make Witch Cupcake Push Up Pops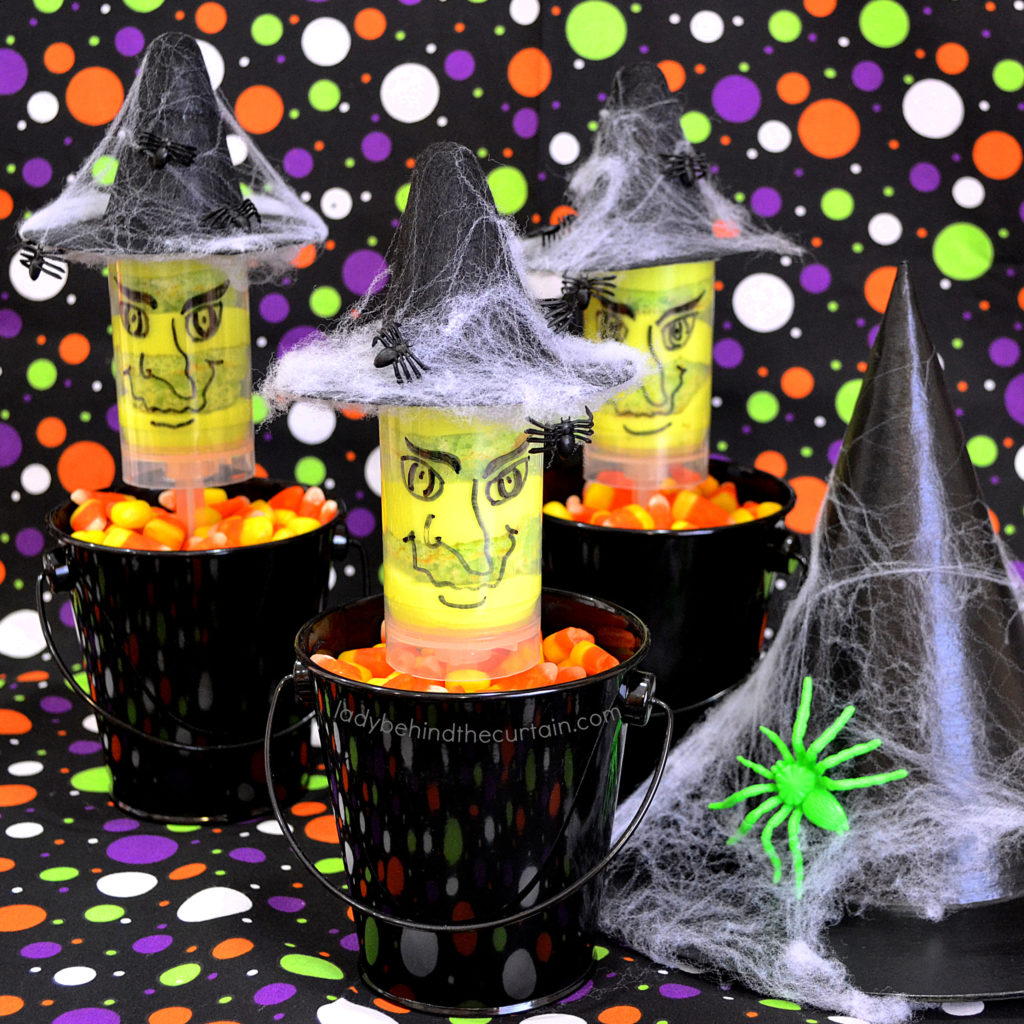 Before adding the cupcakes, make sure to draw the creepy witch face onto the push up pop (directions and free template below).
Add a little frosting in the bottom of each push up pop.
Press a cake round on top of the frosting.
Add another layer of frosting.
Add another cake round.
Top with frosting.
Put on cap, add witch hat adorned with spider webs and small spiders.
—NOTE—
I found the 4-inch felt witch hats at Joann Fabric and Craft Store. If you don't have a Joann Craft Store, google 4 inch felt witch hats and a lot of other places to purchase the hats will come up.
Mini Cupcakes VS Sheet Cake
TWO OPTIONS FOR THIS HALLOWEEN PARTY IDEA
MINI CUPCAKES: Using a mini cupcake pan line with 5 dozen mini cupcake liners. Fill each liner ¾ full. Bake @350° for 15 minutes. Trim edges if the cupcakes bake too big for the push up pop container.
SHEET CAKE: Use a 11½ x 15½ inch baking pan, lined with parchment paper. Bake at 350° for 15 minutes. Let cool completely. Using a 1-5/8 inch round cookie cutter, cut at least 45 rounds. Place rounds on a baking sheet lined with parchment paper and freeze (for at least 2 hours). Slice rounds in half lengthwise. Put rounds back in freezer until ready to use.
How to Add a Witch Face to A Jar or Push Up Pop Container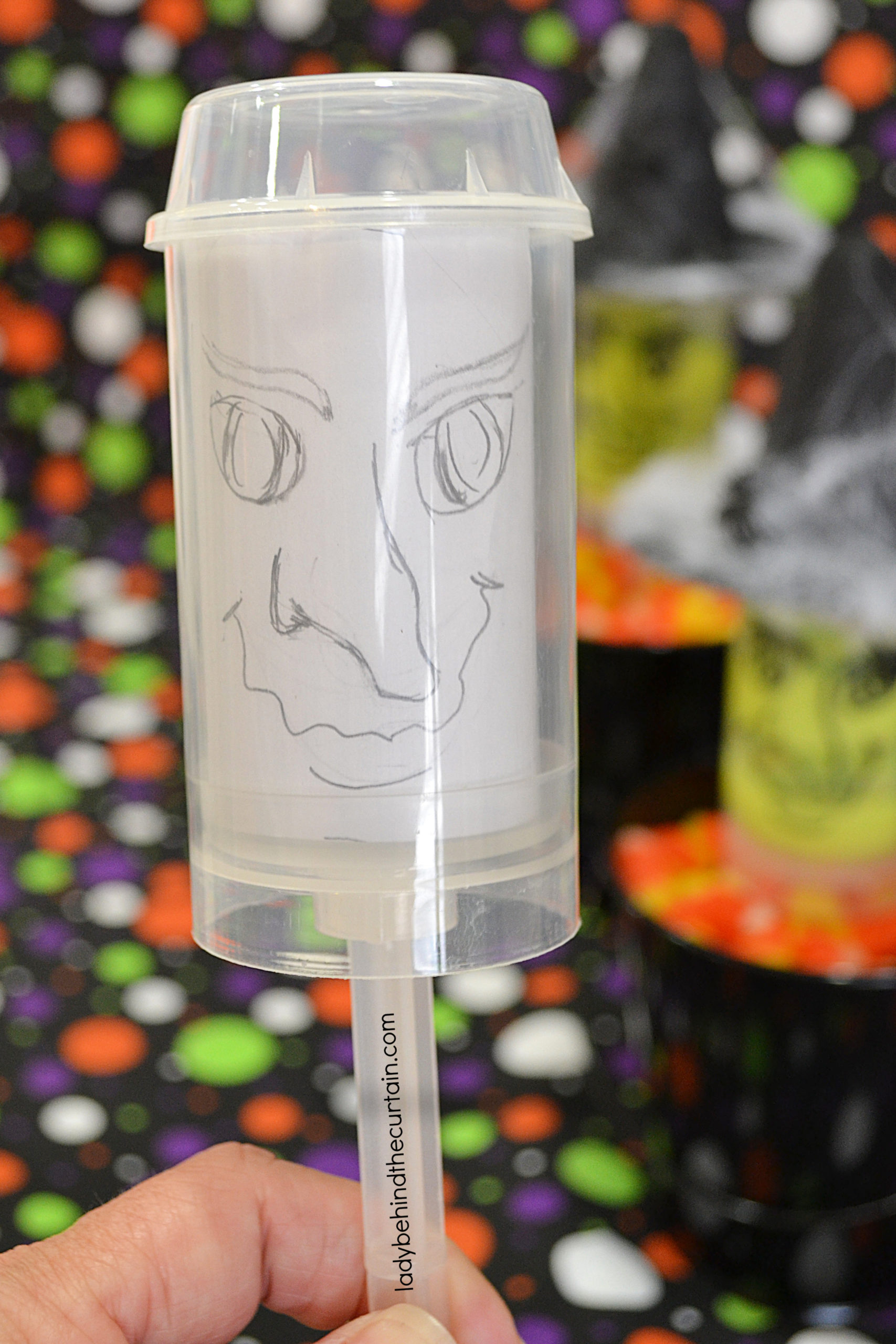 WITCH FACE TEMPLATE BELOW
I love how the green cupcakes and frosting shows through to create a green faced witch. You can draw your own face or use my template. Click→ HERE for the witch face template. The hat is the perfect size for the lid of a push up pop.
Print out the template or draw your own either on a piece of paper or directly onto the jar or push up pop container.
If you choose to print out or draw on paper, roll the paper to fit in the container.
Use a permanent marker to draw on the witch face (see how to remove the marker below).
More Witch Party Themed Ideas
How to Remove Permanent Marker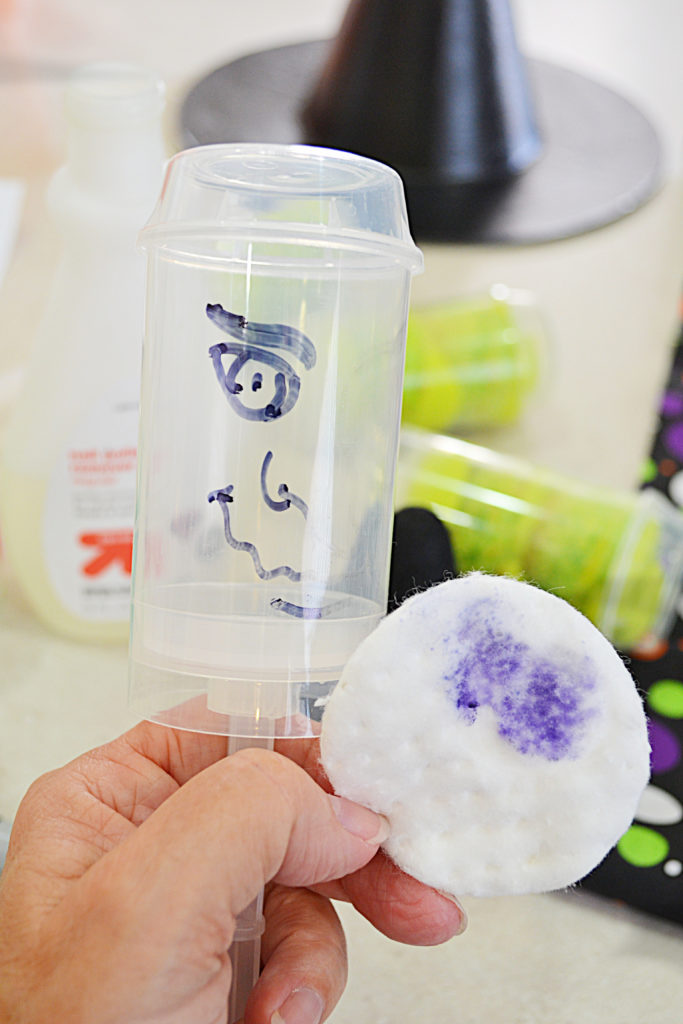 Witch Hat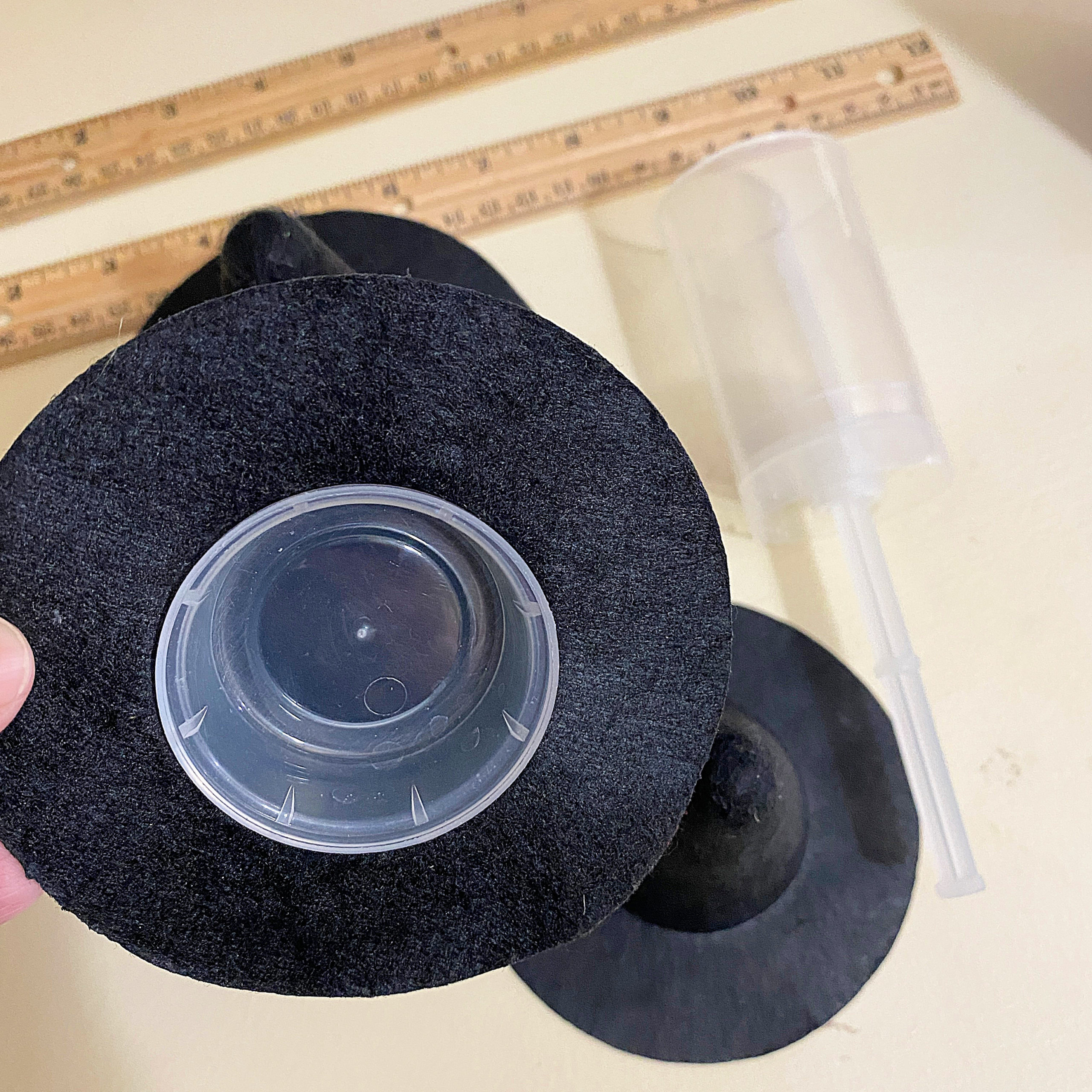 More Push Up Pop Ideas for Halloween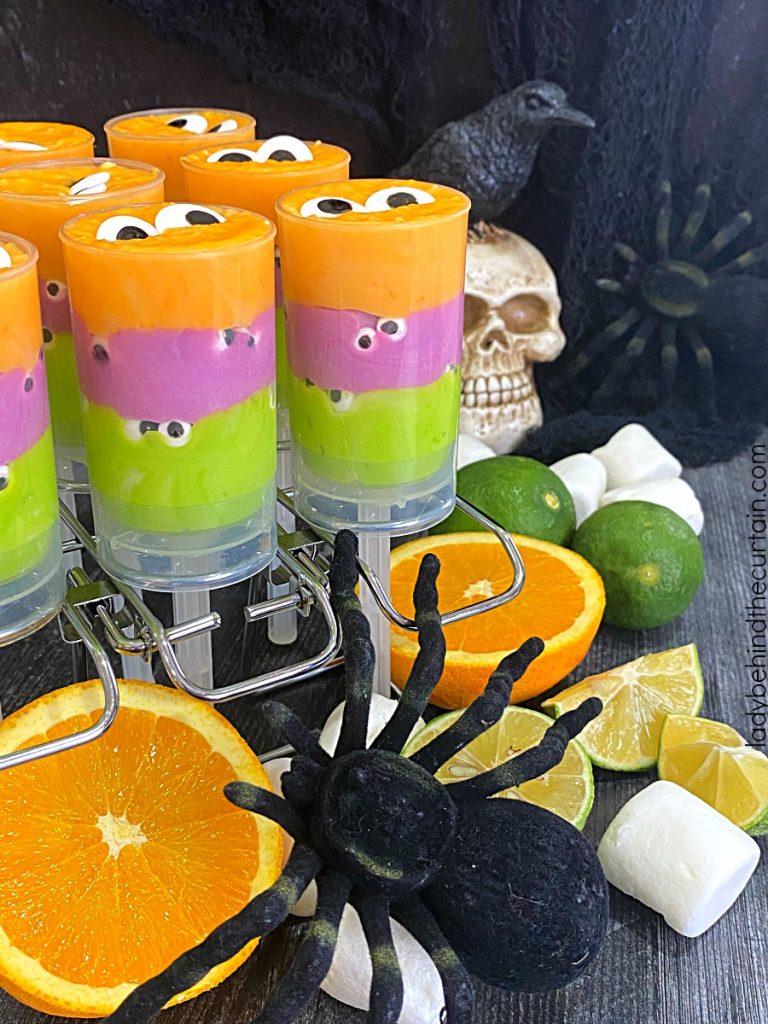 HALLOWEEN MONSTER PARTY FUDGE 2. HOCUS POCUS PILLOW SLIME PARTY FAVORS 3. MONSTER PARTY HALLOWEEN CUPCAKES 4. HALLOWEEN PARTY DESSERT CENTERPIECE
Baking in a Jar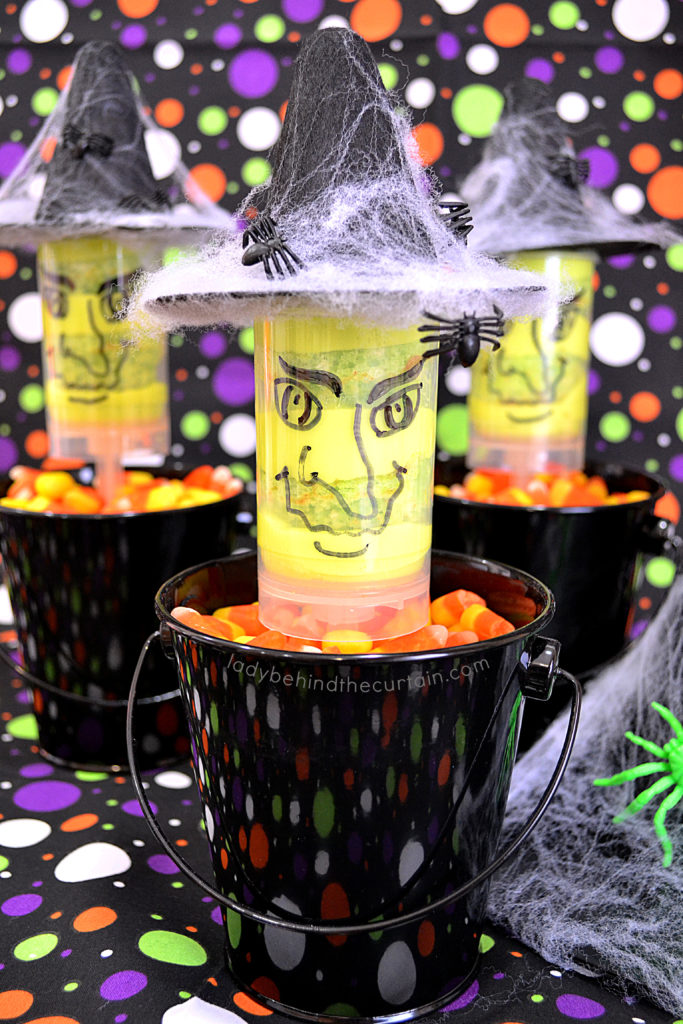 MAKE SURE TO ADD THE WITCH FACE BEFORE ADDING THE BATTER AND BAKING. The marker will stay on during the baking process. You may need to touch it up a bit but that's all. THE RIGHT JAR FOR THE JOB: YOGURT JAR: The Oui Yogurt from Yoplait is a good size to use for the witch hat. The hat will sit on top. TALL (6ounce) BABY FOOD JAR: Also a nice size jar that will give you plenty of room for the witch face to be added. HERE'S HOW: Preheat oven to 350°. Fill the jars half way—NOTE: Make us sure you only fill them half way otherwise they will rise too far up to add frosting. Did your cupcakes rise too far? No worries just take a spoon and scoop some of the cake out to make room for your frosting. No one will be able to tell the difference. Bake 25 minutes or until a toothpick inserted into the center comes out clean.
MORE HALLOWEEN DESSERT/TREAT RECIPE
HALLOWEEN HAUNTED HOUSE DARK CHOCOLATE CAKE 2. DOUBLE VANILLA MONSTER PARTY CUPCAKES 3. HALLOWEEN ORANGE CREAM MINI CONE CUPCAKES
SHOP MY ENTIRE HALLOWEEN PARTY COLLECTION BELOW↓ (click on the title of the product to be taken to lady behind the party).
SIGN UP FOR THE LADY BEHIND THE CURTAIN NEWSLETTER AND FOLLOW THE LADY BEHIND THE PARTY ETSY SHOP
THANKS FOR VISITING♥