The Best Vanilla Cupcake Recipe
The Best Vanilla Cupcake Recipe | Just the right texture and moisture.  When a recipe has TWO vanilla beans and heavy cream in it you know it's going to be good.  You can take this base recipe and add different things to it.  Like dry jello mix, lemon lime soda, chocolate chips, toffee bits….I could go on and on.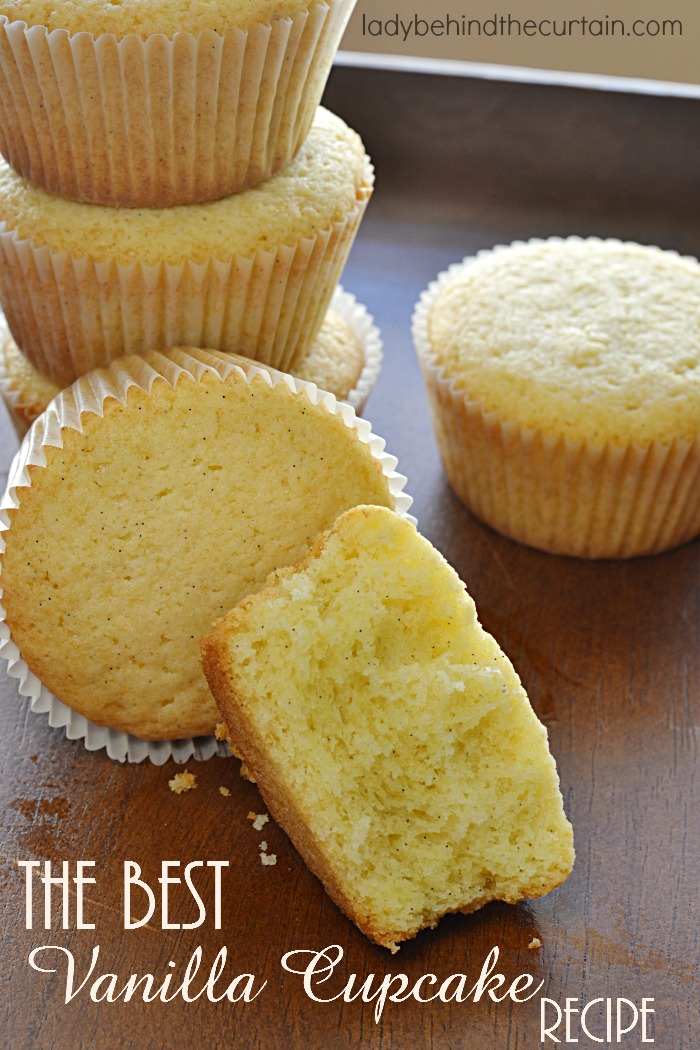 Something I do is….when I'm making cupcakes from scratch I make two batches.  One to use then and one to put in the freezer.  Right now I have two containers in my freezer one with this Vanilla Cupcake batter and one with my Devil's Food Cake Cupcake batter.  Now I'm ready for any surprise desserts I might need to make in a pinch.
The Best Vanilla Cupcake Recipe
Ingredients
For the Best Vanilla Cupcake Recipe:
2 vanilla beans, split with seeds removed or 2 teaspoons of vanilla extract
1 cup butter, softened
1 1/2 cups granulated sugar
2 large eggs
4 large egg yolks
3 cups all-purpose flour
3 teaspoons baking powder
1/2 teaspoon salt
1 teaspoon vanilla extract
1 cup heavy cream
Instructions
For the Best Vanilla Cupcake Recipe:
Preheat oven to 350°.
Line 24 muffin cups with liners.
In a large mixing bowl beat butter until light and fluffy, add (if using vanilla beans) the seeds or if not then add the extract. To get the seeds out of a vanilla bean; use the tip of a knife and split the seed open, turn the knife upside down (blade facing up) and scrape the seeds out of the pod.
Whip until combined; slowly add sugar and continue beating until combined.
Add eggs and egg yolks to the butter mixture one a time making sure each one has been incorporated.
In a separate bowl whisk together the flour, baking powder and salt.
Pour vanilla in with the heavy cream.
Alternate adding the flour mixture and the heavy cream mixture to the butter mixture until combined.
Fill to three fourths full (one ice cream scoop).
Bake 20 to 25 minutes.
Cool completely before add frosting.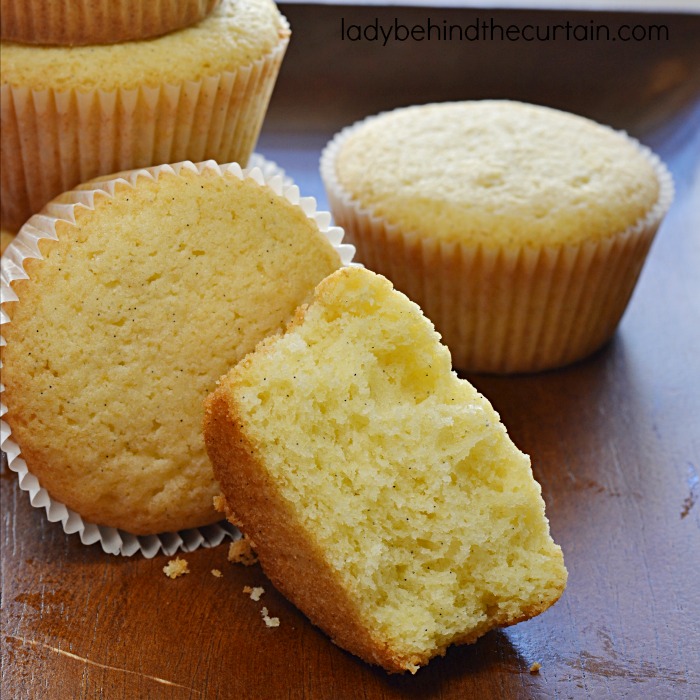 MORE CUPCAKE RECIPES
FINDING DORY OCEAN WATER CUPCAKES  2. ECLAIR CUPCAKES 3. CONFETTI TOWER CUPCAKES