Large Thick Bakery Size Sugar Cookies
Large Thick Bakery Size Sugar Cookies: If you love thick doughy sugar cookies then you are going to LOVE these Large Bakery Size Sugar Cookies. They totally live up to their name…large and delicious! No cookie cutters needed for this recipe, just large balls of dough. Crispy on the outside and soft on the inside….COOKIE PERFECTION!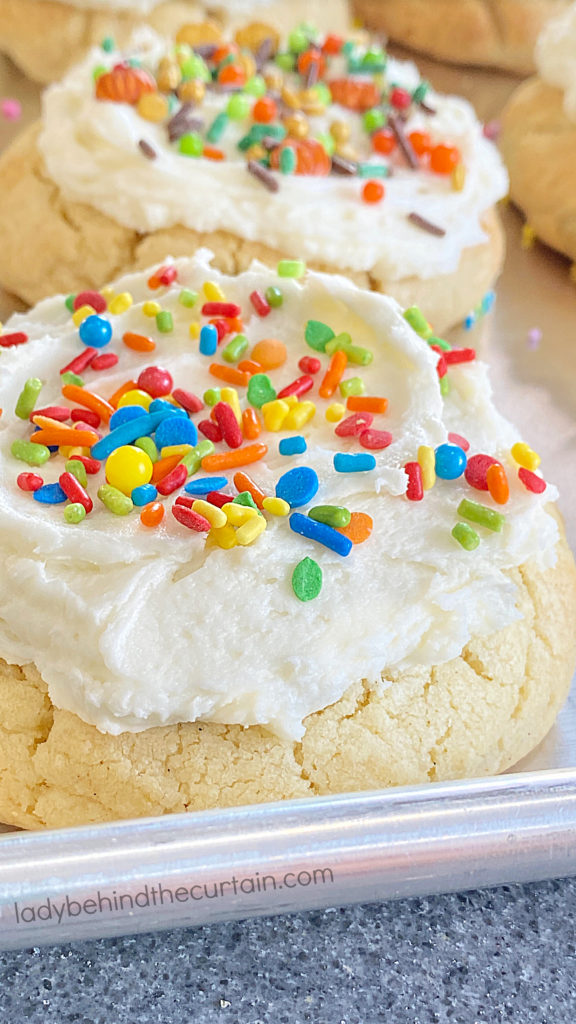 How to Make a Thick Soft Sugar Cookie Tips and Tricks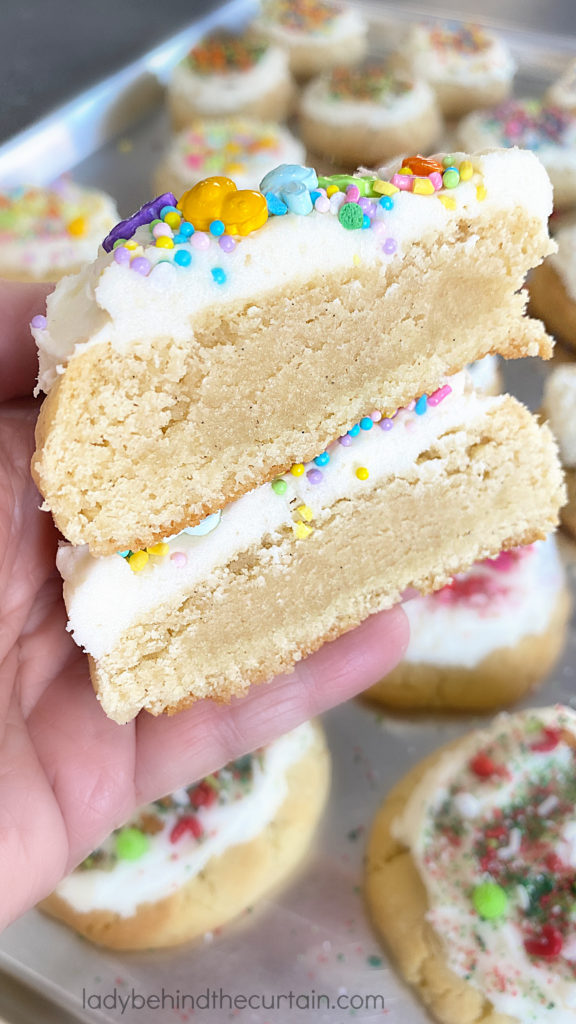 SHORTENING: Shortening traps more air bubbles and has a higher melting point than butter, so recipes that use shortening tend to produce an end product that will rise a little higher, holds its shape during baking, and has an interior texture that is softer or lighter.
UNSALTED BUTTER: For flavor a little fat and a tiny bit of liquid.
CREAM CHEESE: Swapping out some of the butter for cream cheese will create a soft cloud like cookie.
BAKING POWER: Baking soda can help create crisper cookies, but we want a thick soft cookie so omit the baking soda and use baking powder.
HANDLING THE DOUGH: When forming the cookie ball, don't press the dough together too much. Try to keep it airy. Only press it together enough for it to stay together.
CHILL THE DOUGH BEFORE BAKING: Once the dough is formed into balls and placed on a cookie sheet lined with parchment paper, slide the cookie sheet into the refrigerator for 2½ hours.
How to Make Large Thick Bakery Size Sugar Cookies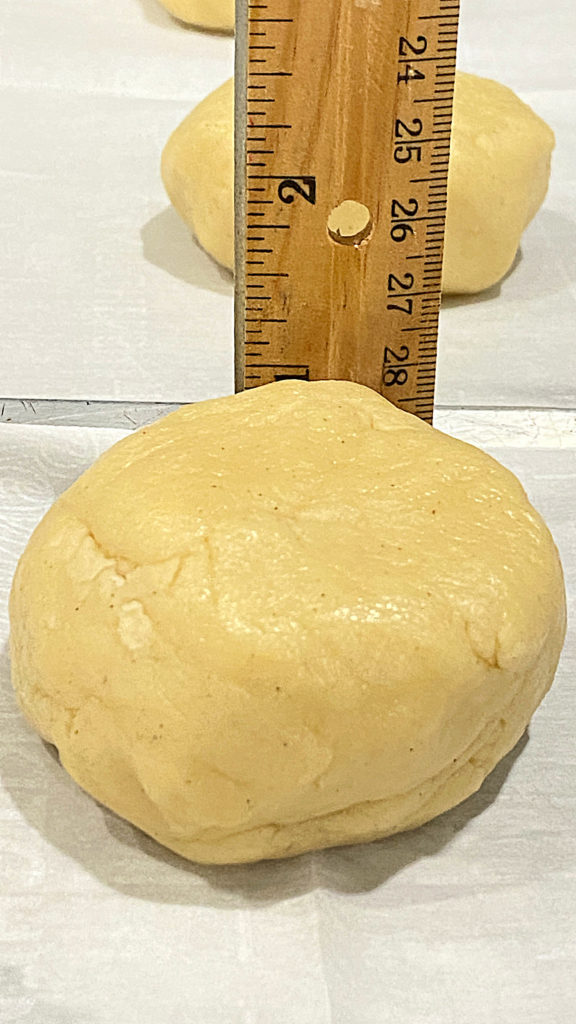 INGREDIENTS
For the Sugar Cookies:
½ cup vegetable shortening
½ cup unsalted butter, softened
3 ounces cream cheese, softened
2 cups granulated sugar
2 large eggs
1 tablespoon vanilla extract or vanilla paste
¼ teaspoon almond extract
3½ cups all-purpose flour
½ teaspoon salt
1½ teaspoon baking powder
For the Buttercream Frosting:
¾ cup unsalted butter, softened
3 cups powdered sugar
½ teaspoon vanilla extract
—tablespoons milk or water
Optional: Sprinkles
DIRECTIONS
FOR THE COOKIES: Line 2 cookie sheets with parchment paper and set aside. In a large mixing bowl add the shortening, butter, cream cheese, sugar, eggs, vanilla extract and almond extract. Mix until light and fluffy. In a medium bowl whisk together the flour, salt and baking powder. Add dry ingredients to the wet ingredients, blend until combined. Divide dough into 12 (3.6 ounce) balls. Place (6 balls per cookie sheet) on prepared cookie sheets, refrigerate 2½ hours. Preheat oven to 350°. NOTE THESE COOKIES WERE BAKED IN A CONFECTION OVEN YOU MAY NEED TO ADJUST BAKING TIME FOR AN ELECTRIC OR GAS OVEN. Bake 16-18 minutes. Slide the cookies still on the parchment paper onto the counter to cool completely. Frost cooled cookies and add sprinkles. FOR THE VANILLA BUTTERCREAM FROSTING: In a large mixing bowl, add the butter. Beat until light and fluffy (about 3 minutes). Add powdered sugar, vanilla and milk (or water). Beat on low until sugar is incorporated, then on high until light and fluffy (about 3 minutes).
The Secret to Making a Delicious Bakery Size Cookie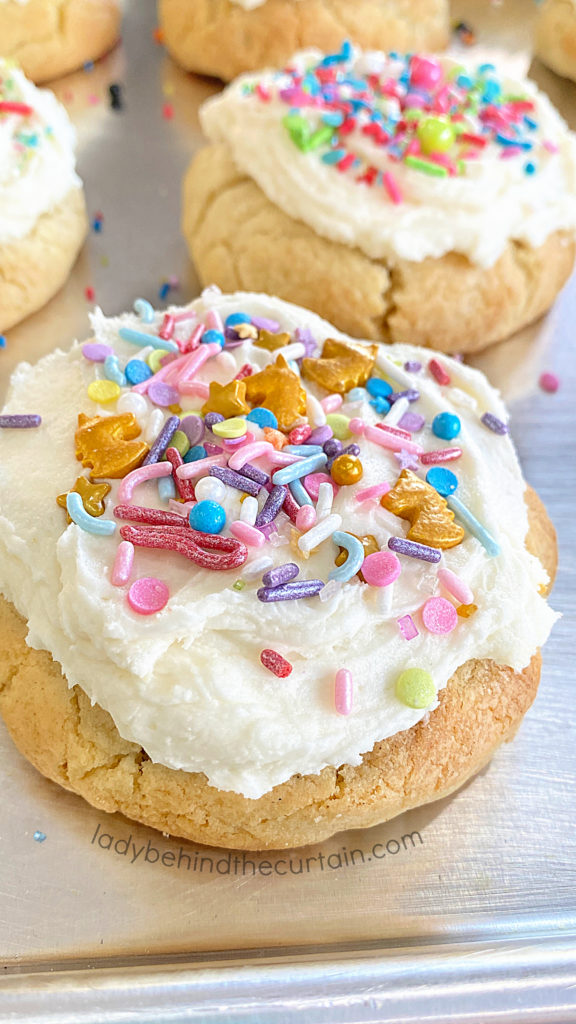 BUTTER VS MARGARINE
Don't skimp on this ingredient….YOU MUST USE REAL BUTTER. WHY? There are several reasons for choosing butter over margarine.
FLAVOR: Butter provides a rich flavor. BAKERS TIP: Always use unsalted butter when baking. You want to be in control of how much salt is in your recipe.
FAT CONTENT: Margarine contains more water and less fat, which makes for thin cookies that spread out while baking.
How to Decorate Sugar Cookies for Any Celebration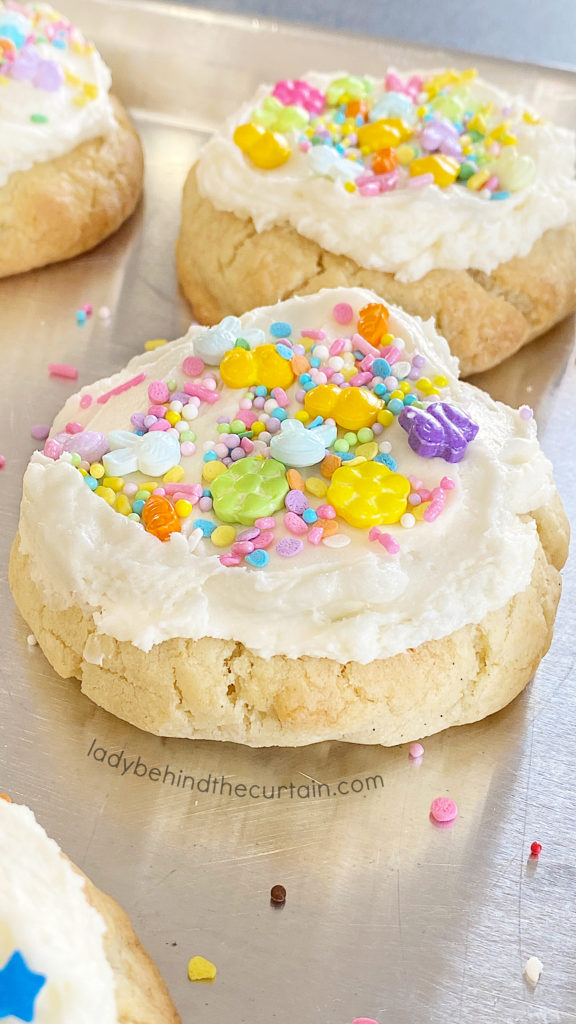 Can This Recipe Make Smaller Cookies?
This recipe was designed to make 12 large thick gooey cookies. Like the ones you get at a bakery.
However! This same dough can be used to make smaller size cookies. They will puff up beautiful and thick. Please keep in mind to adjust baking time. The serving size will also change.
CAN SUGAR COOKIE DOUGH BE MADE IN ADVANCE?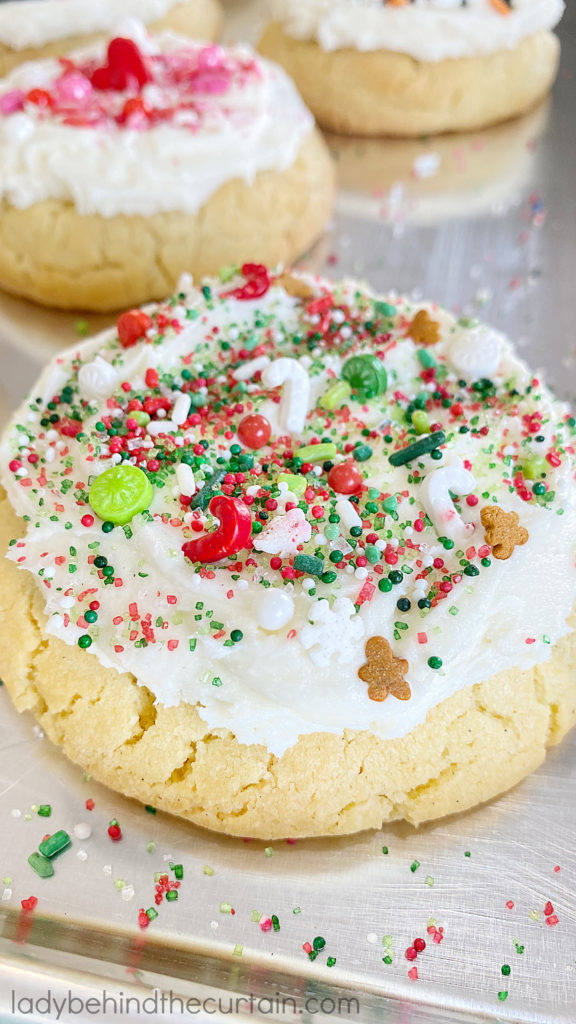 REFRIGERATOR: The cookie dough can be kept chilled in the refrigerator for up to 4 days.
FREEZER (BAKED COOKIES): Place baked cookies in a freezer safe bag. The cookies will stay fresh in the freezer up to 3 months.
FREEZER (COOKIE DOUGH BALLS): Cookie dough balls will stay fresh in the freezer up to 3 months. HOW TO FREEZE: Place the balls on a cookie sheet for a few hours before placing them in a freezer bag to store. BAKE FROZEN COOKIE DOUGH FOR AN EXTRA MINUTE, no need to thaw.
Vanilla Paste VS Vanilla Extract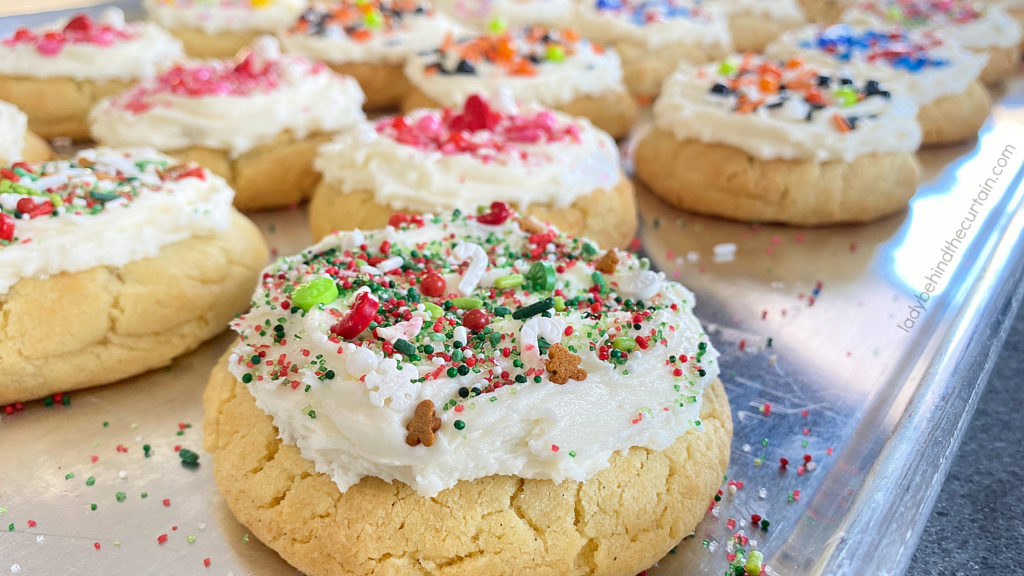 PURE VANILLA EXTRACT: A little more affordable, easily available but not as much flavor.
VANILLA PASTE: The more affordable vanilla compared to vanilla beans, a little more expensive then vanilla extract but is packed with great flavor and seed specks.
WHY I LOVE VANILLA PASTE:
The flavor carries well in desserts
When making candy I can add the flavor of vanilla without adding a lot of liquid
The bold vanilla flavor
A lot cheaper then using vanilla beans
Seed specks
MORE THICK BAKERY STYLE COOKIE RECIPES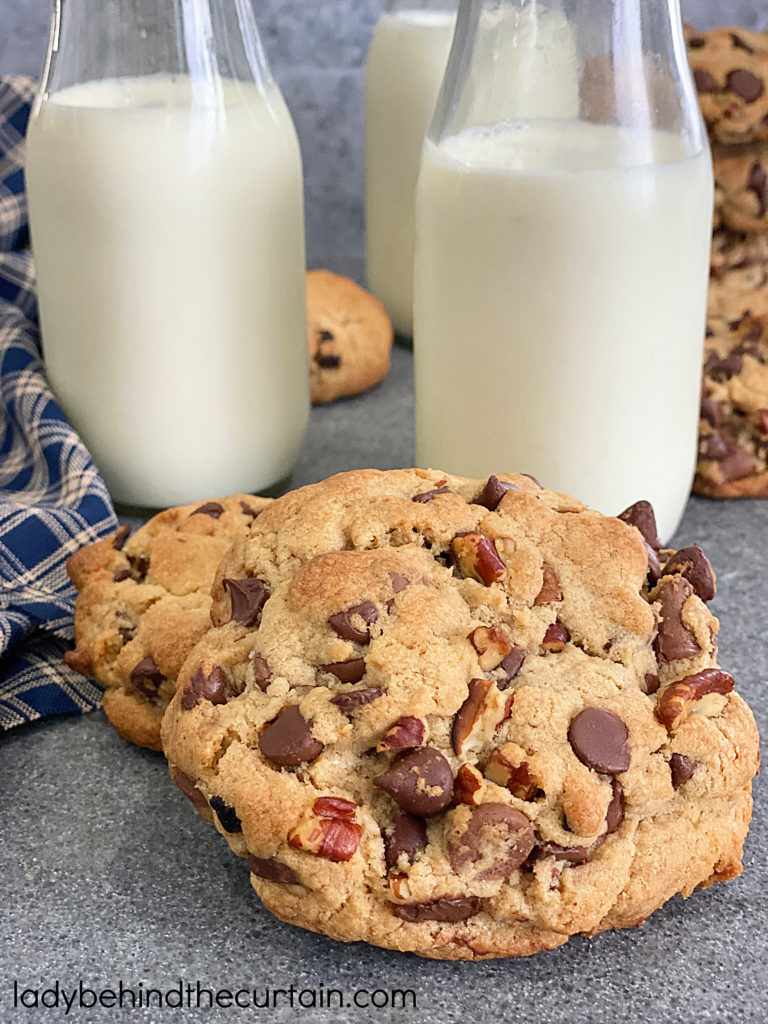 NEVER MISS A POST