Secret Fishing Hole Devil's Food Cupcakes
There's no denying that these rich chocolatey Secret Fishing Hole Devil's Food Cupcakes are the cutest things ever!  Totally fun for Father's Day, birthdays or any summer party.  WATCH MY VIDEO BELOW FOR COMPLETE DIRECTIONS ON HOW TO MAKE THESE ADORABLE CUPCAKES.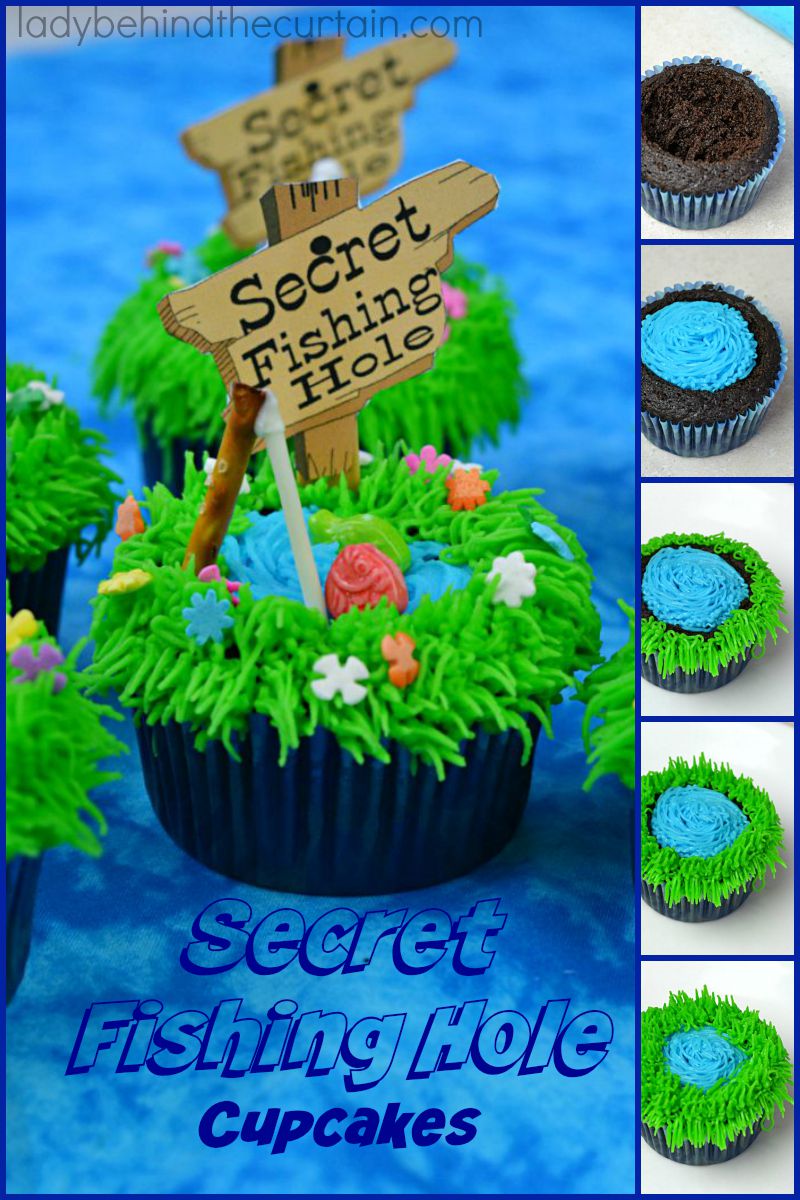 SUPPLIES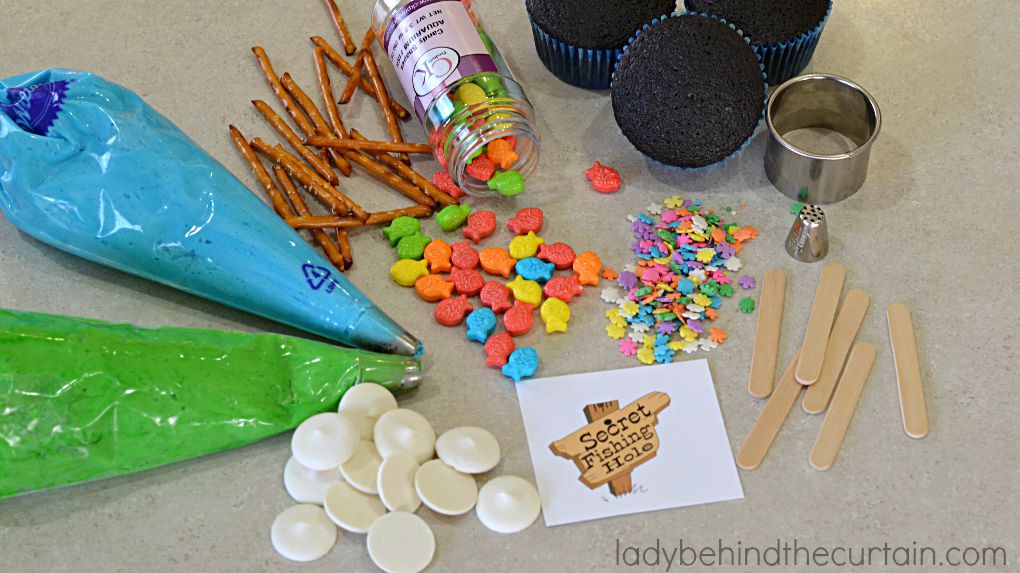 To make these fun cupcakes you'll need to start with a dense cupcake.  Once your cupcakes are baked and cooled completely the fun can begin.  Use a round cookie cutter (about 1 3/4-inch) and press down on the top of the cupcake (about 1/4-inch).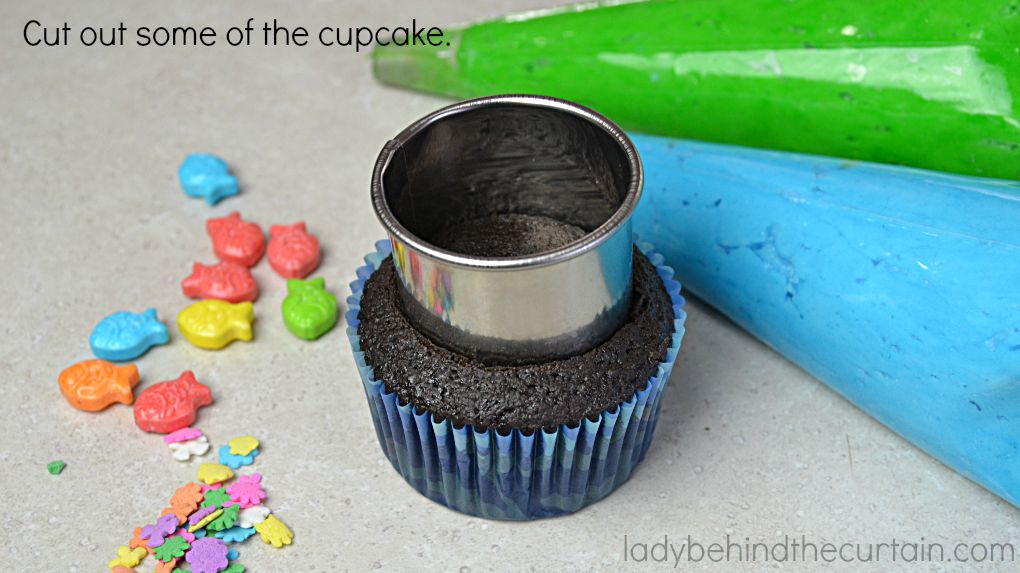 Use a paring knife to remove the cut portion of the cupcake again about 1/4-inch.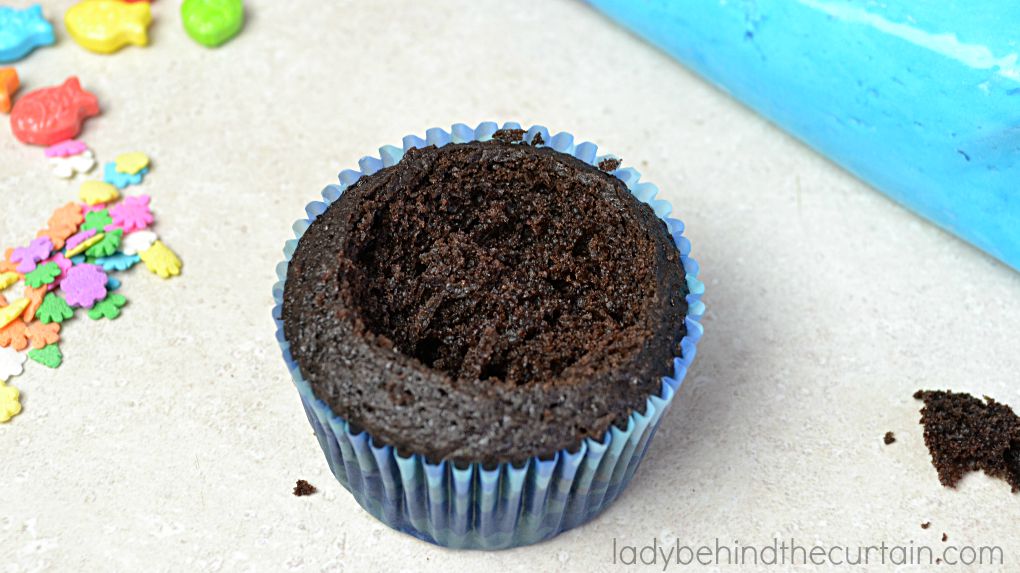 Fill in the hole in a swirling motion with blue frosting using a #233 (grass) tip.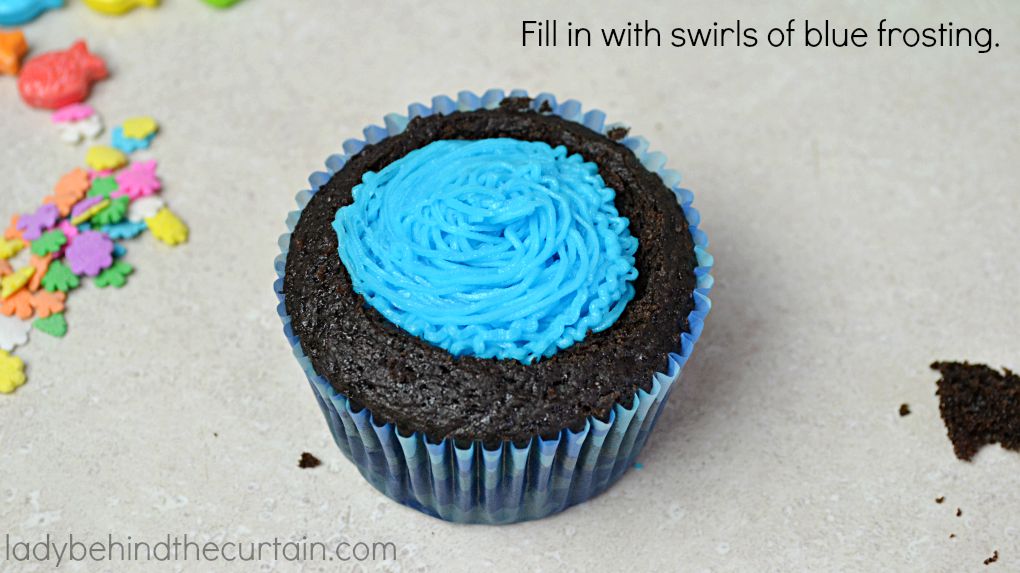 Now with the green frosting add grass around the edge of the cupcake also using a #233 tip.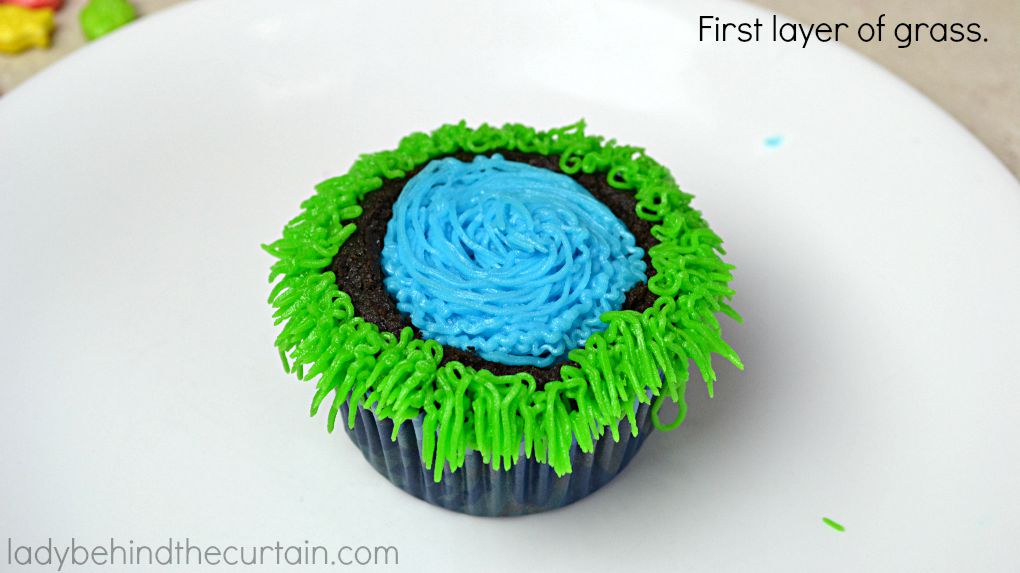 Continue on top, overlapping where you started around the sides.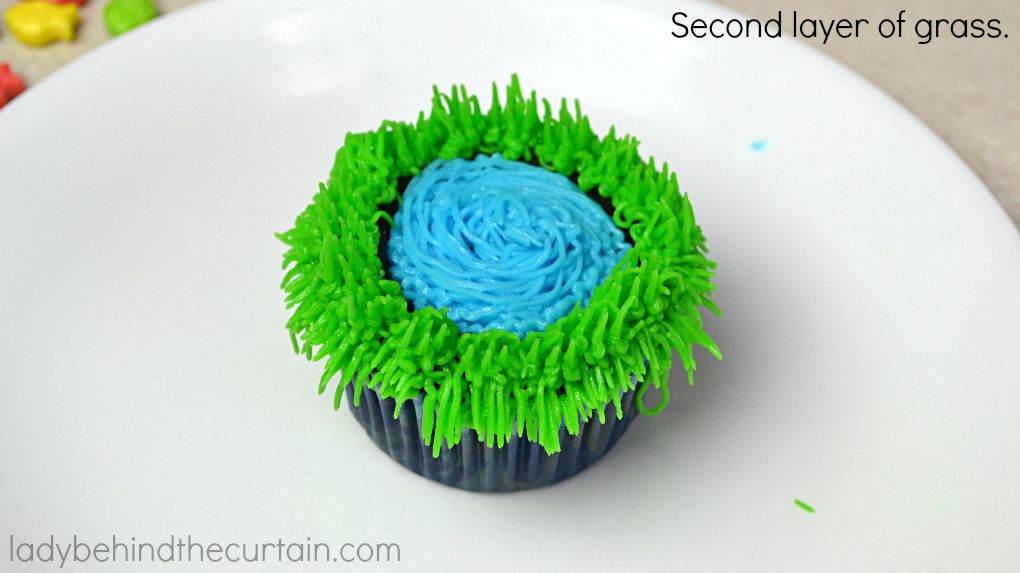 Fill in around the pond to give the water some depth.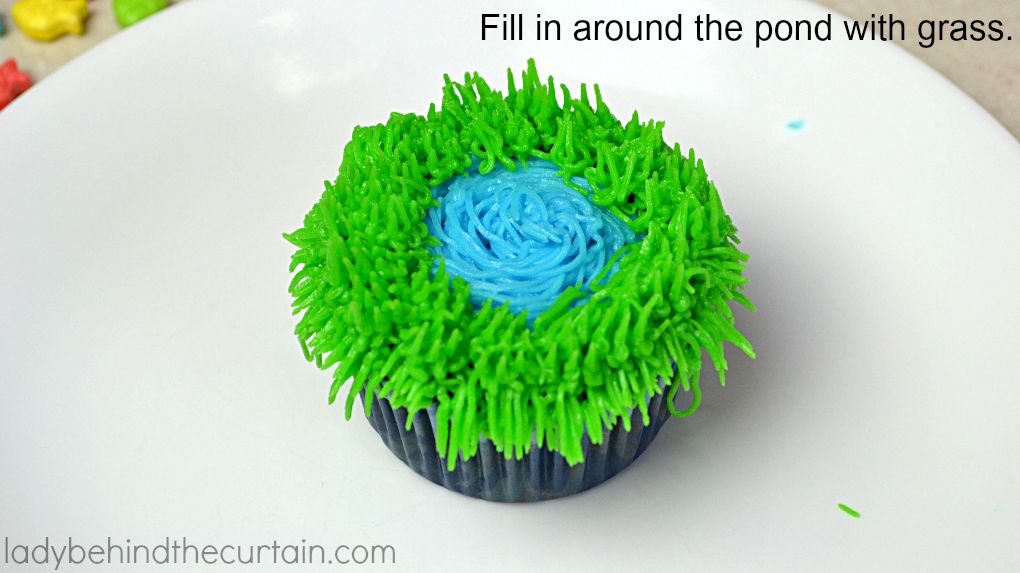 To make the fishing line: melt some white candy melts in the microwave, line a cookie sheet with wax paper.  Pour the melted candy into a squeeze bottle and draw thin lines.  Place in freezer 10 minutes or until hard.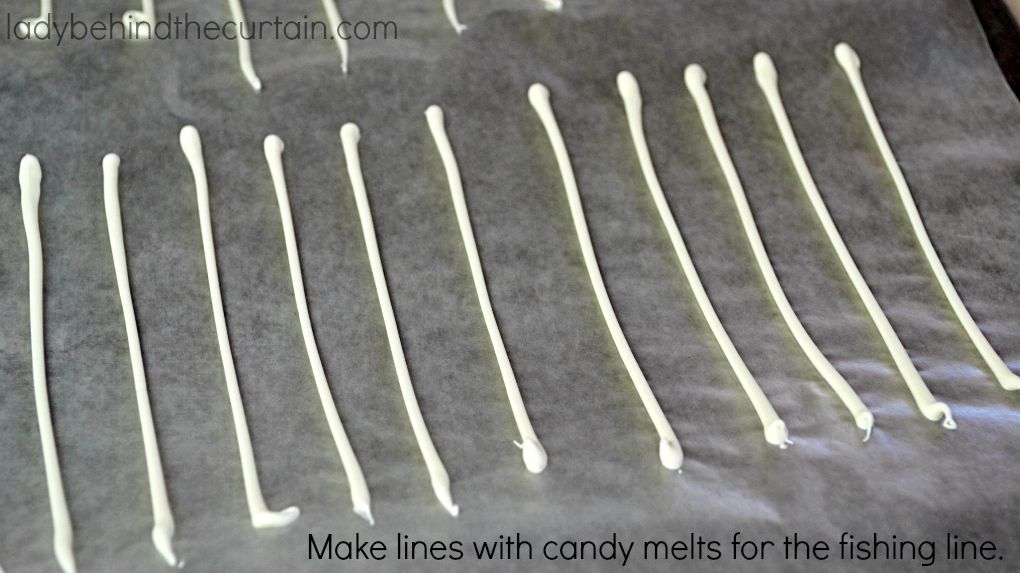 Cut out the sign, place a popsicle stick on the back at the same angle as the stake and tape onto the cutout.  Insert into the cupcake.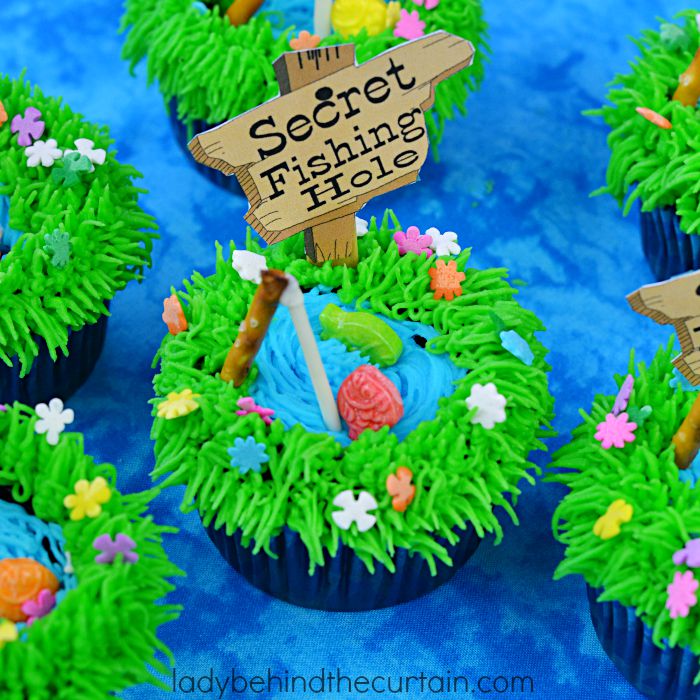 NEED SOME HELP?  WATCH MY VIDEO WITH STEP BY STEP INSTRUCTIONS.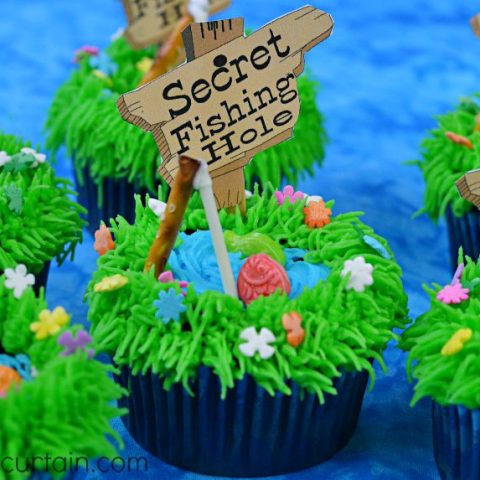 Secret Fishing Hole Devil's Food Cupcakes
Ingredients
For the Devil's Food Cupcakes:
3/4 cup unsweetened Dutch process cocoa powder
3/4 cup hot water
3 cups all-purpose flour
1 teaspoon baking soda
1 teaspoon baking powder
1-1/4 teaspoons salt
1-1/2 cups unsalted butter
2-1/4 cups sugar
4 large eggs
1 tablespoon vanilla extract
1 cup sour cream
For the Bakery White Frosting:
2 cups shortening
1 tablespoon clear vanilla extract
1 teaspoon almond extract
8 cups confectioners' sugar
6 to 8 tablespoons milk
For the Decorations:
flower shaped sprinkles
fish shaped sprinkles/candy
small pretzel sticks
white candy melts (for fishing line)
small 2 1/2-inch popsicle sticks
secret fishing hole printalbe
Instructions
For the Devil's Food Cupcakes:
Preheat oven to 350 degrees. Line muffin tins with 36 cupcake liners.
Whisk together cocoa and hot water until smooth. In another bowl, whisk together flour, baking soda, baking powder, and salt.
Melt butter with sugar in a saucepan over medium-low heat, stirring to combine.
Remove from heat, and pour into a mixing bowl.
With an electric mixer on medium-low speed, beat until mixture is cooled, 4 to 5 minutes.
Add eggs, one at a time, beating until each is incorporated, scraping down sides of bowl as needed.
Add vanilla, then cocoa mixture, and beat until combined.
Reduce speed to low. Add flour mixture in two batches, alternating with the sour cream, and beating until just combined after each.
Fill cupcake liners 2/3 full.
Bake 17 to 20 minutes or until a toothpick inserted into the middle comes out clean. Cool completely.
For the Bakery White Frosting:
Add the shortening to a medium mixing bowl.
Beat until shortening is light and fluffy.
Add extracts and beat until incorporated into the shortening.
Add the sugar 1 cup at a time; beat until smooth between each addition.
Add milk only if frosting is too thick.
Drizzle in 1 tablespoon at a time until the frosting reaches spreading or piping consistency.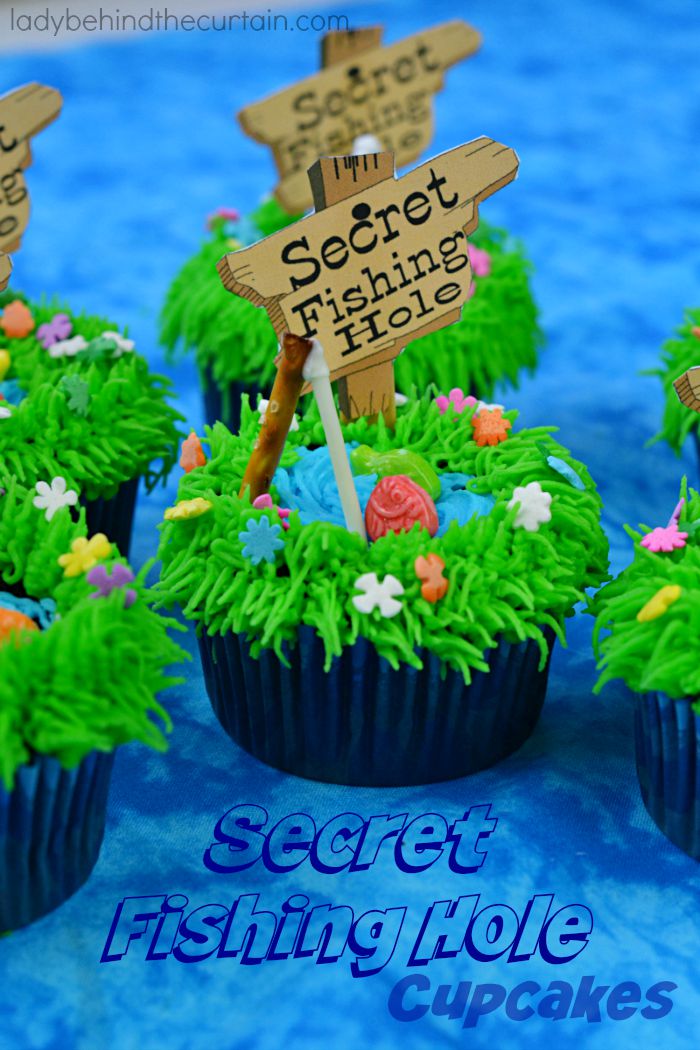 MORE PARTY CUPCAKE IDEAS
1. BANANA SPLIT ICE CREAM CONE CUPCAKES  2. MOVIE TIME CUPCAKES  3. CHURRO CUPCAKES