Slime Filled Coconut Lime Halloween Cupcakes
Slime Filled Coconut Lime Halloween Cupcakes
:  Don't be fooled by the creepy look of these cupcakes.  They are delicious!  Perfect for a kids Halloween party and an adult Halloween party.  ALSO…how about a SHREK party!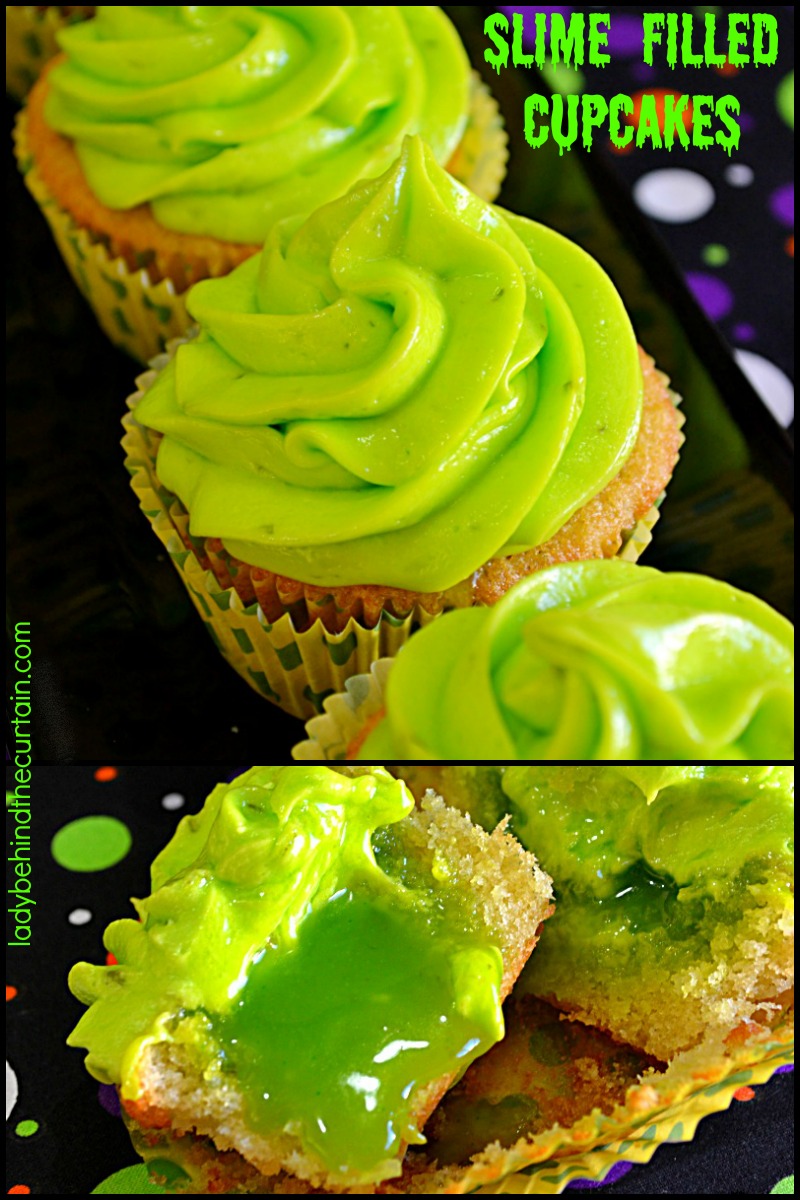 Halloween is almost here and you know what that means.  Yep, we take everyday food and make them scummy and gross.  Aside from the name of these slime filled cupcakes with swamp scum frosting.  All they really are is really good coconut lime cupcakes filled with lime curd.  But the name makes them sound really cool.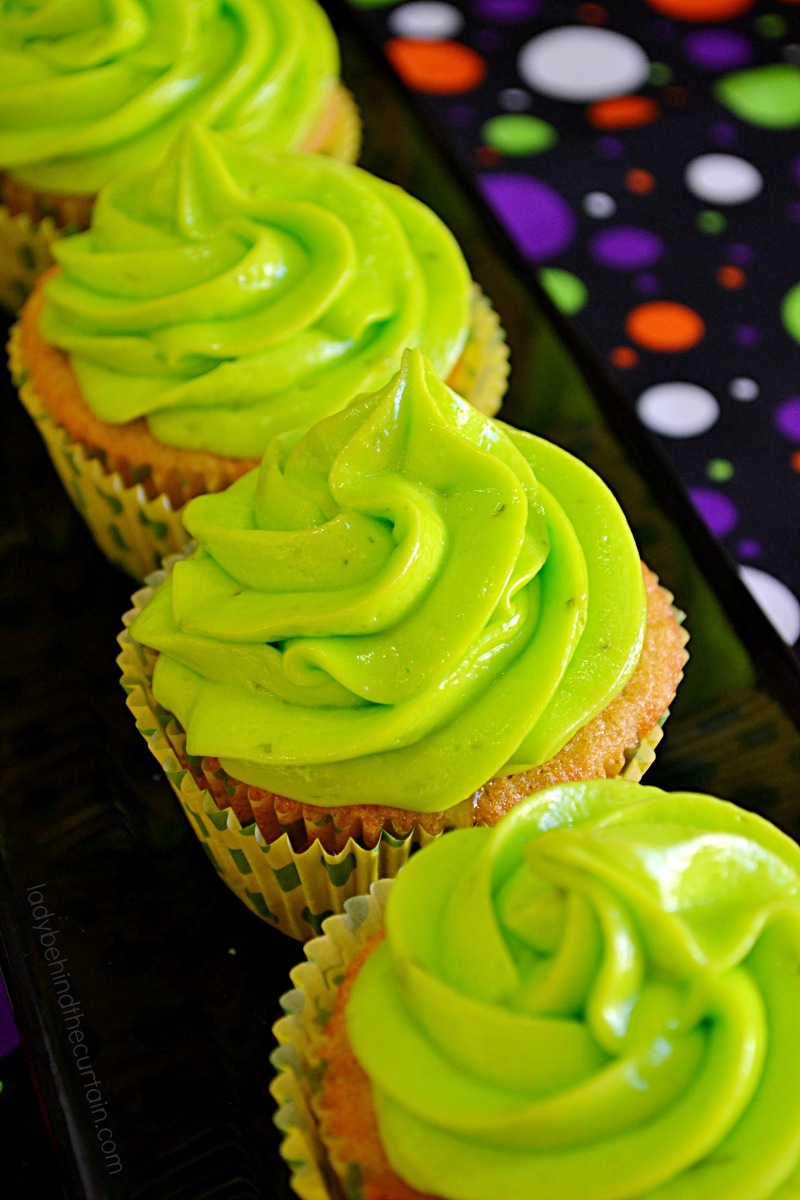 Don't have time to make lime curd?  Don't worry you can also used store bought just add food coloring to make it a slime green color.  You can also use lemon curd.  I really didn't taste a difference between lemon or lime.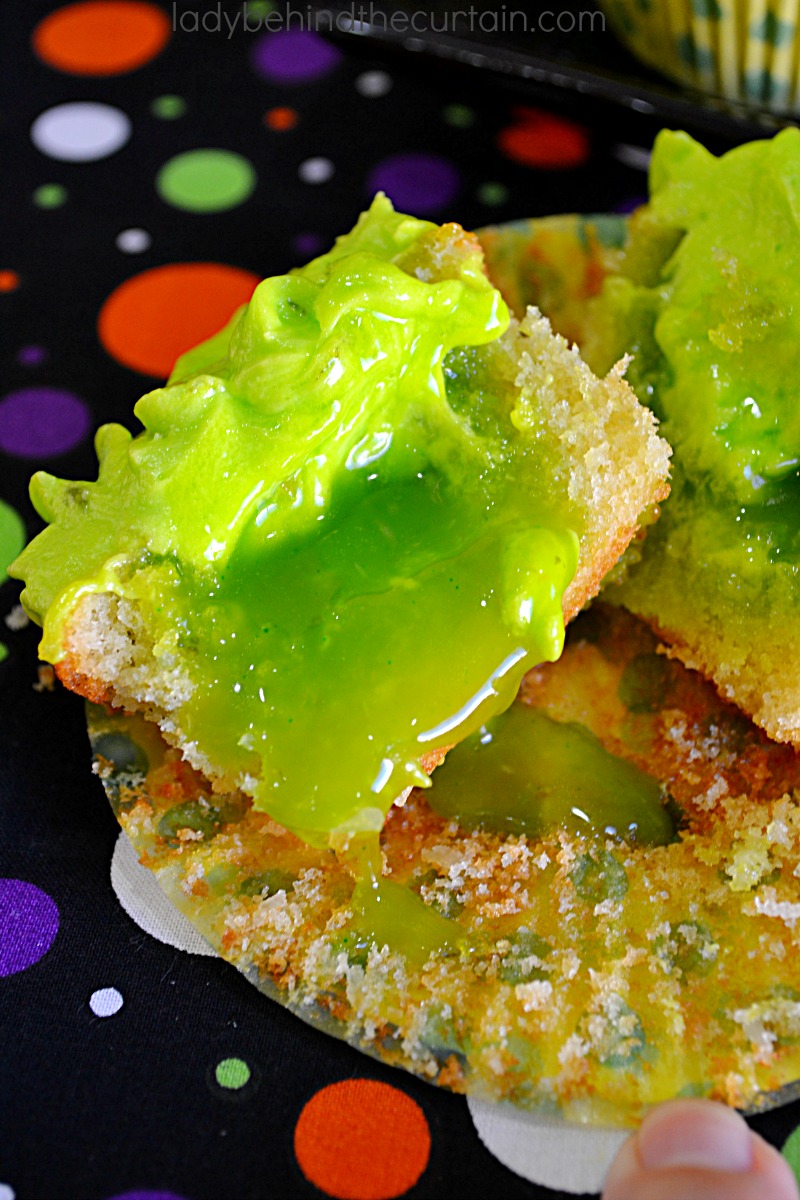 TIP:  When coloring your "slime" and "swamp scum"  use more yellow than green.  A little green goes a long way.  Add yellow first and then green.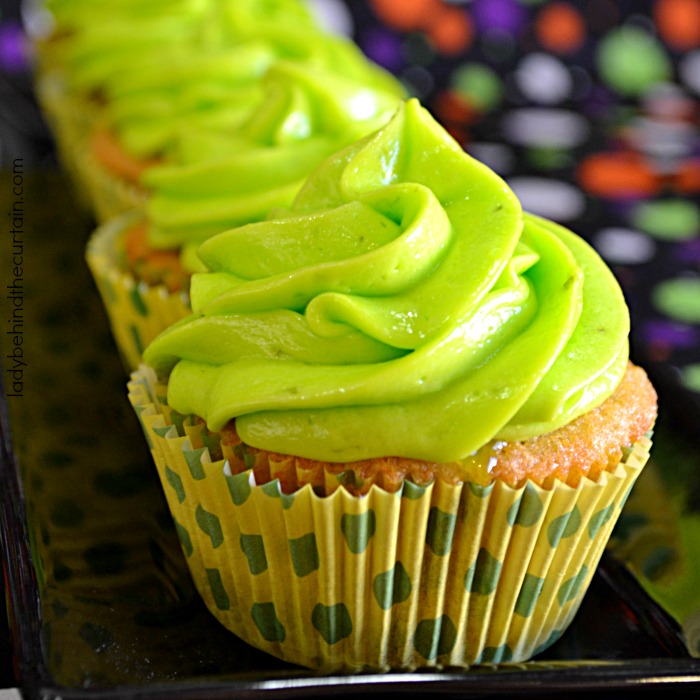 Pour the lime curd into a zip top bag fitted over a cup.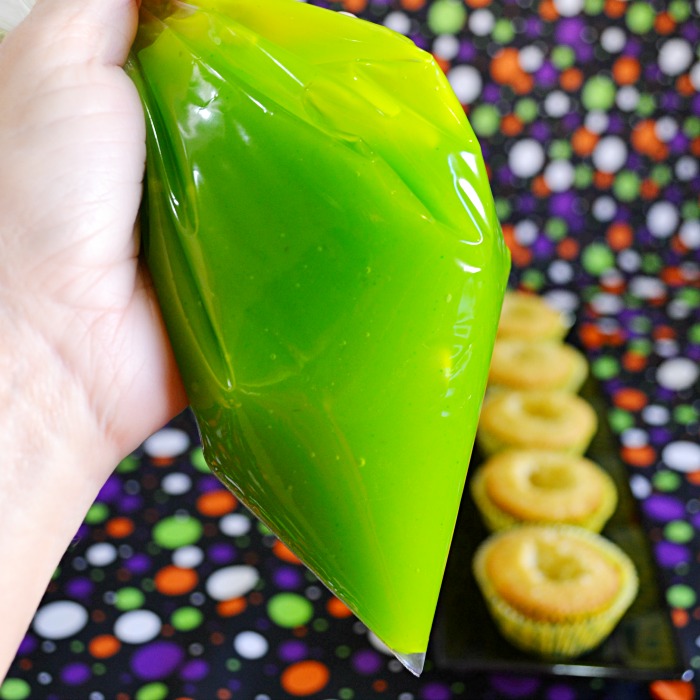 Use a paring knife and allow out the center of each cupcake.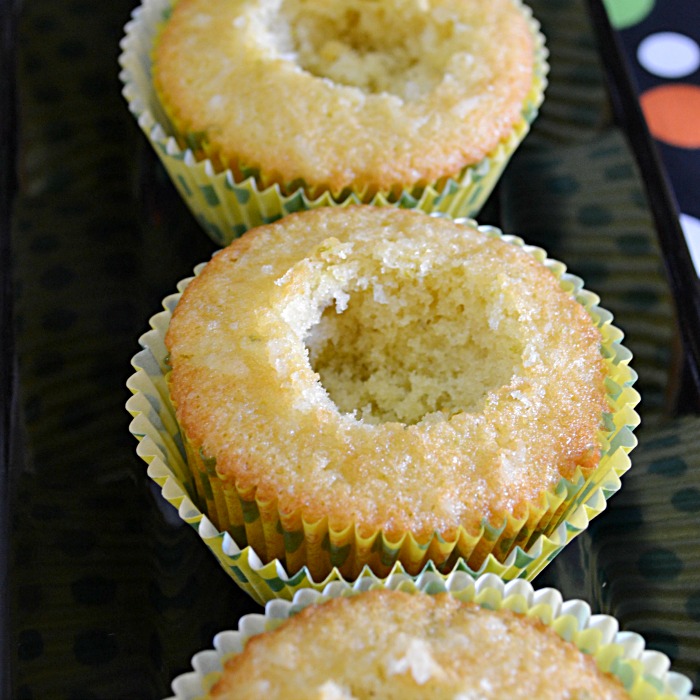 Fill with cooled lime curd.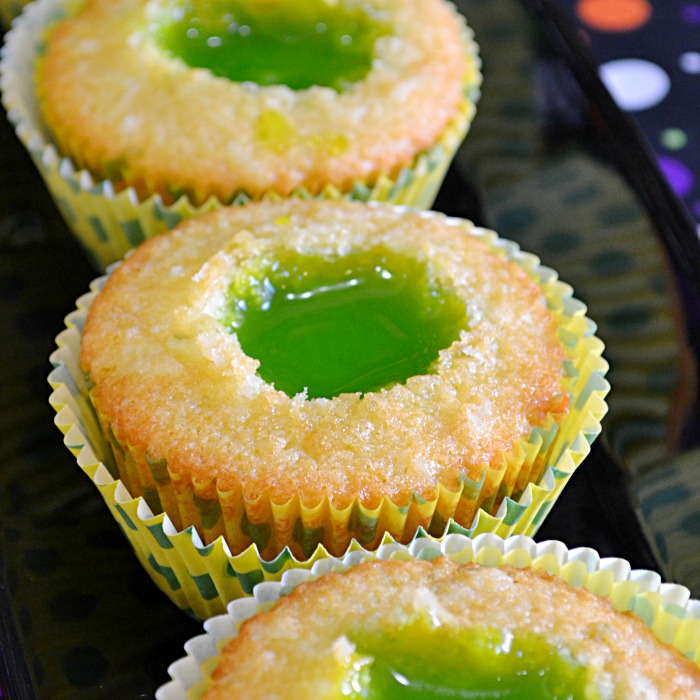 Pipe frosting over the curd.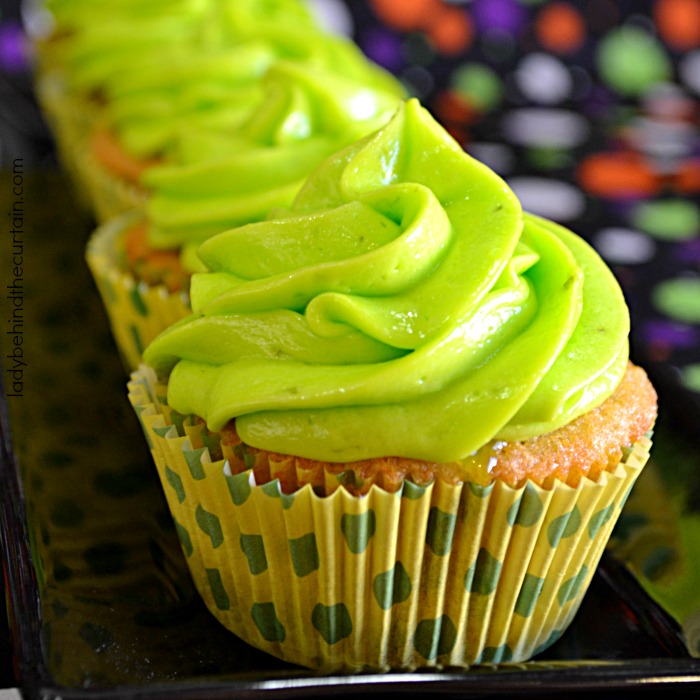 Slime Filled Coconut Lime Halloween Cupcakes
Yield:
2-1/2 Dozen Cupcakes
Total Time:
3 hours
20 minutes
Ingredients
For the Coconut Lime Cupcakes:
2 cups granulated sugar
zest of 3 limes
3 sticks butter, room temperature
6 eggs, room temperature
1-1/2 teaspoons vanilla extract
3 cups all-purpose flour
1 teaspoon baking powder
1/2 teaspoon baking soda
1/2 teaspoon salt
1 cup buttermilk
7 ounces sweetened shredded coconut
For the Lime Curd (Slime):
1 cup granulated sugar
1 tablespoon lime zest
1 cup fresh lime juice (about 8 medium limes)
4 egg yolks, lightly beaten
1/2 cup butter, cubed
yellow and green gel food coloring (more yellow than green)
For the Cream Cheese Lime Frosting (Swamp Scum)
16 ounces cream cheese, room temperature
1 cup butter, room temperature
1 teaspoon vanilla extract
zest of 2 limes
2 pounds confectioners' sugar
yellow and green food coloring (more yellow than green)
Instructions
For the Coconut Lime Cupcakes:
Preheat oven to 350 degrees.
Line a cupcake tin with 30 paper lines.
In a medium bowl, combine the sugar and lime, mix together with your fingertips until the sugar is moistened and fragrant.
Cream together the butter and sugar on high until light and fluffy.
Add the eggs one at a time.
Add the vanilla. Make sure to scrap down the sides and mix until well combined.
In a separate bowl sift together the flour, baking powder, baking soda, and salt.
Alternate the dry ingredients and the butter milk into the butter mixture.
Fold in 7 ounces of the shredded coconut.
Fill each prepared cupcake liner to the top with batter.
Bake 20minutes or until tops are brown and a toothpick inserted into the center comes out clean.
Allow to cool in the pan for 15 minutes.
Remove to a baking rack to cool completely.
For the Lime Curd (Slime):
Bring sugar, zest and juice to a boil in a heavy medium saucepan.
Remove from heat, and gradually whisk about one-fourth hot juice mixture into egg yolks; add egg yolk mixture to remaining hot juice mixture, whisking constantly until well blended.
Place sauce pan over medium to medium-low heat, and cook whisking constantly until mixture reaches a pudding like thickness (about 10 minutes).
Add butter in 6 batches whisking constantly until butter melts and mixture is well blended after each addition.
Remove from heat and pour mixture through a fine strainer into a bowl.
Add yellow and green gel food coloring.
Mix until well combined.
Place plastic wrap directly on warm curd (to prevent a film from forming).
Chill 3 hours.
For the Cream Cheese lime Frosting (Swamp Scum)
Cream together the cream cheese, butter, vanilla and lime zest until well combined and fluffy. Slowly add the sugar 1 cup at a time until smooth.
Add yellow and green gel food coloring.
Beat until all color is evenly combined.
To Assemble:
Fit a zip top bag over a cup, pour lime curd into the bag.
Cut off the tip to fill cupcakes. TIP: When finished with the curd or taking a break to do something else, fit the bag back into the cup with the cut tip out.
Fit a large piping bag over a cup and fill with frosting.
Using a paring knife cut out the center of the cooled cupcakes and hallow out.
Fill with cooled lime curd.
Pipe frosting over the curd.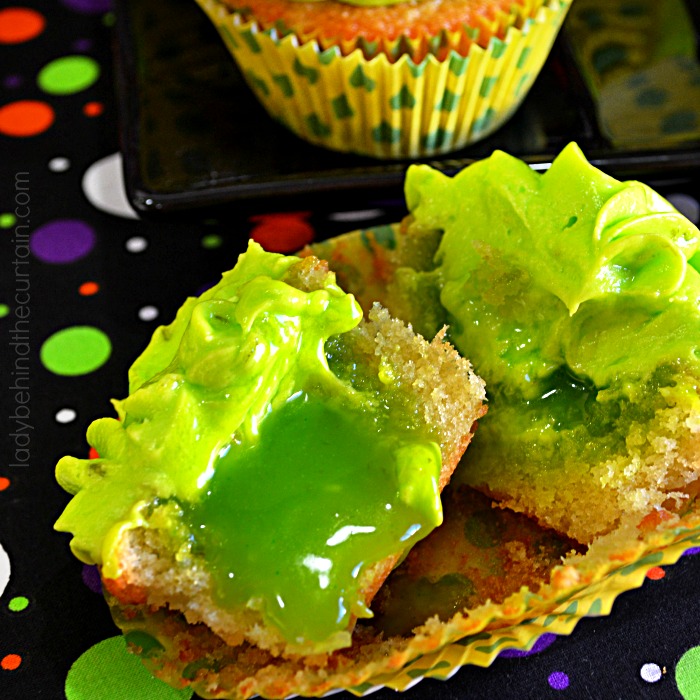 MORE HALLOWEEN IDEAS
1.  SPIDER LIGHT CENTERPIECE  2.  WITCHES WART JUICE  3.  EYE OF NEWT PRETZELS 
NEVER MISS A POST!
Sign up for my newsletter and receive my recipes in your inbox. Easy to see anytime and saved for safe keeping. Click Here and sign up today! —->>>>CURTAIN CALL NEWSLETTER