10 Minute Eye of Newt Halloween Donuts
Okay so you have to admit, these 10 Minute Eye of Newt Halloween Donuts are "looking" pretty awesome.  These donuts make the perfect easy Halloween Party Dessert!  I'm sure you don't mind eating something that is "watching" you.  Hahahaha…….. 😆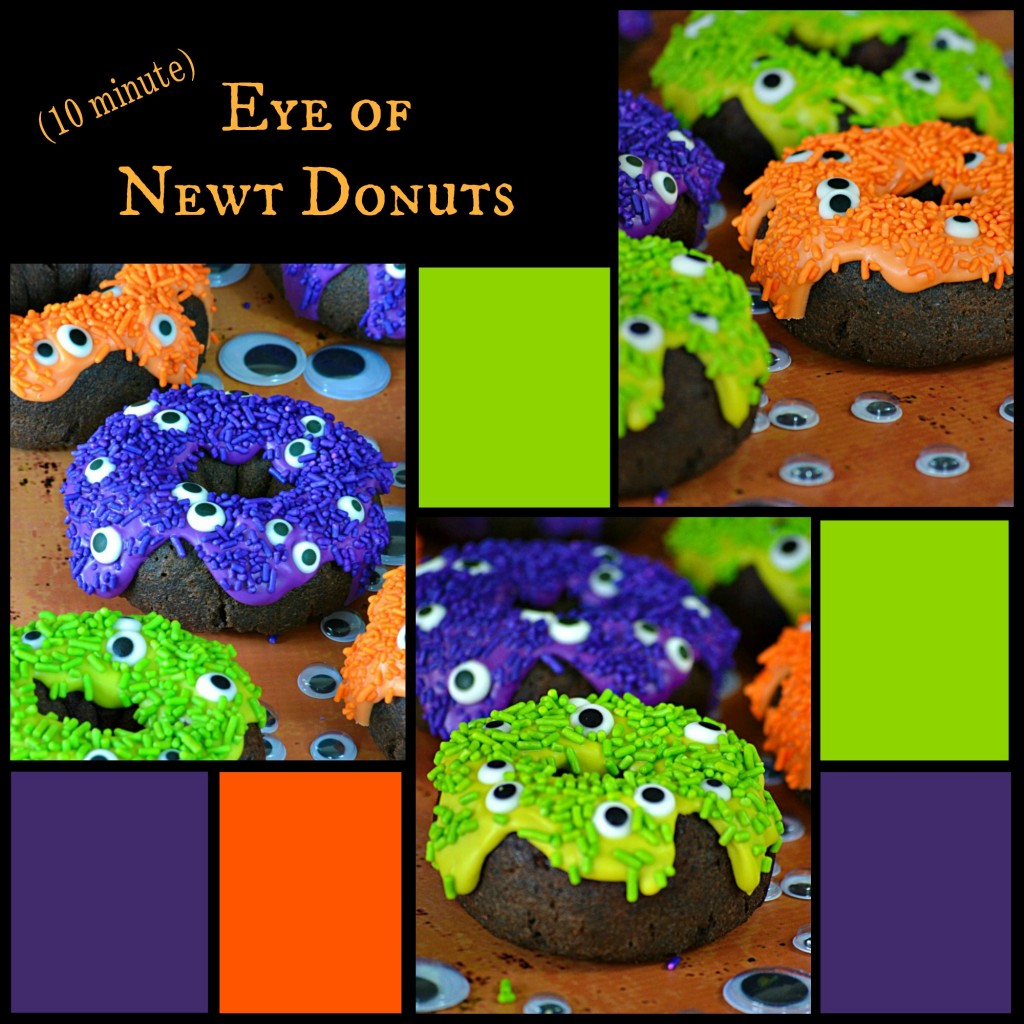 The witching hour will soon be here and all good ghouls need to have their daily dose of "eye of newt".
Wouldn't your kids love to have these fun 10 Minute Eye of Newt Halloween Donuts for breakfast?  These would fit right in with a monster or witch theme party.  Along with my EYE OF NEWT PRETZELS AND HERE'S LOOKIN' AT YOU CARAMEL CORN PARTY MIX.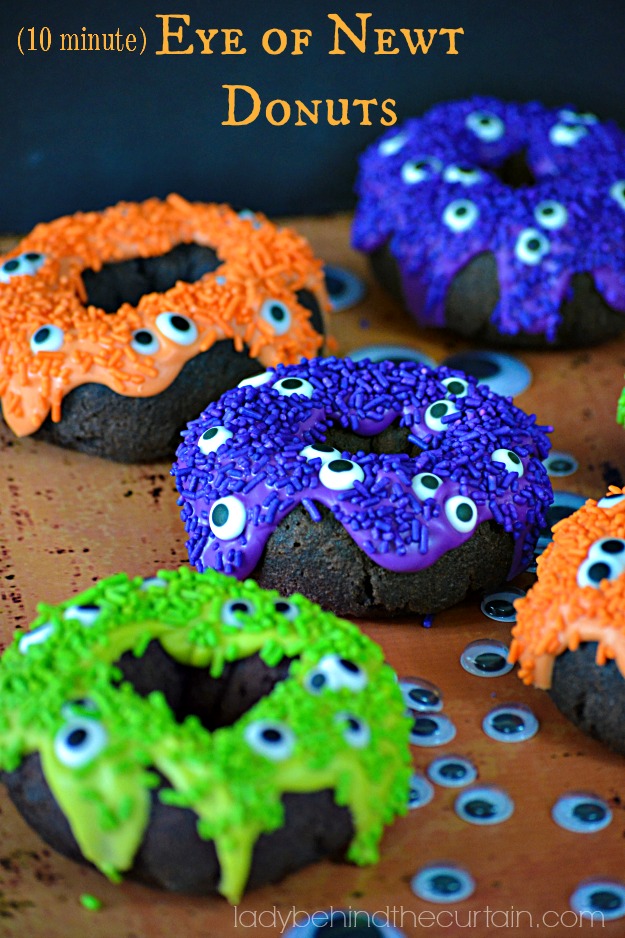 First I started with chocolate cake donuts (without frosting).  I found mine at Walmart in the bakery department.  If you can't find them you can also use plain cake donuts from a donut shop or you can also purchase Entenmann's (also at Walmart, Target and most anywhere).  You'll need to purchase a bag (or 3 in my case because I wanted three colors) of candy melts.  TIP: It looks best if you have the same color of sprinkles that you have of candy melts.  Melt the candy, drizzle onto the donuts, add eyes and sprinkles.  THE PERFECT CREEPY FUN BREAKFAST!
Add these donuts to your Halloween Pinterest Board. Don't have a Halloween board? Let me help you build one.
LOOK BELOW FOR A LIVE INTERACTIVE PEEK AT MY HALLOWEEN BOARD!  PIN FROM THE PICTURES BELOW!  TO SEE MORE CLICK ON THE SEE ON PINTEREST BUTTON.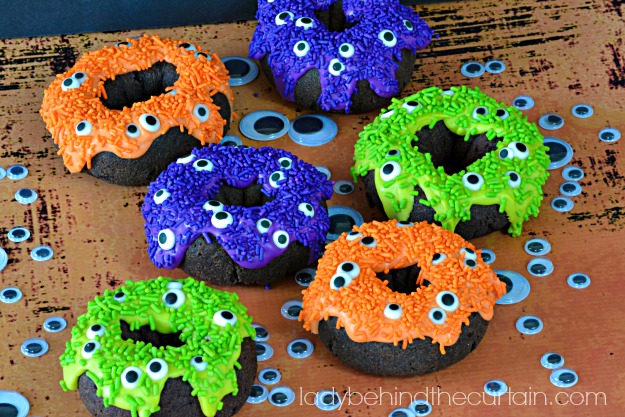 10 MINUTE EYE OF NEWT HALLOWEEN DONUTS
Supplies
chocolate cake donuts (no frosting)
candy melts (same colors as sprinkles)
sprinkles (same colors as candy melts)
edible googly eyes
Directions
Place donuts on a wire cooling rack with wax paper underneath.
Add candy melts to a small microwave safe bowl.  NOTE:  Use only 2/3 cup of candy melts per 6 donuts.  Microwave in 30 second intervals, stir each time (it can take up to 90 seconds).  Stir until creamy.  NOTE:  If the candy is too thick to drizzle you may need to add vegetable oil (only 1 teaspoon at a time until the candy reaches the right consistency).
Once the candy is the right consistency, drizzle along the top first and push the candy down the sides with a spoon.  Place eyes where you'd like them and add sprinkles.
Place the donuts STILL on the cooling in the refrigerator to harden (about 10 minutes).