Halloween Pumpkin Patch Oreo Cake Pops
These Halloween Pumpkin Patch Oreo Cake Pops are the easiest NO BAKE Halloween Party Treat you can make!  With only a few ingredients you can have these ready in a snap.  Creamy dark chocolate on the inside and a crunchy outer layer make these cake pops the best party treat.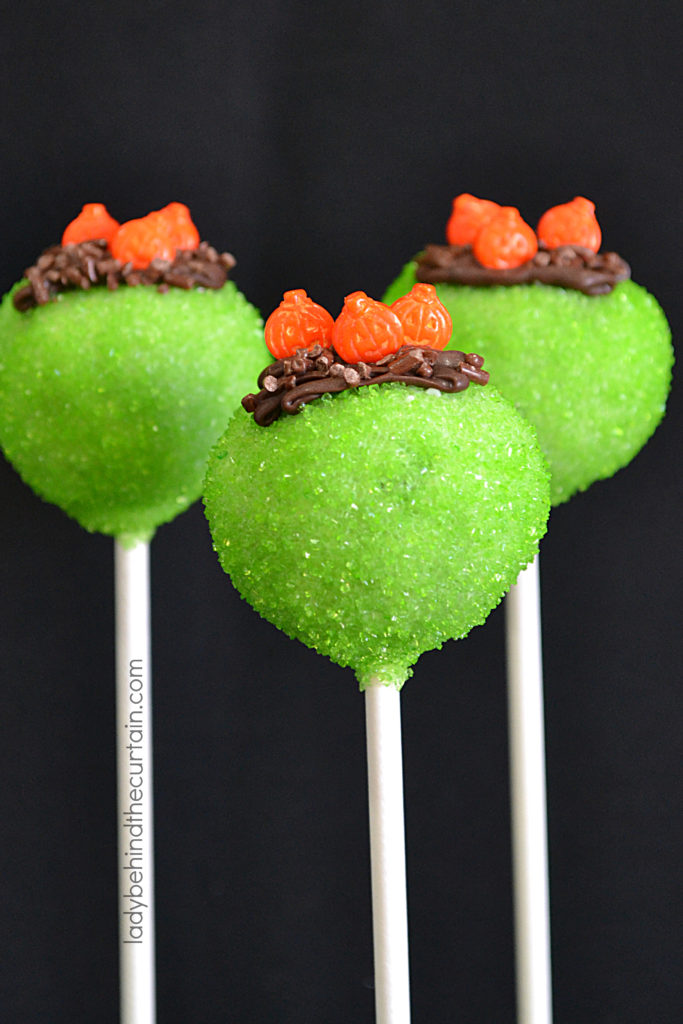 Halloween Pumpkin Patch Oreo Cake Pops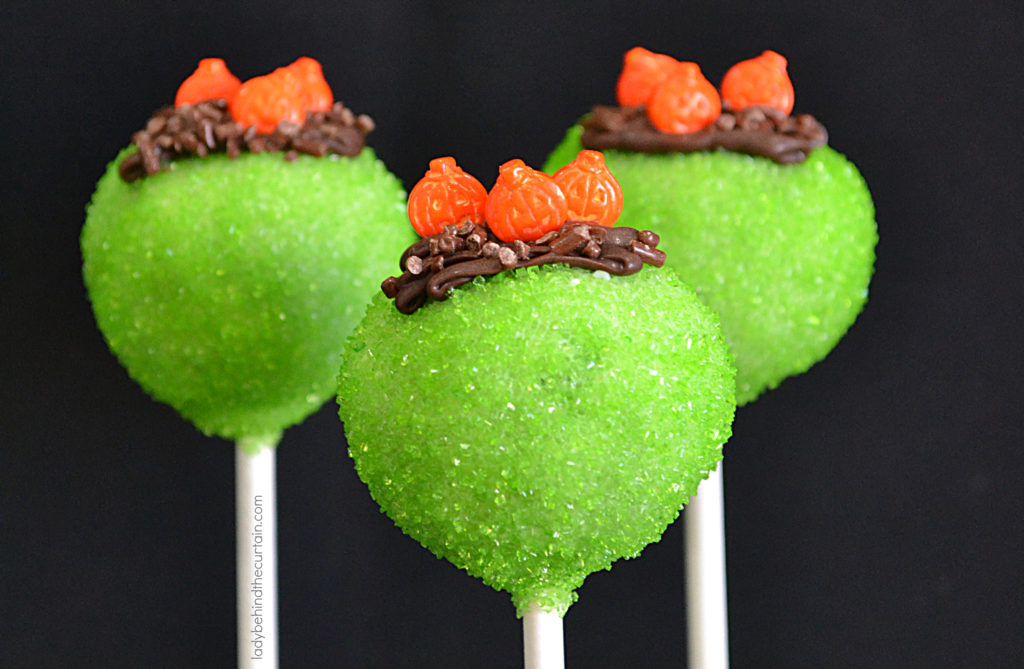 More Cake Pop Ideas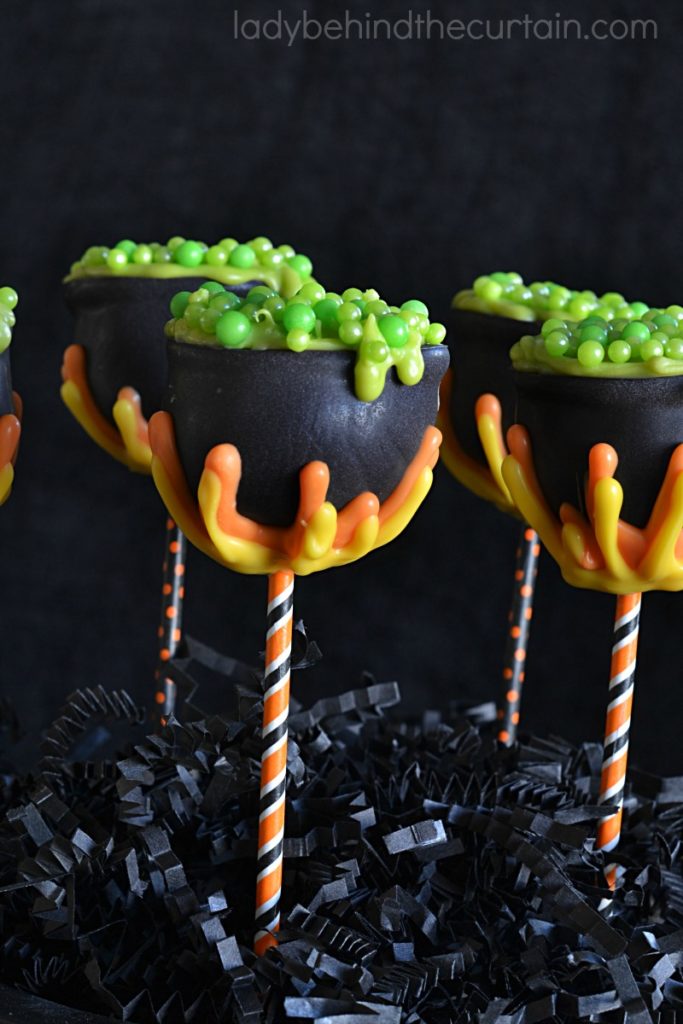 WITCHES CAULDRON CAKE POPS 2. PINA COLADA CAKE POPS 3. FINDING DORY CAKE BATTER POPS 4. RED VELVET HEART CAKE POPS
Cake Pop making Tip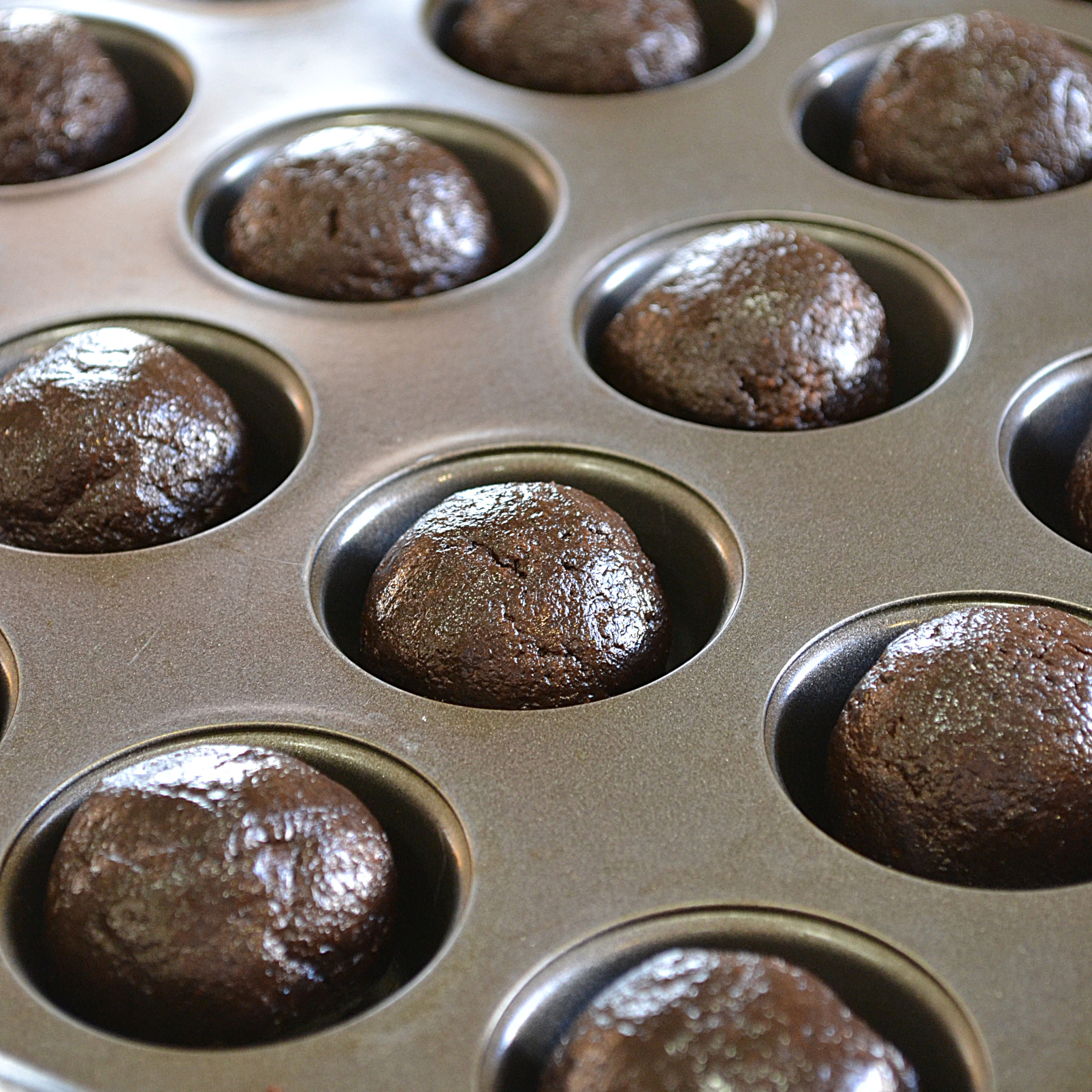 Place each ball in the well of a mini muffin tin. Dip one end of a lollipop stick into some melted candy and as straight as you can insert into a cookie ball.
Cake Pop Ingredients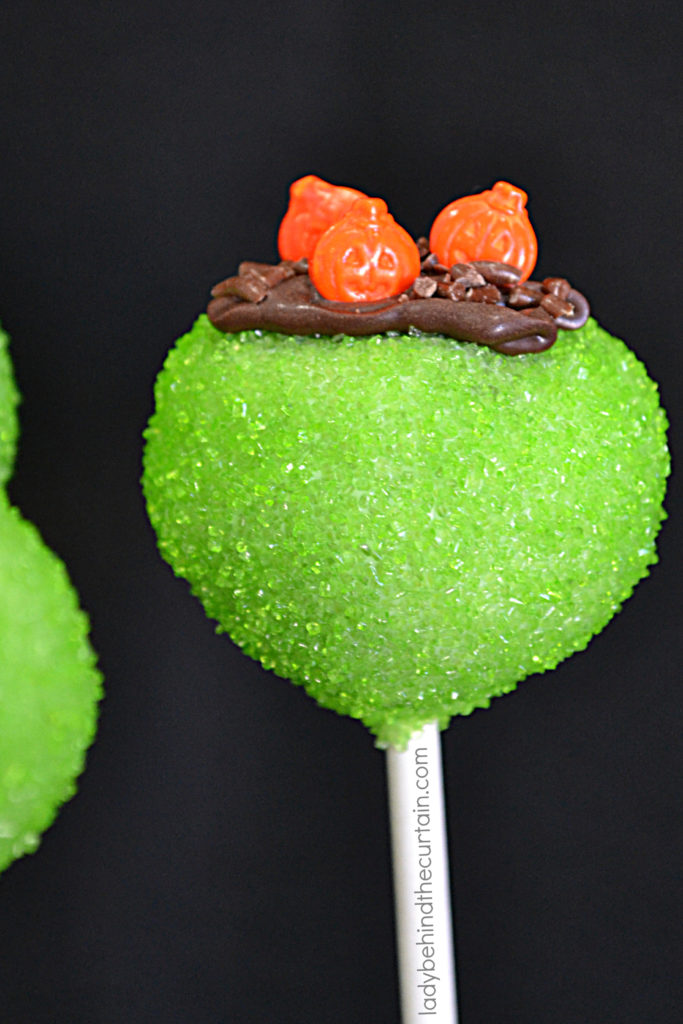 cream cheese
Oreo cookies
candy melts
sugar sprinkles
pumpkin shaped sprinkles
lollipop sticks
styrofoam block
How to Make Halloween Pumpkin Patch Oreo Cake Pops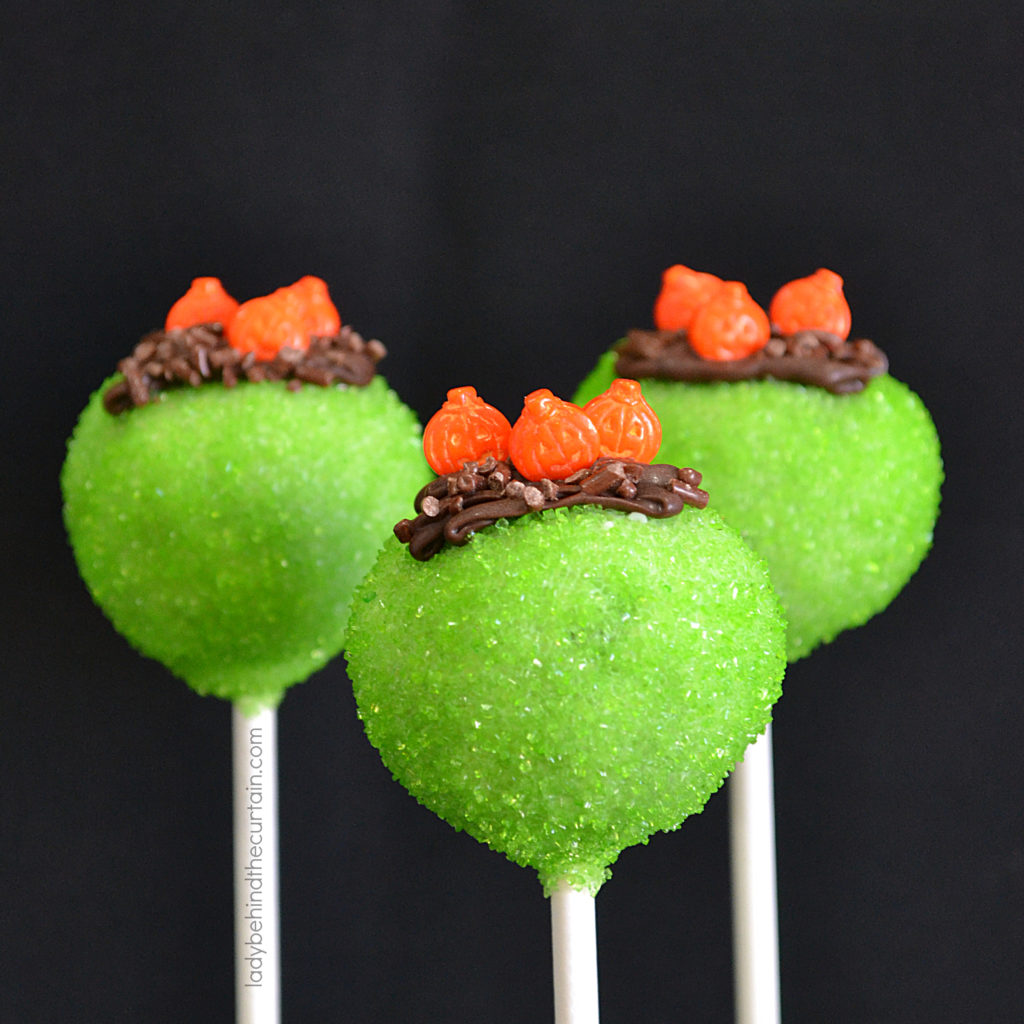 Add half of the cookies into a food processor. Process until cookies crumbs appear. Dump into a bowl. Take out any big pieces of cookie and put back into the food processor with the rest of the cookies. Pulse until crumbs appear.
Add the first batch of cookie crumbs back into the food processor along with the cream cheese. Pulse until the cookie mixture becomes a ball of dough.
Form cookie dough into a 1-inch ball. Place each ball into the well of a mini muffin tin. Melt some of the candy melts (the color choice is yours), I used white.
Dip one end of a lollipop stick into the melted candy and as straight as you can insert into a cookie ball. Once all the cookie dough has a lollipop stick inserted. Place in the freezer for 5 minutes or until the melted candy has hardened.
Place the remaining candy melts (white) in a medium microwave safe bowl. Microwave to melt the candy at intervals of 30 seconds, stirring every time. Take Oreo pops out of the freezer and dip in melted candy making sure to cover all the way up to the stick. Immediately add sugar sprinkles (green) Place in a stand or a block of Styrofoam to dry.
Melt chocolate and chop about 1 tablespoon of the chocolate sprinkles. Pour melted chocolate into a small zip top bag and snip the corner. Drizzle some of the chocolate on top of the Oreo pop, place 3 pumpkin sprinkles on top and sprinkle of chopped chocolate sprinkles. Place pops in refrigerator to harden. Store in the refrigerator until ready to serve.
HOW TO THIN CANDY MELTS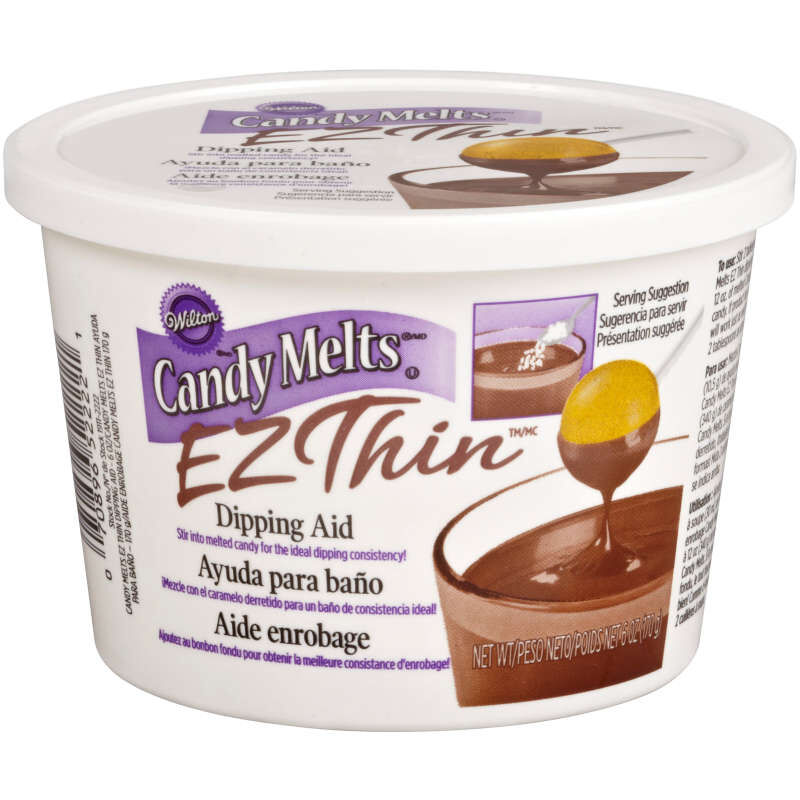 Candy melts can be a little finicky. DO NOT USE WATER. Candy melts are oil based. You can use a tablespoon of vegetable shortening or EZ Thin Dipping Aid from Wilton.
HOW TO KEEP MELTED CANDY IN A LIQUID STATE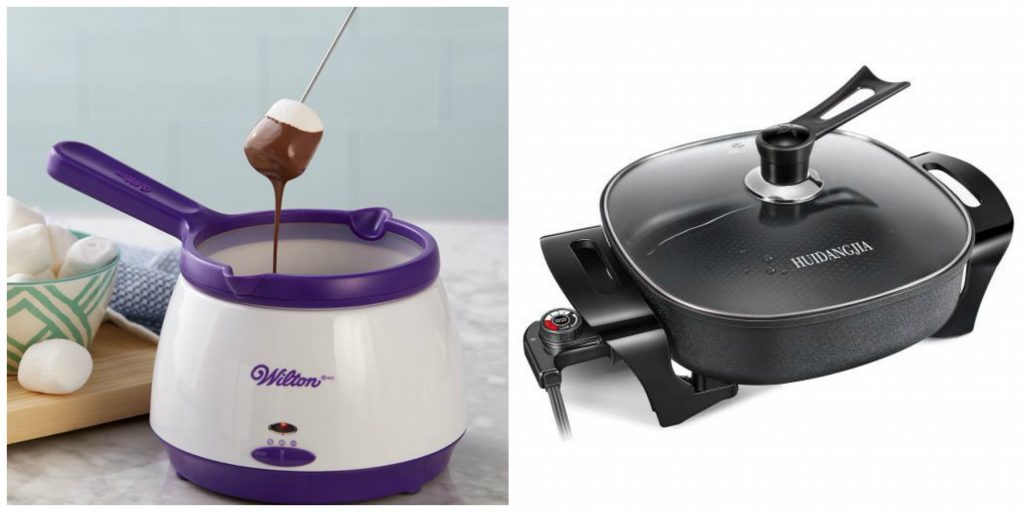 Using Wilton Melting Pots (this is my favorite). These handy pots are not just for melting candy, they also work amazing at keeping the candy melted. For the drizzle method I melt the candy, pour it into piping bags, seal the end tightly with a rubber band. Place the piping bags in a heated pot without the insert. The pot will keep the candy piping hot so be careful when handling. If using squirt bottles, pour hot water into the pot (without the insert), use high setting, fill bottles with melted candy, place in the water. This will also keep the candy melted.
Electric Skillet. All the above can also be achieved by using an electric skillet except ALWAYS have water in the skillet. Also, the candy melts can not be added directly to the skillet. They MUST be in a heat proof container like a mason jar or bowl.
MORE HALLOWEEN PARTY TREATS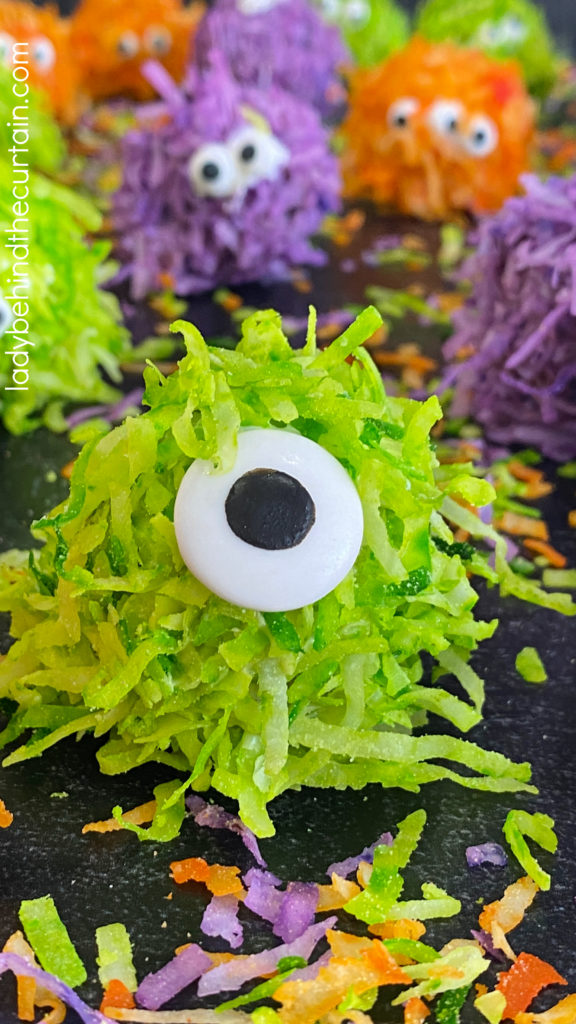 SEMI HOMEMADE FUZZY MONSTER DONUT HOLES 2. HALLOWEEN PARTY SLIME EYEBALL PUNCH 3. HALLOWEEN MONSTER PARTY FUDGE 4. HALLOWEEN MARSHMALLOW PUMPKIN POPS
SIGN UP FOR THE LADY BEHIND THE CURTAIN NEWSLETTER AND FOLLOW THE LADY BEHIND THE PARTY ETSY SHOP
THANKS FOR VISITING♥