BREAK OUT THE BIG PLATTER FOR THIS BIG TACO SALAD!
I love this big taco salad recipe.  It's easy to put together and will feed 10 to 12 people.
With layers of ground beef, beans, rice, corn chips and all the toppings this salad makes a nice dinner or side dish!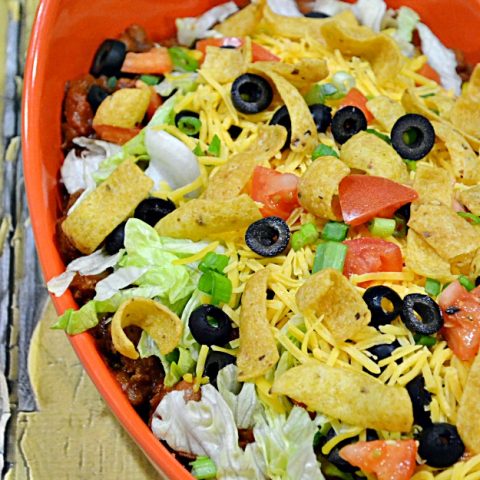 Big Taco Salad
Ingredients
2 pounds ground beef
1 large onion, chopped
1 (14.5 ounce) diced tomatoes, undrained
1 (12 ounce) tomato paste
1 (15 ounce tomato puree
2 tablespoons chili powder
1 teaspoon ground cumin
1/2 teaspoon garlic powder
2 teaspoons salt
2 (15 ounce) ranch style beans
1 (10.5 ounce) bag corn ships
2 cups hot cooked white rice
Toppings:
2 cups cheddar cheese, shredded
1 medium head iceberg lettuce, shredded
3 medium tomatoes, seeded and chopped
1 (2 1/4 ounce) sliced black olives
1 cup salsa (optional)
Instructions
In a large skillet cook beef and onion until meat is no longer pink; drain.
Add tomatoes, tomato paste, tomato puree, chili powder, cumin,garlic powder, and salt.
Simmer 30 minutes.
Add beans and heat through.
On a platter or large casserole dish, layer the corn chips (save some to sprinkle on the top), rice, meat mixture, toppings and the reserved corn chips.
Serve with salsa.
Notes
This recipe is from ]Lady Behind The Curtain|https://www.ladybehindthecurtain.com/]