Brown Butter Pecan Mini Cakes
Brown Butter Pecan Mini Cakes: The rich flavor of nutty brown butter , caramel brown sugar, toffee bits and pecans work together beautifully to create a delicious light and airy pecan cake, topped with a whipped brown butter frosting. The perfect party cake worthy of any celebration.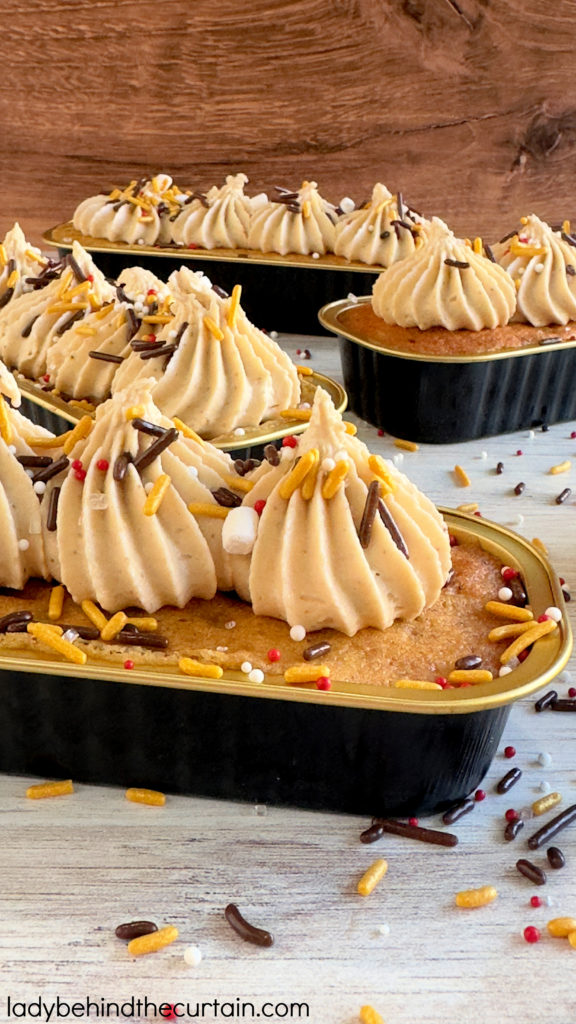 What is Brown Butter?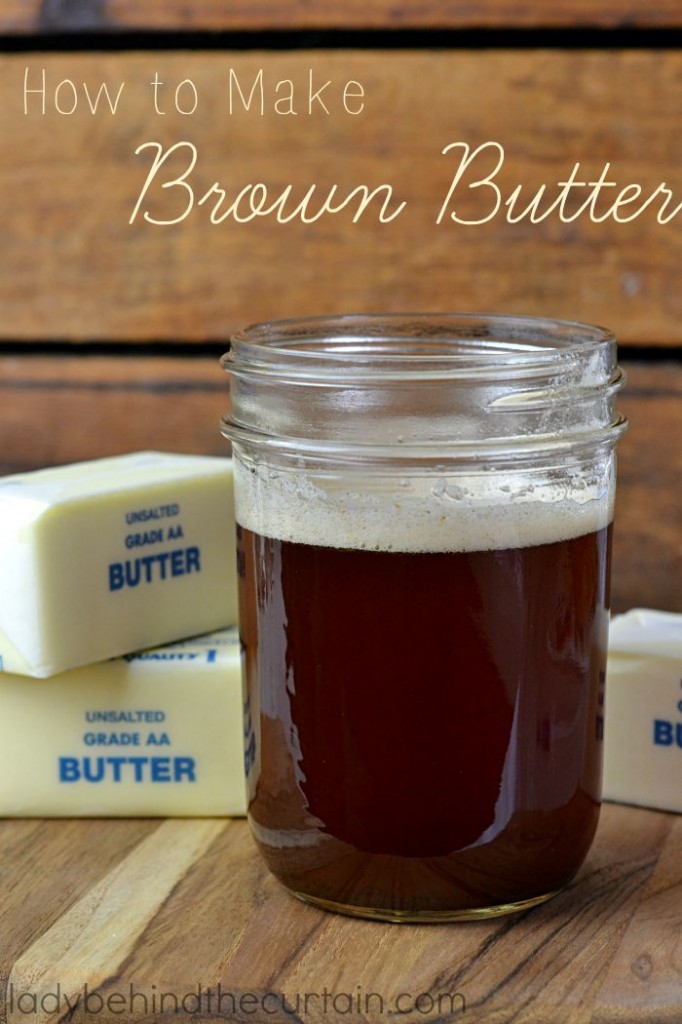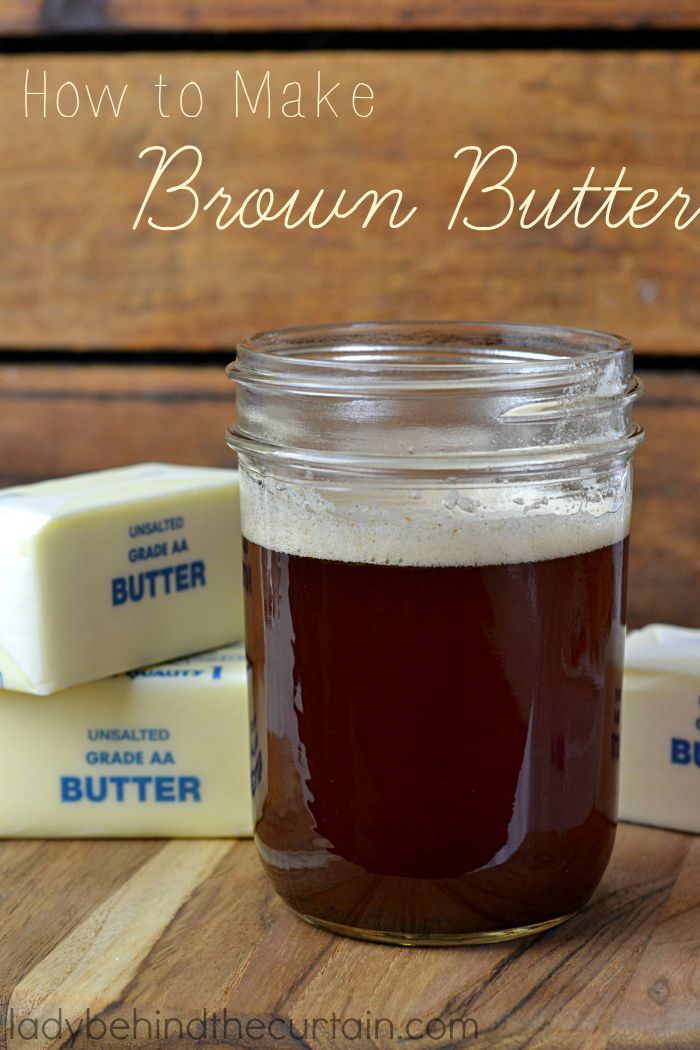 Brown butter is regular butter that has been "browned." What you are doing is boiling or cooking the butter past its melting point, just long enough to toast or brown the milk solids in the butter. By doing this, you're creating butter magic! It releases a nutty flavor in the butter that adds an extra layer when you replace it for regular butter in recipes.
Pro Tips on How to Make Brown Butter
It's super easy to brown butter. There are no "special" tools. Just a saucepan and a whisk. Whisking works better than a spoon. A spoon will work but not as affiant as a whisk.
WHISK OFTEN: The goal is to brown the milk solids while the butter is boiling. Watch out you don't want to take it too far and end up with black or burnt solids.
COOKING TIME: The cooking time will depend on how much butter you're using, the amount of heat (I recommend melting over medium heat), and the surface area of your pot or pan. Using a sturdy, thick pan ensures even heating for the best results. If you want your butter to melt faster, cut it first before adding it to your pan.
LOOSING VOLUME: A good formula to go by: every stick of butter is 113g. After browning you should be left with 90-93g. So if your recipe calls for ½ cup of butter (113g) note, you will not end up with a half a cup of butter after browning. HERE'S HOW TO REMEDY THAT: Add 2 extra tablespoons of butter before browning or cool the butter to room temperature, add milk, sour cream, or buttermilk to bring the cooled brown butter to ½ cup.
ALLOW THE BUTTER TO SOLIDIFY: When you need softened butter, you'll chill the butter for about an hour, until it's the consistency of room temperature butter. If you need cold butter, leave it in the fridge until it's completely firm.
Mini Cake Containers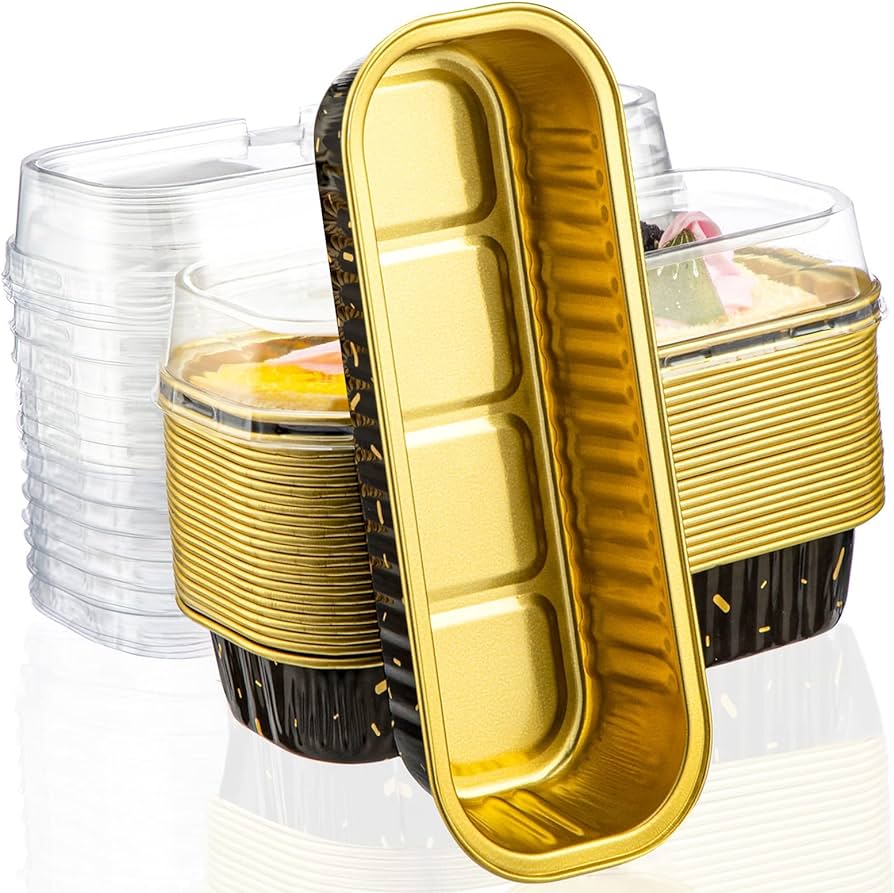 These mini foil pans with lids are everywhere on social media. So, I decided I'd give them a try. I loved them! They add so much fun to your party dessert table. Choose to decorate them all the same (like I did) or make each one look different. The options are endless and all it takes is a mini foil pan. Click here for the pan I purchased (not an affiliate line)→6.8 ounce Aluminum Foil Baking Tin with Lids
How to Make Brown Butter Pecan Mini Cakes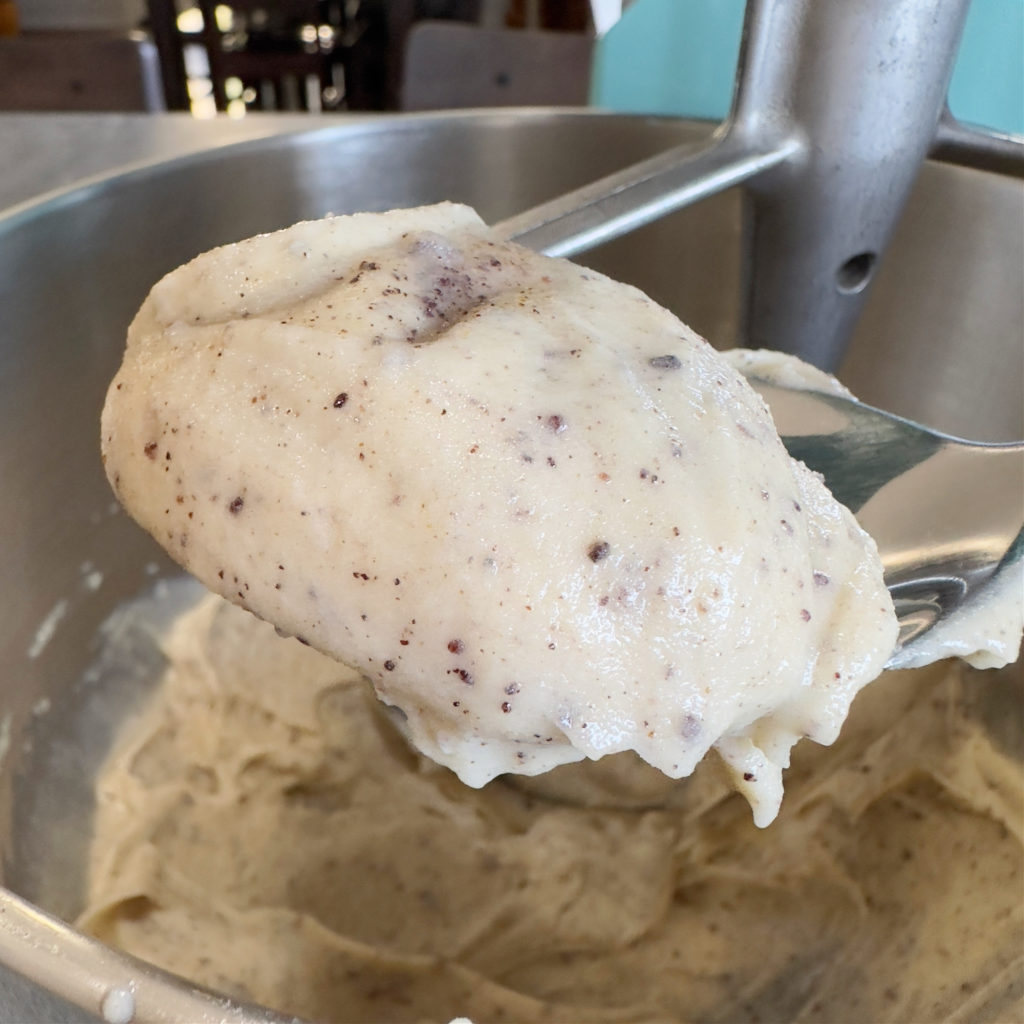 INGREDIENTS (full printable recipe below)
brown butter
brown sugar
vanilla extract
eggs
all-purpose flour
baking powder
salt
buttermilk
toffee bits
pecans
DIRECTIONS
Preheat oven to 350°, spray mini cake pans with non stick cooking spray.
In a large bowl, beat butter, brown sugar, and vanilla at medium speed with a mixer until fluffy.
Add eggs one at a time, beating well after each addition.
In a medium bow, combine flour, baking powder, adn salt.
Gradually add to butter mixture alternately with buttermilk, beginning and ending with flour mixture, beatin gjust until combined after each addition; stir in toffee bits.
Spoon ½ cup of batter into each prepared mini cake pan.
Bake 16 to 20 minutes, or until a toothpick inserted into the center comes our clean.
Coll completely before adding frosting. MAKES 26 MINI CAKES
How to Make Brown Butter Frosting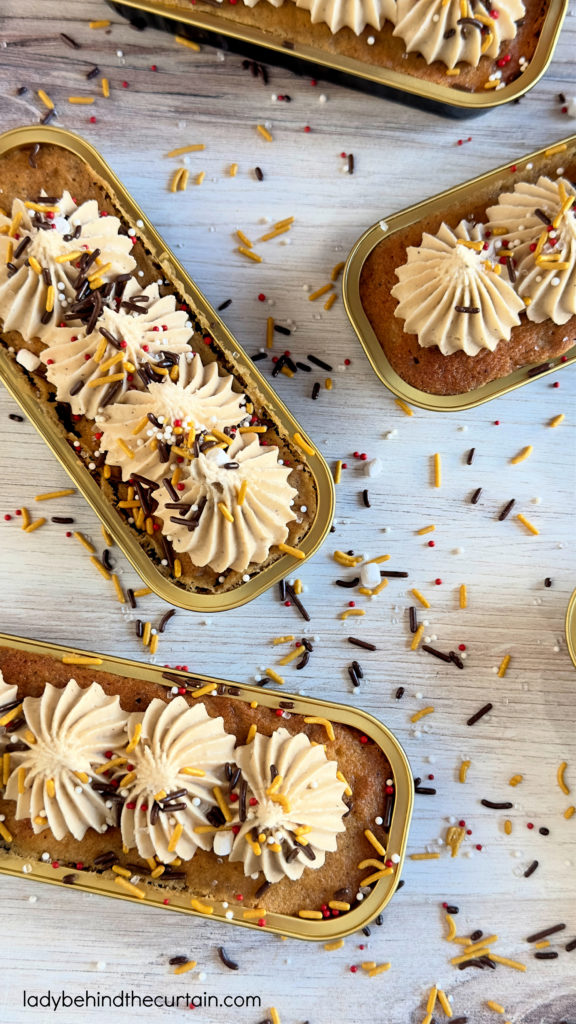 In a small saucepan, combine brown sugar, cream and 2 tablespoons butter. Cook over medium heat, stirring frequently, until sugar dissolves. Remove from heat, and cool completely. In a large bowl, beat the 1 cup brown butter and brown sugar mixture at medium speed with a mixer until creamy. Gradually add confectioners' sugar, beating until smooth. Pipe or smooth on frosting and top with pecans and toffee bits.
How to Make Brown Butter Pecan Cupcakes
The ingredient list is the same. There is only ONE difference in the instructions. Fill the cupcake liners two-thirds full. The baking time is the same. This recipe will make a lot of cupcakes (60). Cutting the recipe in half works great!
How to Store Butter Pecan Mini Cakes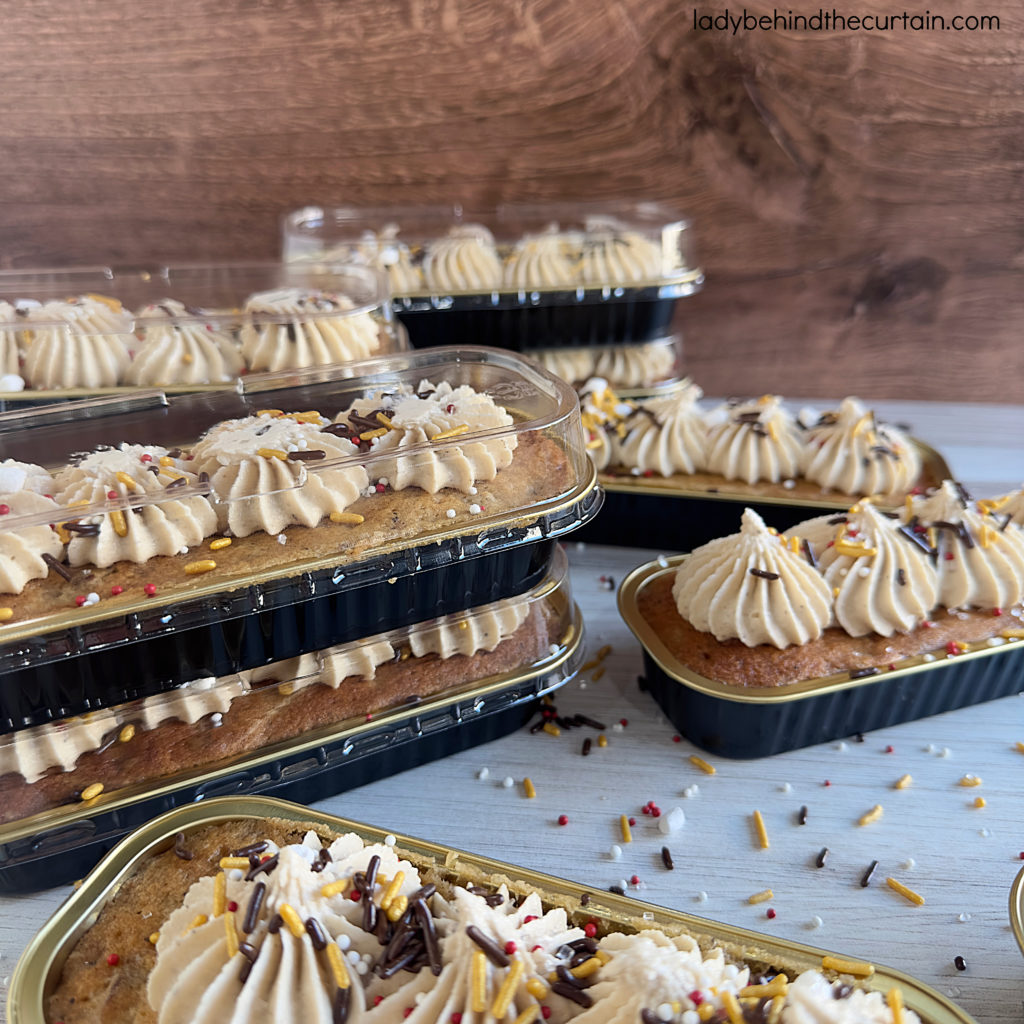 REFRIGERATOR: Store you mini cakes with the lids on in the refrigerator up to 1 week.
FREEZER: Frosted mini cakes will stay fresh frozen up to 3 months. As long as they are properly stored. For extra protection from drying our, wrap each container with plastic wrap, insert into a freezer bag or a container with a tight fitting lid.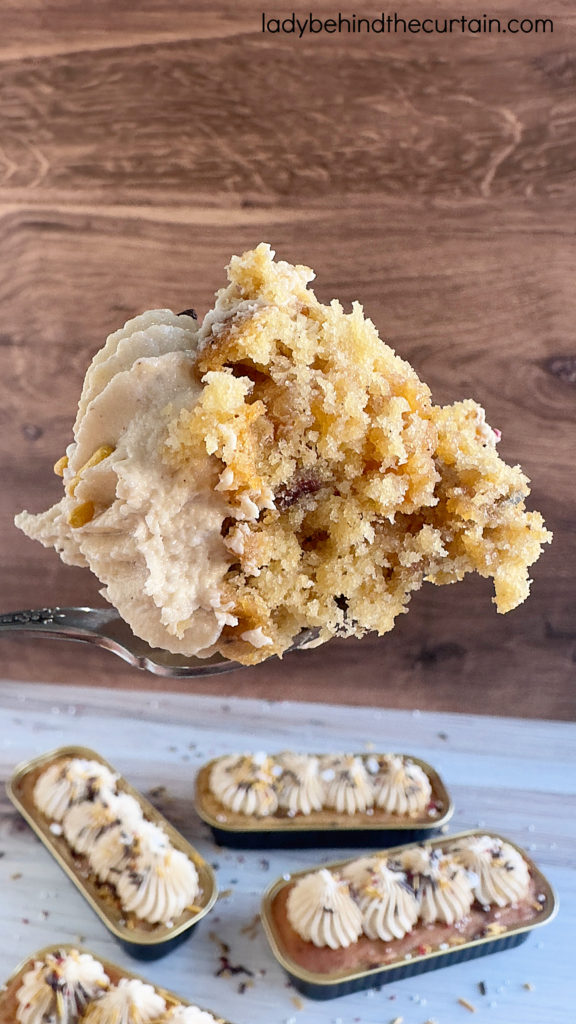 SIGN UP FOR THE LADY BEHIND THE CURTAIN NEWSLETTER
THANKS FOR VISITING♥