Sparkling Blueberry Slush Punch
This refreshing Sparkling Blueberry Slush Punch is exactly what your summer celebration needs! Full of bright summer flavors, easy to make and stays slushy for hours! Not as sweet as the typical punch…no, this punch is delicious without tons of sugar added. Perfect for around the pool or while watching the fireworks on 4th of July.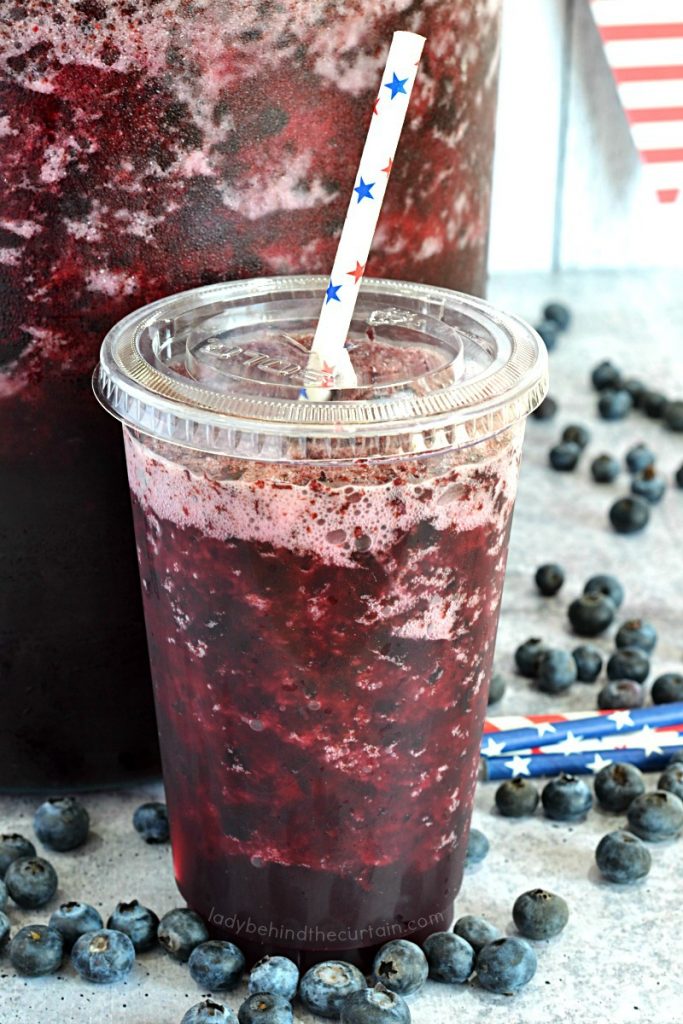 This punch is packed with blueberries. I'm talking a whole pound! As I said above this Sparkling Blueberry Slush Punch stays slushy for 3-4 hours. Keep in mind that I had it inside the whole time.
This punch may make enough for a crowd (24) but don't be fooled because your guests will come back over and over for another cup.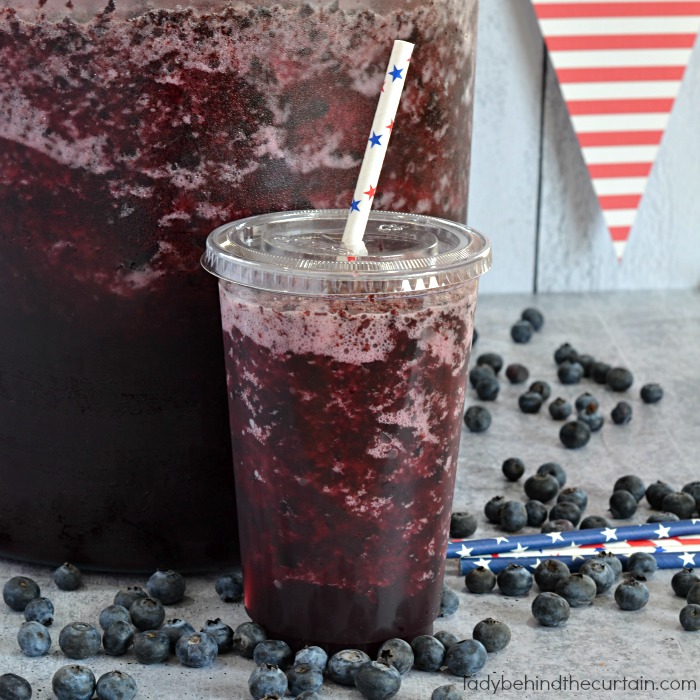 TRY THIS!
Make the punch in a large container, get it to a slushy consistency and then pour it into a cheap Styrofoam ice chest. You know the type you can get at a gas station. This alone will help keep the slush slushy but….you can take it a step farther and put the Styrofoam ice chest into another ice chest for double protection.
I love this recipe so much I have THREE (pictured above) different flavors not counting this Sparkling Blueberry Slush Punch. Click here for the recipes—->>>>SPARKLING PINEAPPLE SLUSH PUNCH, SPARKLING PEACH SLUSH PUNCH and SPARKLING PRICKLY PEAR CACTUS SLUSH PUNCH.
If you're planning a 4th of July party I've got something special for you! NOW YOU CAN ORDER A WHOLE HANDMADE (by me) RED, WHITE AND BLUE PARTY! Click here to see all the fun party supplies—->>>>STARS AND STRIPES.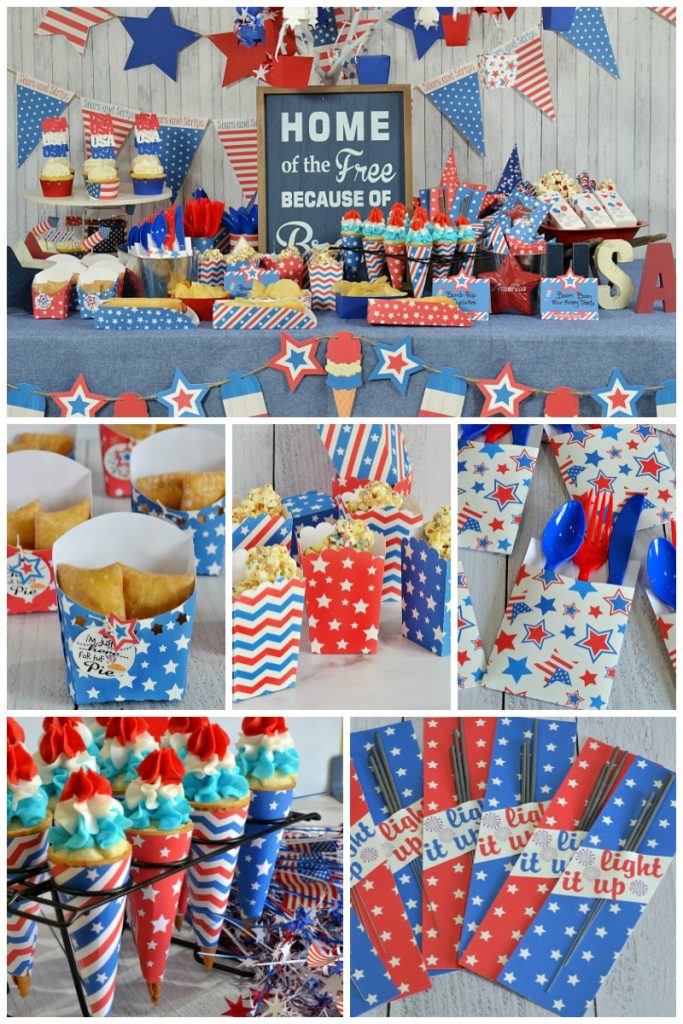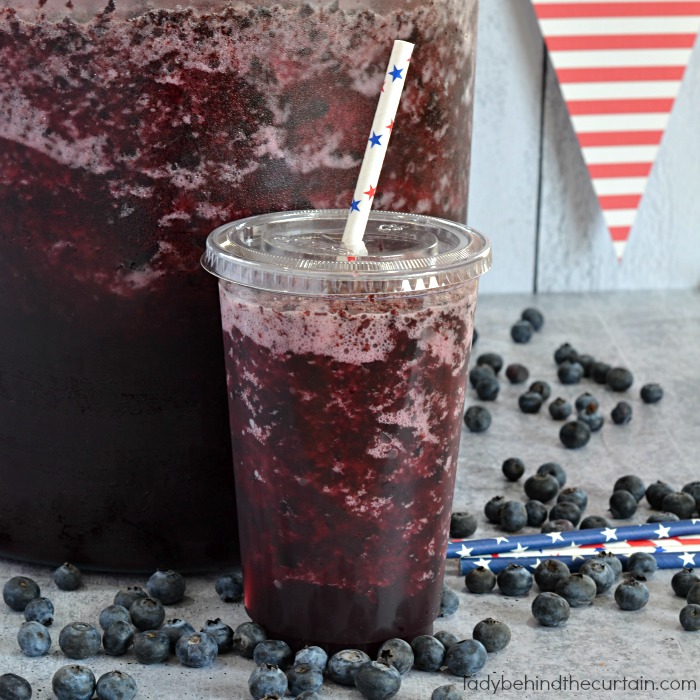 Sparkling Blueberry Slush Punch
Ingredients
8 cups water
2 granulated sugar
1 (6 ounce) box of berry blue jello
1 pound frozen blueberries
3 Berry Blue Typhoon Hawaiian Punch Drink to go pouches
2 liters and 16 ounces of ginger ale, chilled
Instructions
In a large saucepan combine the water, sugar ,gelatin, blueberries and Hawaiian punch drink powder. Bring to a boil, stir to dissolve sugar and gelatin. Remove from heat.
Pour blueberry mixture in batches into a blender, blend until smooth. Pour into freezer safe containers with a tight fitting lid no larger then 1 quart each. Freeze at least 8 hours (best if overnight). The day of the party set the containers on the counter about an hour before the party. When ready to serve pour the frozen blueberry mixture into a large container. Break up the mixture into the bowl/container with a heavy duty spoon. Pour ginger ale over the mixture; stir until slushy. Serve at once. SERVES 24
MORE PUNCH RECIPES
PARTY PUNCH 2. PINEAPPLE WEDDING PUNCH 3. PATIO CITRUS BERRY PUNCH
NEVER MISS A POST!
Sign up for my newsletter and receive my recipes and Etsy store updates in your inbox. Easy to see anytime and saved for safe keeping. Click here and sign up today—->>>>CURTAIN CALL NEWSLETTER
Here are some 4th of July Treats for your celebration. RED, WHITE AND BLUE CHERRY CHEESECAKE MACARONS and 4th of JULY CAKE ROLL.