Berry Cheesecake: When you divide New York Cheesecake batter in half and add crushed blueberries and crushed strawberries you get an amazing Berry Cheesecake! Not to mention the melt in your mouth butter cookie crust! Stand back and take credit when everyone is raving about the BEST cheesecake they've ever had! The fresh berries on top brings this cheesecake all together. What a wonderful way to celebrate an Anniversary, Valentine's Day or Birthday!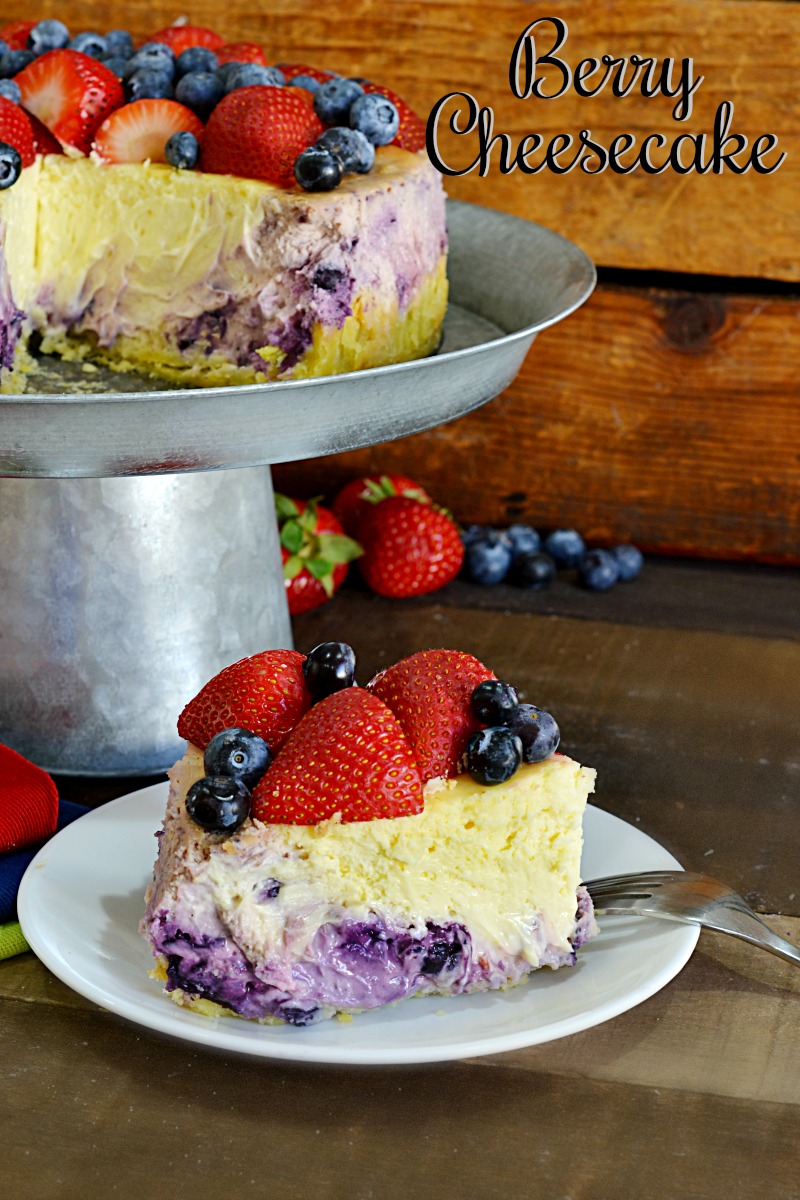 Can I Freeze Cheesecake?
To use the bottom of springform pan: Once the cheesecake is completely cooled and has been in the refrigerator (in the pan) for at least 4 hours preferably overnight. Release the outer rim of the pan, leaving the cheesecake sitting on the bottom of the pan. Wrap the cheesecake with several layers of plastic wrap and a layer of foil.
To use a cardboard bottom: Once the cheesecake has been refrigerated and if completely cooled and firm, use a knife to separate the cheesecake from the pan bottom. Slice it onto a foil wrapped piece of heavy hardboard. Then wrap with several layers of plastic wrap and a layer of foil. (This method scares me)
For a cheesecake with fruit topping: ALWAYS freeze cheesecake WITHOUT the topping. Add the topping before serving
Always thaw a cheesecake overnight in the refrigerator: When partially thawed, transfer if from the cardboard or springform bottom to a serving plate.
How to Make Berry Cheesecake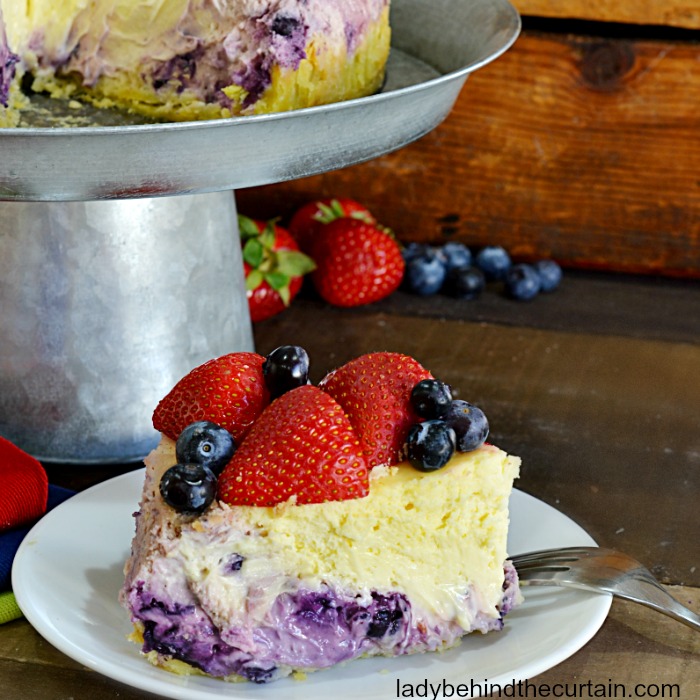 INGREDIENTS FOR THE CRUST:

1-1/2 cups all-purpose flour
1/3 cup granulated sugar
1 teaspoon grated lemon peel
3/4 cup cold unsalted butter
2 large egg yolks
1/2 teaspoon vanilla extract

FOR THE FILLING:

5 ( 8 ounce) packages cream cheese, softened
1 cup granulated sugar
1/4 cup half and half cream
3 tablespoons all-purpose flour
1/2 teaspoon grated lemon peel
1/4 teaspoon salt
1/4 teaspoon vanilla extract
2 large eggs, lightly beaten
1 large egg yolk
1 cup crushed fresh strawberries
1 cup crushed fresh blueberries
Fresh blueberries and strawberries for topping, optional

DIRECTIONS FOR THE CRUST:

Preheat oven to 400°.
In a large bowl, combine the flour, sugar and lemon peel.
Cut in butter until crumbly.
Whisk egg yolks and vanilla; add to flour mixture, tossing with a fork until dough forms a ball.
Press onto the bottom and 3 inches up the sides of a 9-in. springform pan.
Place pan on a baking sheet lined with parchment paper.
Bake for 12 to 15 minutes or until lightly browned.
Cool on a wire rack.

DIRECTIONS FOR THE FILLING:

Reduce heat to 375°; wrap pan (sides and bottom) with foil.
In a large bowl, beat cream cheese and sugar until smooth.

Beat in the cream, flour, lemon peel, salt and vanilla.

Add eggs and yolk; beat on low speed just until combined.

Divide batter in half (about 3 cups each).

Fold crushed strawberries and crushed blueberries into half of the batter.

Top with remaining batter.

Place filled springform pan in a large baking pan; put the pan with the cheesecake in the oven.

Pour hot water into the pan until it reaches about 2-inches.

Bake 1 hour and 15 minutes.

Place on a wire rack to cool 1 hour.

Cover with foil and refrigerate overnight.
Carefully run a knife around the edges of the cheesecake; loosen sides and remove.
Decorate the top of the cheesecake with sliced strawberries and whole blueberries.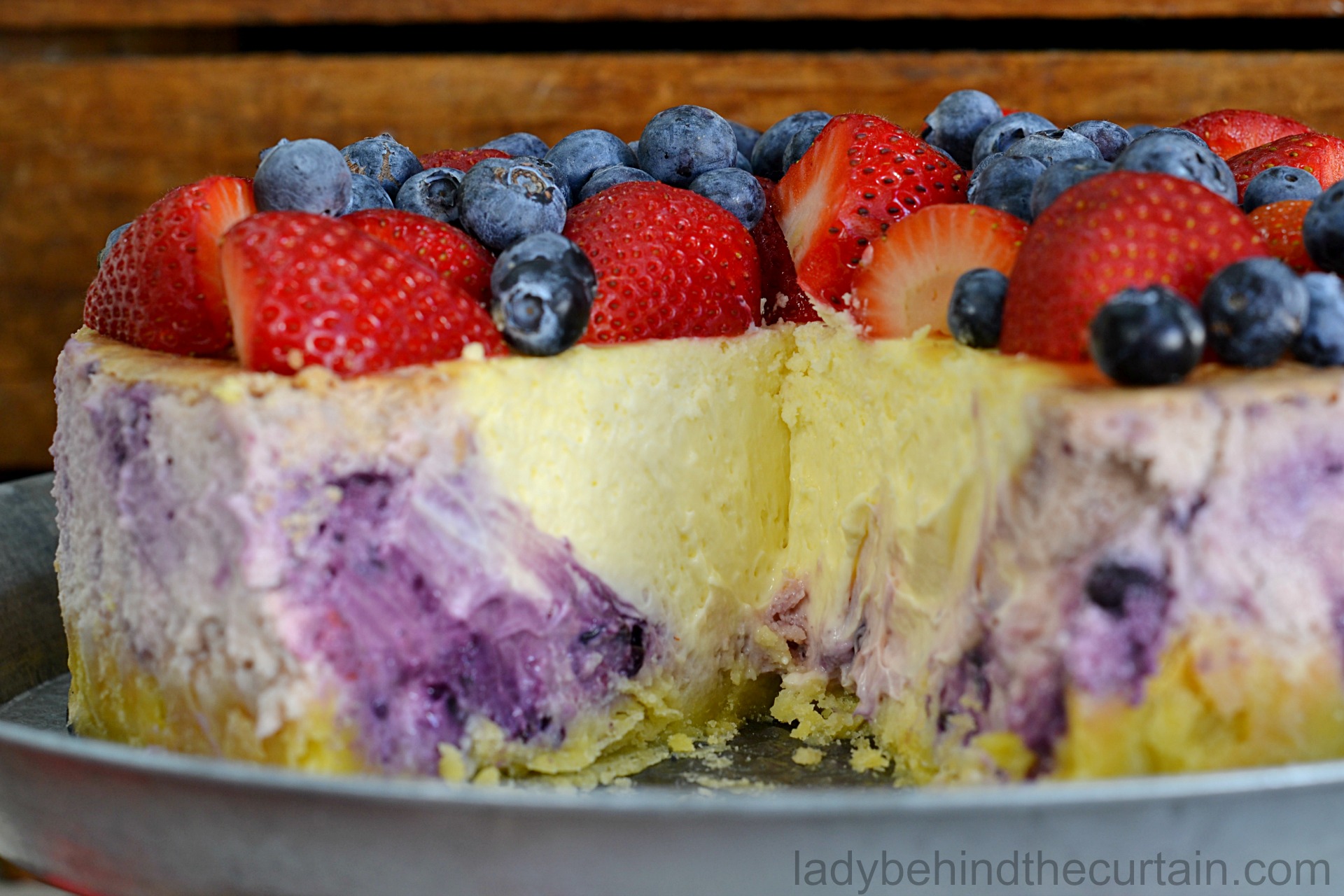 How to Slice Cheesecake
Before slicing hold your knife under hot water—this makes slicing a cheesecake a lot easier.
MORE CHEESECAKE RECIPES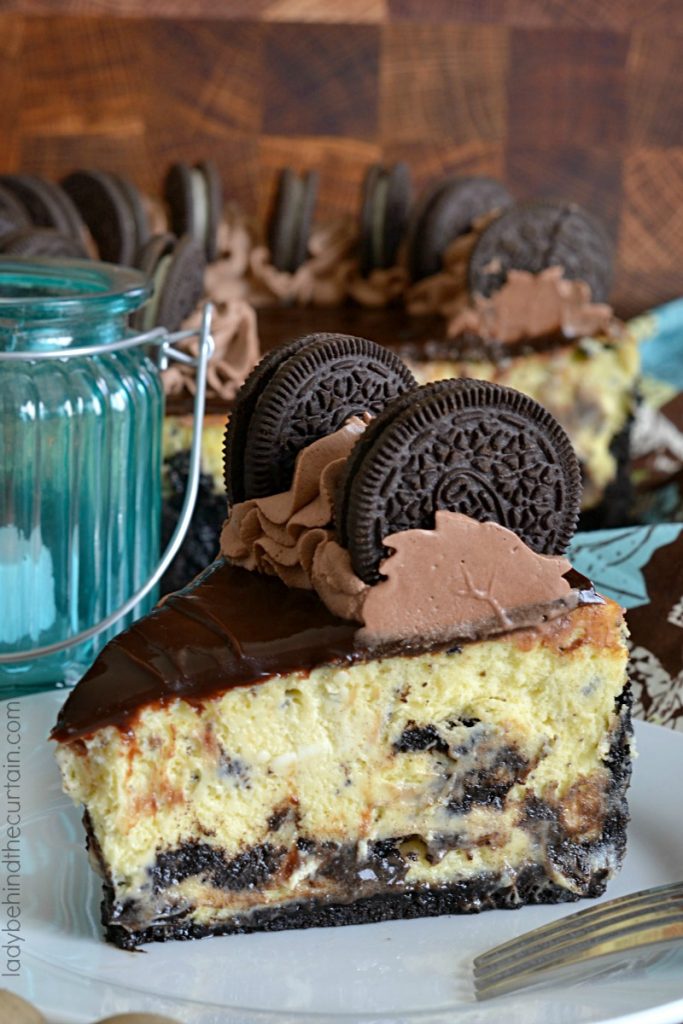 NEVER MISS A POST