Berry Cheesecake |  When you divide New York Cheesecake batter in half and add crushed blueberries and crushed strawberries you get an amazing Berry Cheesecake!  Not to mention the melt in your mouth butter cookie crust!  Stand back and take credit when everyone is raving about the BEST cheesecake they've ever had!  The fresh berries on top brings this cheesecake all together.  What a wonderful way to celebrate an Anniversary, Valentine's Day or Birthday!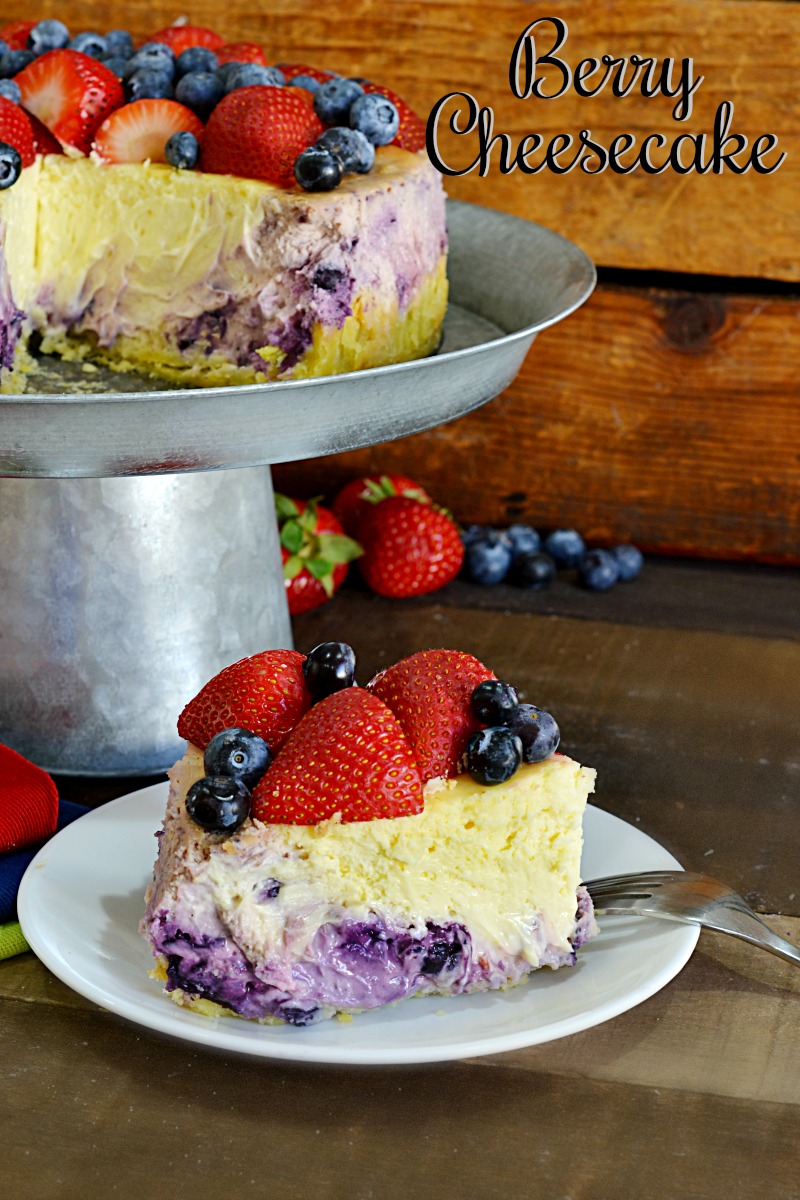 Are you seeing red, white and blue?  Me too!  This cheesecake is also known as the Red, White and Blue Cheesecake!  Fun for Memorial Day or 4th of July!  Simply crush fresh fruit and divide the batter in half to make the berry layer.  Now that's how you celebrate!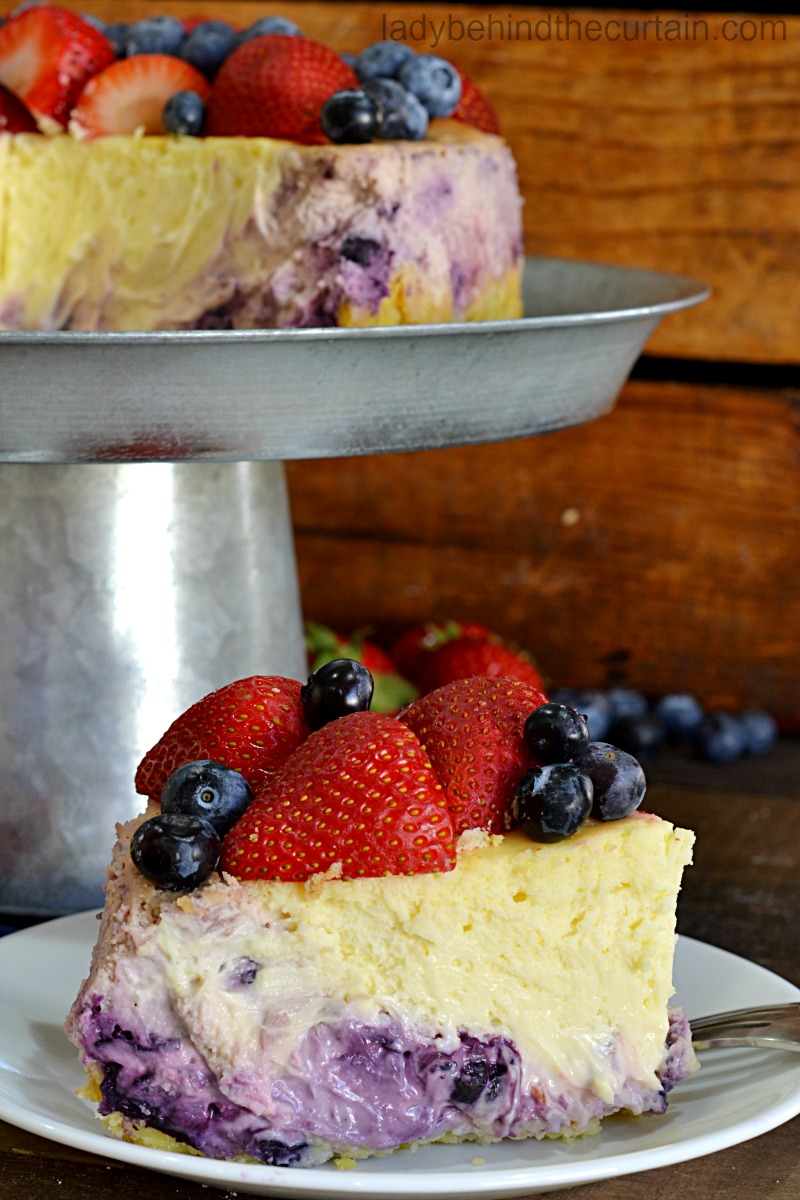 I made this cheesecake for a Birthday celebration.  We had the celebration at a restaurant and they were gracious enough to let me store it in their refrigerator until we were ready to serve it.  I call that GREAT customer service.  The people sitting across from us wanted to know where they could find it on the menu.  I got to say I made it!  Then I humbly handed them my business card and instructed them to visit my website and search Berry Cheesecake for the recipe!  I love it when that happens!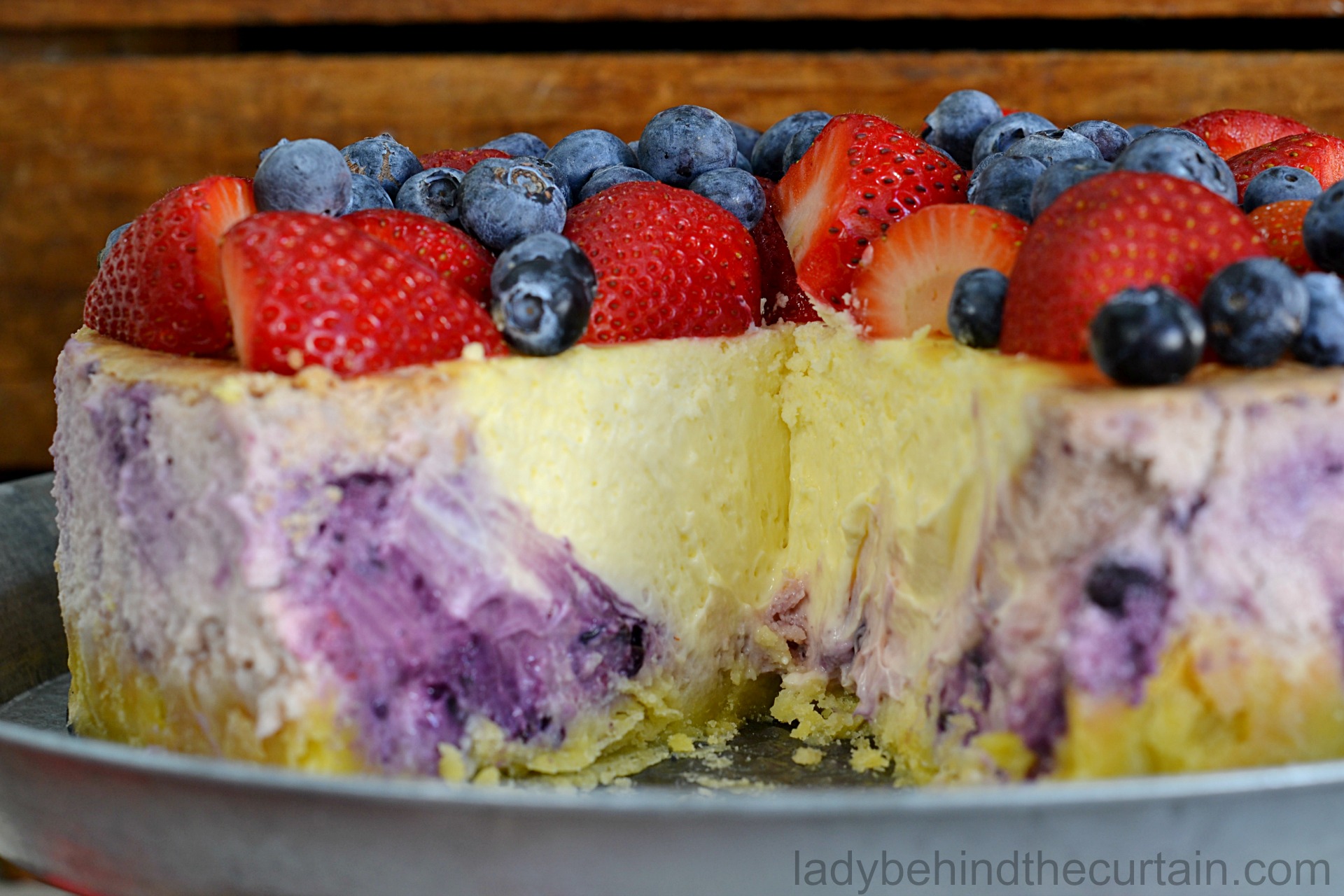 If you love blueberries then you will also like my Lemon Blueberry Pie Ice Cream, Fresh Blueberry Cobbler and my Blueberry Cheesecake Bars.
Add this cheesecake to your Cheesecake Pinterest Board.  Don't have a Cheesecake board?  Let me help you build one.
FOLLOW MY CHEESECAKE BOARD FOR 100 DELICIOUS CHEESECAKE RECIPES ALL FROM LADY BEHIND THE CURTAIN!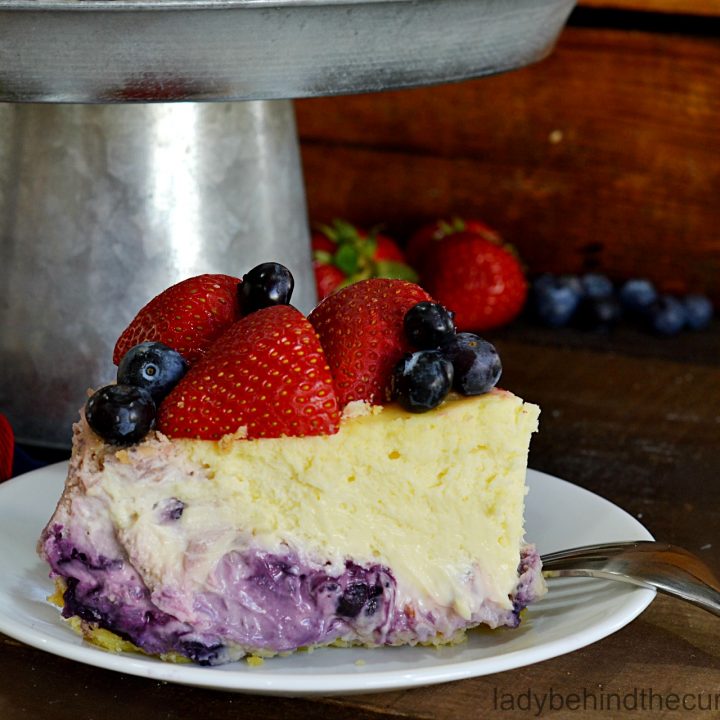 Berry Cheesecake
Cook Time:
1 hour
20 minutes
When you divide New York Cheesecake batter in half and add crushed blueberries and crushed strawberries you get an amazing Berry Cheesecake! 
Ingredients
For the Crust:
1-1/2 cups all-purpose flour
1/3 cup granulated sugar
1 teaspoon grated lemon peel
3/4 cup cold unsalted butter
2 large egg yolks
1/2 teaspoon vanilla extract
For the Filling:
5 ( 8 ounce) packages cream cheese, softened
1 cup granulated sugar
1/4 cup half and half cream
3 tablespoons all-purpose flour
1/2 teaspoon grated lemon peel
1/4 teaspoon salt
1/4 teaspoon vanilla extract
2 large eggs, lightly beaten
1 large egg yolk
1 cup crushed fresh strawberries
1 cup crushed fresh blueberries
Fresh blueberries and strawberries for topping, optional
Instructions
For the Crust:
Preheat oven to 400°.
In a large bowl, combine the flour, sugar and lemon peel.
Cut in butter until crumbly.
Whisk egg yolks and vanilla; add to flour mixture, tossing with a fork until dough forms a ball.
Press onto the bottom and 3 inches up the sides of a 9-in. springform pan.
Place pan on a baking sheet lined with parchment paper.
Bake for 12 to 15 minutes or until lightly browned.
Cool on a wire rack.
For the Filling:
Reduce heat to 375°; wrap pan (sides and bottom) with foil.
In a large bowl, beat cream cheese and sugar until smooth.
Beat in the cream, flour, lemon peel, salt and vanilla.
Add eggs and yolk; beat on low speed just until combined.
Divide batter in half (about 3 cups each).
Fold crushed strawberries and crushed blueberries into half of the batter.
Pour onto crust.
Top with remaining batter.
Place filled springform pan in a large baking pan; put the pan with the cheesecake in the oven.
Pour hot water into the pan until it reaches about 2-inches.
Bake 1 hour and 15 minutes.
Place on a wire rack to cool 1 hour.
Cover with foil and refrigerate overnight.
Carefully run a knife around the edges of the cheesecake; loosen sides and remove.
Decorate the top of the cheesecake with sliced strawberries and whole blueberries.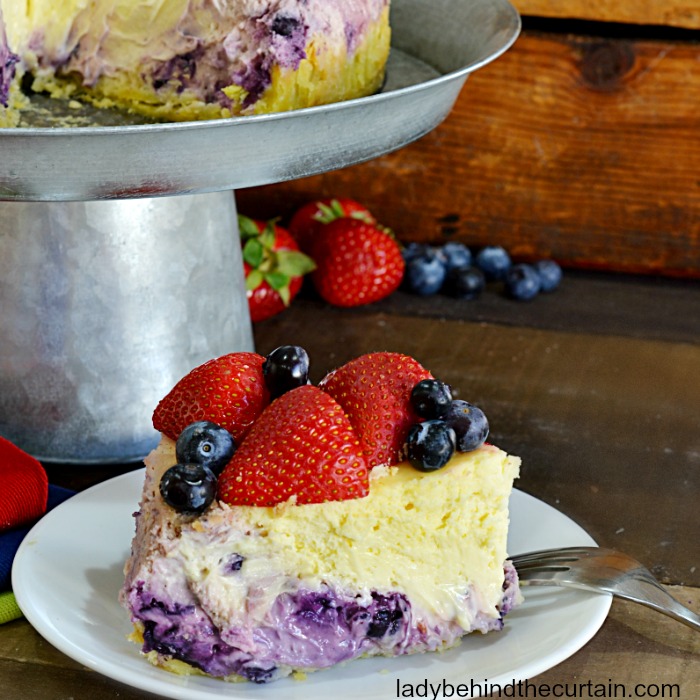 MORE CHEESECAKE RECIPES

PISTACHIO CHEESECAKE  2. BANANA SPLIT CHEESECAKE 3. LEMON GLAZED CHEESECAKE
NEVER MISS A POST!
Sign up for my newsletter (two per month) and receive my recipes in your inbox. Easy to see anytime and saved for safe keeping. Click Here and sign up today! —->>>>CURTAIN CALL NEWSLETTER