Mason Jar Lid Cherry Pies
Mason Jar Lid Cherry Pies:  An easy to make fun way to serve cherry pies for a party.  Full of cherries and crispy crust.
Barbecue season is here!  Wouldn't it be awesome if you showed up to your next barbecue with these Mason Jar Lid Cherry Pies?  You can serve them in the lids or use the insert to pop them out.  Mason jar lids are very inexpensive.  You can buy 12 for under $3.50.  that's not much to spend on something so cute.  You can choose to use wide mouth for a larger pie or the regular size for a smaller portion pie (the recipe below is for using the regular size jar lids).  When I make desserts for a party I like the portions to be small so my guests can enjoy all my desserts without gorging themselves.
If you like this idea you might also like my MASON JAR LID BLACK FOREST CAKES!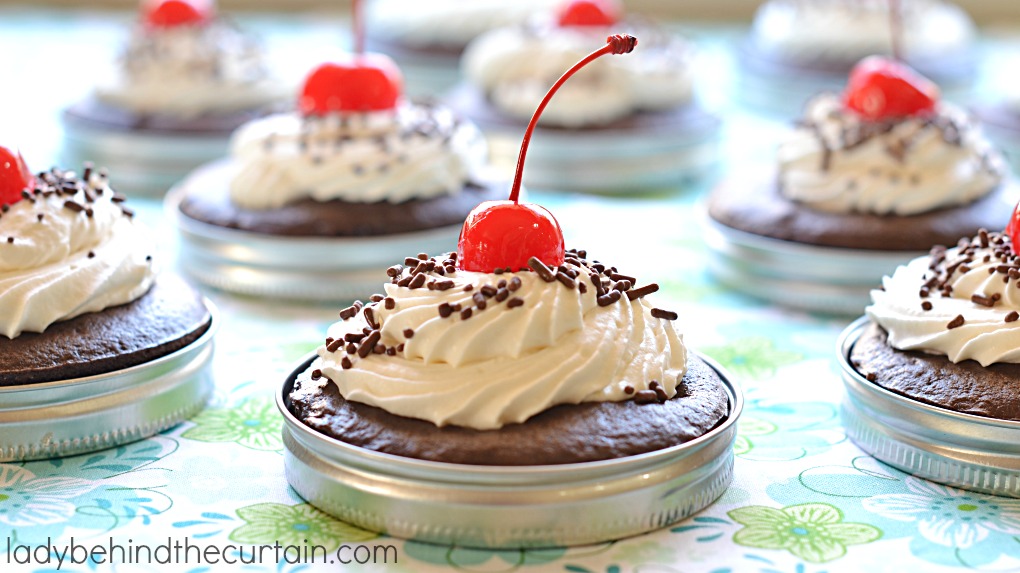 NOTE:  THE WIDE MOUTH LIDS WERE USED FOR THESE PICTURES.  THE DIRECTIONS ARE FOR USING THE REGULAR SIZE LIDS.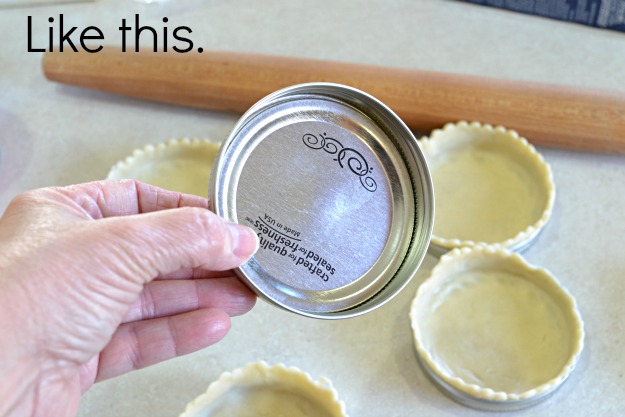 ENJOY!
Mason Jar Lid Cherry Pies
Yield:
Makes 8 to 9 Reuglar Size Lid Pies
Ingredients
8 to 9 regular size mason jar lids
1 (21 ounce) can cherry pie filling
1 (14 ounce) box pie crust
1 egg
1 tablespoon water
Instructions
Preheat oven to 375 degrees.
Line a cookie sheet with parchment paper; set aside.
Flip the center insert of the lid so that the pie crust will be sitting on the side without the rubber seal.
Unroll dough, use a 3 1/4-inch circle cookie cutter.
Cut 8 to 9 tops and 8 to 9 bottoms.
Place a bottom in the lid, press up the sides.
Spoon in 3 tablespoons of filling (about 5 cherries).
NOTE: If you over fill the pies they will burst open.
Wet you finger tips with water and rub around the rim of the pie; place pie top on, crimping the top to the bottom.
Place pies on prepared cookies sheet.
Whisk together the egg and water; brush on the top of the pie and sprinkle with the raw sugar.
Cut air vents in the top of the pie.
Bake 25 minutes or until the filling is bubbling and the crust is golden brown.
NOTE: This filling will fill more than the pie crust will make (about 14) save for later or make more pies.
MORE SMALL DESSERT RECIPES

1. PEACH TOFFEE TARTLETS  2. CINNAMON ROLL APPLE PIE POPS  3. SUGAR COOKIE LEMON TARTS
NEVER MISS A POST!
Sign up for my newsletter and receive my recipes in your inbox. Easy to see anytime and saved for safe keeping. Click Here and sign up today! —->>>>CURTAIN CALL NEWSLETTER