Easy to Make Cheesy Rice: This easy to make side dish is the perfect solution to a busy schedule. Combining long grain white rice, diced green chile peppers, corn, and creamy mozzarella cheese. This creamy rice recipe will go perfectly with a Mexican main dish or something fresh off the grill. A great way of using up leftover rice! So easy, versatile, and stores wonderfully in the refrigerator.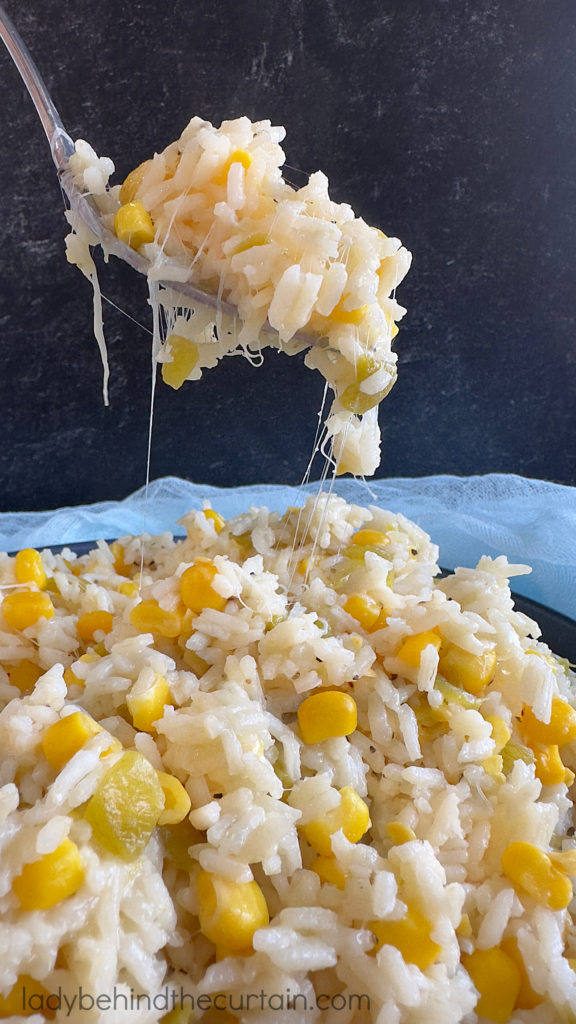 Add Vegetables to the Cheesy Rice
Although I love this rice as its original recipe, I also like that different variations can be made from one base recipe. If you do choose to add veggies, you might also want to remove the green chile peppers. Below is my list, you could also add a mixture from the list. Add vegetables to the boiling water. Boil the rice and vegetables together.
Additions: Chopped broccoli florets, chopped cauliflower florets, diced carrots, green peas
NOTE: FROZEN VEGETABLES WORK WELL HERE TOO.
ANOTHER LAYER OF FLAVOR: Before adding the stock to the pot, sauté the rice in butter. You could also add a small amount of diced white onion and sauté with the rice.
How to Make Easy to Make Cheesy Rice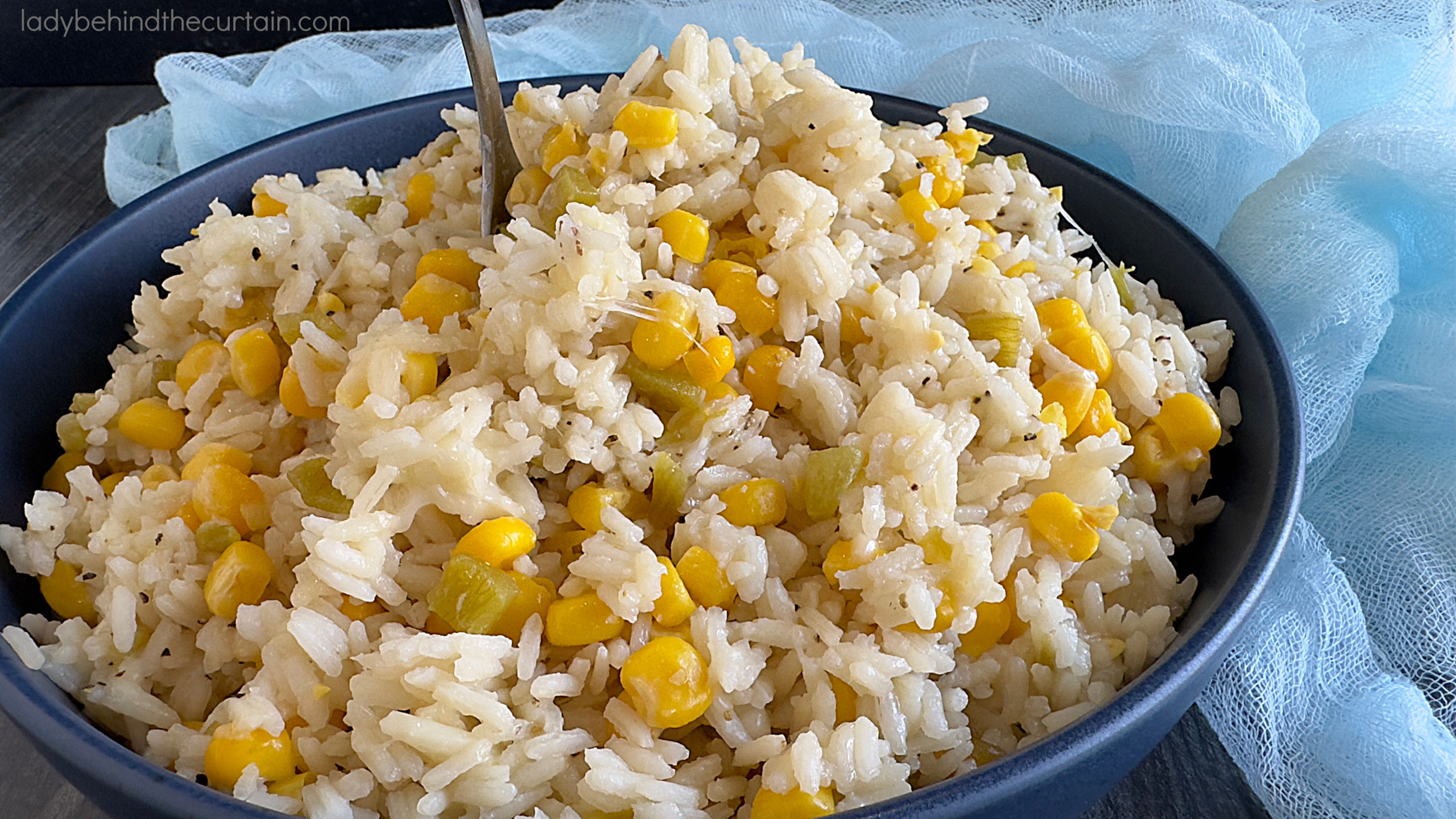 Now that you've seen all the different variations to this delicious cheesy rice recipe. Here is FAVORITE way to make it. Keeping it simple and still incredible.
INGREDEINTS (full printable recipe below)
chicken stock
white long grain rice
mozzarella cheese
diced green chile peppers
whole kernel corn
salt
pepper
INSTRUCTIONS
Add stock to a medium saucepan, bring to a boil.
Add rice, reduce heat to a simmer. Cook on low 15 minutes or until liquid is evaporated.
Take off the heat, add cheese, chile peppers, corn, salt, and pepper. Stir to combine.
Return to heat, constantly stirring. Once all the ingredients have heated, remove from heat.
Serve Warm.
My Favorite Chicken Stock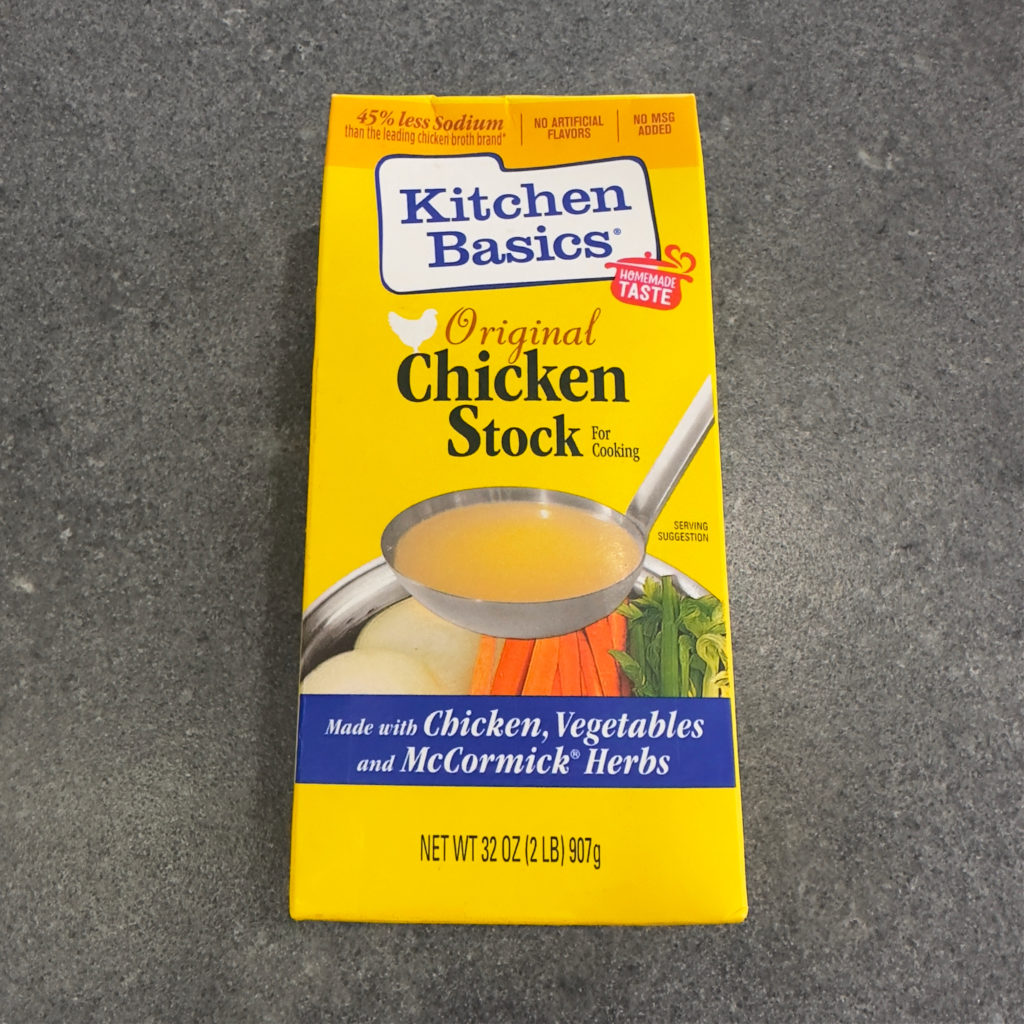 DOES STOCK/BROTH MATTER? YES, the rice will absorb the flavor of the stock/broth so you want it to be delicious and as close to homemade as possible. Of course homemade chicken stock would be delicious. If that's not an option my favorite brand is Kitchen Basics. The flavor is as close to homemade as you can get.
How to Store Cheesy Rice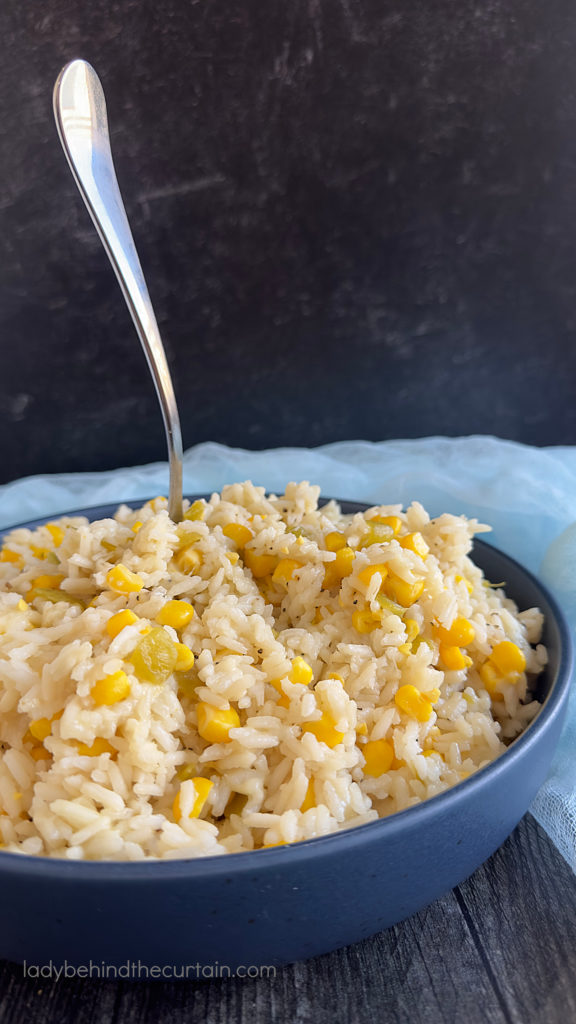 REFRIGERATOR: Store the rice in an airtight container in the refrigerator 3-5 days. FREEZER: Store in a freezer safe container up to 3 months. Thaw overnight in the refrigerator, serve warm.
How to Serve Cheesy Rice
Below are some ideas on how to serve the rice. I'm confident you will love them all!
BURRITO BOWL: The cheesy rice makes an excellent base for burritos bowls.
SIDE DISH: The rice goes perfectly with grilled beef.
BURRITOS: You can't go wrong with a nice size scoop of cheesy rice on top of Grilled Peppered Tri Tip.
Can I Use Brown Rice?
In short – yes, but keep in mind, brown rice takes longer to cook and will alter the cooking time of the recipe. What is the difference between white rice and brown rice? White rice has been processed to remove the hull, bran, and germ. Brown rice has been processed to only remove the hull.
TIPS AND TRICKS TO THE PERFECT RICE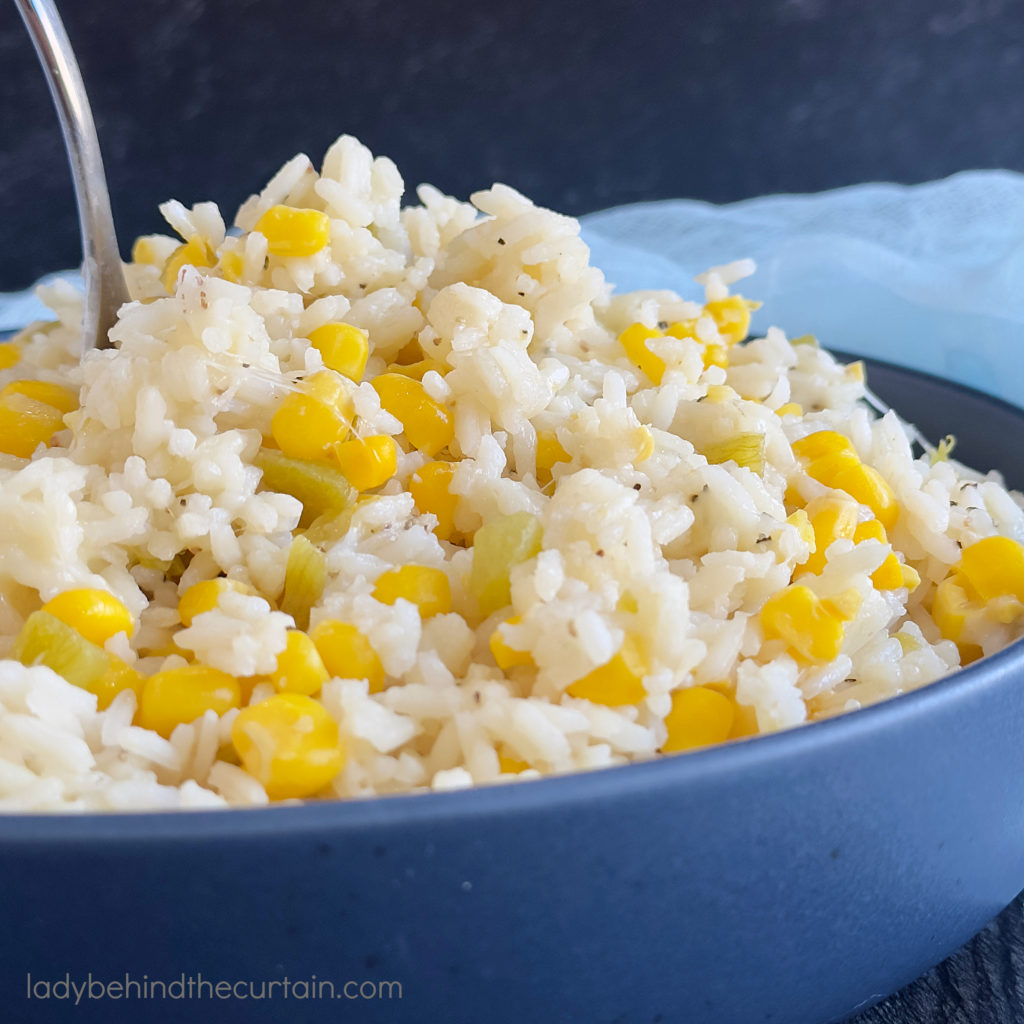 Keep an eye on your rice as it simmers. If the heat is too high, the water or stock will evaporate too quickly. A gentle simmer is best.
Rice looking dry or sticking to the bottom of the pan before it's done cooking? Add a splash of water or stock, stir gently, and cover.
Don't stir rice too much. This can cause it to stick together and get mushy.
Don't lift the lid too often – this lets out steam and heat, drying out the rice and elongating the cooking process.
MORE RICE RECIPES YOU MIGHT LIKE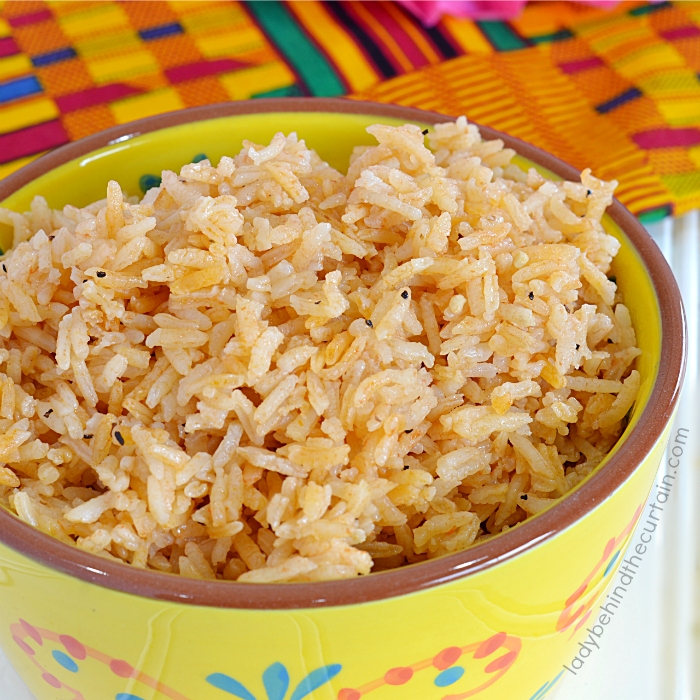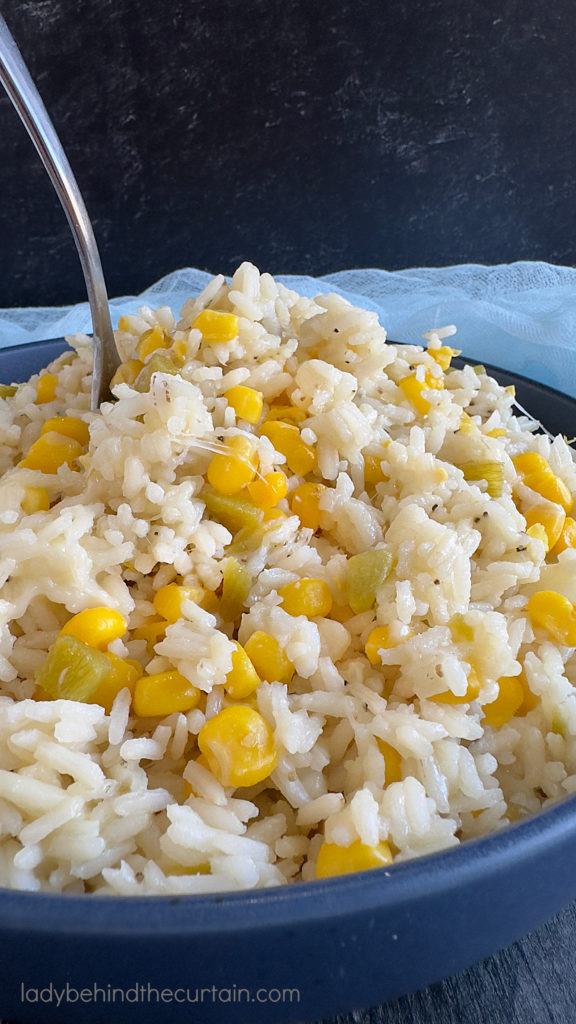 SIGN UP FOR THE LADY BEHIND THE CURTAIN NEWSLETTER
THANKS FOR VISITING♥