Cake Batter – Birthday Pancakes
Cake for breakfast?  Not typically except on YOUR BIRTHDAY!  Treat yourself or someone special with these easy to make Cake Batter – Birthday Pancakes.  MADE WITH A CAKE MIX AND TONS OF SPRINKLES!  Add frosting and candles to complete the effect.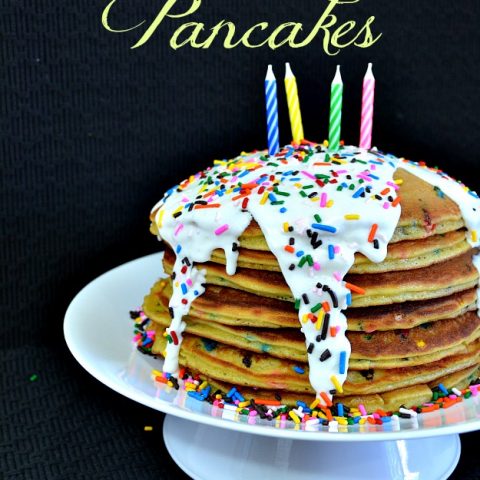 Birthday Pancakes
Yield:
Makes 8 large pancakes
Make their birthday special with these fun pancakes!
Ingredients
1 yellow cake mix, plus ingredients to make a cake
1/4 cup sprinkles plus some for sprinkling on the icing
1 tub store bought vanilla frosting
birthday candles
Instructions
Mix the cake mix according the package instructions.
Ladle on full ladle or 1/2 cup batter onto a pre heated griddle ( I had mine at 300 degrees).
Cook until bubbles appear.
NOTE: Be patient, these are a lot more tender then a pancake made with pancake batter.
Wait until the pancake is almost cooked through before turning.
Once you have turned the pancake over lightly press with your finger in the center and if the pancake springs back it is done.
For cake effect pile the pancakes onto a cake place.
Spoon the icing into a microwave safe bowl and cook 15 seconds.
Stir, drizzle over pancake pile, add sprinkles and candles.

I SHARED THIS IDEA/RECIPE AT THESE PARTIES