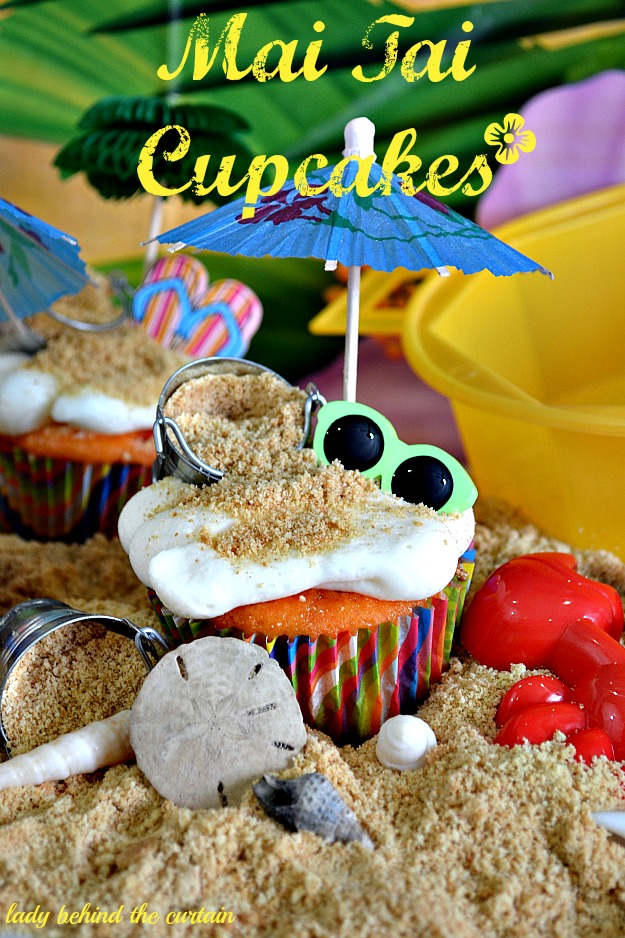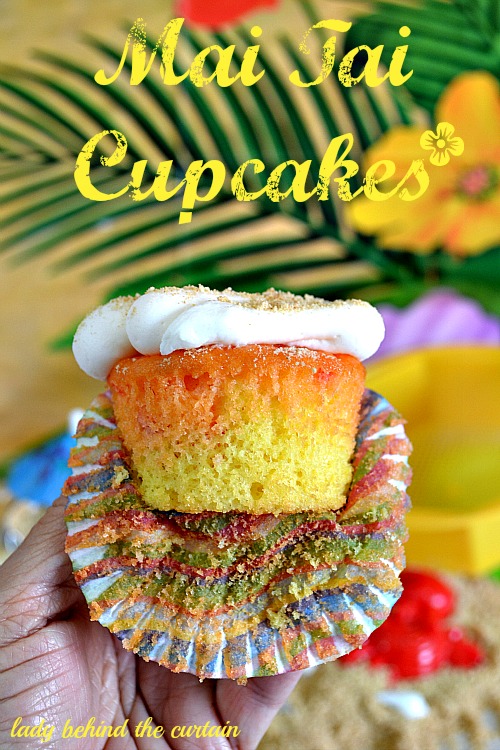 Sit back and enjoy the Island breeze with these tropical mai tai cupcakes!  These Mai Tai cupcakes are without booze.  In doing my research on how to make a Mai Tai I discovered there are many combinations of ingredients.  It just depends on where you are and how they choose to make them.  Some only had lime with many different alcohols and other had the opposite.  I chose orange, pineapple, lime, coconut and a dash of cherries.  None of the flavors are strong.  If you would like more orange or pineapple flavor you could add 1 teaspoon of the each orange and pineapple extracts.
A FUN SUMMER CUPCAKE!
Create your own Recipe Box and save your favorite Lady Behind The Curtain recipes.  Make a Meal Plan with your favorite recipes and ZipList will automatically add the ingredients to a Shopping List.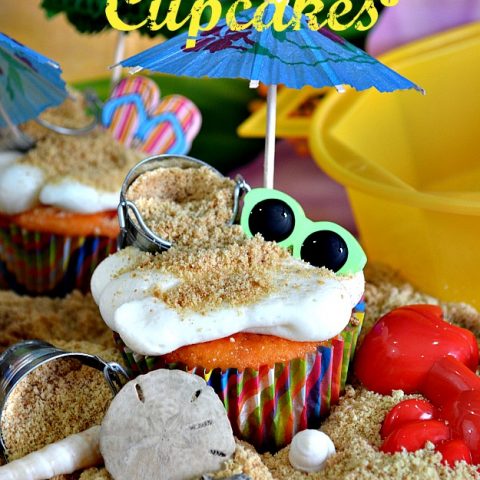 Mai Tai Cupcakes
Ingredients
For The Mai Tai Cupcakes:
1 white cake mix, plus the ingredients on the box to make the cake
1/4 cup orange jello powder
1/4 cup island pineapple jello powder
1/3 cup maraschino cherries, chopped
1/3 cup crushed pineapple, drained
5 drops yellow food coloring (optional)
For the Coconut Lime Frosting:
3/4 cup butter, softened
1 lime, zest and juice
1 teaspoon coconut extract
1 teaspoon vanilla extract
2 pounds confectioners' sugar
5 tablespoons water
Instructions
For the Mai Tai Cupcakes:
Preheat oven to 350 degrees.
Line muffin tins with cupcake liners.
Mix together the ingredients on the box, separate batter into two medium bowls (2 cups each).
In one bowl add the orange jello, mix and add the chopped cherries, set aside.
In the other bowl add the island pineapple jello, mix and add the crushed pineapple plus the food coloring.
Mix until well combined.
Add 1 tablespoon of the pineapple batter to all the cupcake liners, then 1 tablespoon of the orange jello batter on top.
Bake 20 minutes or until a toothpick inserted into the center comes out clean.
Cool in tins 10 minutes.
Cool completely on wire racks. Frost, have fun and decorate!
TIP: I found the mini pails at Hobby Lobby, the sun glasses are buttons I found at Michael's and the sand is ground up graham crackers.
For the Coconut Lime Frosting:
Whip the butter until fluffy, add extracts, whip until well combined.
Add sugar 1 cup at a time, make sure to add water as needed, don't wait until the end.
For a fluffy marshmallow like frosting whip an additional 2 minutes.
MORE CELEBRATION DESSERTS
1. RUBBER DUCKIE BABY SHOWER CUPCAKES  3. CARNIVAL POPCORN POPS  4. MAI TAI CUPCAKES  5. CARNIVAL CAKE WALK SODA CAN CUPCAKES  6. MOVIE TIME CUPCAKES  7. CELEBRATION CUPCAKES