Candied Apple Pear Sheet Cake
Candied Apple Pear Sheet Cake |  Bringing together Fall's gorgeous apples and pears to yield your favorite holiday treat!  You get the BEST of both worlds with this cake!  A delicious moist spice cake with layers of candied apples and pears topped with your favorite holiday candy…PRALINES!  Add a drizzle of your favorite caramel sauce and you know you've got the perfect Thanksgiving dessert!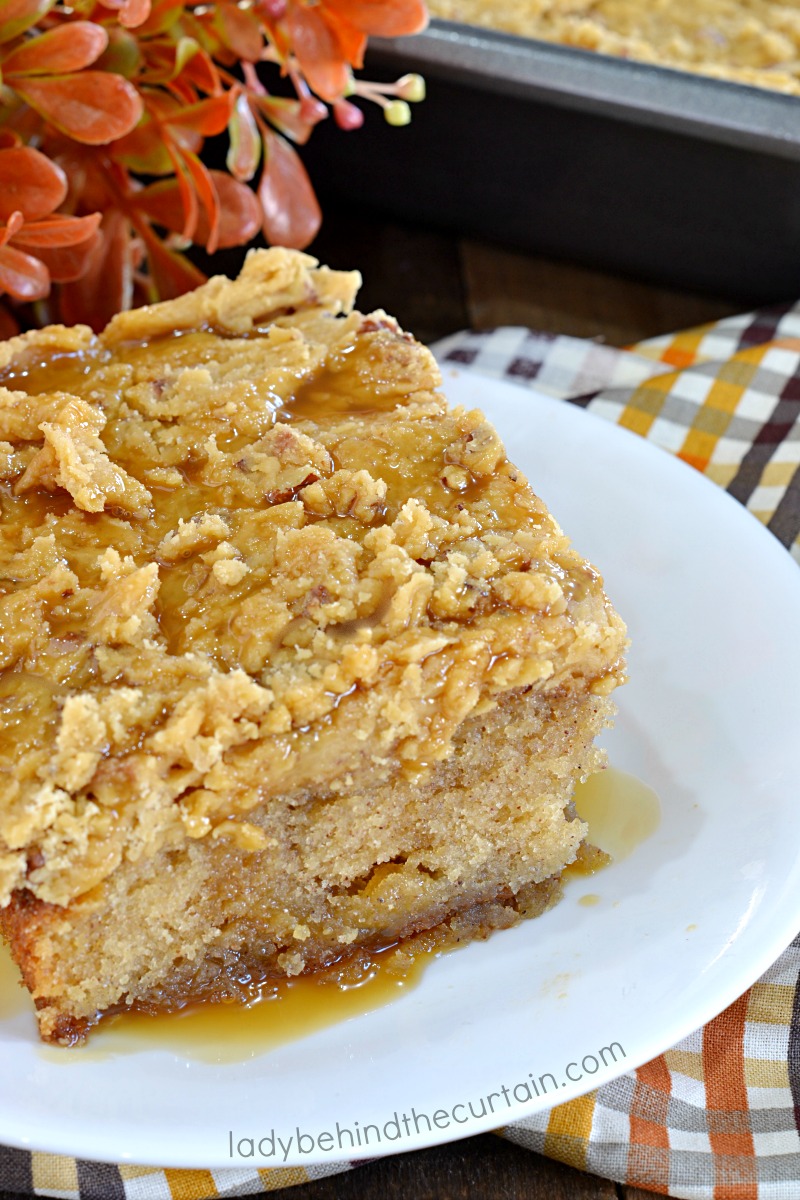 Watch your guests!  They will be tempted to pick off the frosting.  Yes, the praline frosting on this Candied Apple Pear Sheet Cake is that good!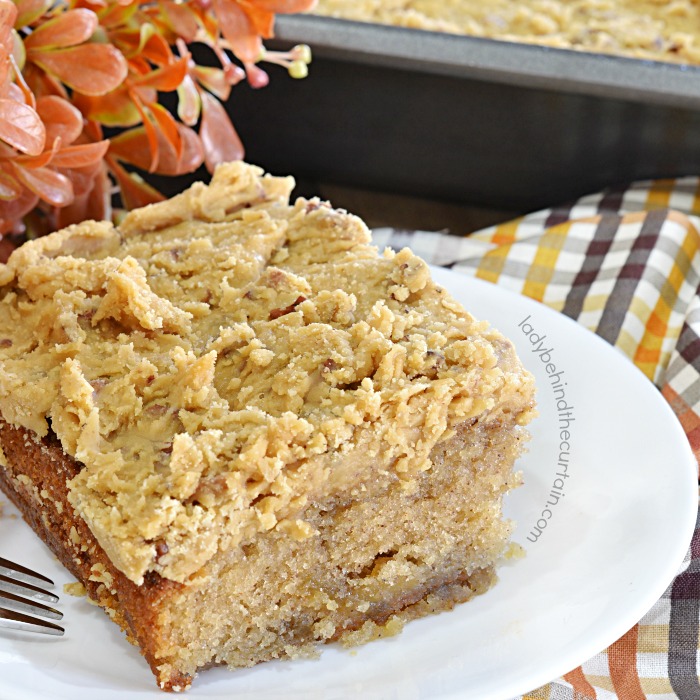 I love old fashioned cakes and the history that's behind them.  For instance the OLD FASHIONED STACK CAKE.  A lot of my readers have shared their memories of their grandma making this cake.  Click here to read more—->>>>OLD FASHIONED STACK CAKE.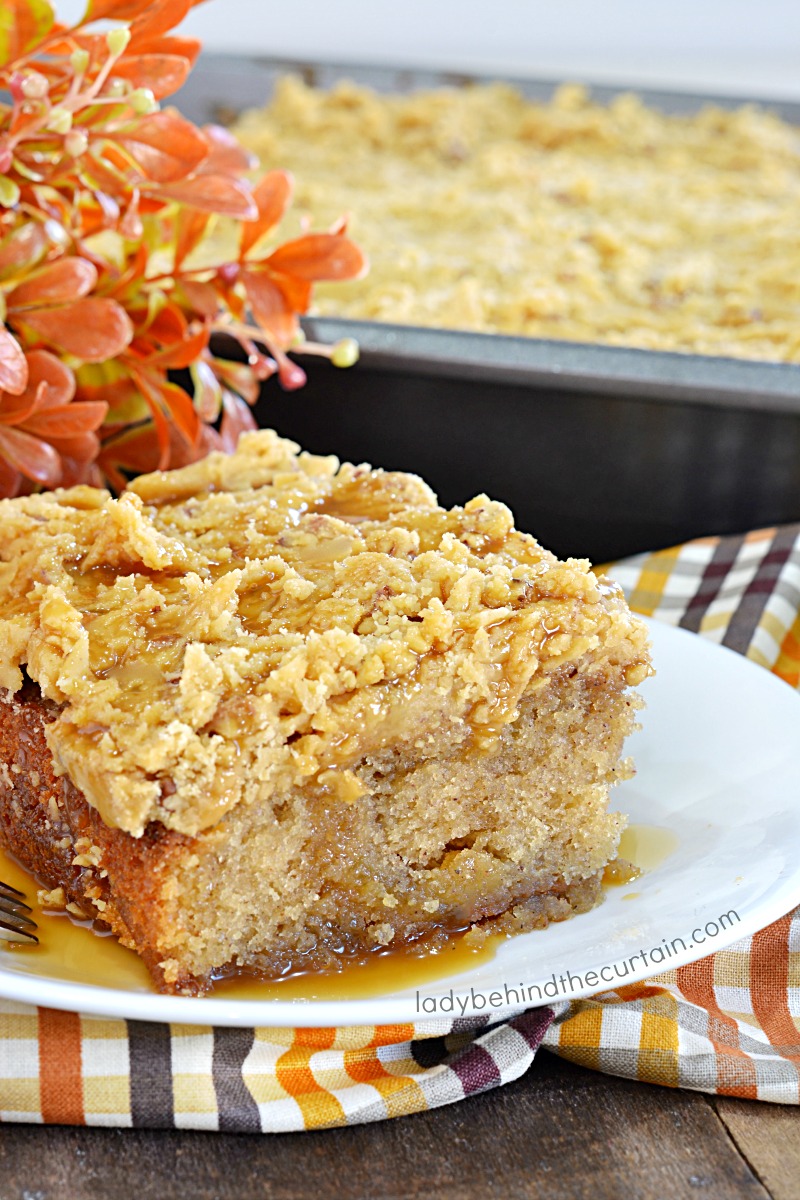 Have you ever baked with sugar cane syrup?  This was my first time and I LOVED it!  The best I can describe this new to me syrup is it tastes like a lighter version of molasses and is thinner then molasses.  I loved the flavor it added to this cake!  It really kicked up the caramel flavor and made the frosting taste out of this world!  My stores may carry sugar cane syrup but instead of looking for it I ordered it from Amazon.  Click here for what I ordered—->>>> STEEN'S 100% PURE CANE SYRUP.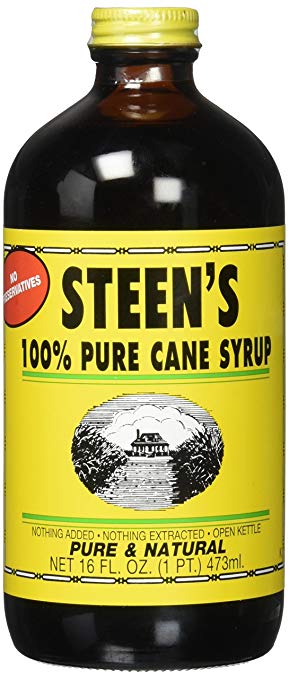 ---
Also….this recipe calls for dark brown sugar.  If you're like me you probably don't use dark brown sugar that often.  Because I rarely use dark brown sugar I decided to make my own!
HOW TO MAKE DARK BROWN SUGAR
1 pound granulated sugar
3 ounces molasses
Add ingredients to the bowl of a food processor, pulse until combined.
---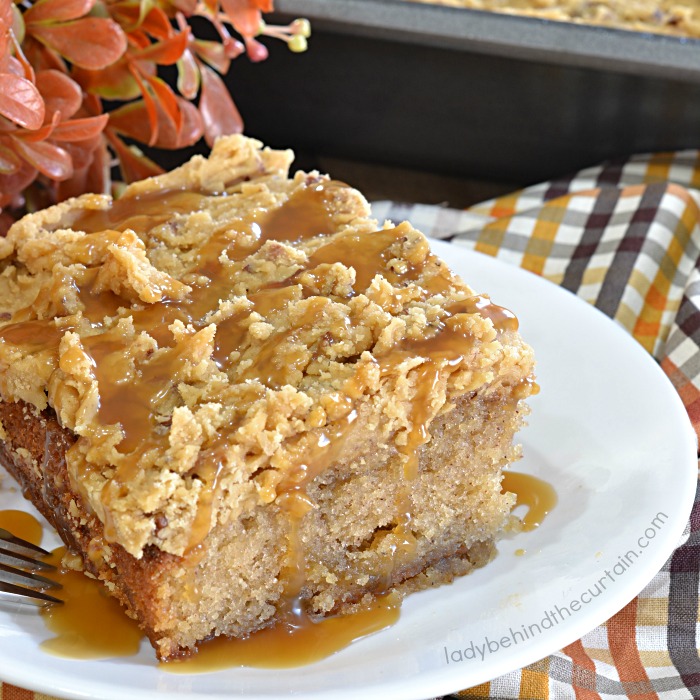 Candied Apple Pear Sheet Cake
Ingredients
For the Candied Fruit
1 cup granulated sugar
1/2 cup cane syrup ( I used Steens' Cane Syrup)
2 tablespoons unsalted butter
2 large apples (I used Fuji) peeled, cored and sliced
2 large pears, peeled cored and sliced
For the Sheet Cake
2 cups granulated sugar
1 1/2 cups unsalted butter
5 large eggs
3 cups all purpose flour
2 teaspoons ground cinnamon
1 teaspoon ground nutmeg
1 teaspoon salt
1/2 teaspoon baking soda
1 cup sour cream
2 teaspoons vanilla extract
For the Praline Frosting
3/4 cup unsalted butter
1 1/2 cups dark brown sugar, packed
5 tablespoons reserved cane syrup from the fruit
1/2 teaspoon salt
1 cup pecans, chopped
1 1/2 teaspoons vanilla extract
4 cups powdered sugar
Optional: 4 tablespoons reserved cane syrup from fruit
Instructions
For the Fruit:
In a large skillet, bring sugar and cane syrup to a boil, stirring constantly (about 2 minutes).  Stir in butter until melted.  Reduce heat to medium, add apple slices and pear slices.  Cook stirring occasionally, until fruit softens (about 12 minutes).  Remove from heat and let cool completely.
For the Cake:
Preheat oven to 350°.  Spray a 14.5x11x2-inch baking pan with non stick cooking spray.
In a large bowl, beat butter and sugar until fluffy making sure to stop and scrape the sides.  Add eggs one at a time, beating well after each addition.  In a medium bowl whisk together flour, cinnamon, nutmeg, salt and baking soda.  On low gradually add flour mixture to butter mixture alternately with sour cream .  Beat until combined.  Beat in vanilla.  RESERVE 2/3 cup syrup from the fruit mixture; set aside.  Fold into the batter the fruit and remaining syrup.  Pour batter into prepared pan.  Bake 40 minutes or until a toothpick inserted into the center comes out clean.  Remove and cool completely on a wire rack.
For the Praline Frosting:
In a mediums saucepan add the butter, sugar, cane syrup (reserved from the fruit), salt and pecans.  Bring to a boil, boil 2 minutes.  Take off the heat and stir in the vanilla.  Pour mixture into a large mixing bowl, add the powdered sugar, mix until combined.  If the mixture is too thick add the optional cane syrup 1 tablespoon at a time.  Pour hot frosting over the cake.  Use an offset spatula to smooth out the frosting. TIP: It's VERY important that the frosting is added while it's still hot otherwise the frosting becomes thick and hard like a praline.
Nutrition Information
Amount Per Serving
Calories

0
Total Fat

0g
Saturated Fat

0g
Cholesterol

0mg
Sodium

0mg
Fiber

0g
Sugar

0g
Protein

0g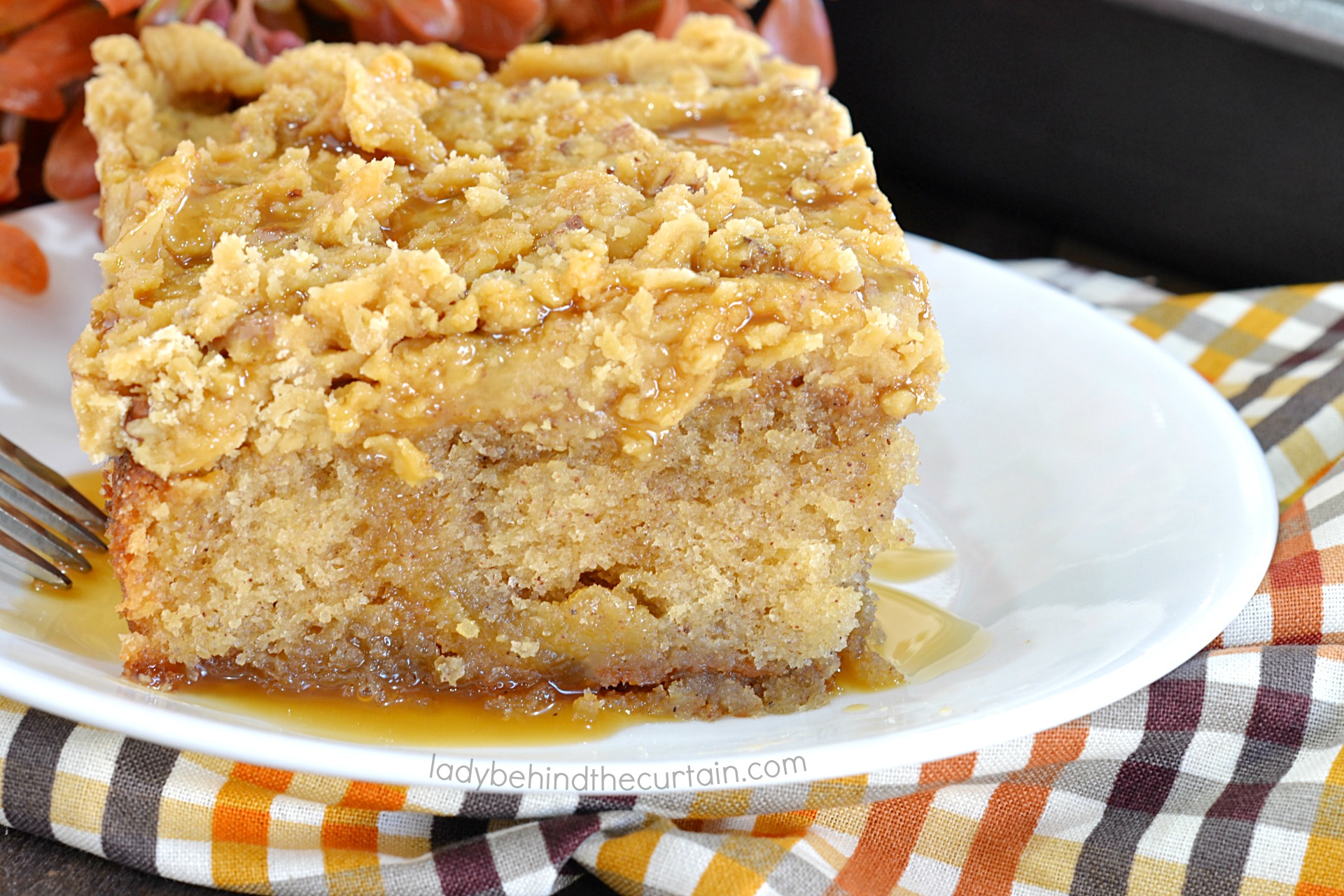 I HAVE A HUGE THANKSGIVING ROUND UP!  A collection of over 275 of my favorite Thanksgiving recipes from my kitchen to yours.  ♥  Click  and shop….shop…shop! —->>>>MEGA THANKSGIVING ROUND UP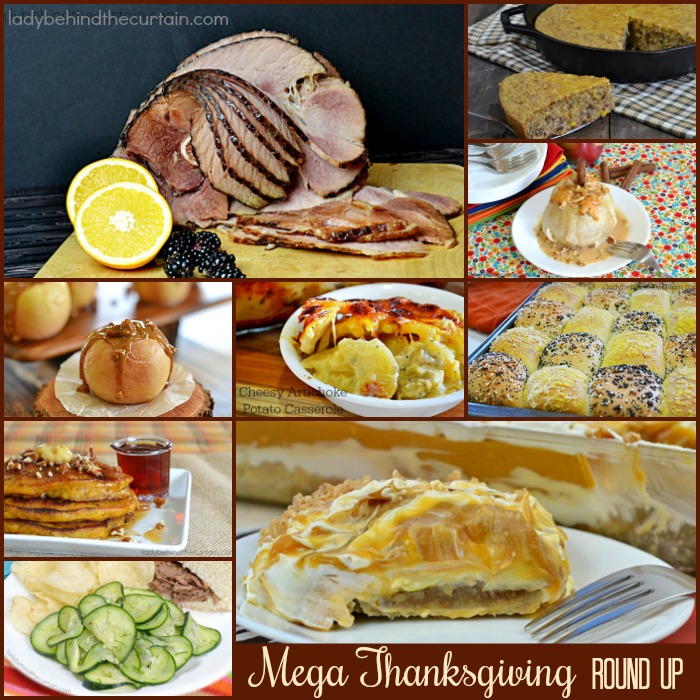 NEVER MISS A POST!
Sign up for my newsletter and receive my recipes in your inbox. Easy to see anytime and saved for safe keeping. Click Here and sign up today! —->>>>CURTAIN CALL NEWSLETTER
More sheet cake recipes you might like. CINNABON CINNAMON ROLL SHEET CAKE and TEXAS SHEET CAKE.