Chipotle Honey Biscuit Chicken Sliders
This shop has been compensated by Collective Bias, Inc. and its advertiser. All opinions are mine alone. #VivaLaMorena #CollectiveBias
Chipotle Honey Biscuit Chicken Sliders | Bring a little Latino flair to your summer picnic with these sweet and spicy biscuit chicken sliders.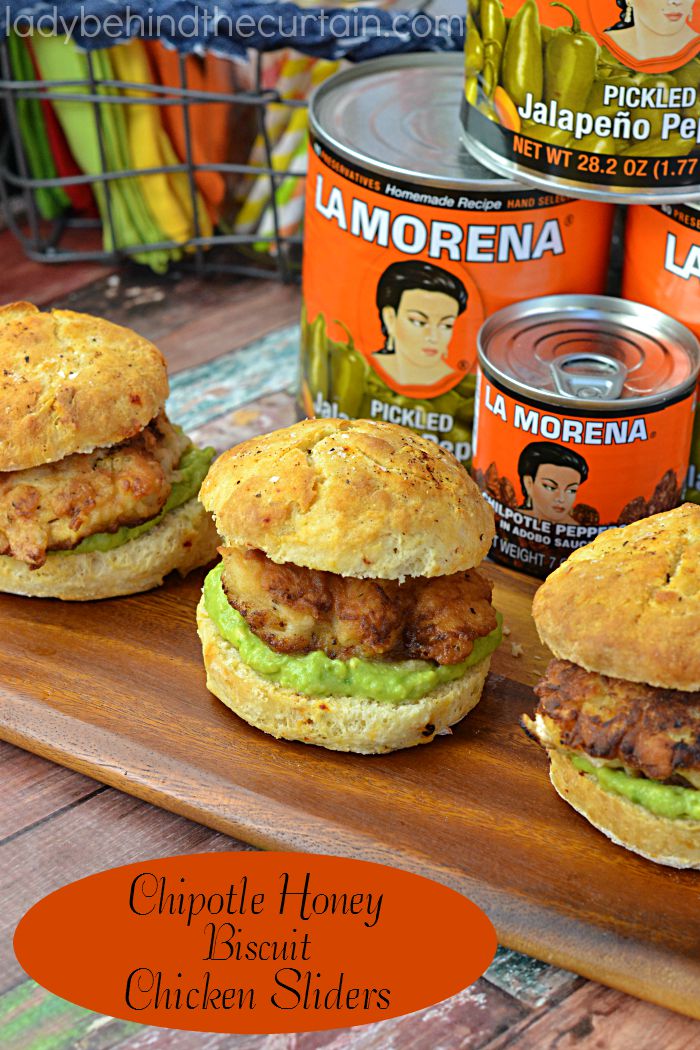 Summertime……I love summer.  We try to have as many family picnics as possible.  Sometimes I like to give our picnics a theme.  For one of them (we had three) our theme was southern food.  You know that was good!  Instead of bringing the same old basket of fried chicken I decided to spice things up a bit by using La Morena Chipotle Peppers to make the most flavorful tender biscuits EVER!  Everyone (even the kids) loved them.  By only adding one pepper I got the delicious smoky flavor with a little bit of heat.  We had tons of great food and we even played some old fashioned picnic games (HA!  I won horseshoes!)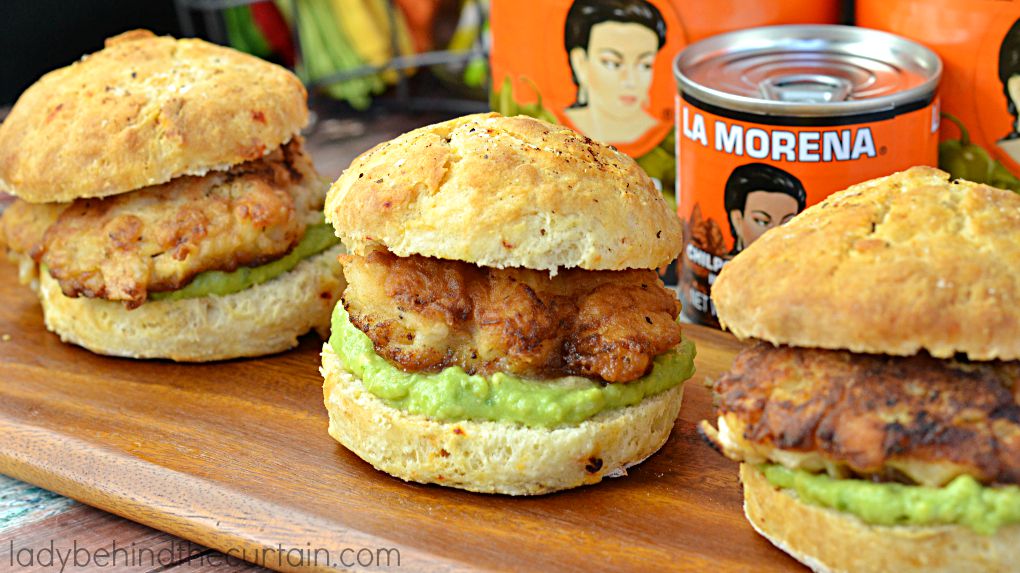 Whenever I want to add authentic Latino flavor to my food I always choose La Morena products.  You can find La Morena products on the Hispanic aisle at Walmart.  I also always have a can of La Morena Sliced Jalapeños.  They are great on hot dogs, pizzas and sandwiches!  Be sure to check out more picnic recipes with a twist at Padillagroup.com.  I'd love to hear your favorite!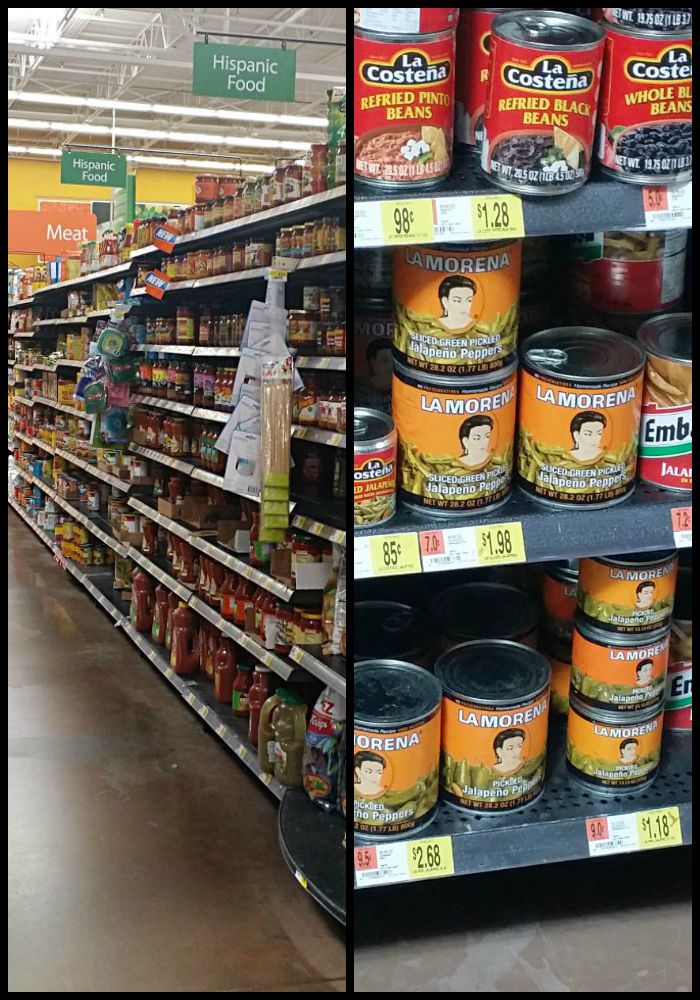 Like I mentioned above I only added one chipotle pepper (because I'm a wimp)  but if you have some die hard spicy enthusiasts you can add more.  Or leave the seeds in!  Yes,  I even took the seeds out (sorry…….)  I loved how plump and fresh the peppers were.  I couldn't resist the rich thick beautiful adobe sauce so I added it to part of the chicken coating.  Simply outstanding!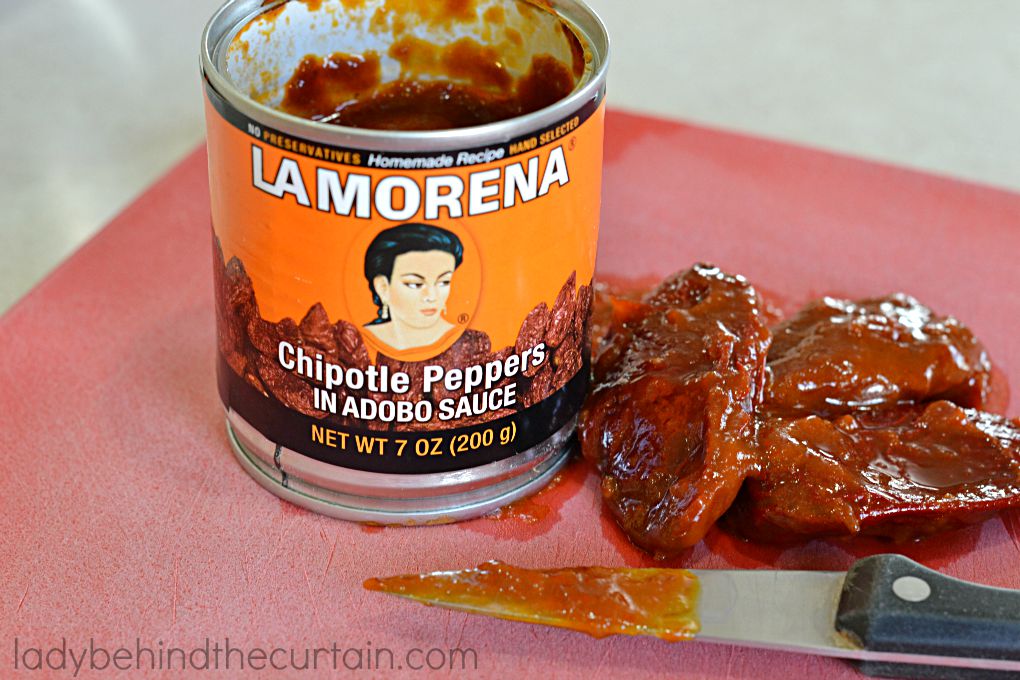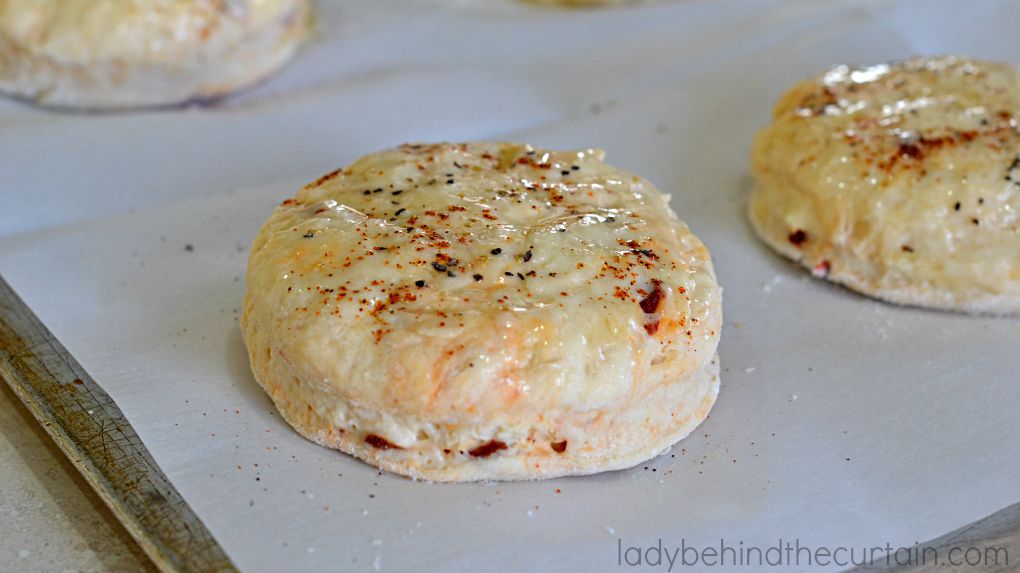 So here's the low down on the best sliders I've ever had.  Fist, I started with a chipotle honey biscuit then, added a cool avocado spread and topped it off with a fried chipotle honey chicken patty.  TIP: MAKE SURE YOU AT LEAST TRY A BITE WITH A DRIZZLE OF HONEY I PROMISE IT IS THE BOMB!  As an added layer of flavor add some of the adobe sauce to the honey and really drive in the spicy sweet flavor!  ENJOY!
Chipotle Honey Biscuit Chicken Sliders
Yield:
Makes 5 Sandwiches
Total Time:
1 hour
25 minutes
Ingredients
For the Chipotle Honey Biscuits:
1 or 2 La Morena Chipotle Peppers, seeded for mild heat, chopped (I used one)
2 cups all-purpose flour
1/2 teaspoon salt
1/2 teaspoon baking soda
3 teaspoons baking powder
3/4 cup sour cream
5 to 6 tablespoons water
2 tablespoons honey
For Topping:
2 tablespoons butter, melted
sprinkle with ground chipotle chili pepper, slate and coarse black pepper
For the Chipotle Honey Chicken Patties:
2 boneless skinless chicken breasts, cut into 4 medallions each (about 1 1/2-inch thickness)
1 cup buttermilk
1 cup all-purpose flour
2 teaspoons kosher salt
1/2 teaspoon coarse ground black pepper
1 cup buttermilk
1 teaspoon adobe sauce
2 tablespoons honey
Vegetable oil for frying
For the Cool Avocado Spread:
1 medium avocado, mashed
3 tablespoons buttermilk
1/4 teaspoon kosher salt
Instructions
For the Chipotle Honey Biscuits:
Preheat oven to 450 degrees.
Line a cookie sheet with parchment paper.
Prepare chipotle peppers and set aside.
To a medium bowl stir together the flour, salt, baking soda and baking powder.
Make a well in the center; stir in the sour cream, water and honey.
Fold in chipotle peppers.
Mix until just combined.
Dump the dough onto a lightly floured surface.
If dough is too sticky, sprinkle on extra flour and knead in.
Pat dough until it is 3/4-inch high (about a 7-in. round).
Use a 3-inch circle cookie or biscuit cutter.
Roll out dough again until all the dough is used.
Place on prepared cookie sheet.
For the Topping:
Brush on melted butter and lightly sprinkle with ground chipotle pepper, salt and black pepper.
Bake 12 to 14 minutes.
For the Chipotle Honey Chicken Patties:
Preheat oven to 350 degrees.
Line a cookie sheet with parchment paper.
Place the cut chicken on a piece of wax paper; add another piece on top.
Pound chicken into a 1/4-inch thickness.
Place in a zip top bag and refrigerate for 2 hours or overnight.
In a shallow bowl stir together the flour salt and pepper.
In another shallow bowl stir together the remaining buttermilk, adobe sauce and honey.
Heat enough oil to cover the bottom of the pan and a little up the side.
Dip chicken in the flour then buttermilk and back into the flour.
When placing the chicken in the oil try to form the chicken into a round shape.
Fry chicken in portions making sure not to crowd them.
Fry until golden brown and transfer to prepared cookie sheet.
Repeat this process with remaining chicken.
Once all the chicken is fried place in the oven to bake for an additional 15 minutes.
For the Cool Avocado Spread:
In a medium bowl add the mashed avocado, buttermilk and salt.
Stir to combine.
Place a piece of plastic wrap directly on the spread to prevent discoloration.
Store in the refrigerator until ready to use.
To Assemble:
Slice biscuits in half horizontally.
Add a spoonful of spread and place a chicken patty on top.
Drizzle on optional topping (honey).