Caramel Apple Cake | A moist cake full of apples, pecans and topped with a delicious caramel icing.  This unique cake is started in a cold oven and unlike most cakes if frosted hot straight out of the oven.  Perfect in every way!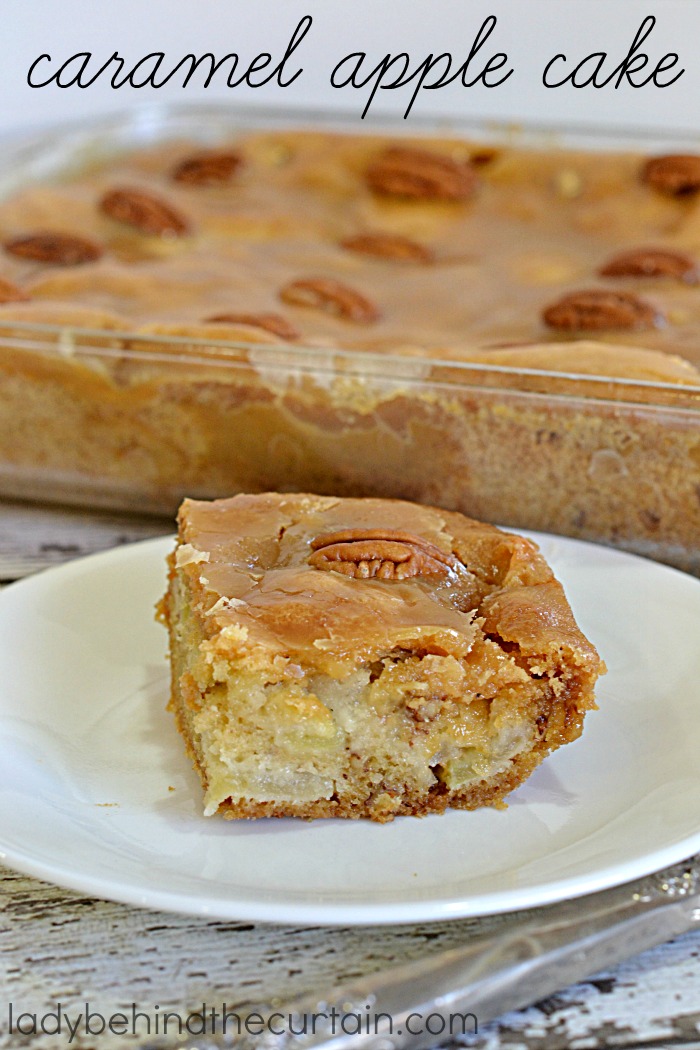 This easy to make caramel apple cake is perfect for holiday sharing whether it's taking it to a dinner or serving it yourself.  You can't go wrong with this one.  This cake is meant to be shared.

Ingredients
For the Apple Cake:

2 cups granulated sugar
4 large eggs
1 cup vegetable oil
3 cups all-purpose flour
1 teaspoon salt
1 teaspoon baking soda
3 cup apples, peeled and thinly sliced
1 cup pecans, chopped

For the Caramel Icing:

1/2 cup granulated sugar
1/2 cup light brown sugar, packed
4 tablespoons butter
1/4 cup evaporated milk
1 teaspoon vanilla extract
pecan halves for garnish
Instructions
For the Apple Cake:

DO NOT PREHEAT THE OVEN.
Spray a 9x13-inch pan with nonstick cooking spray and set aside.
Beat the sugar, eggs and oil until smooth.
In another bowl mix together flour, salt and baking soda.
Mix flour mixture into egg mixture until thoroughly combined.
Add sliced apple and nuts.
Gently stir until incorporated.
Spread batter in prepared pan.
Place pan in cold oven.
Bake at 325 degrees for 1 hour to 1 hour and 5 minutes.
NOTE: While the cake is baking make the Icing
Pour warm caramel icing over cake.
Cut into squares and add the pecan halves.

For the Caramel Icing:

In a small saucepan combine the sugars, butter and evaporated milk.
Bring to a boil and cook, stirring constantly, for 2 minutes.
Stir in vanilla.
Notes
This recipe was adapted from the Taste of the South's Fall Baking 2013 magazine.
https://www.ladybehindthecurtain.com/caramel-apple-cake/

MORE GREAT CAKE RECIPES
1.  CLASSIC TEXAS SHEET CAKE  2.  RED VELVET GOOEY BUTTER CAKE  3.  GOOEY CARAMEL CAKE  4.  VANILLA CAKE WITH CHOCOLATE GANACHE