Classic Birthday Party Cupcakes
Classic Birthday Party Cupcakes: When I think of a traditional birthday cupcake my mind goes to a light and fluffy yellow cake cupcake and a deliciously creamy chocolate frosting. No frills just a sweet and simple cupcake any kid or adult would love.
Cake Flour VS All-Purpose Flour
CAKE FLOUR: Ground extra fine, which results in a lighter, loosely-structured crumb and fluffy texture.
ALL-PURPOSE FLOUR: The protein percentage is higher then cake flour so does not lend to as fluffy of a texture as cake flour.
How to Convert All-Purpose Flour to Cake Flour
Classic Birthday Party Cupcakes Ingredients
CAKE FLOUR: Ground extra fine, which results in a lighter, loosely-structured crumb and fluffy texture.
UNSALTED BUTTER: The butter adds a richness and depth of flavor that most boxed cake mixes are missing
SUGAR: Granulated sugar is the best sugar to use for this cake. It offers a touch of sweetness and no molasses flavor.
LARGE EGGS: Large eggs are best for this recipe. Eggs not only offer moisture but also aid in giving cake height.
VANILLA EXTRACT: To achieve the prefect touch of sweetness and a rich vanilla flavor make sure to use real and not imitation vanilla.
SOUR CREAM: Adding sour cream brings a pleasant tang to cakes while adding very little fat. It also helps tenderize gluten, giving the cake a softer texture and more body.
How to Make Classic Yellow Cake Cupcakes with Milk Chocolate Frosting Ahead of Time
CLASSIC YELLOW CAKE CUPCAKES: Once the cupcakes have cooled completely, Place in a freezer safe container ( I like using the clamshell containers from the bakery) wrap around the container in one direction, spin to the opposite direction and wrap again. Can be frozen up to 3 months. When ready to use, unwrap and place on counter to defrost.
MILK CHOCOLATE FROSTING: Frostings that are made with shortening can be stored at room temperature in an air tight container on the counter up to 2 weeks. Frostings with butter and milk should be stored in the refrigerator with an air tight lid up to 2 weeks or freezer up to 3 months. REVIVE: For frostings that are frozen or refrigerated. Set them on the counter and wait for them to come to room temperature. Spoon into a large mixing bowl. Fit the mixer with a paddle attachment, beat on medium high until light and fluffy (about 3 minutes).
How to Transform this Recipe Into a Classic Birthday Cake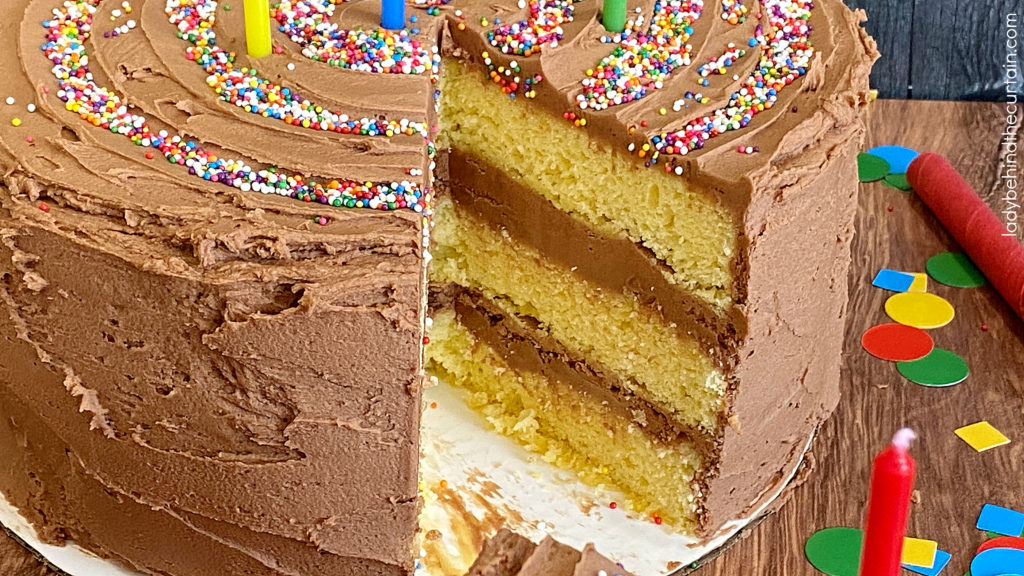 SIGN UP FOR THE LADY BEHIND THE CURTAIN NEWSLETTER AND FOLLOW THE LADY BEHIND THE PARTY ETSY SHOP
THANKS FOR VISITING♥