Chicken and Potato Florentine Soup
Chicken and Potato Florentine Soup | Warm your insides with this  hearty soup full of chicken and vegetables.  So rich in flavor this soup gets even better the next day.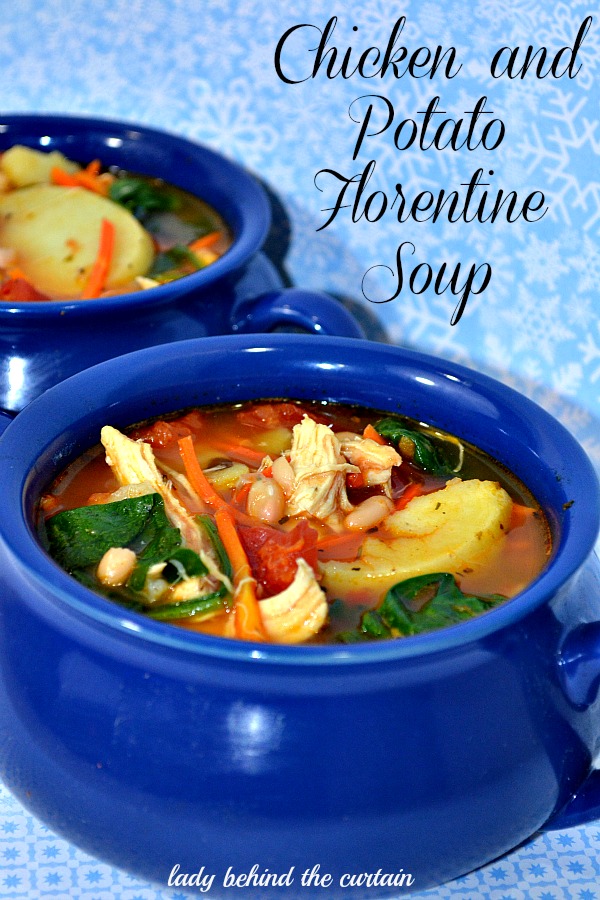 Keep it simple!  When I make my chicken stock I don't bother with peeling anything.  Not even to onion or garlic!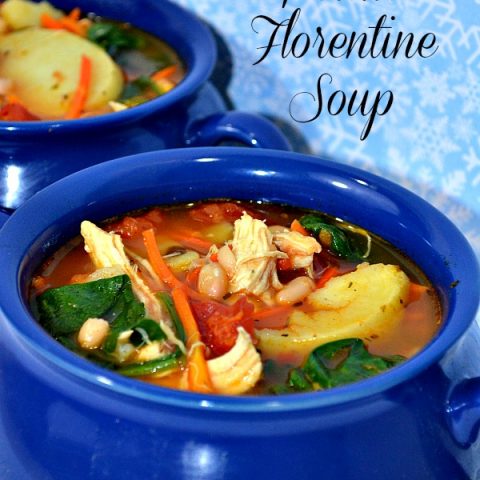 Chicken and Potato Florentine Soup
Ingredients
For the Chicken Stock:
1 whole chicken
2 carrots, cut in half
2 celery sticks, cut in half
2 medium onions, cut in half
1 head of garlic, cut in half
2 bay leaves
1/4 of a bunch of fresh thyme
salt
water to cover chicken
For the Soup:
8 cups chicken stock
1 whole chicken, cooked and shredded
2 - 15 ounce cans white beans
10 ounces shredded carrots
6 medium sliced potatoes
1/2 tablespoon salt
1 teaspoon pepper
1/2 tablespoon Italian seasoning
1/2 tablespoon instant minced onion
1/2 tablespoon paprika
5 ounces fresh spinach, chopped
Instructions
For the Chicken Stock:
Wrap thyme and bay leaves with kitchen string.
In a LARGE stock pot add the chicken, vegetables, herbs and salt.
Add enough water to cover .
NOTE: I DON'T peel the vegetables.
Bring to a boil, reduce heat and simmer for 1 hour.
Remove chicken, when cool enough to handle shred.
Strain vegetables from stock.
Add stock back into pot.
You will need 8 cups of liquid so if the stock is short of that 8 cups add enough water to equal 8 cups.
For the Soup:
Add the chicken stock, shredded chicken, beans, carrots, potatoes, salt, pepper, Italian seasoning, onion and paprika to a large stock pot; simmer for 45 to 60 minutes.
The potatoes should be fork tender but not mushy.
Add fresh spinach and stir; let wilt into the soup for about 5 minutes.