Cranberry Oatmeal Orange and Spice Tea Muffins
This shop has been compensated by Collective Bias, Inc. and its advertiser. All opinions are mine alone.  #AmericasTea #CollectiveBias
Not only are these Cranberry Oatmeal Orange and Spice Tea Muffins visually appealing but they are full of the flavors of Fall.  Made with aromatic brewed Orange and Spice Bigelow Tea.  Take a deep breath in of the spicy deliciousness this tea has to offer.
WHY I LOVE BIGELOW TEA! ♥
Bigelow Tea is All American: 100% American made by an American Family; an American Company for the American consumer. Available at an American Retailer – Walmart.
Bigelow Tea's Charleston Tea Plantation is America's largest working tea garden.
Guests are invited to the Charleston Tea Plantation for weddings, tours and even a variety of music festivals. It's a tea-riffic way to experience historic Southern culture and a living piece of American history!
Almost 4 million bags of tea have been sent to troops overseas with Bigelow's Tea for Troops program. Find additional information about Tea for Troops at https://www.bigelowtea.com/Responsibility/Support-Our-Troops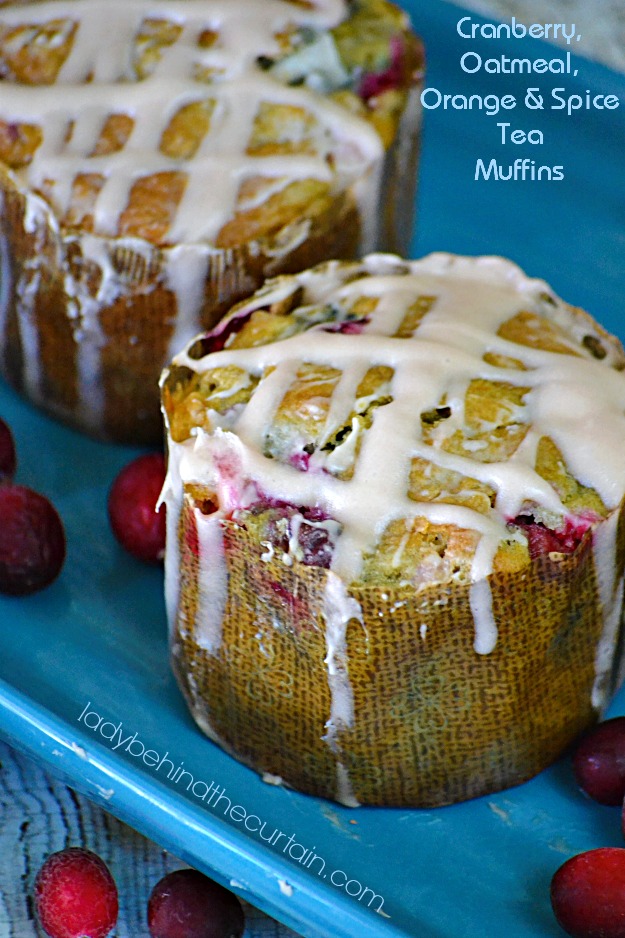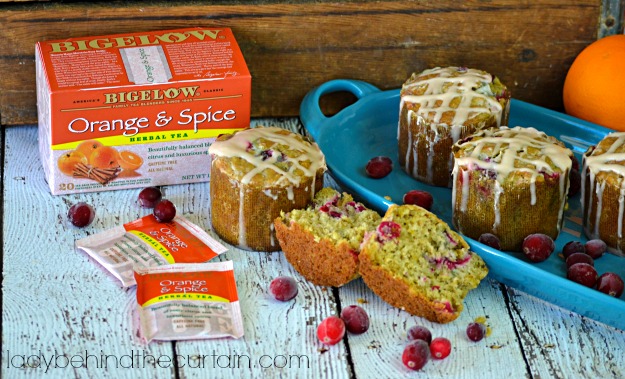 It's no secret that my favorite flavor combos are orange and cranberry.  So when I was shopping at Walmart for tea and saw this Orange and Spice Bigelow Tea I immediately knew I wanted to add cranberries to the mix.  And make some amazing muffins.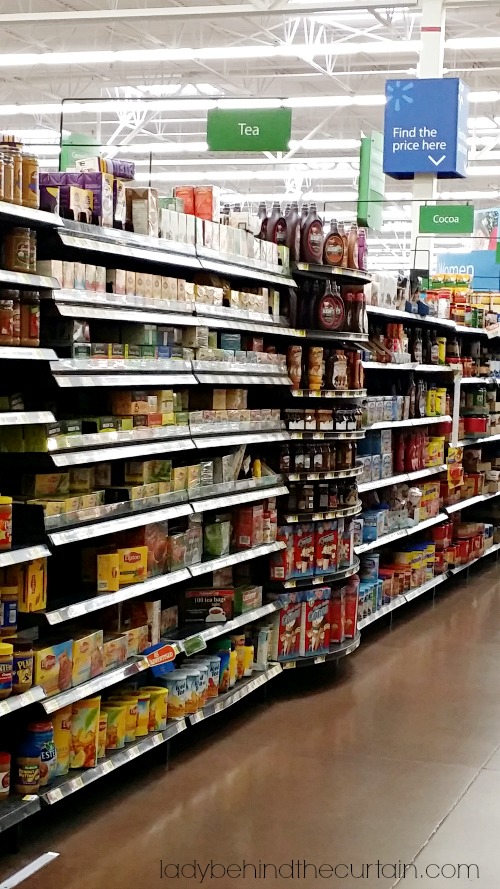 I used some fresh cranberries that I had thrown in the freezer from last year.  I always make sure I buy at least one extra bag for baking when they're not in season.  If you can't find fresh or frozen cranberries you can also use dried.  I just love the pop of flavor fresh cranberries bring to a recipe.  By the way I also keep a large bag of dried cranberries in the freezer too!  REMINDER:  Fresh cranberries are sour don't forget to add some sugar.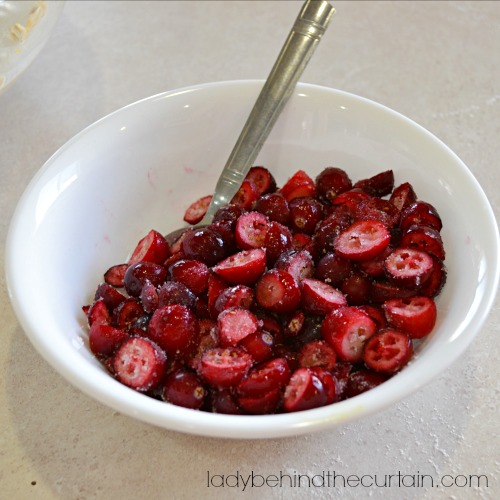 Freshly brewed Orange and Spice Tea is the secret to these muffins.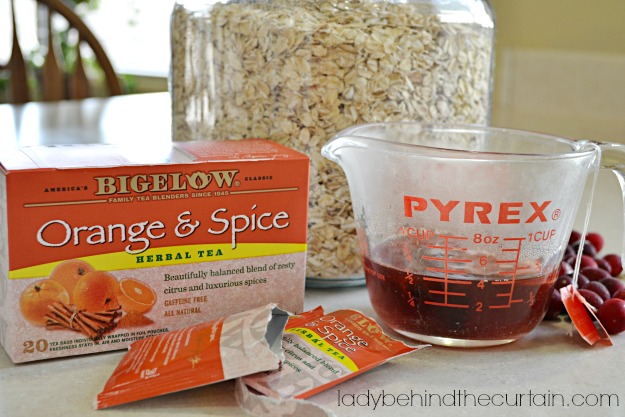 And then soaking the oats in the brewed tea!  🙂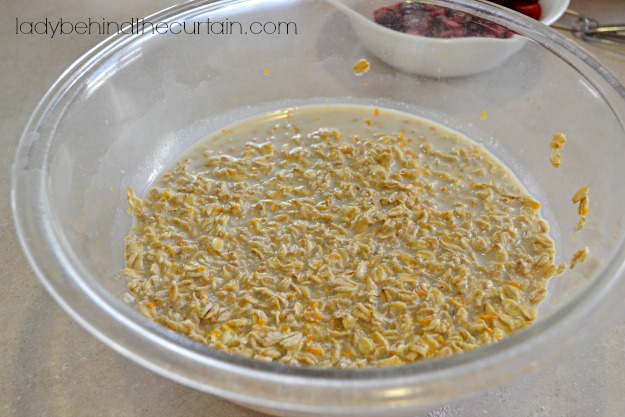 For this recipe I used large cake molds with TWO scoops of batter.  More delicious muffin per person but you can use the regular size too.  I have instructions for both.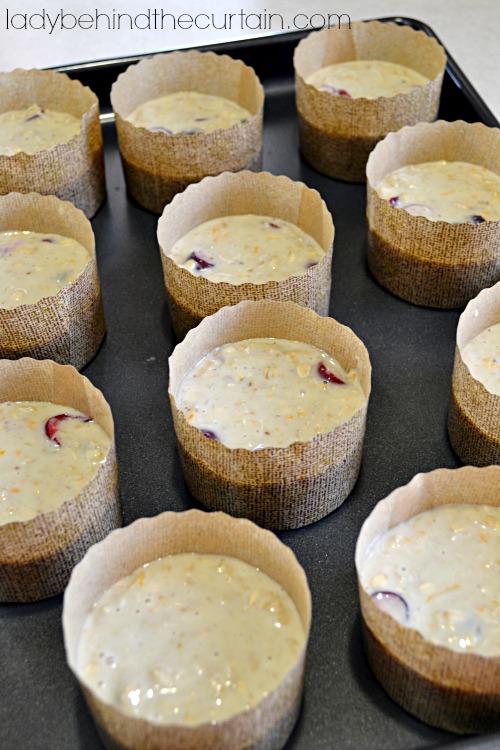 They came out so beautiful I almost hated to put a glaze on them.  Wait, I said ALMOST.  🙂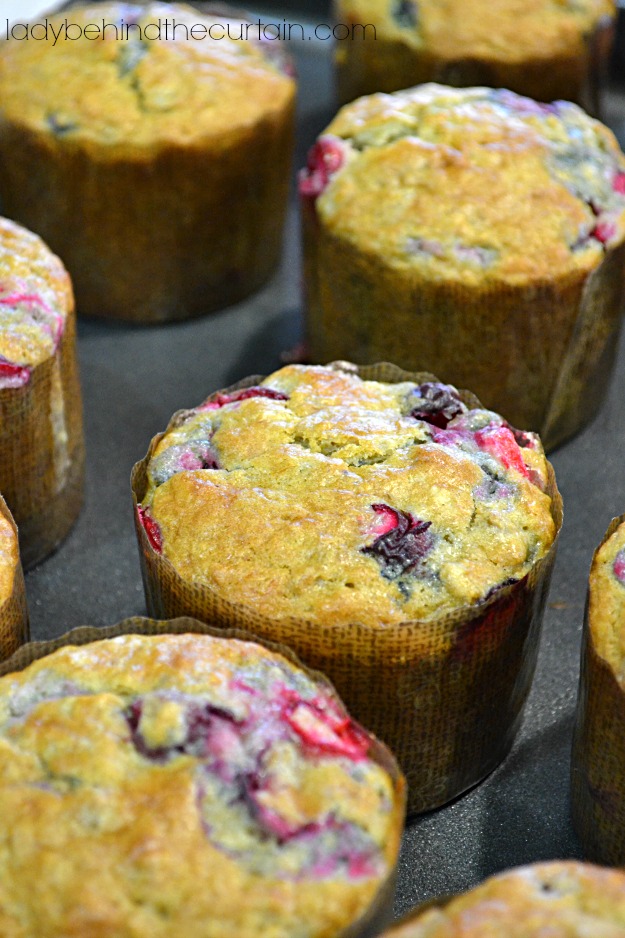 WARNING!!! Drizzle the glaze on the muffins DO NOT drink!  No, I didn't drink it.  😉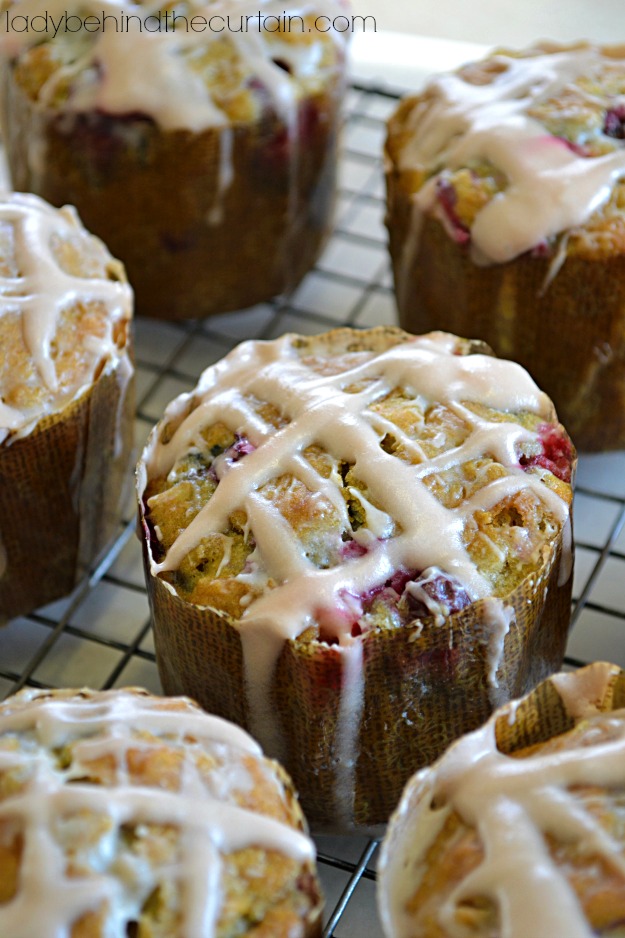 So, I've talked about the muffins and how much I love the cranberry and orange flavors but I can't even describe the yummy goodness of the glaze!  Made with cream cheese, butter, brewed tea and sugar.  Okay, I guess that says it all.  🙂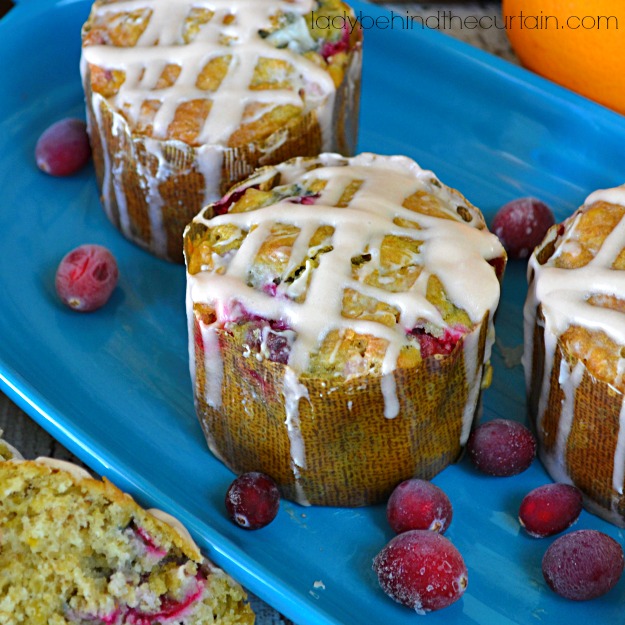 Create your own Recipe Box and save your favorite Lady Behind The Curtain recipes.  Make a Meal Plan with your favorite recipes and ZipList will automatically add the ingredients to a Shopping List.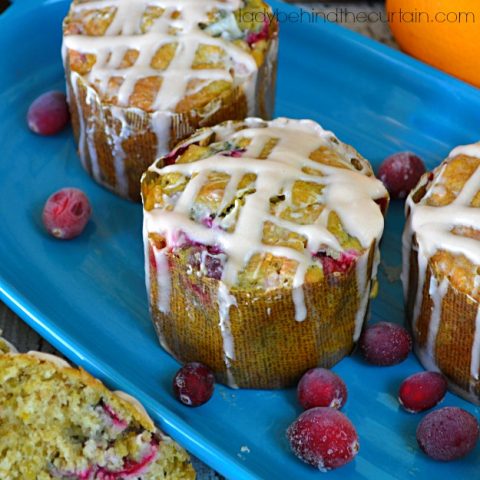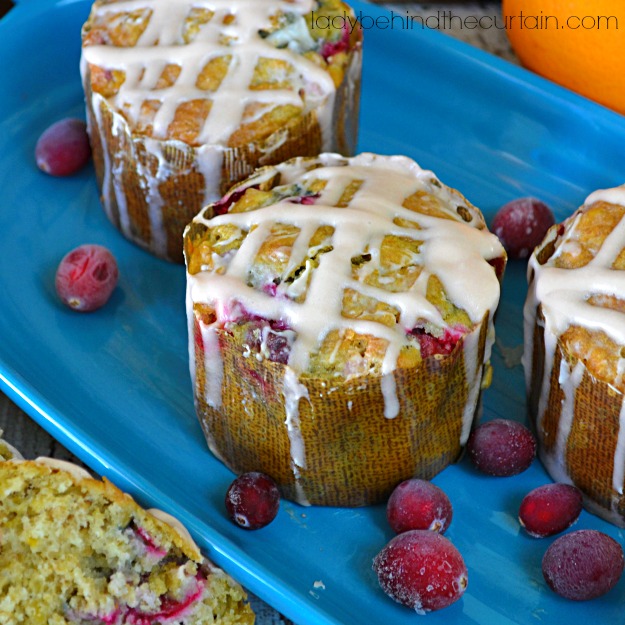 Cranberry Oatmeal Orange and Spice Tea Muffins
Yield:
24 Regular Size -- OR -- 11 Large
An incredible muffin recipe with orange zest, cranberries and brewed orange spice tea.
Ingredients
For the Muffins:
2 cups old fashioned oats
1/2 cup brewed Bigelow Orange and Spice Tea (two bags)
1 3/4 cups milk
zest from one orange
1 cup fresh or frozen cranberries, sliced
2/3 cup granulated sugar + 1 tablespoon, divided
2 cups all-purpose flour
4 teaspoons baking powder
1 teaspoon baking soda
1/4 teaspoon salt
2 large eggs, slightly beaten
1/2 cup vegetable oil
For the Glaze:
3 ounce cream cheese, softened
2 tablespoons butter, softened
1 teaspoon vanilla extract
1 1/4 cups confectioners' sugar
5 to 6 tablespoons brewed Bigelow Orange and Spice Tea (1 tea bag)
Instructions
For the Muffins:
Preheat oven to 375 degrees.
Line muffin pans with 24 cupcake liners OR 11 2 3/4-inch x 2-inch cupcake molds
In a medium bowl add the oats, brewed tea, milk and orange zest.
Stir to combine and set aside for 20 minutes.
Place sliced cranberries in a small bowl, sprinkle 1 tablespoon sugar over cranberries and set aside.
In a large bowl whisk together the sugar, flour, baking powder, baking soda and salt.
Add the eggs and oil to the oatmeal mixture; stir to combine.
Add the oatmeal mixture to the flour mixture; stir until combined.
Fold in cranberries.
Scoop into prepared muffin pans.
TIP: For regular size muffins use an ice cream scoop. For the larger size cupcake molds use 2 ice cream scoops.
Bake regular size 20 to 25 minutes AND large 30 to 35 minutes.
Cool on rack.
For the Glaze:
Cream together the cream cheese and butter.
Mix in vanilla.
Blend in the sugar.
Add the tea 1 tablespoon at a time until it reaches a drizzle consistency.
Use a large spoon and drizzle over muffins.
Don't miss a thing and follow Bigelow on Facebook and Twitter!
For more great ideas visit Bigelow on Pinterest!