Cream Cheese Swirl Pumpkin Bars
Cream Cheese Swirl Pumpkin Bars. These bars are light, airy, full of pumpkin flavor with the added bonus of a cream cheese swirl and mini chocolate chips. They are sturdy enough to eat with just a napkin which makes them the perfect holiday party dessert.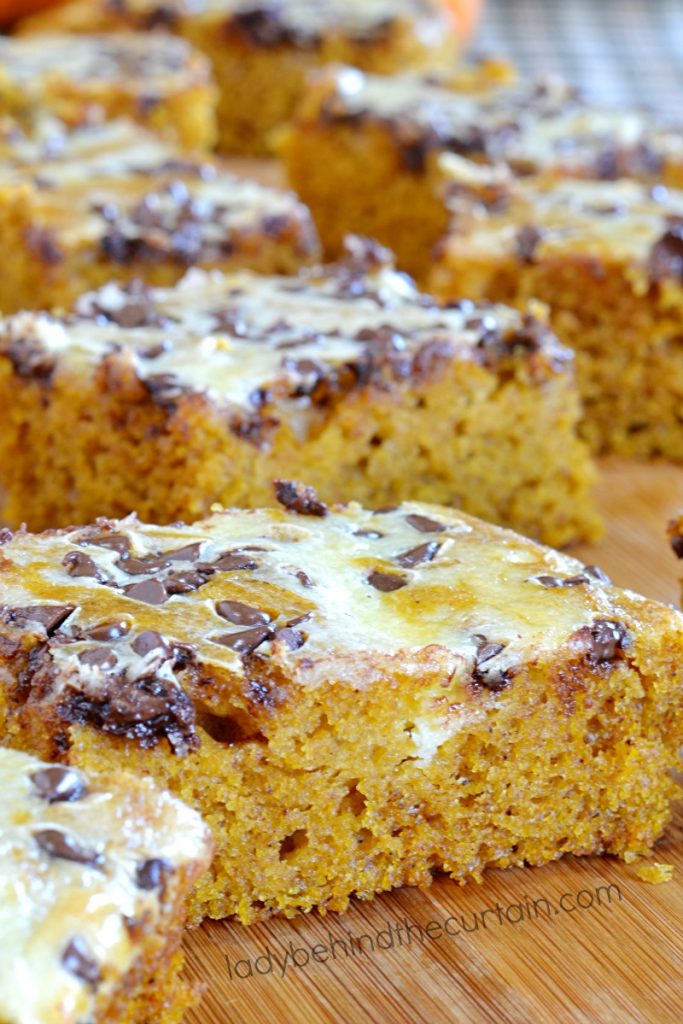 The perfect take along dessert.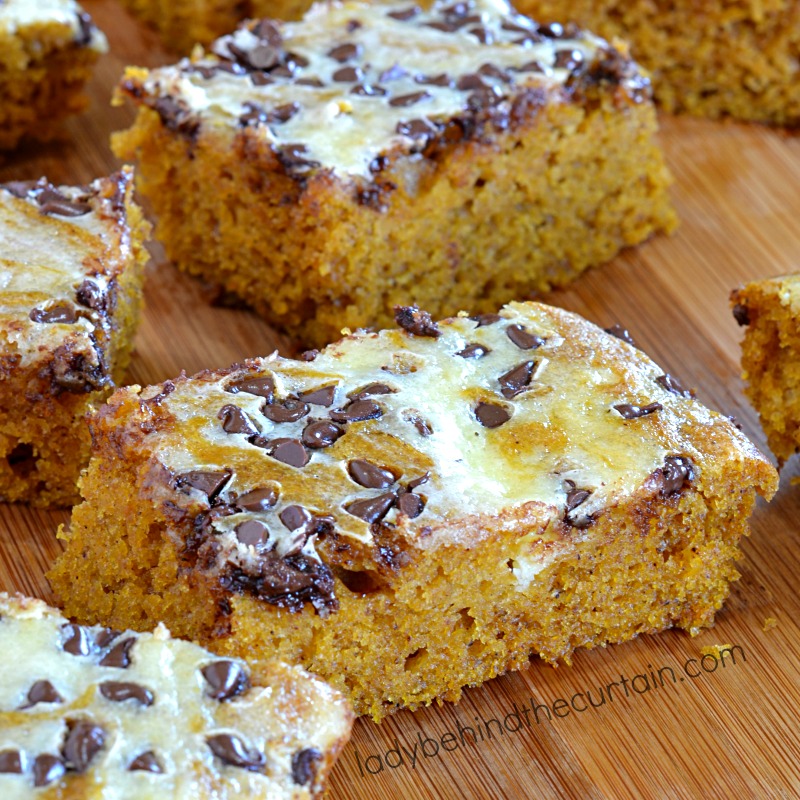 Pumpkin Bars are super easy to pack up and these Cream Cheese Swirl Pumpkin Bars are no exception. Either take them in the pan (before they're sliced) or load them already sliced into a container. Take them to Grandma's house, add them to your Thanksgiving Dessert Table or serve them at your Christmas Party. No matter when or where you serve these Cream Cheese Swirl Pumpkin Bars they will be loved!
Why I love these Pumpkin Bars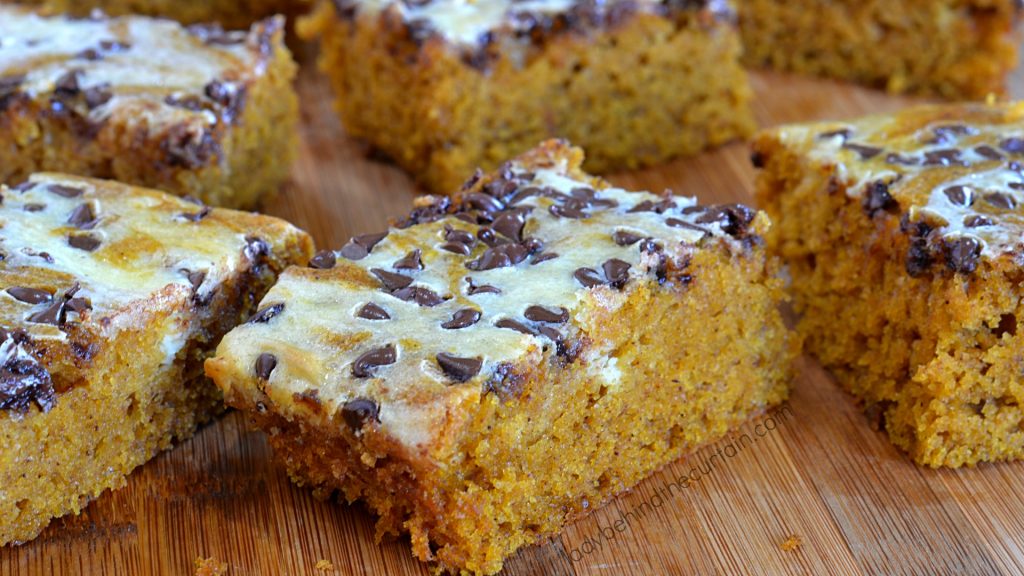 Easy to make
Take them anywhere
Light and fluffy
Filled with pumpkin flavor
Pumpkin, cheesecake and chocolate or my!
No plates or utensils necessary
The perfect make ahead dessert
How to Store Pumpkin Bars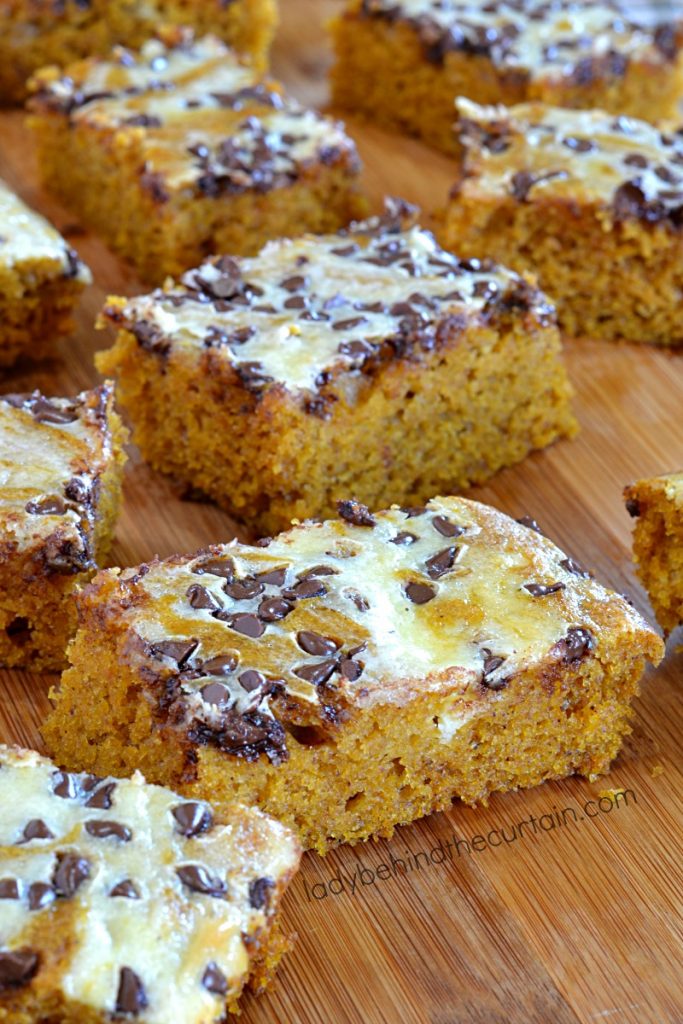 Cover in a container with a tight fitting lid in the refrigerator. I recommend taking the pumpkin bars out of the refrigerator and let them come to room temperature before serving. You want the bars to be as soft and tender as they were the day you made them. TIP: To ensure freshness do not store in the refrigerator for more then 2 days. If you need to store them longer then freeze.
Can I Freeze Pumpkin Bars
YES YOU CAN! There are a couple of ways you can do this. Dinner Party: If you plan on serving the Cream Cheese Swirl Pumpkin Bars at a party then put the cut bars in an airtight container and place in the freezer. Make sure to take the container out of the freezer early enough for the pumpkin bars to thaw. Just to enjoy: This recipe makes 24 bars and maybe you're freezing them so you can enjoy them for a couple of months. For this reason I recommend wrapping each bar in plastic wrap or placing each one in a flap over sandwich bag and then placing all of them in an air tight container. Now you have the perfect grab and go dessert!
How to Cut Bars:
For a 15 x 10 x 1 inch pan:
Use a plastic knife
Start cutting the width (10 inch side) of the pan, cut down the center
Divide those two sections in half (you should have four sections)
Divide the four sections in half (you should have eight sections)
Turn the pan so that the long side (15 inch) is facing you
Divide into three equal sections
You should have 24 bars
MORE RECIPES MADE WITH PUMPKIN
NEVER MISS A POST
More dessert recipes to go with your Cream Cheese Swirl Pumpkin Bars. CHOCOLATE MARBLE FUDGE CAKE and APPLE PIE.