Applesauce Cranberry Bars
Applesauce Cranberry Bars. Moist light and fluffy bars, made with loads of applesauce, honey, dried cranberries and topped with an incredible brown butter frosting. Simply the BEST Applesauce Bars I've ever had!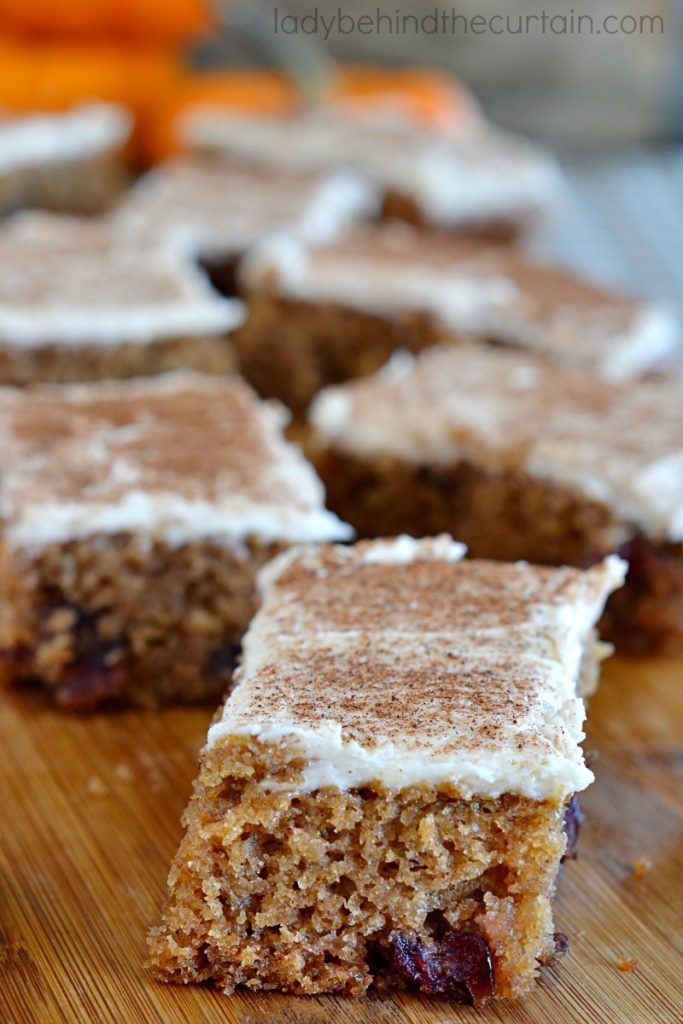 Why Applesauce Bars are the Best Party Dessert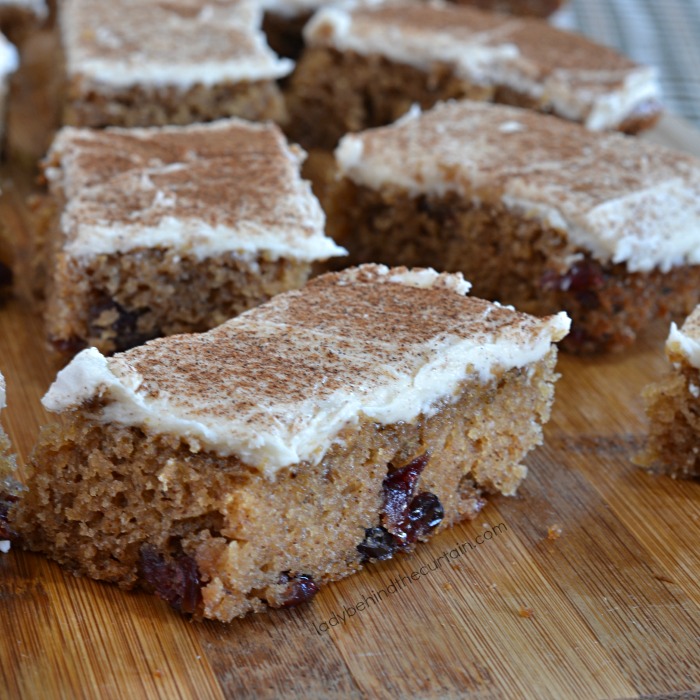 Making Applesauce Cranberry Bars takes the worry out of well…. just about everything that has to do with baking. You still need to follow the recipe (because…unfortunately baking is a science…not at all like cooking) but aside from that the most important thing is if the batter is level. These amazing take along treats pretty much fit into any party situation. Whether that's packing the applesauce bars up to go to grandmas house or proudly placing them on your Thanksgiving dessert table. Plus…BONUS! You don't need a fork to eat them! These amazing bars are sturdy enough to be held with just a napkin in the palm of your hand.
How to Cut Bars:
For a 15 x 10 x 1 inch pan:
Use a plastic knife
Start cutting the width (10 inch side) of the pan, cut down the center
Divide those two sections in half (you should have four sections)
Divide the four sections in half (you should have eight sections)
Turn the pan so that the long side (15 inch) is facing you
Divide into three equal sections
You should have 24 bars
Frosting for Applesauce Bars
These Applesauce Cranberry Bars can stand on their own. You can keep them plain or even dust them with powdered sugar. I say this all the time and I'm going to say it again. If you have never tried brown butter frosting, PLEASE DO! You won't be able to get over the incredible flavor boiling butter creates. There's nothing like it….I PROMISE! Click here to find out how—->>>>HOW TO MAKE BROWN BUTTER. If you would like another option then try this Cinnamon Cream Cheese Frosting.
Toppings and Additional Ingredients to add to Applesauce Bars
Dried fruit (tart Cherries or apricots)
Fresh diced apples
Mini chocolate chips
Toasted nuts (pecans or walnuts)
Fall sprinkles
Coconut (toasted)
Cream cheese frosting
MORE BAR RECIPES
NEVER MISS A POST
More dessert recipes to go with your Applesauce Cranberry Bars on your Thanksgiving Dessert Table. PECAN PIE and PUMPKIN PIE.