Mini Pumpkin Cheesecakes | Little bites of creamy pumpkin flavored cheesecake topped with a homemade caramel sauce and sugared pecans….now that a dessert fit for a celebration!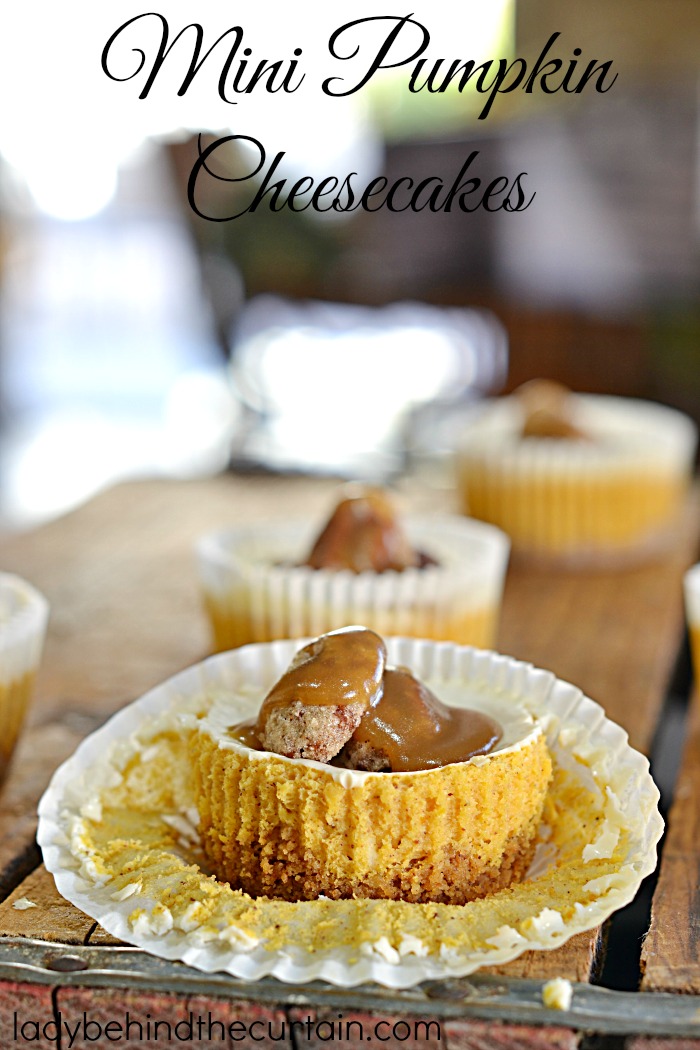 Grace your dessert table this Christmas with a platter full of these Mini Pumpkin Cheesecakes.  Who says pumpkin is just for Fall?  Not me!  When you combine it into a creamy cheesecake you know your guests will go crazy for pumpkin no matter what time of year it is.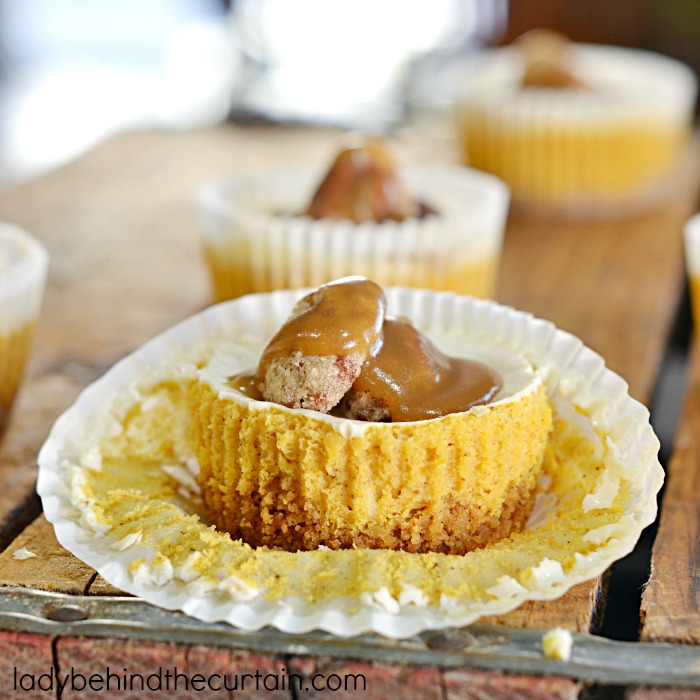 So now that you have these delicious cheesecakes made…you'll need to top them with something.  The Easy Caramel Sauce is so good you'll want to drink it and the Sugared Pecans are nice and crunchy with a generous coating of cinnamon and sugar.  Now….let's get onto making some cheesecake!
Yield: Makes 45 Mini Cheesecakes
Mini Pumpkin Cheesecakes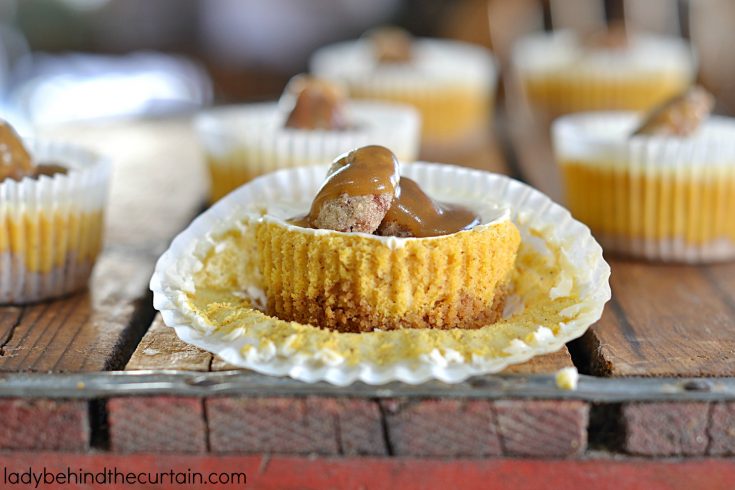 Ingredients
For the Crust:
2 1/4 cups graham cracker crumbs
1/3 cup plus 3 tablespoons unsalted butter, melted
1/4 cup plus 2 tablespoons granulated sugar
1 1/2 teaspoons ground cinnamon
For the Filling:
3 (8 ounce) packages cream cheese, softened
1 cup granulated sugar
1/4 cup light brown sugar, packed
2 large eggs
1 (15 ounce) pumpkin puree
2/3 cup evaporated milk
2 tablespoons cornstarch
1 1/4 teaspoons ground cinnamon
1/2 teaspoon ground nutmeg
For the Topping:
1 (16 ounce) sour cream, at room temperature
1/3 cup granulated sugar
1 teaspoon vanilla extract
Optional Garnish:
Instructions
For the Crust:
Preheat oven to 350°.
Combine the graham cracker crumbs, butter, sugar and cinnamon.
Add 1 tablespoon graham cracker crust mixture to 45 lined cupcake tin wells; lightly press into the bottom.
For the Filling:
In a medium mixing bowl beat together the cream cheese, granulated sugar and brown sugar until fluffy.
Beat in egg, pumpkin and milk.
Add cornstarch, cinnamon and nutmeg.
Beat until all ingredients are smooth and combined.
Scoop one ice cream scoop of batter into each lined cupcake well.
Bake 18 minutes.
For Topping:
In a small bowl stir together the sour cream, sugar and vanilla.
Spoon (about 1 teaspoon) over warm cheesecakes.
Bake 5-7 minutes.
Cool on wire rack.
Refrigerate several hours or overnight.
Remove side of pan.
Optional Garnish:
Top with Sugar Pecans and drizzle with Easy Caramel Sauce.
Serve extra nuts and caramel sauce on the side.
MORE MINI CHEESECAKE RECIPES

MINI PAYDAY CHEESECAKES  2. PEPPERMINT PATTY MINI CHEESECAKES  3. SNICKERDOODLE COOKIE DOUGH MINI CHEESECAKES