Earl Grey Tea Vanilla Ice Cream
Earl Grey Tea Vanilla Ice Cream | Transform your favorite tea into an incredible ice cream!  This is a tea infused dessert so instead of having a cup of "hot" tea in the afternoon have as a small scoop of ice cream.  The perfect tea party dessert!  OR…..want both?  Add a scoop to your cup of hot tea!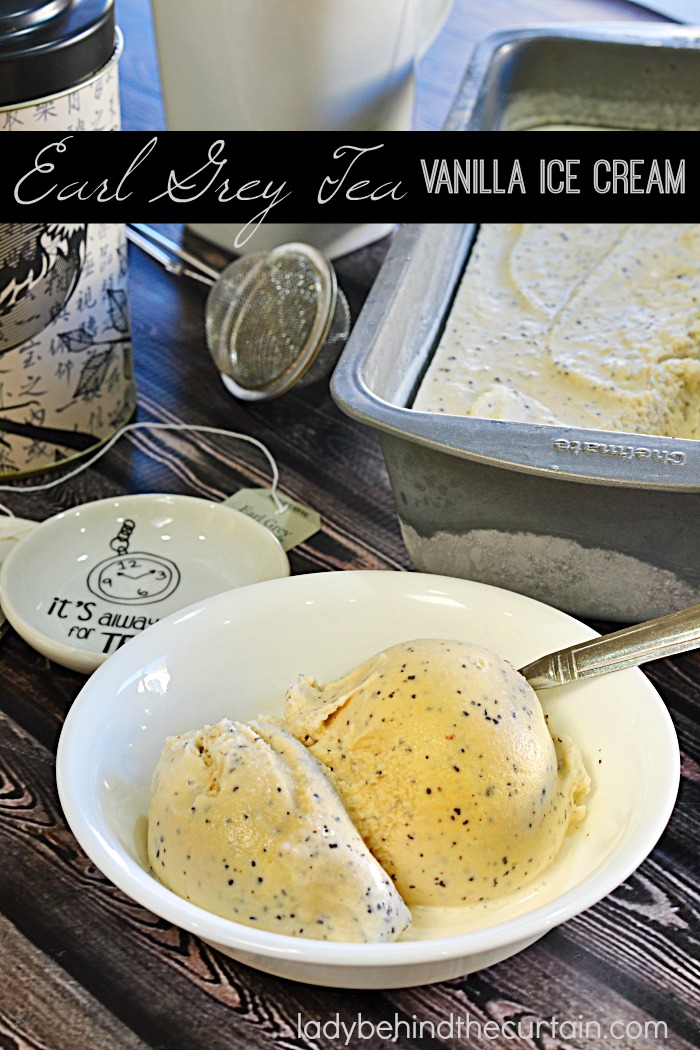 When it's too warm outside for hot tea but you miss the flavor, serve up this easy to make alternative.  Your guests will love the light and creamy texture along with a hint of Earl Grey tea and vanilla!
MORE ICE CREAM RECIPES

HOMEMADE PUMPKIN ICE CREAM  2. BUTTERBEER ICE CREAM 3. MINT CHOCOLATE CHIP ICE CREAM
Earl Grey Tea Vanilla Ice Cream
Ingredients
1 1/2 cups whole milk
1 1/8 cups granulated sugar
3 cups heavy cream
1 vanilla bean, split and seeds removed
3 earl grey tea bags
Instructions
To a medium pot add the milk, sugar, cream, vanilla seeds, vanilla bean and the contents of ONE tea bag.
Whisk together.
Add remaining two tea bags.
Bring to a boil, lower heat and simmer 15 minutes occasionally stirring.
Take off the heat and let sit with tea bags and vanilla bean in cream mixture an additional 15 minutes.
Remove tea bags and vanilla bean.
Pour into a bowl; cover with plastic wrap and place in refrigerator until completely cooled.
Pour into ice cream maker; follow manufacturers instructions for making ice cream.
Pour finished ice cream in a freezer safe container.
For a firmer ice cream place ice cream in the freezer for a couple of hours.