Easy To Make Halloween Bat Gumdrops
Easy To Make Halloween Bat Gumdrops | These Halloween Party favorites are soft black licorice gumdrops.  With lots of black licorice flavor, your guests will go batty over these fun easy to make Halloween bat gumdrops.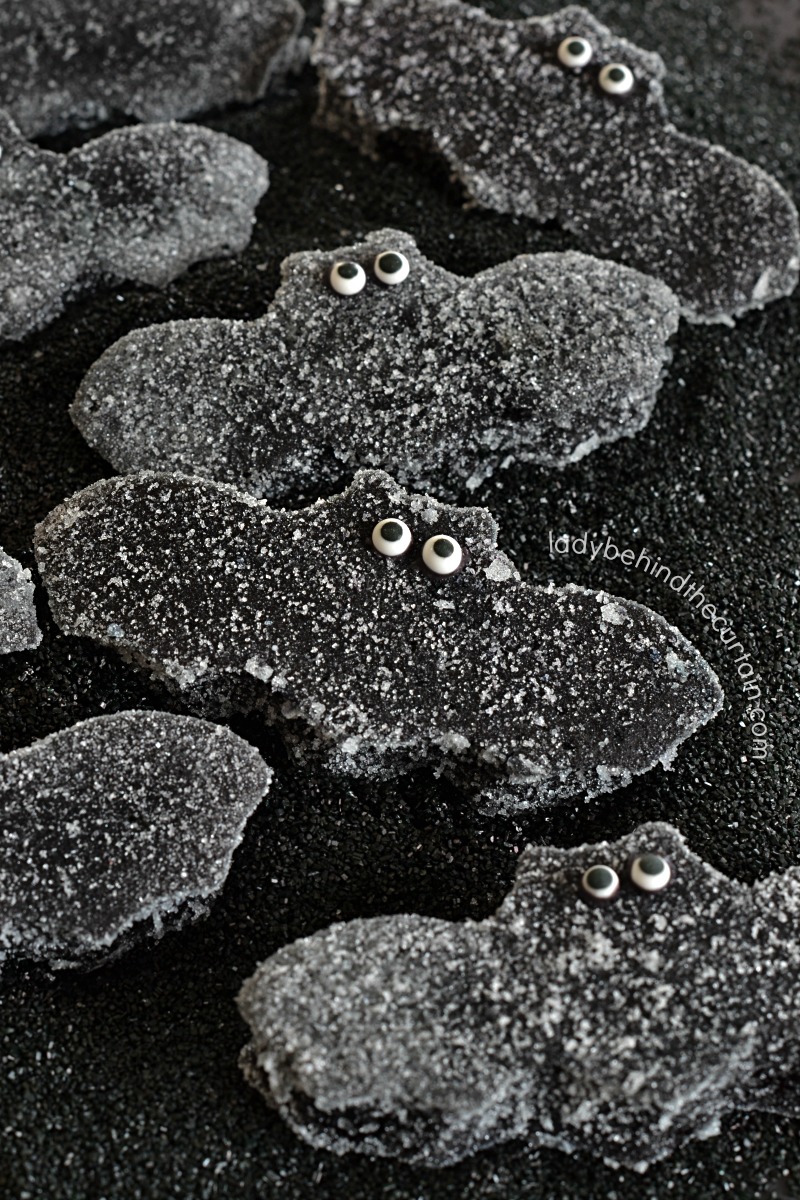 I love black licorice but if you are like most people that make a face when they even think of eating something that is black licorice flavored that's okay it's super easy to change the flavor of these fun easy to make Halloween bat gumdrops.  You can also change up the shape, color and licorice flavor!  Scroll down to see how you can customize these fun treats to fit your party! ↓↓↓↓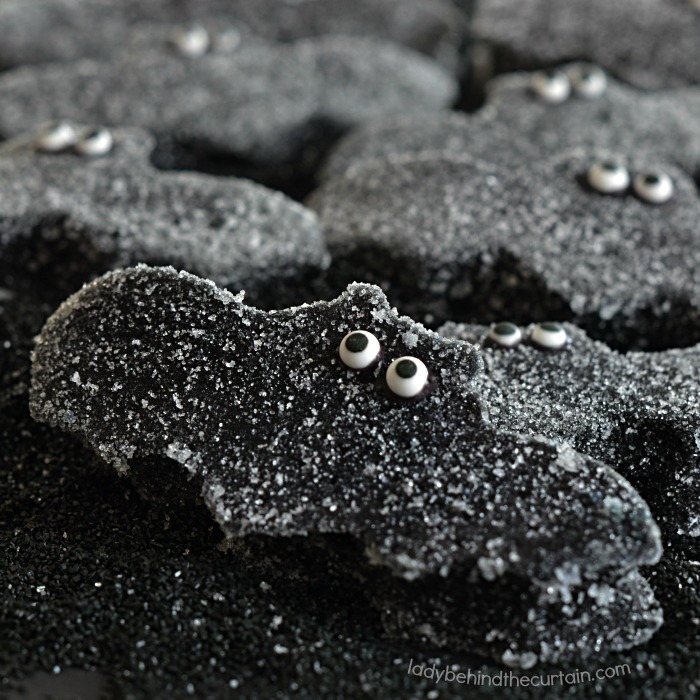 When it comes to serving up a spooky treat these bats fit right in and because a cookie cutter is what you use to make the bat shapes its super easy to switch out the bat cookie cutter for another shape.  In fact all you need is this recipe to create any color, shape and flavor you want!  That means this recipe is good for any holiday or celebration!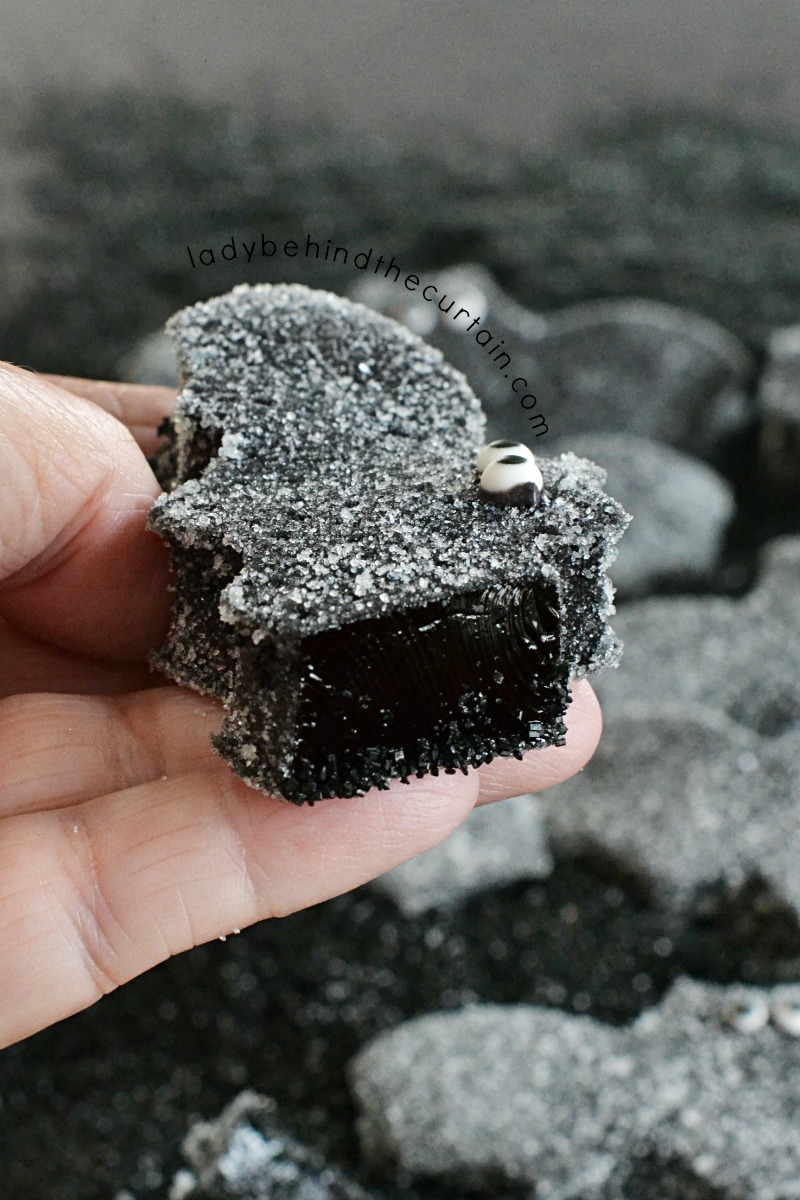 Click here to find the licorice flavor —->>>>LORANN LICORICE FLAVOR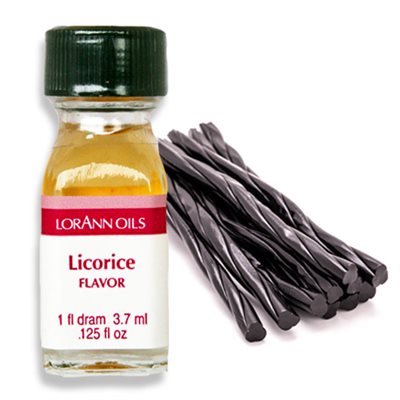 These Easy To Make Halloween Bat Gumdrops also make a fun party favor.  Here are some other fun party favor ideas with a Halloween theme.  HOCUS POCUS PILLOW SLIME, BEWITCHING HALLOWEEN PARTY MARSHMALLOW POPS  and DOLLAR TREE CLASSROOM HALLOWEEN PARTY IN A CAN.  The great thing about homemade gumdrops is that they will stay fresh for days and days.  That's why they're the perfect party treat.  I should of named them no stress gumdrops!  Because putting together a fun party should never be stressful.  It should be fun!
Easy To Make Halloween Bat Gumdrops
Yield:
Depends on the size of the cookie cutter
Ingredients
For the Gelatin
1/2 cup cold water
3 envelopes (about 2 tablespoons) gelatin powder
For the Sugar Syrup
3/4 cup water
2 cups granulated sugar
black gel food coloring
1 dram licorice flavor
Additional granulated sugar
For the Eyes
black candy melts
store bought sugar eyes
Instructions
Spray a 9x13-inch baking dish with non stick cooking spray and set aside.
For the Gelatin Mixture:
Pour the water into a medium bowl.  Evenly sprinkle the gelatin over the water.  Allow the gelatin to soak up the water.  While the gelatin is forming make the sugar syrup.
For the Sugar Syrup:
Add water and sugar to a medium saucepan.  Bring to a boil and simmer 5 minutes.  Add gelatin to the hot mixture.  Stir until the gelatin is completely dissolved. Add the food color and licorice flavor.  Stir to combine.  Make sure the gelatin is dissolved.  Pour into the prepared pan, cover and refrigerate until firm (preferably overnight).
When the gelatin is firm take (pull) out of the pan and lay on a large cutting board.  Pour enough sugar into TWO baking sheets to cover the bottom.  Dip cookie cutter in sugar, press into the gelatin. Lay the cut out on the bed of sugar.  Generously coat the gumdrop with the sugar and place on the other baking sheet that is also covered with sugar.  Repeat until all the bats have been formed.  Enjoy the leftovers!
For the Eyes:
Melt a small amount (no more then a cup) of candy melts in a microwave safe bowl.  Using tweezers dip an eye in the melted black candy and press onto the sugar coated bat.
Nutrition Information
Amount Per Serving
Calories

0
Total Fat

0g
Saturated Fat

0g
Cholesterol

0mg
Sodium

0mg
Fiber

0g
Sugar

0g
Protein

0g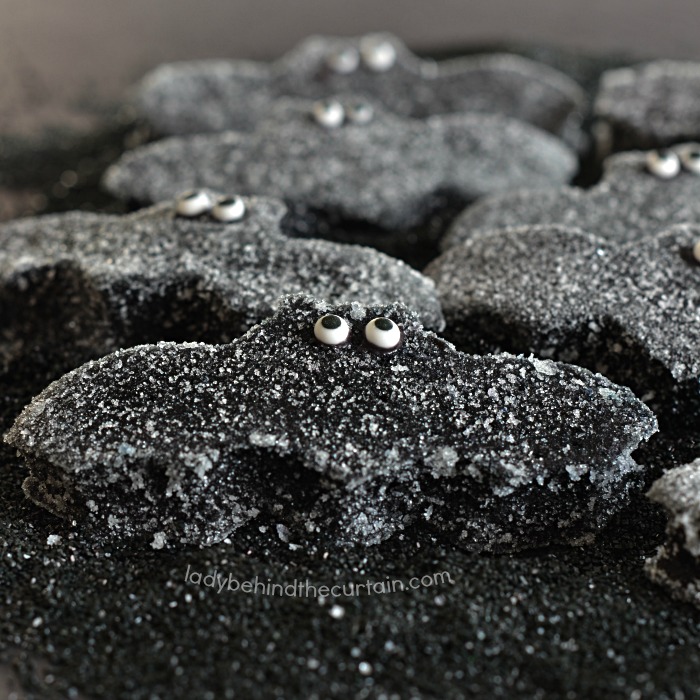 Now, if you're planning a vampire themed Halloween party then stick with the bats.  You can also add HALLOWEEN BLOOD ORANGE VAMPIRE JUICE and HALLOWEEN VAMPIRE PRETZELS to the fun!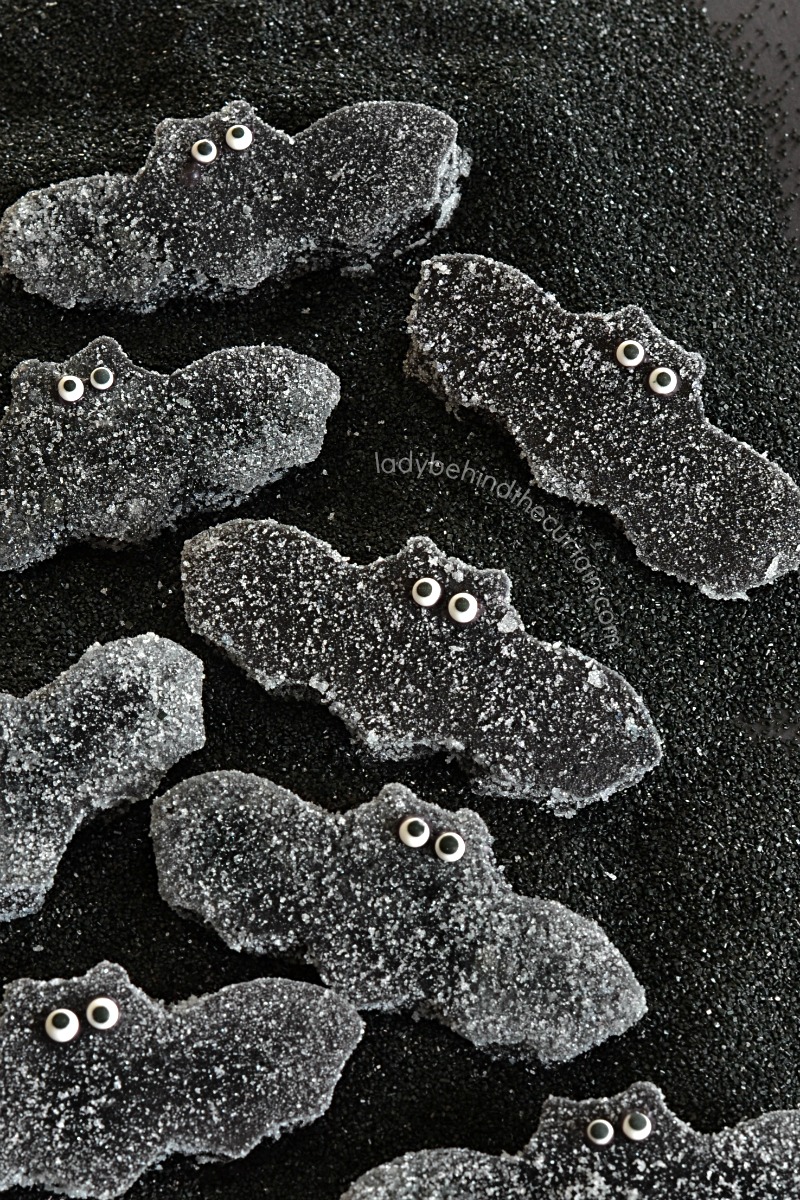 NEVER MISS A POST!
Sign up for my newsletter and receive my recipes in your inbox. Easy to see anytime and saved for safe keeping. Click Here and sign up today! —->>>>CURTAIN CALL NEWSLETTER
MORE GUMDROP RECIPES. GRAPE GUMDROP BATS and GUMDROP BRAINS