This Chicken Cacciatore recipe delivers a lot of flavor and is easy, easy, easy to make.  This is my husbands favorite meal.  So this is what I make him for those "special" occasions.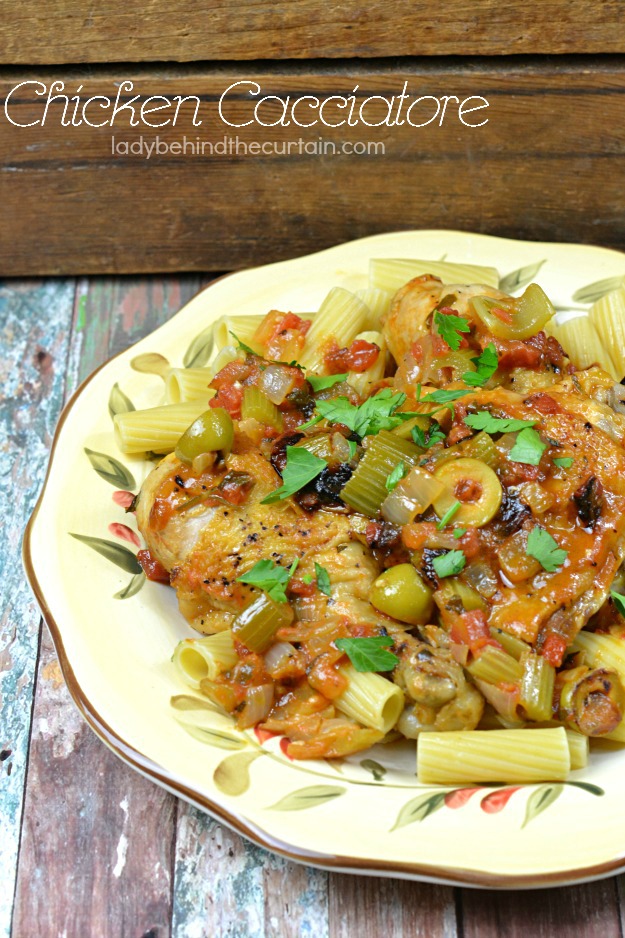 This hearty dish is made with lots of fresh herbs, tangy green olives, crisp celery, fried chicken all bubbly away in a red sauce.  And if that wasn't enough I added a splash of white wine and served it on a bed of pasta!  Just like spaghetti this Chicken Cacciatore tastes even better the next day.  😀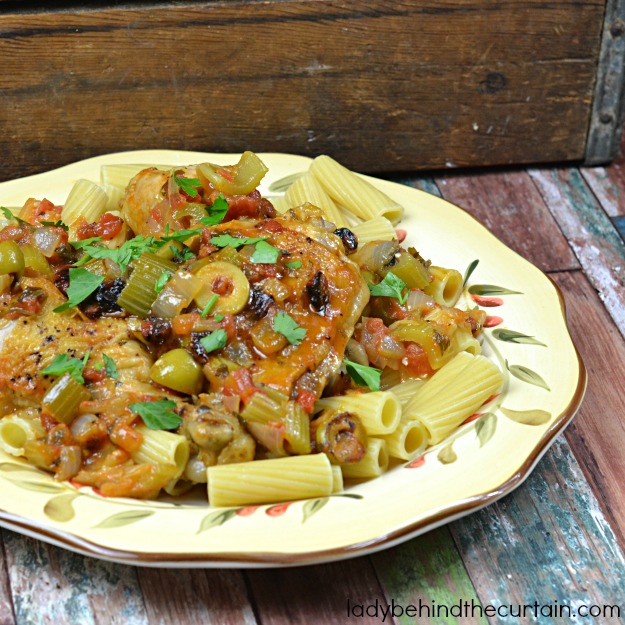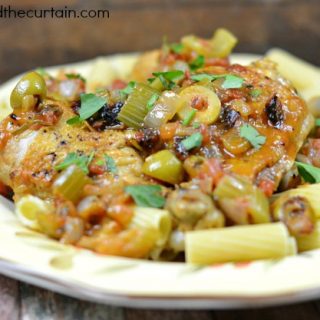 Chicken Cacciatore
Ingredients
1 whole cut up fryer
salt and pepper
olive oil
2 onions, sliced
2 garlic cloves, chopped
30 small green olives, sliced
3 celery stalks, chopped
1 (28-ounce) can diced tomatoes
1 tablespoon fresh oregano, chopped
1/4 cup fresh flat leaf parsley, coarsely chopped
2 bay leaves
1/2 cup white wine
Instructions
Clean the chicken.
TIP: If the breasts are too large cut in half.
Salt and pepper the chicken.
Heat olive oil in large skillet.
Brown the chicken, don't crowd the chicken; brown in two batches if necessary.
Remove chicken from pan.
Saute onions for a few minutes before adding the garlic, olives and celery; saute until tender. Add the tomatoes, oregano, parsley, bay leaves, salt and pepper.
Mix and add chicken.
Simmer covered for 30 minutes or until all pink is gone and the juices run clear.
Uncover and stir in wine.
Cook uncovered for another 10 minutes.
Serve over your favorite pasta.
 MORE PASTA RECIPES
1. FAMILY STYLE MACARONI AND CHEESE  2. LIGHT MEXICAN STUFFED SHELLS  3. APPLE AND CHEESE PENNE PIE