Owl Always Be Your Valentine – Kid's Valentine's Day Dessert Table
♥OWL ALWAYS BE YOUR VALENTINE!
That is the theme of this Kid's Valentine's Day Dessert Table.  Owls are so popular I thought I would make an owl themed party!  Plus it's easy to collect supplies with owls.  This table is full of EASY, EASY, EASY…desserts!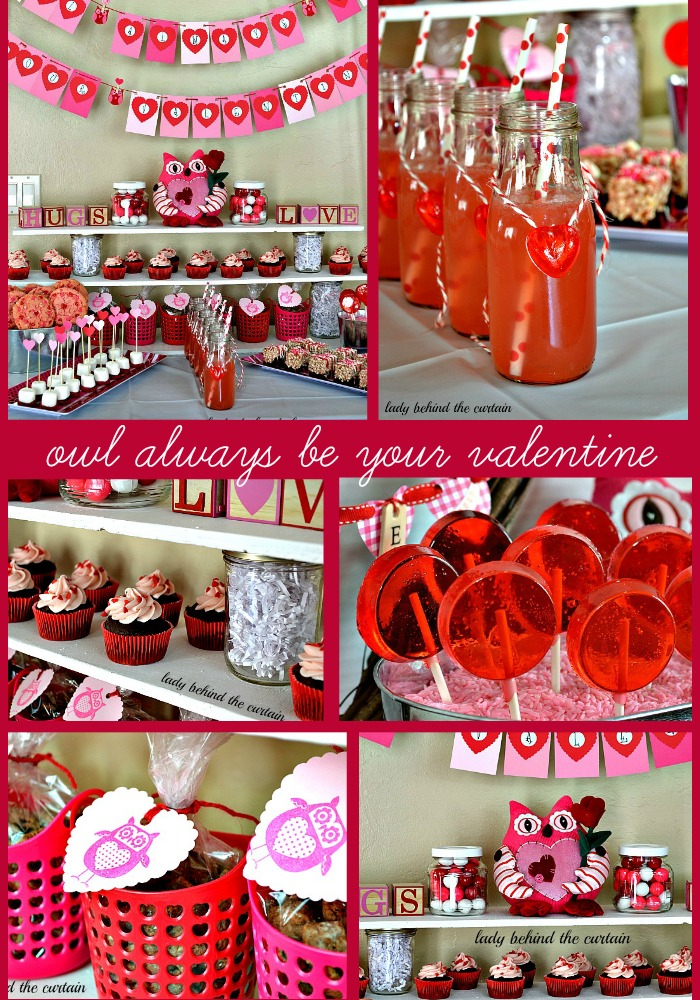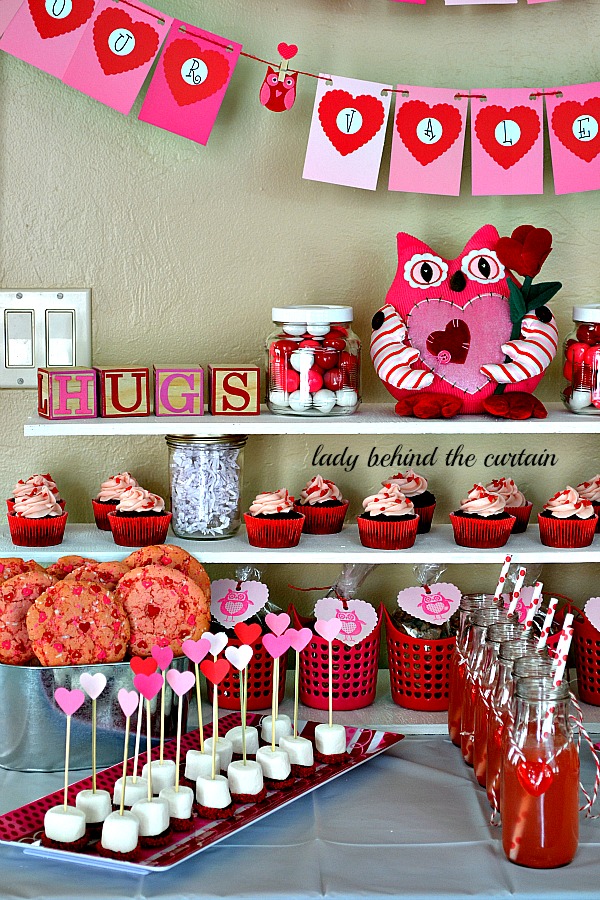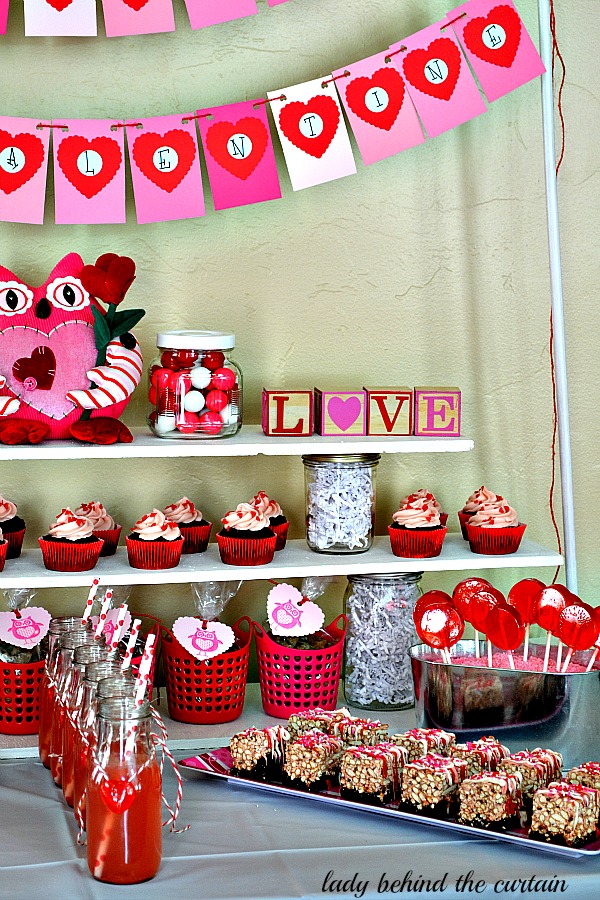 ♥♥SCROLL TO GET A BREAKDOWN OF THIS FUN OWL ALWAYS BE YOUR VALENTINE-KID'S VALENTINE'S DAY DESSERT TABLE!♥♥
CUPCAKE STAND:  This stand is made of scrap wood.  The tiers are held up with paper filled mason jars.  Holes are drilled on each side to hold the big dowels for my "Owl Always Be Your Valentine" banner.  This stand can be repainted and used over and over again and BONUS it's easy to store!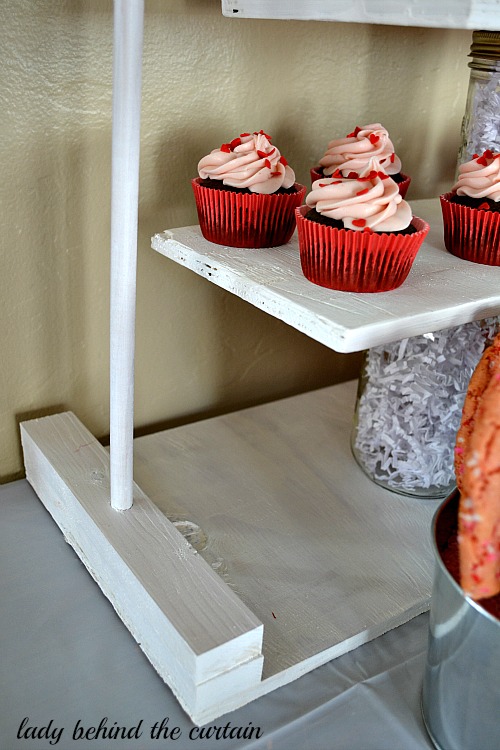 THE BANNER:  The banner is made out of card stock and hung with twine.  I found the felt owls at Michael's and the cloths pins in the dollar section at Target.  I had extra room at the top so I decided to cut out two pennants.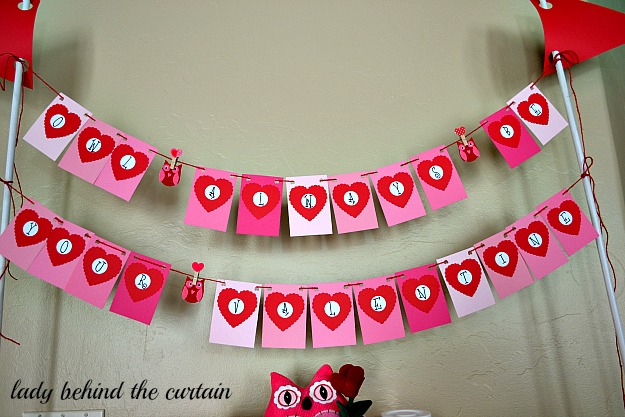 BEVERAGE BOTTLES AND A CANDY NECKLACE:  I love reusing my empty Starbucks bottles.  Just use goo gone on the labels and fingernail polish remover on the stamped dates and you have a clean reusable container.  To dress these bottles up I added a heart shaped candy necklace and a red polka dotted straw.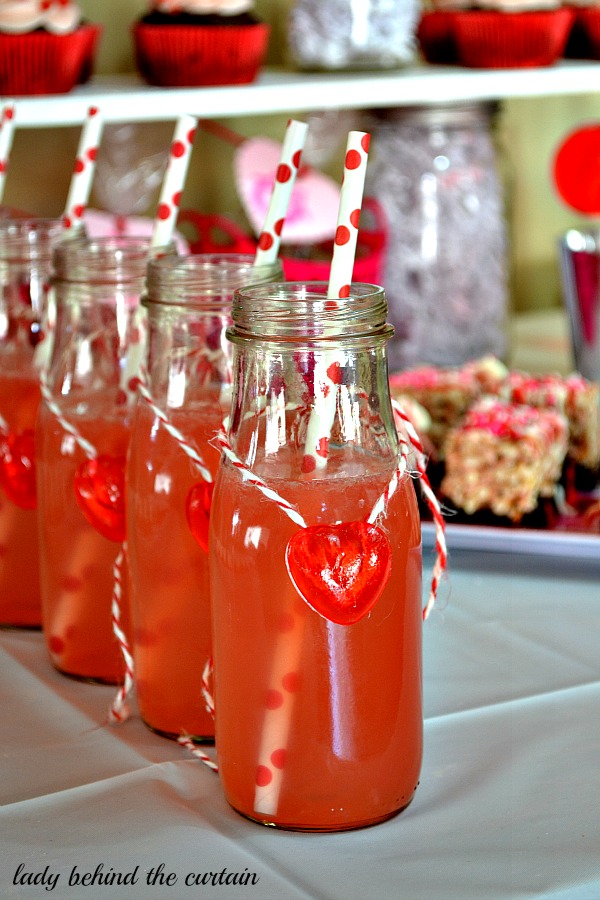 I HEART YOU CHOCOLATE – STRAWBERRY CUPCAKES:  I call these soda can cupcakes.  Another easy recipe.  One can of soda and a cake mix!  A strawberry jam filled center topped with a Strawberry Cream Cheese Frosting.  WHAT A GREAT CUPCAKE!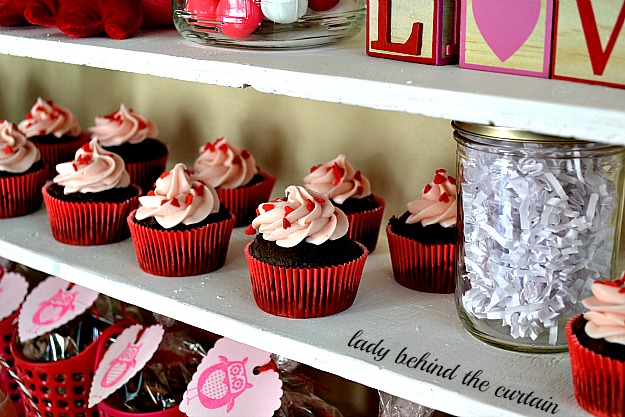 DARK CHOCOLATE RASPBERRY DIPPED MARSHMALLOWS:  Okay this is shamefully easy yet REALLY good!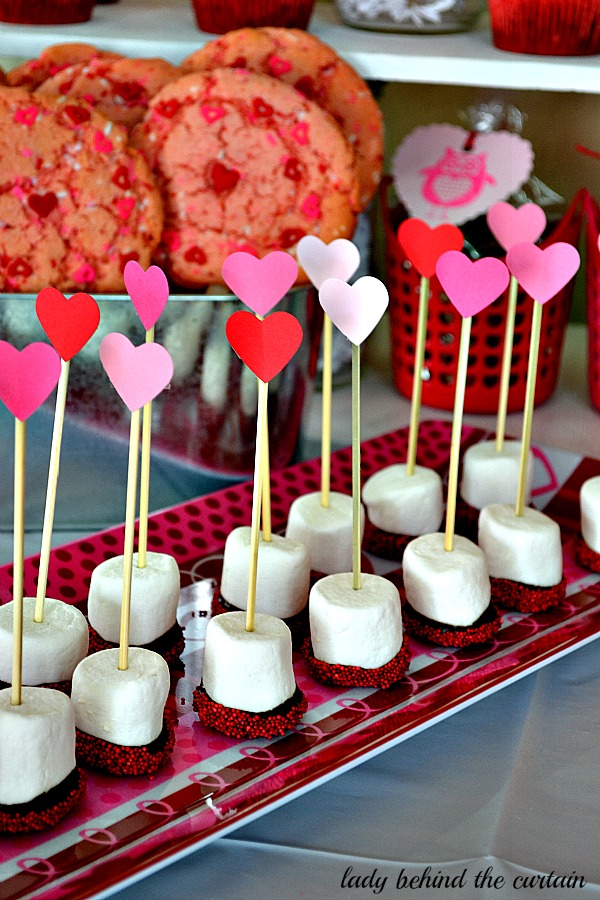 CHERRY LOLLIPOPS:  Easier then you think!  In 15 minutes you can make you own lollipops!  So much fun!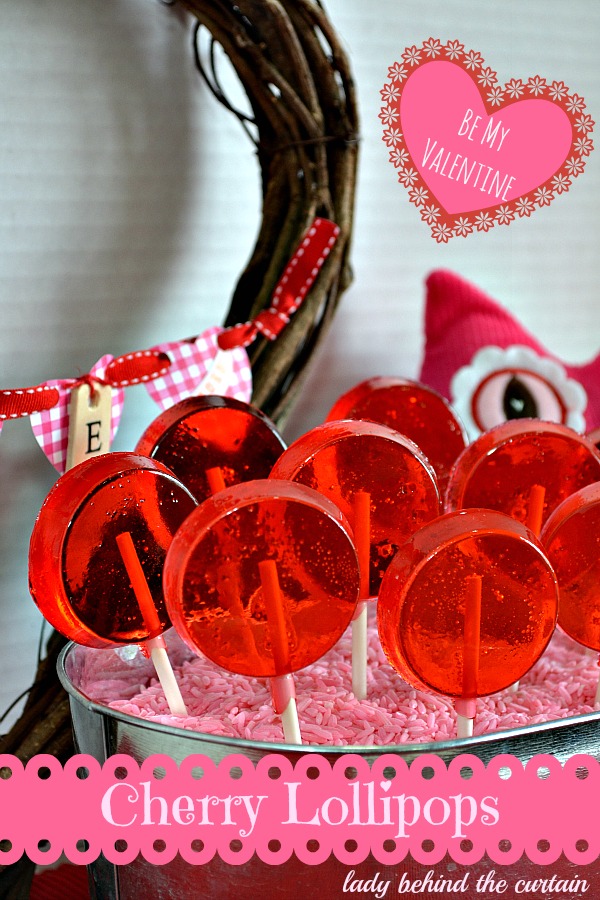 THREE MUSKETEERS MUDDY BUDDIES PARTY FAVOR:  Oh yes I did!  I melted Three Musketeer bars and made muddy buddies.  YUM!  These should come with a warning label they are that good!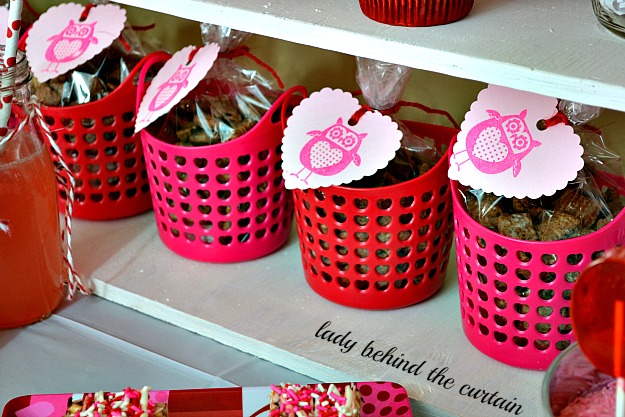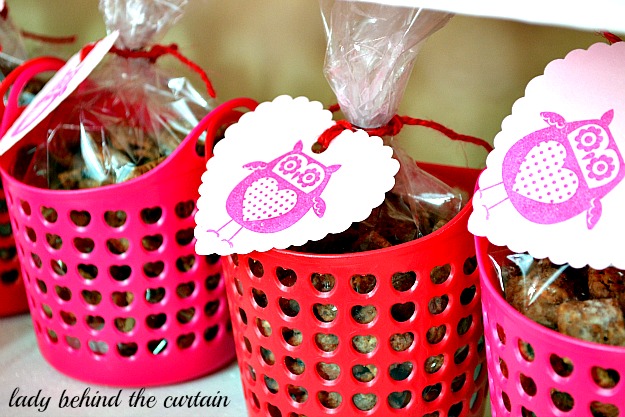 STRAWBERRY LOLLIPOP COOKIE:  Okay, so here is the scoop.  I used cake mix for the base of this cookie.  I love how soft and moist the cookies stay.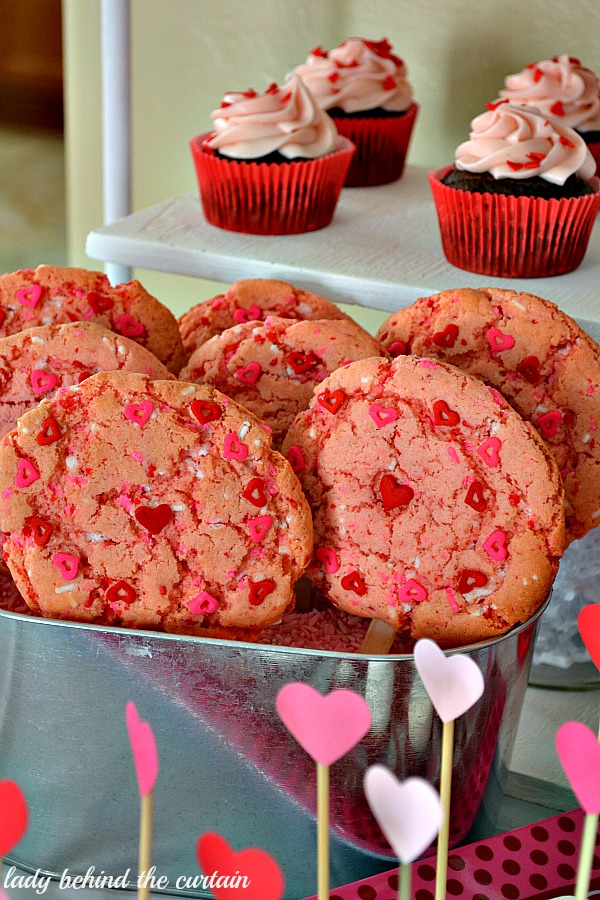 BROWNIE PRETZEL BITES:  a twist on the rice crispy treat.  a layer of dark decadent brownie topped with a chewy crunchy salty layer.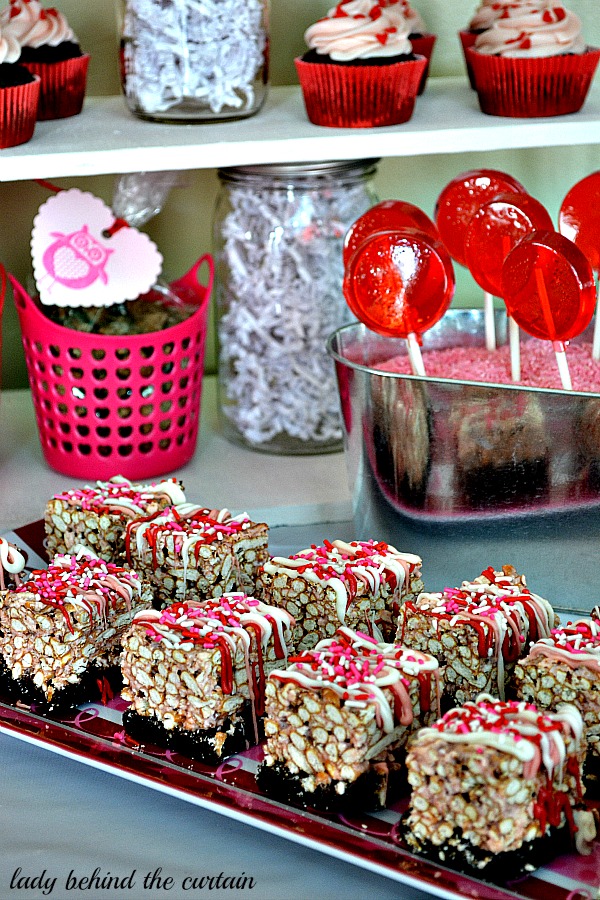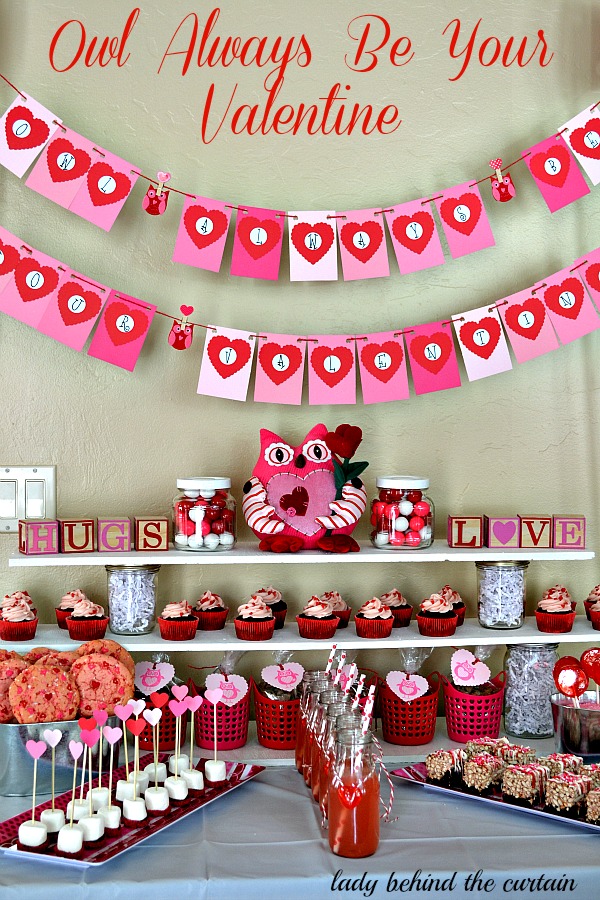 OWL BE SEEING YOU SOOOON!!!  🙂