Apple and Cheese Penne Pie
This Apple and Cheese Penne Pie is like serving a dressed up version of macaroni and cheese.  If you don't want to make it fancy or don't have a spring form pan this recipe can also be made in a casserole dish.  This dish offers great flavor and is easy to make.  Serve along side a juicy portion of grilled beef for a great side dish!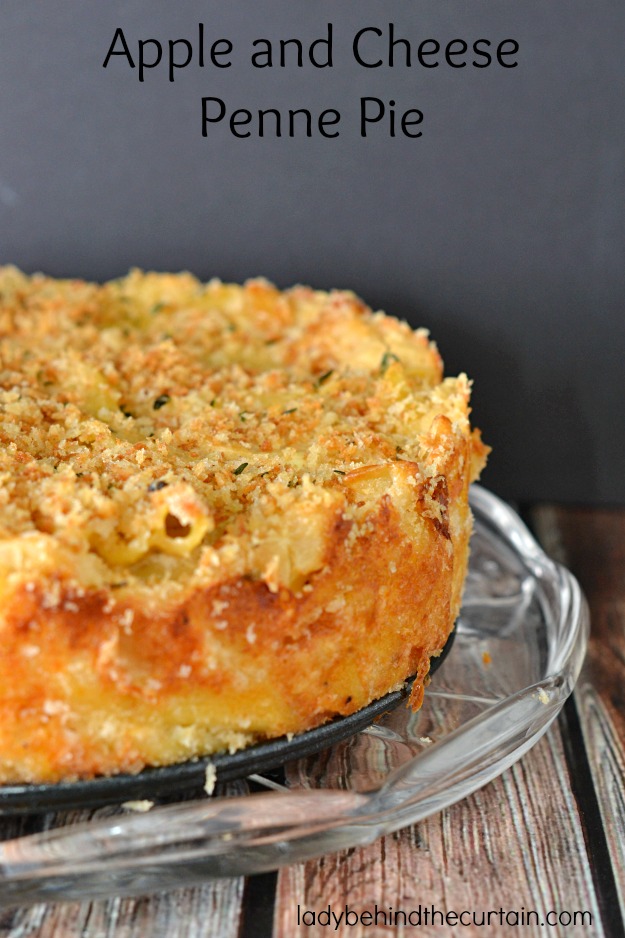 I made this Apple and cheese Penne Pie for a ladies brunch.  It was perfect!  ♥CRISPY ON THE OUTSIDE AND CREAMY ON THE INSIDE!♥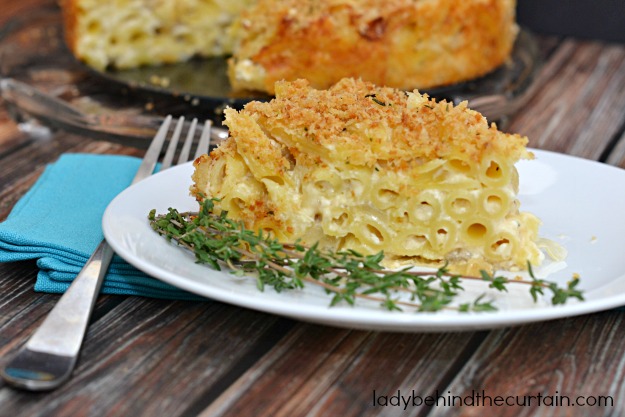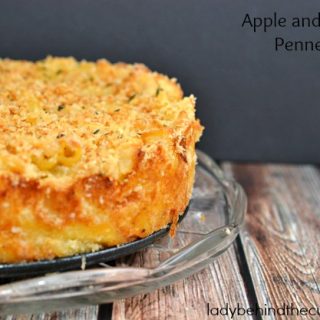 Apple and Cheese Penne Pie
Ingredients
1 tablespoon butter, softened
2/3 cup panko break crumbs, divided
1 tablespoon snipped fresh thyme or 1 teaspoon of dried, divided
12 ounce dried penne pasta
2 cups chopped, peeled tart cooking apples (3 medium)
1/2 cup chopped, sweet onion
3 tablespoons butter
3 tablespoons all-purpose flour
1/2 teaspoon salt
1/4 teaspoon pepper
2 cups whole milk (I used 2% because that's what I had and it was fine)
1/2 cup apple cider
6 ounces cream cheese, softened and cut up
1-1/2 cups shredded white cheddar cheese (6 ounces), I used gouda
Instructions
Preheat oven to 350 degrees.
Spray a Spring form pan with non stick cooking spray, sprinkle sides of pan with 1/3 cup panko to coat; set aside.
Melt the tablespoon of butter.
Stir in the remaining 1/3 cup panko and half of the thyme; set aside.
Cook pasta for 2 minutes less than directed in the package directions; drain.
Return pasta to pan; set aside.
Meanwhile, in a large saucepan cook apple and onions in 3 tablespoons butter for 5 to 8 minutes or until tender.
Stir in flour, salt and pepper.
Cook and stir for 2 minutes.
Stir in milk and cider; cook and stir until thickened and bubbly.
Reduce heat to low; add cream cheese, white cheddar cheese (or Gouda), and the remaining thyme, stirring until cheeses are melted.
Pour cooked pasta over cheese mixture; stir gently to combine.
Pour into the prepared pan.
Sprinkle with the reserved panko mixture.
Bake about 40 minutes or until edges are bubbly.
Cool on a wire rack for 20 minutes.
Run a butter knife around the edges and remove sides of pan.
Using a serrated knife, cut pie into wedges.
MORE PASTA DISHES
1. CHILI MAC CASSEROLE  2. FAMILY STYLE MACARONI AND CHEESE  3. LEMON GARLIC CHICKEN PASTA