Holiday Chili: Christmas Eve is the perfect night for serving chili con carne. Everyone is busy getting ready for Christmas Day and the last thing they want to do is stop everything to make dinner. The chili beans can be made on top of the stove or in a slow cooker. Hot and ready to eat when dinner time rolls around.
How to Make Holiday Chili (ingredients)
TOMATILLOS: Known as the Mexican tomato, a little less sweet then a tomato.
DRIED CHILI PODS: Using ground up dried chili pods is like making your own chili powder. Delicious!
FRESH JALAPENO: Remove seeds and vein to add flavor, for spice, slice as is.
FIRE ROASTED TOMATOES: Using roasted tomatoes adds another layer of smoky flavor verses plain diced tomatoes.
CHUCK ROAST: Big pieces of beef verses ground beef.
ONION, PEPPER, GARLIC: Another layer of delicious flavor.
BEANS: Use one kind of bean or mix it up, add black beans and red kidney beans.
CORN: Pops of sweetness
CHILI POWDER AND OREGANO: Brings the chili all together.
Leftover Campfire Chili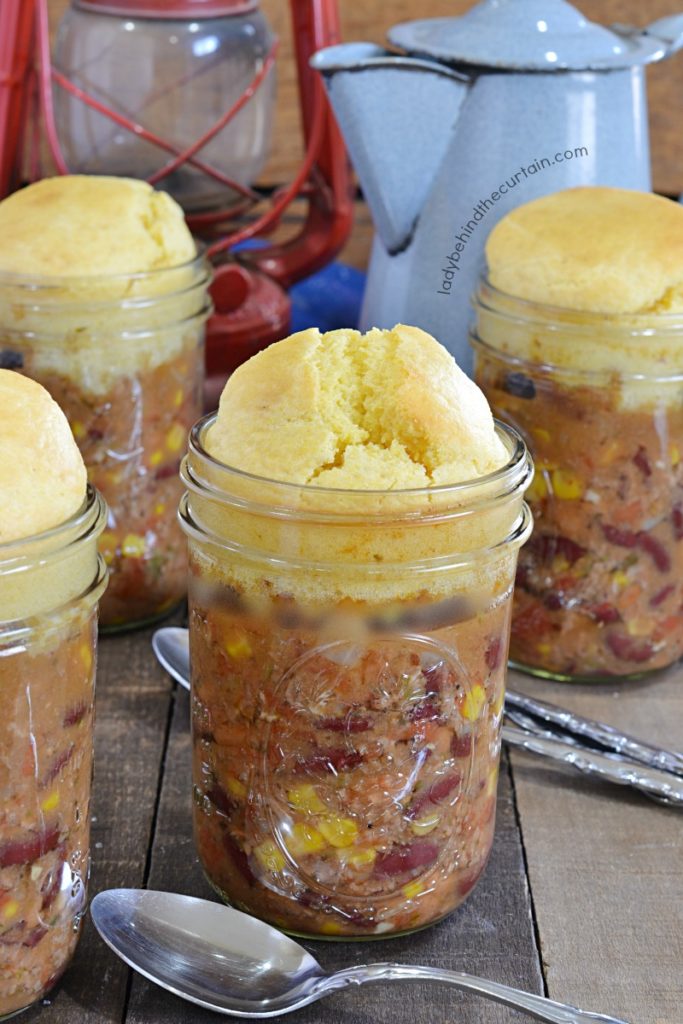 Transform leftover chili into a fun night around the campfire, fire pit or bonfire. CLICK HERE FOR ALL THE DETAILS→CORNBREAD TOPPED CHILI IN A JAR
Chili, Chili Beans or Chili Con Carne
There are many ways variations of chili. Everyone has their favorite and some people are very protective of what you call it. I grew up using the term chili beans across the board. No matter how it was prepared or what ingredients were in the recipe. Do you use all the different terms or are you like me and only use one for all of it? I would love to know.
CHILI: Chili means with meat….so I guess this recipe is Chili.
CHILI BEANS: Chili with meat…so I guess this recipe is Chili Beans.
CHILI CON CARNE: Means chili with meat..so I guess this recipe is Chili Con Carne.
OKAY….SO I GUESS IT REALLY DOESN'T MATTER WHAT YOU CALL IT. CHILI, CHILI BEANS OR CHILI CON CARNE. The definition is all the same.
The Toppings
Don't forget about the toppings. In my book toppings are just as important as the chili itself. Listed below are a few of my favorite chili con carne toppings.
shredded cheese
fresh sliced jalapeno peppers
green onion
fresh cilantro
avocado
sliced black olives
tortilla chips
SERVE IT UP! DON'T FORGET ABOUT THE CORNBREAD
HOW TO MAKE HOLIDAY CHILI IN A SLOW COOKER
Cooking low and slow on the stove top is great, but if your Christmas Eve is anything like mine you don't have time to babysit a pot of chili con carne. The solution? Your Slow Cooker!
SLOW COOKER DIRECTIONS: Prepare as directed except place meat mixture into a 5 or 6 quart slow cooker. Add the remaining ingredients. Cover and cook on low-heat for 8-10 hours. (Printable recipe and instructions below)
TO MAKE AHEAD: Prepare as directed. Cover and chill overnight. Transfer chili to a 5 or 6 quart slow cooker. Cover, reheat on high heat setting for about 2 hours or until heated through. Printable in recipe card)
ANOTHER LEFTOVER CHILI IDEA
MAKE CHILI MAC! This hearty casserole is packed with protein with a little splurge of pasta and cheese. It may be hearty in flavor but easy on the waist. Potlucks, elderly friends, lunch or dinner this versatile casserole is perfect anytime.
DIRECTIONS: Cook elbow macaroni, mix with leftover chili beans, spread in a casserole dish. Cover with foil and bake at 375° 25 to 30 minutes or until bubbly. Take off foil, add shredded cheese. Bake 5-8 minutes or until cheese is melted.
MORE CHILI RECIPES
SPICY TEX-MEX CHILI 2. COCA COLA CHILI 3. THE BEST SEMI HOMEMADE CHILI
SIGN UP FOR THE LADY BEHIND THE CURTAIN NEWSLETTER AND FOLLOW THE LADY BEHIND THE PARTY ETSY SHOP
THANKS FOR VISITING♥