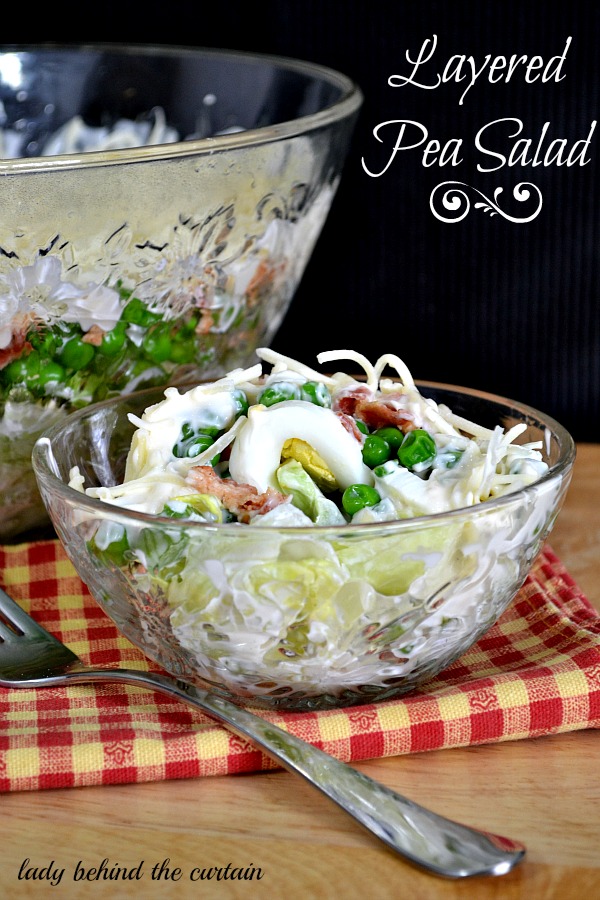 This salad compliments all side dishes and entries.  It's made the day before which makes it a perfect dish for big meals.
Layered Pea Salad Recipe
Ingredients
2 cups mayonnaise
1 tablespoon sugar
1/2 head iceberg lettuce, pulled  or chopped into bite size pieces
1/2 bell pepper, chopped
1/2 cup celery, chopped
6 hard boiled eggs, sliced
1 small bag frozen peas (12 ounces)
1/2  pound bacon, cooked crispy
2 cups cheddar cheese, shredded
Directions
Mix together the mayonnaise and sugar.  Set aside.  In a large clear bowl add the lettuce.   Spoon on half of the dressing and continue layering with the next 5 ingredients in the order as they appear.  Add the remaining dressing and top with the grated cheese.  Refrigerate over night.
MORE SALAD RECIPES