Easy to Make Homemade Cotton Candy Flavored Marshmallows
Easy to Make Homemade Cotton Candy Flavored Marshmallows | Nothings better then homemade marshmallows!  If you've never had homemade marshmallow then you are in for a real treat.  They taste NOTHING like a store bought marshmallow!  Soft pillows of sweet goodness.  Package up some to give as party favors or add to a holiday cookie/candy tray!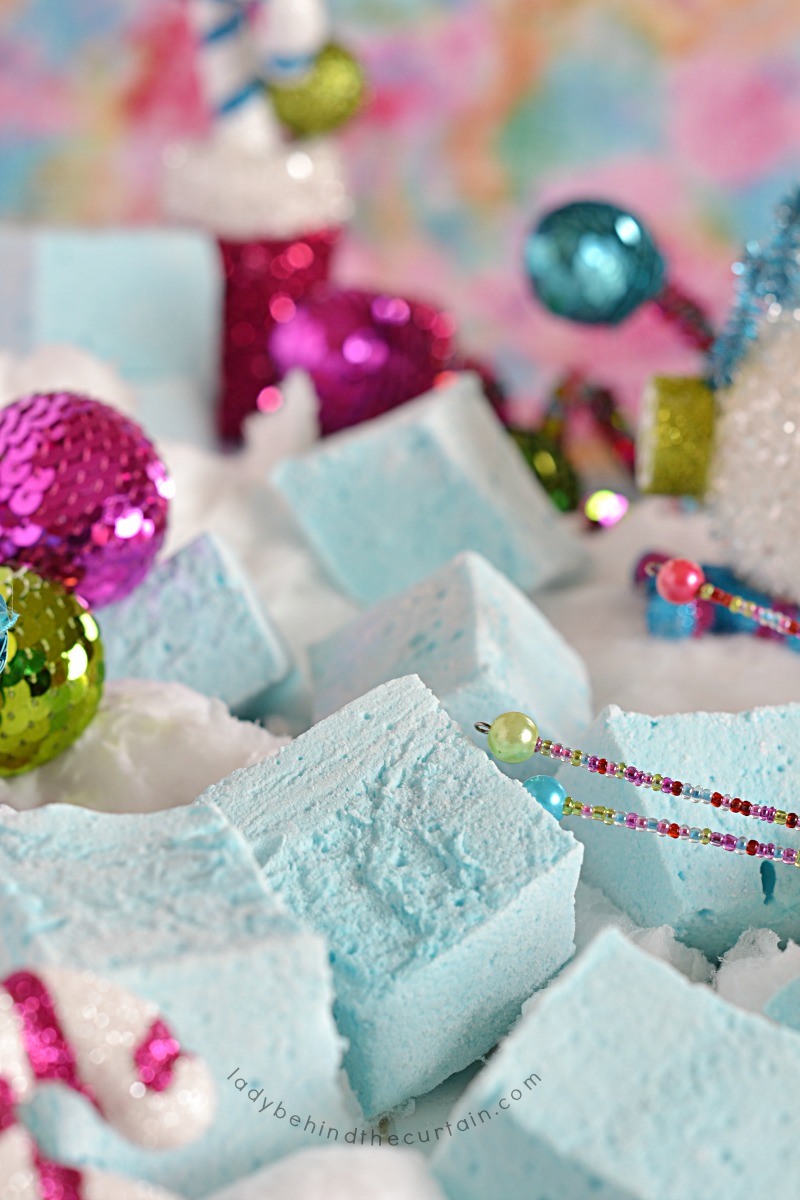 Creating your favorite flavor is easy with LorAnn flavors!  One teaspoon it all you need to customize these tasty delights.  Click here to the flavor—->>>>COTTON CANDY FLAVOR.
One bite and your guests will think they're walking down the midway.  Can't serve cotton candy at your carnival party?  Serve the next best thing.  Cotton candy flavored marshmallows!  Need carnival party ideas?  Click here—->>>>OLD FASHIONED CARNIVAL PARTY.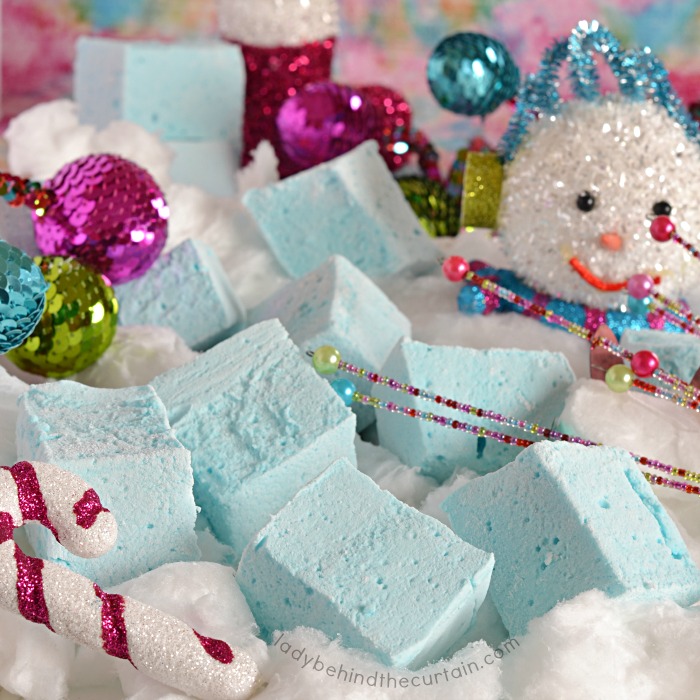 Serve them on a platter, fill your favorite cupcake or ice cream cone!  These delicious Easy to Make Homemade Cotton Candy Flavored Marshmallows are amazing!  TIP:  If you choose to fill a cupcake or cone you'll need to do that while the marshmallow cream is still warm.  For the Cupcake: Fill a piping bag with the warm marshmallow cream and pipe the cream into a hollowed out cupcake.  Delish!  Here are a couple examples—->>>>PEPPERMINT MARSHMALLOW FILLED CHOCOLATE CUPCAKES and OLD FASHIONED MARSHMALLOW FILLED ICE CREAM CONES.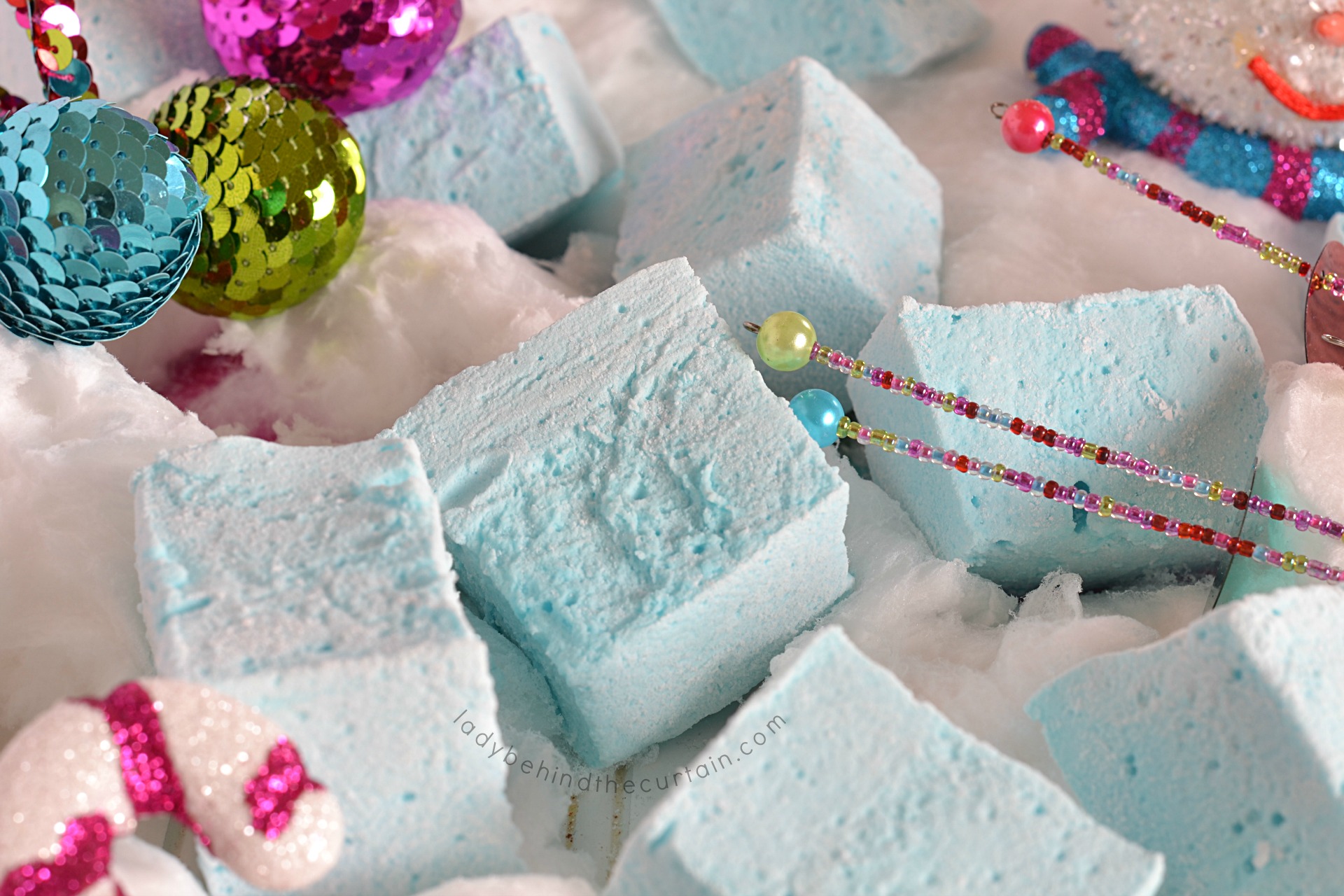 FIRST STEP…BOIL THE SUGAR (note: these videos are from making vanilla flavored marshmallows).
WHILE THE SUGAR IS BOILING HAVE THE REMAINING SUGAR AND GELATIN MIXTURE IN THE MIXER WHISKING AWAY!
ONCE THE HOT SUGAR IS ADDED, WHISK FOR 5 MINUTES.
TURN THE SPEED UP TO MEDIUM HIGH FOR ANOTHER 5 MINUTES.
THEN ON THE HIGHEST SPEED FOR 1-2 MINUTES.  And just like that the mixture is tripled in volume!  MAKE SURE TO USE THE WHISK ATTACHMENT.  This won't work with the paddle attachment.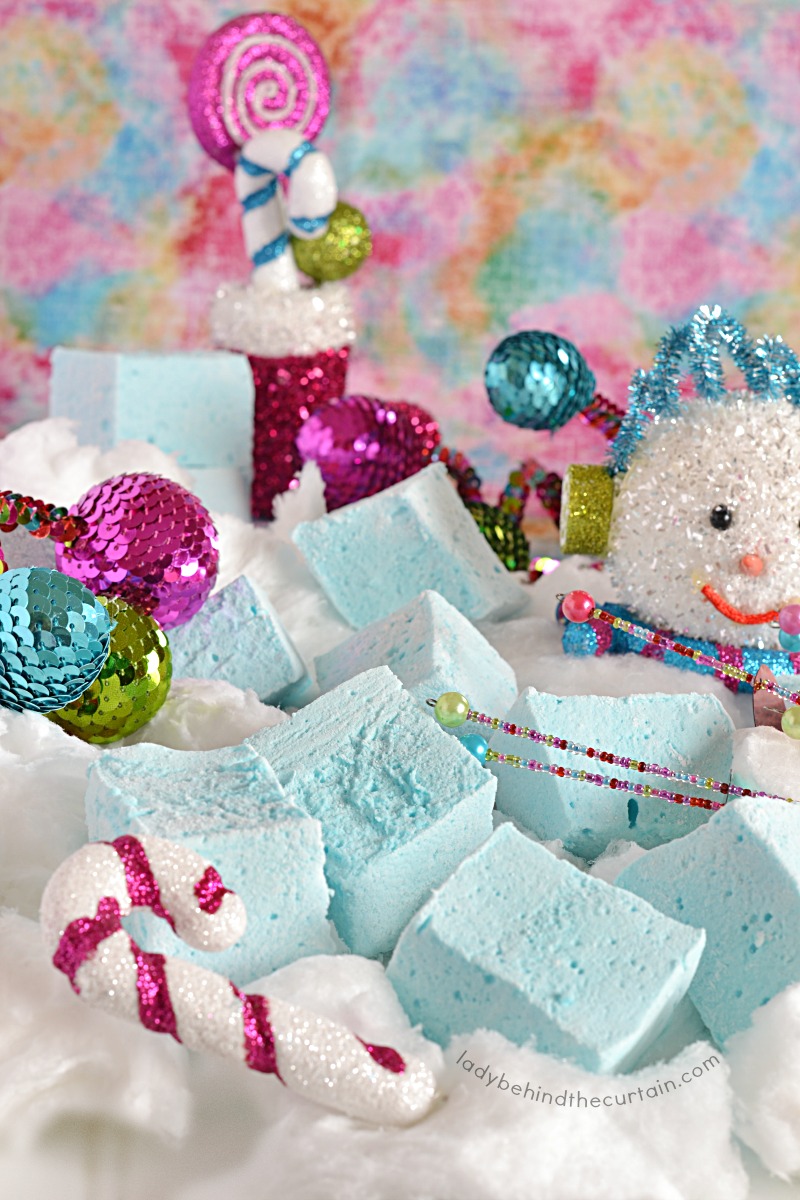 Easy to Make Homemade Cotton Candy Flavored Marshmallows
Ingredients
1 (1 ounce) box or 4 (.25 ounce) envelopes unflavored gelatin
1 cup cold water
1 1/2 cups granulated sugar
1 cup light corn syrup, divided
1/2 cup cold water
1/4 teaspoon salt
1 teaspoon cotton candy flavor
electric blue gel food coloring
1/2 cup cornstarch
3/4 cup powdered sugar
Instructions
Spray non stick cooking spray onto a 9x13-inch pan. NOTE: The marshmallows pictured were made in an 8x8-inch pan because some of the marshmallow mixture was used as filling for cupcakes.

Whisk together in a small bowl the gelatin and cold water.  Let stand 5 minutes or until the gelatin has absorbed the liquid.

MAKE SURE YOU ARE USING THE WHISK ATTACHMENT.  In a medium saucepan combine sugar, 1/2 cup corn syrup, water and salt.  Insert a candy thermometer.  Over medium high heat bring to a boil.  Meanwhile, pour the remaining 1/2 cup corn syrup in a large mixing bowl of a standing mixer fitted with the whisk attachment.  Heat the gelatin in the microwave until melted (about 30 seconds).  Pour into the mixing bowl with the corn syrup.  Turn mixer on low and keep it stirring until the sugar syrup is ready.

When the syrup reaches 240° (soft ball stage), slowly pour the syrup into the mixer bowl,  Increase the speed to medium and beat 5 minutes, then increase to medium high and beat 5 more minutes, Finally, increase to the highest speed and beat 1-2 minutes, add peppermint extract and red food coloring, then beat again to 1-2 minutes.  The mixture should be opaque and tripled in volume.

Quickly pour into a piping bag fitted with a open round tip.  Pipe warm marshmallow into hollowed cupcakes.  Spread the remaining marshmallow into prepared pan.  Sprinkle cornstarch mixture over the top, let the mixture set, cover with foil, let the marshmallow mixture sit on the counter at least 4 hours preferably overnight.  Run a knife around the edges of the pan, turn upside down on a towel (or clean surface sprinkled with some of the cornstarch mixture, sprinkle with more of the cornstarch mixture, cut into squares and enjoy!

 

MORE FUN PARTY RECIPES
MARIO KART CUPCAKE PULL APART  2. EDIBLE PIRATE TREASURE CHEST  3. TRIPLE CHOCOLATE TERRARIUM DESSERT
NEVER MISS A POST!
Sign up for my newsletter and receive my recipes in your inbox. Easy to see anytime and saved for safe keeping. Click Here and sign up today! —->>>>CURTAIN CALL NEWSLETTER
More marshmallow recipes you might like. CHOCOLATE MARSHMALLOWS and KEY LIME PIE MARSHMALLOWS.