Light Beef Bourguignon Stew
This Light Beef Bourguignon Stew does NOT take the typical 6 hours to prepare like Julia Child's Beef Bourguignon.  You still get all the delicious rich flavors or tender beef with a deep tomato base.  Wonderful stew!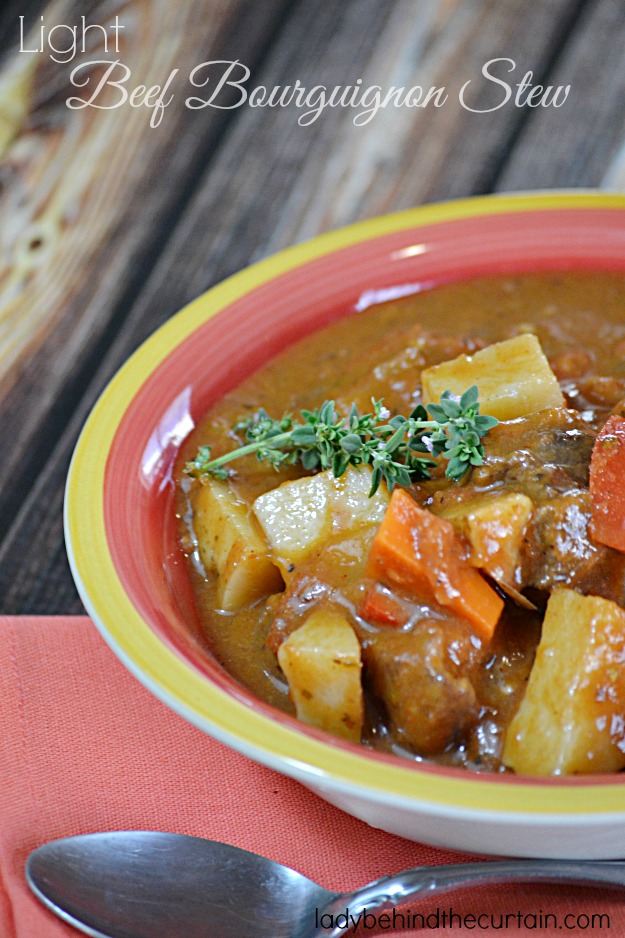 Nothing like a hearty stew to warm your insides.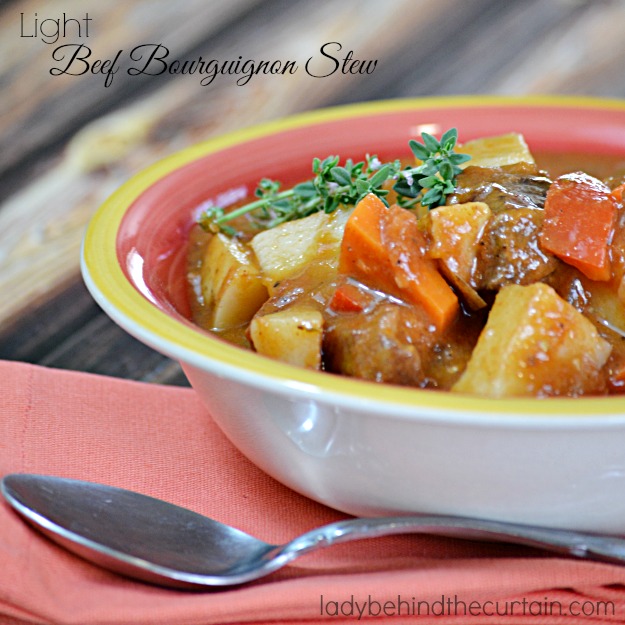 DON'T FORGET TO PIN THIS TO YOUR SOUP BOARD!
Create your own Recipe Box and save your favorite Lady Behind The Curtain recipes.  Make a Meal Plan with your favorite recipes and ZipList will automatically add the ingredients to a Shopping List.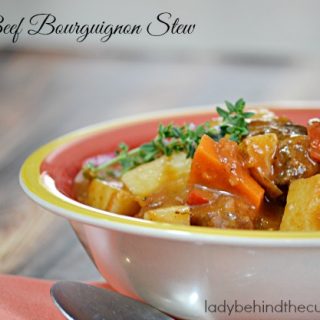 Light Beef Bourguignon Stew
Cook Time:
1 hour
30 minutes
Ingredients
1/3 cup all-purpose flour
1/4 teaspoon salt
1/4 teaspoon black pepper
2 pounds beef chuck roast, trimmed and cut into 1-inch cubes
4 teaspoons olive oil
2 cups onion, chopped
4 cloves of garlic, chopped
1 red sweet pepper, cut into bite size strips
1 teaspoon dried oregano
1/2 teaspoon dried thyme
1 (14.5 ounce) can beef broth
1 (28 ounce) can crushed tomatoes
1 cup water
1 cup red wine
2 medium potatoes, cut into 1-inch cubes (about 2 cups)
3 medium carrots, sliced
1 bay leaf
1/4 teaspoon salt
1/4 teaspoon black pepper
Instructions
Toss together in a zip top bag the flour, 1/4 teaspoon salt and 1/4 teaspoon pepper.
Add beef cubes; shake to coat.
In a 5 quart Dutch oven heat 2 teaspoons oil, add half of the beef, cook until browned.
Transfer to a dish and repeat with the remaining beef and oil.
Transfer beef to the dish with the first batch of beef.
Add onions, garlic and red peppers; saute until the onions are translucent.
Stir in oregano and thyme.
Add the broth, stirring to scrape up any browned bits from the bottom of the pan.
Return beef.
Stir in the tomatoes, water, wine, potatoes, carrots, bay leaf, salt and pepper.
Bring to a boil; reduce heat,and simmer covered about 1 1/2 hours or until beef is tender.
Stir occasionally.
Before serving remove bay leaf.