Tastings Pairing Party | Creating a fun atmosphere starts with the way your food is presented. Look around your house. Do you have an old frame you could paint and use as a platter? I used an old window I had purchased at an Antique store and placed some beautiful fabric underneath for this pairing party. Then I went shopping in my house for accent pieces to put around the display to give it a fun homey feeling.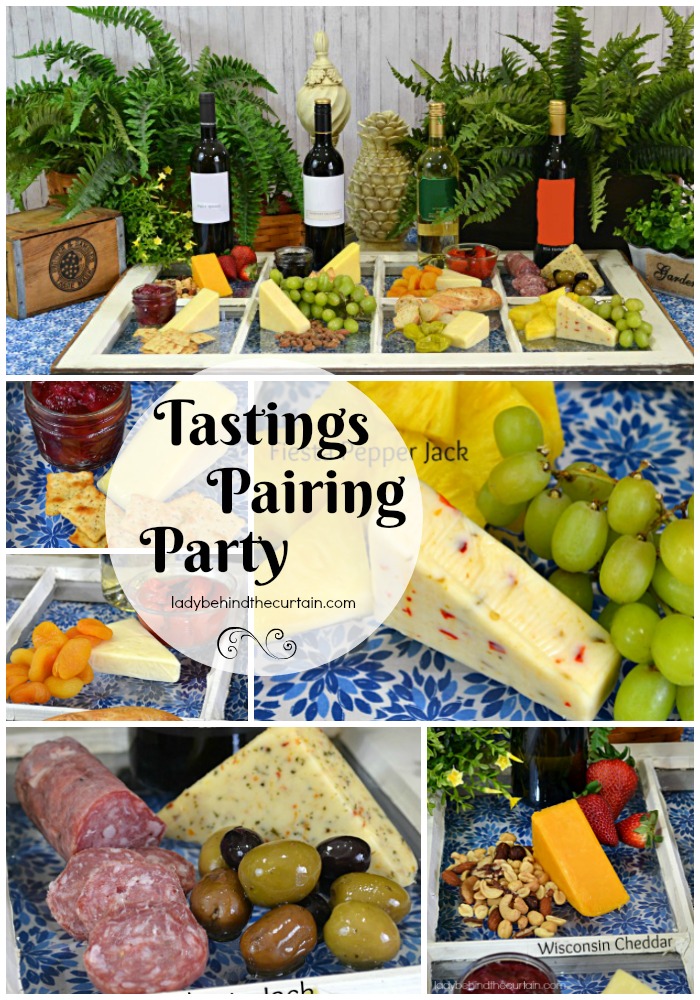 The reason I'm having this party is because Sargento has come out with eight specialty snack block cheese varieties. They are carefully crafted in unique shapes and sizes. Available in eight varieties; range from 3.25 to 3.95 ounces for a suggested retail price of $2.69 each. Perfect for entertaining or for a snack.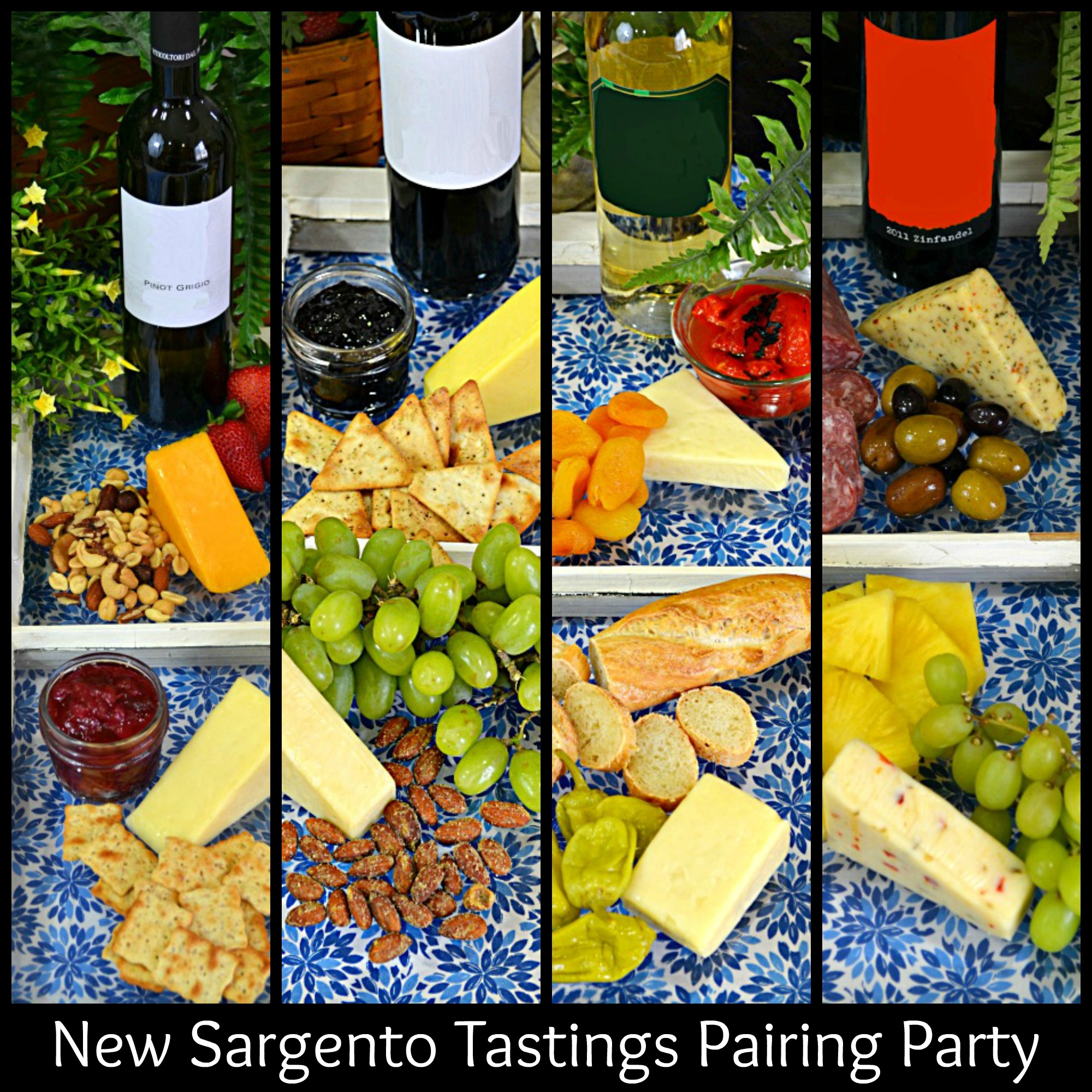 Sit back and enjoy as I share with you some great pairings to go with these creamy delicious cheeses.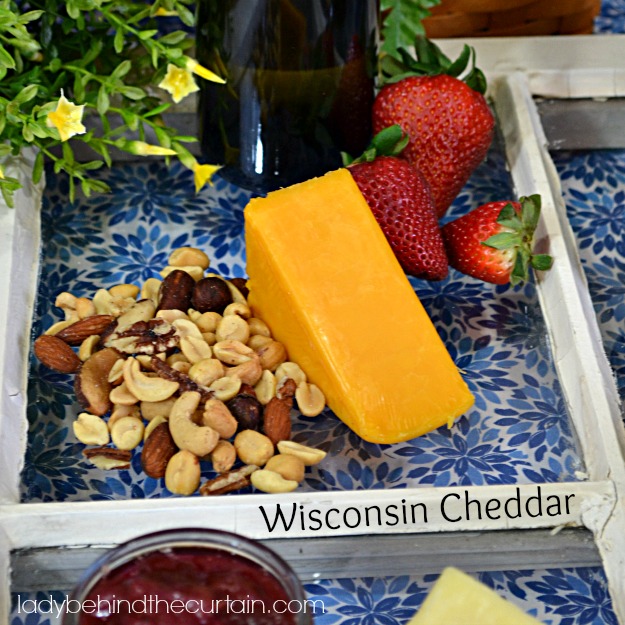 AGED WISCONSIN CHEDDAR: Matured for 12 months; has a nutty bold flavor. Delicious with savory and sweet desserts. I recommend you serve this bold cheese with a light fruity Pinot Grigio, and to compliment the bold cheddar add sweet strawberries and salty nuts.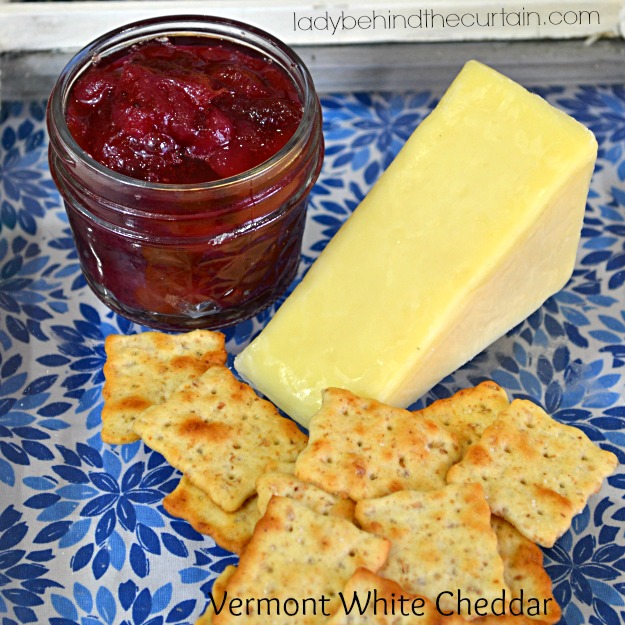 VERMONT WHITE CHEDDAR: Ripened for 12 months in the lush grasslands of Vermont to bring out it's savory, firm, dry texture. I recommend you serve this sharp cheese with a light fruity Pinot Grigio, and to compliment the sharp cheddar add Cranberry Pear Sauce on flat bread crisps. Layer a piece of cheese with a dollop of the sauce for a sweet and savory explosion.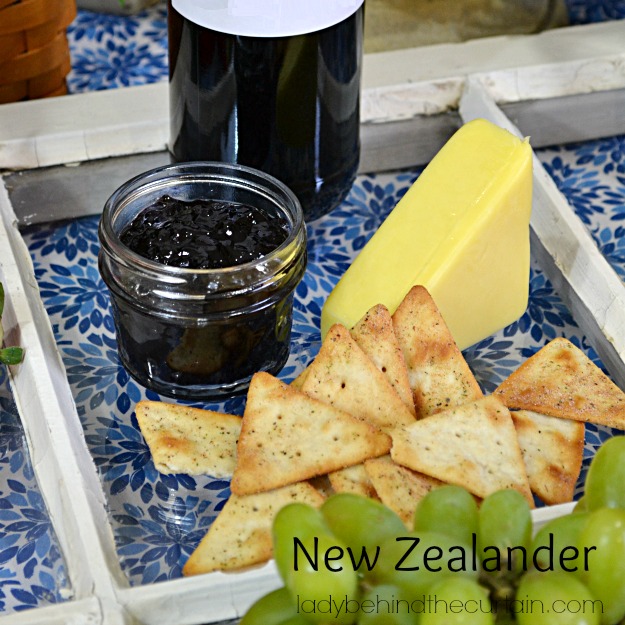 NEW ZEALANDER: Combining the creamy flavor of Gouda with the sharpness of Cheddar helps to create a cheese that is good with sweet and savory foods. I recommend you serve this creamy cheese with a smokey fruity wine like Cabernet Sauvignon and to compliment the sharpness of the cheese serve blueberry jelly on pita chips.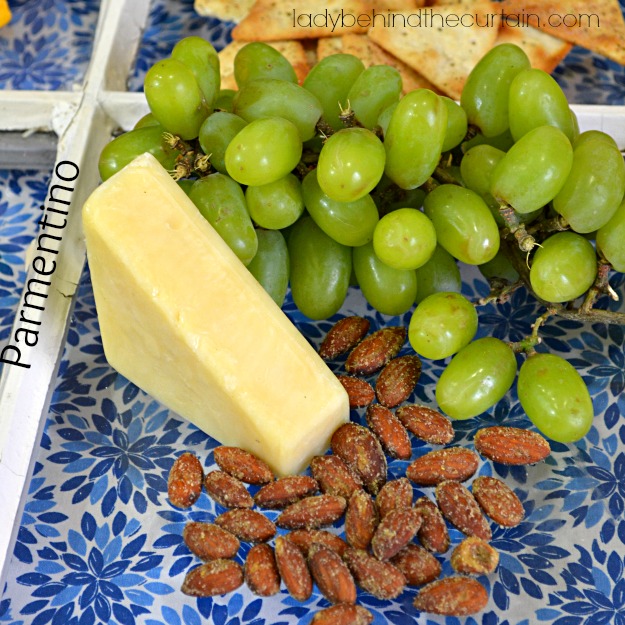 PARMENTINO: Parmesan is blended with English Cheddar with full bodied flavor and some tangy notes. I recommend you serve this tangy cheese with a smokey fruit wine like Cabernet Sauvignon. This cheese is best served with foods that pack an intense flavor like spicy jalapeno almonds and grapes.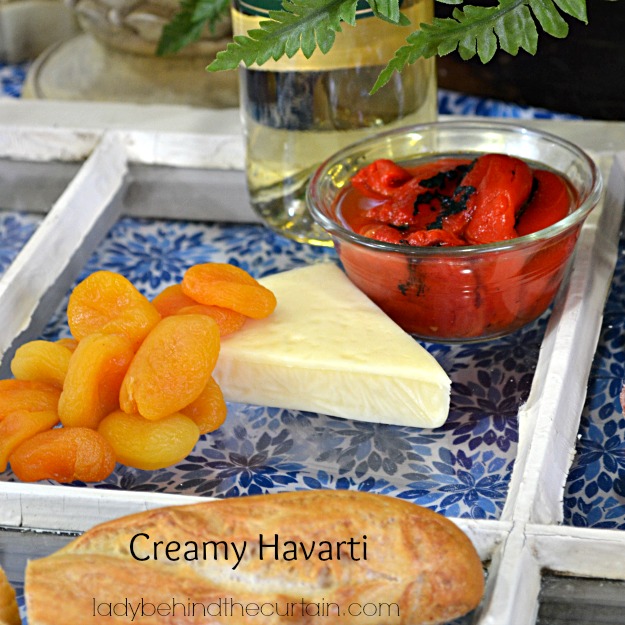 CREAMY HAVARTI: With extra cream this cheese has a softer more, melt in your mouth taste. I recommend you serve a fresh crisp wine like a white Rioja from Spain along with roasted peppers and dried apricots. The combination of the dried fruit with this mild creamy cheese creates it's own delicious flavor.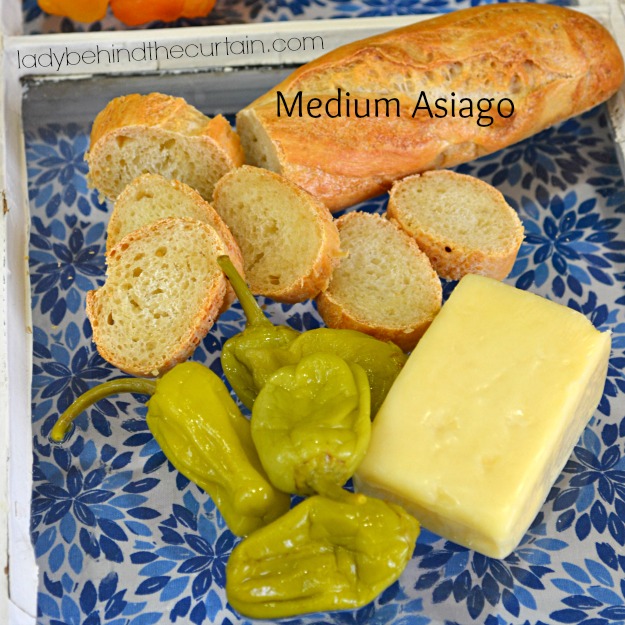 MEDIUM ASIAGO: An incredibly rich and smooth cheese with nutty tones this cheese is best served with a crisp wine like a white Rioja from Spain. Medium Asiago is best when served with foods that pack a punch of flavor like peppers on a baguette.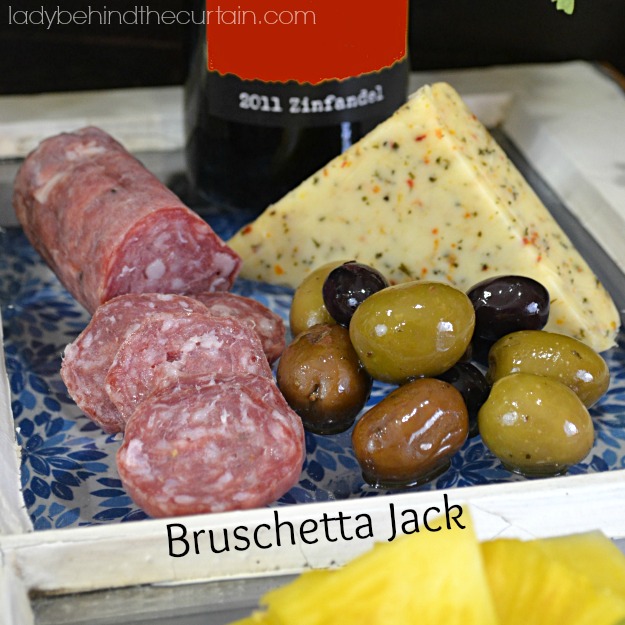 BRUSCHETTA JACK: This soft and creamy cheese has the rich flavor of Monterey Jack with the flavors of bruschetta to make the perfect savory balance. Offset the savory with a full bodied fruity wine like a Zinfandel Wine. Serve this delicious wine with a slice of salami and tangy olives.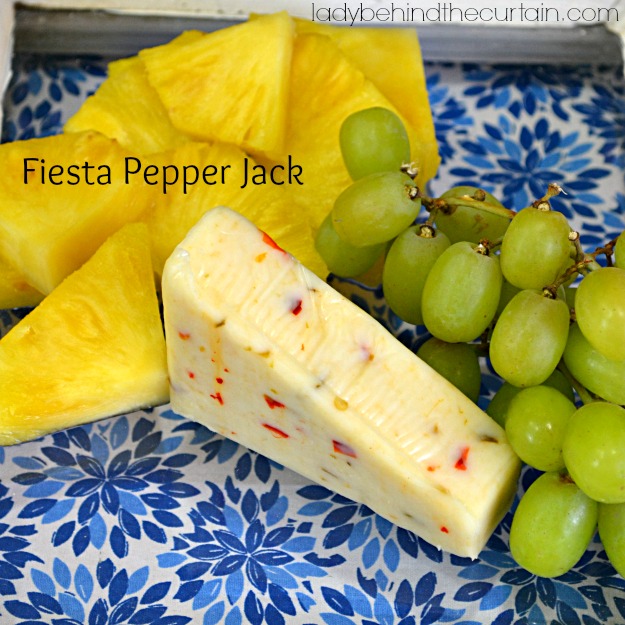 FIESTA PEPPER JACK: Soft buttery Monterey Jack with four spicy peppers. Mixing spicy with sweet makes for the perfect balance. I recommend you serve this spicy cheese with a full bodied fruit wine like Zingandel. Along with the wine also add sweet pineapple and grapes.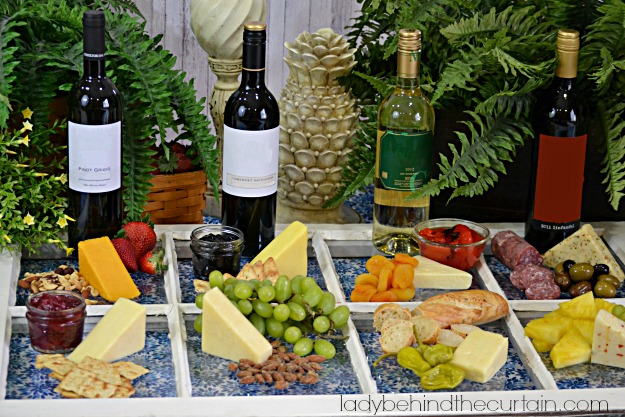 IF YOU LIKE THIS POST THEN YOU WILL LIKE MY….HOW TO BUILD THE ULTIMATE HOLIDAY CHARCUTERIE BOARD.