Old Fashioned Marshmallow Filled Ice Cream Cones
Old Fashioned Marshmallow Filled Ice Cream Cones |  Mini cones filled with the best homemade marshmallow filling you will ever taste.  Styled to look just like the ones you grew up eating in the 70's or earlier!  These retro sweet treats make the perfect fun party treat.
I wanted the cones to reflect the colors of my party so I used Color Mist by Wilton to give them a little color.  That way I could have multiple colors.  I treated the color mist like I would spray paint and used a box to protect my counter.
For decorating the top of the cone, dip the top into clear piping gel or melted white candy melts and into a bowl of sprinkles.  Set aside to dry.
COLOR OPTION:  Use Color Mist to give the cones a hint of color.
I ordered the cute cones from Amazon (where else).  You can purchase mini cones with the flat bottom at Walmart but I wanted the ones with the point like the original Marshmallow filled cones.  If you would like to order cones click here—>>>DINKY DIPPERS MINIATURE ICE CREAM CONES
A little history behind marshmallows:  Marshmallow Products (Marpro) was founded in 1936 by John V. Arbino, a tailor. During the Great Depression, Mr. Arbino observed that while people did not always have money for tailor-made clothes, they did always seem to have pennies for candy! So, with that in mind, Mr. Arbino bought a beater and started into the marshmallow candy business – making clothes during the day and marshmallow treats at night.
He made everything he could think of out of marshmallow and on Saturdays he would load up his car and put his products onto city grocery store shelves on consignment. So long as an item sold, he continued to make it. In January of 1964, the founder was succeeded by his son, Jack. The business continued to grow and prosper.
By the mid-1970's it was evident that the company's future was the Marshmallow-Filled Ice Cream Cone. All other items were discontinued as the company modernized its equipment and dedicated its resources to the manufacture of this unique item.
To this day, the formulas and recipes for the marshmallow filling and the cone remain the same as they were 70 years ago and many of the original customers who ate them as kids now enjoy sharing Marshmallow Cones – and their memories – with their grandchildren! This history lesson is provided BY OldTimeCandy.com
Here is what the original Marshmallow Filled Ice Cream Cones look like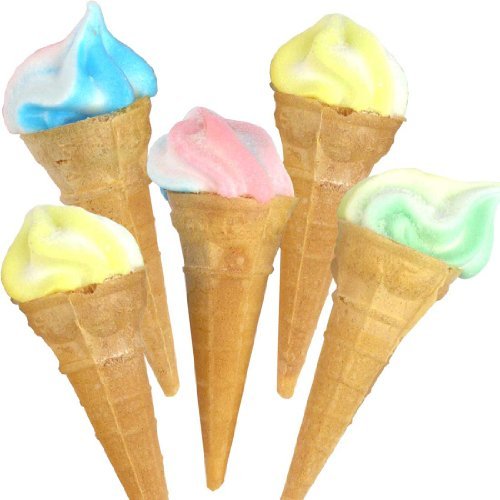 MORE FUN PARTY FOOD
FRUITY CANDY POPCORN  2. FRIED CORN ON THE COB  3. CRACKER JACK ICE CREAM SUNDAE
NEVER MISS A POST!
Sign up for my newsletter (two per month) and receive my recipes in your inbox. Easy to see anytime and saved for safe keeping. Click Here and sign up today! —->>>>CURTAIN CALL NEWSLETTER