Momma Spider Halloween Pull Apart Cupcakes
Momma Spider Halloween Pull Apart Cupcakes: Halloween just got super cute! This fun Halloween Party cupcake pull apart starts with easy to make semi homemade dark chocolate cupcakes and an delicious orange frosting that only takes a few ingredients to make. This year add some fun to your kid's Halloween party with these Momma Spider Halloween Pull Apart Cupcakes. Create a large pull apart or individual cupcakes. I'm always open to a good cake hack and let's be honest…it's really all about the frosting (for me anyway)! Scroll down to see the cake hack↓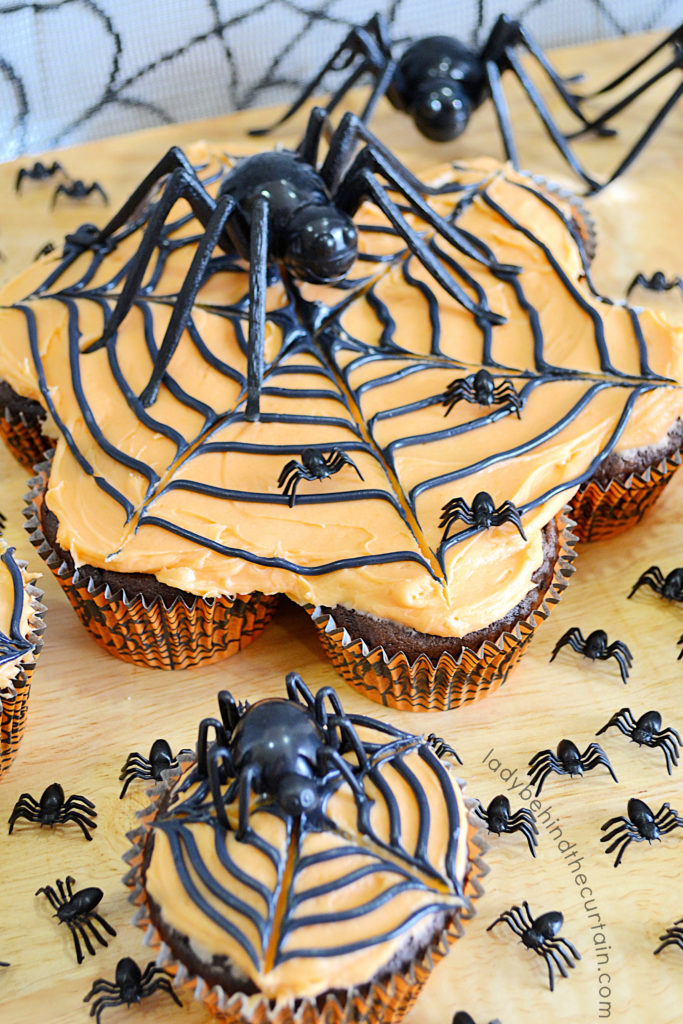 Add Extra Flavor to a Store Bought Cake Mix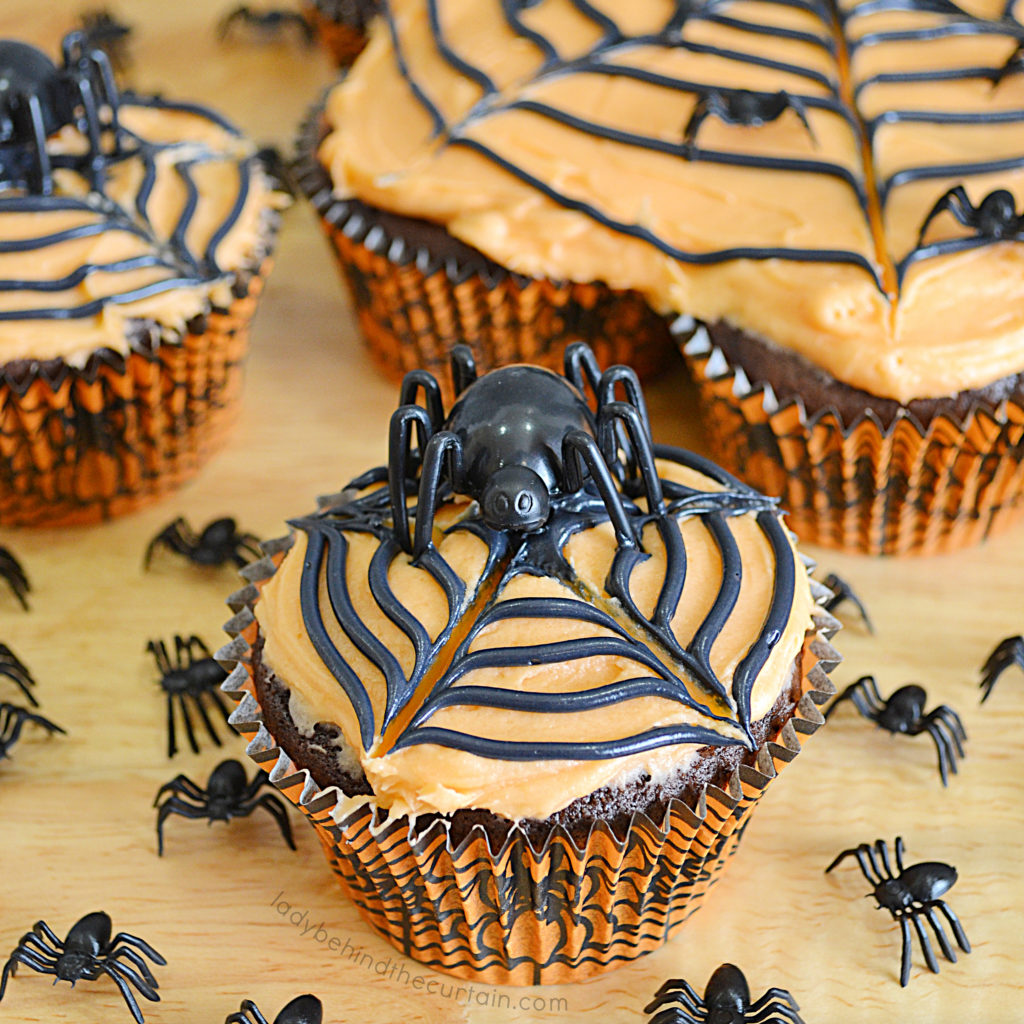 Why does this cake baking hack work?
Because the ingredients that make the cake rise are actually in the boxed mix, you are only adding the wet ingredients that make your cake moist. This hack is perfect if you're short on supplies.
Soda Can Recipe Combos
WHITE CAKE MIX + ORANGE SODA = CREAMSICLE CAKE
STRAWBERRY CAKE MIX + CREAM SODA = STRAWBERRY SHORTCAKE
CHERRY CAKE MIX + DR. PEPPER CHERRY = VERY CHERRY CHIP CAKE
LEMON CAKE MIX + SPRITE = ZESTY LEMON CAKE
WHITE CAKE MIX + GRAPE SODA = PURPLE COW CAKE
SPICE CAKE MIX + GINGER ALE = GINGER SPICE CAKE
DEVIL'S FOOD CAKE MIX + DIET COKE = LIGHT DEVIL'S FOOD CAKE
VANILLA CAKE MIX + ROOT BEER = ROOT BEER FLOAT
SPIDERS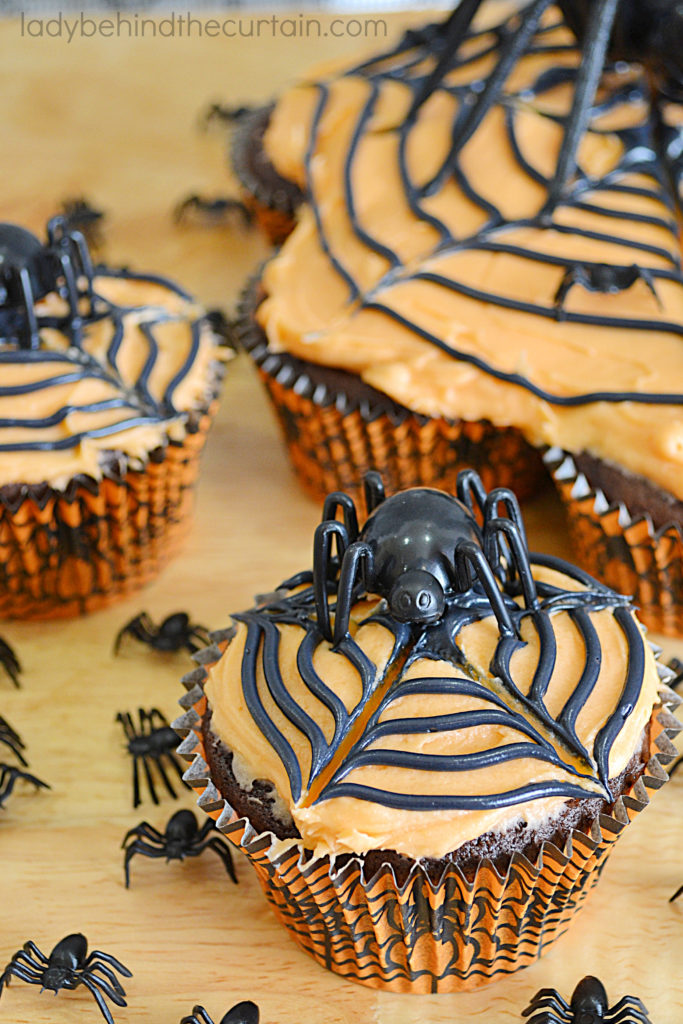 How to Make Momma Spider Halloween Pull Apart Cupcakes
INGREDIENTS (scroll down for full printable recipe and instructions)

FOR THE CUPCAKES:
1 (15.25 ounce) chocolate cake mix
1 (12 ounce) coke
½ cup dark chocolate chips
FOR THE ORANGE FROSTING:
¼ cup unsalted butter, softened
1 (8 ounce) cream cheese, softened
1 (3 ounce) package dry orange gelatin
3 cups powdered sugar
1 teaspoon vanilla extract
FOR THE SPIDER WEB:
16 ounce tub vanilla frosting
black gel food coloring

INSTRUCTIONS:

FOR THE CUPCAKES:
Preheat oven 350°.
Line muffin tin with 18 cupcake liners.
In a mixing bowl combine the cake mix and coke until creamy and well combined; stir in chocolate chips.
Fill muffin cups three-fourths full.
Bake 20 minutes.
Cool for 10 minutes in muffin cups then transfer to a wire cooling rack to cool completely.
FOR THE ORANGE FROSTING:
Whip together the butter and cream cheese.
Add the gelatin and mix until completely combined.
Add the sugar, mix until creamy.
Add the vanilla and mix until light and fluffy (about 3 minutes).
FOR THE BLACK SPIDER WEB FROSTING:
Mix enough black gel food coloring into the tub of vanilla frosting to reach the desired color of black.
TO ASSEMBLE:
Put cupcakes in bunches of 7.
Using an offset spatula add frosting in one solid layer to the edges of the cupcakes.
Fill a piping bag fitted with the #3 tip with the black frosting.
Start in the center and make circles until the edge is reached.
Add a dollop of the black in the center.
Using a skewer or knife draw from the center out to the edges of the cupcakes.
Do the same for the individual cupcakes.
Decorate with spiders.
MORE HALLOWEEN CUPCAKES
NEVER MISS A POST