Patriotic Cookie Dippers
Lady Behind the Curtain
Posted on
by
Sheryl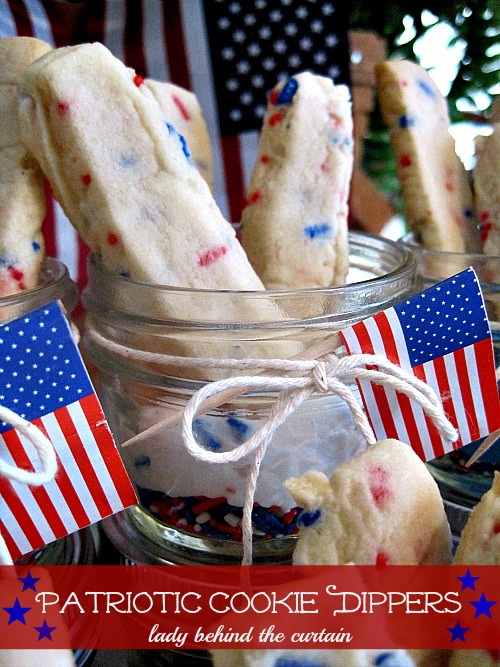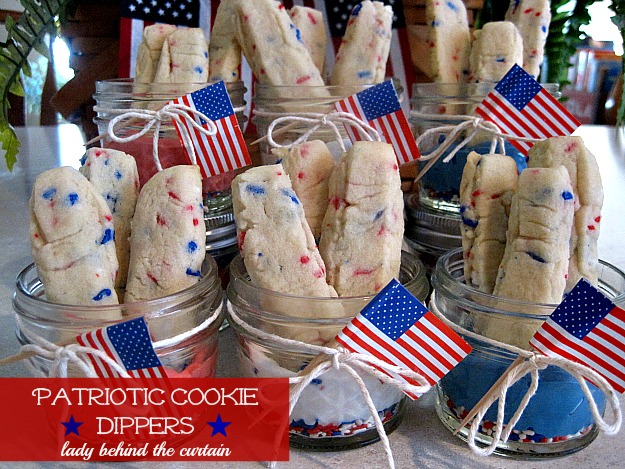 These Patriotic Cookie Dippers are the perfect little treat!  Easy to handle and just the right amount.  Serve some on the side without frosting for the guest who doesn't have a sweet tooth but wants just a little something. These cookies are also the perfect size for little hands.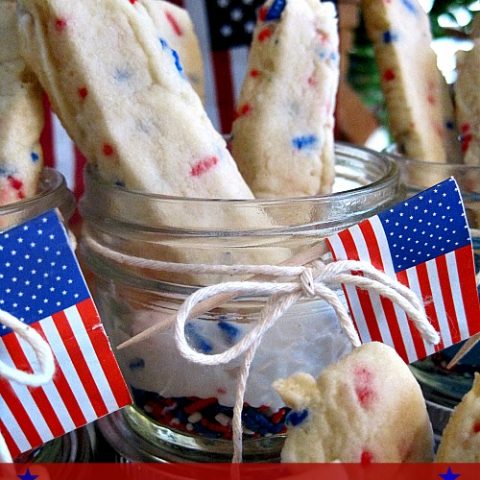 Patriotic Cookie Dippers
Yield:
Makes 48 Cookie Dippers
Ingredients
For the Cookie Dippers:
3/4 cup granulated sugar
1/3 cup shortening
6 tablespoons butter, softened
1 egg
1 tablespoon milk
1 teaspoon vanilla
2 cups all-purpose flour
1-1/2 teaspoons baking powder
1/4 teaspoon salt
3 tablespoons sprinkles (optional)
For the Butter Frosting:
3/4 cup butter, softened
2 pounds confectioners' sugar
1/3 cup milk
2 teaspoons vanilla
food coloring (optional)
Instructions
For the Cookie Dippers:
Cream sugar, shortening, and butter until fluffy.
Add egg, milk and vanilla; beat well. In a separate bowl mix together the flour, baking powder, and salt; add the flour mixture to the butter mixture and combine.
Once the cookie dough has come together add the sprinkles and mix.
Roll dough to a 8-inch x 10-inch rectangle. Using a ruler cut strips 1/2-inch wide from top to bottom.
Cut horizontally into 3 equal parts.
You should end up with 48 cookies.
Using a spatula transport cookie sticks to a cookie sheet.
Place 1-inch apart.
Using your fingers straighten the sticks.
Freeze for 30 minutes.
While the cookies are in the freezer preheat the oven to 375 degrees.
When the cookies are hard to the touch.
Bake for 10 to 12 minutes.
Transfer to a cooling rack.
For the Butter Frosting:
Beat butter until smooth.
Gradually add 2 cups of the confectioners' sugar, beating well.
Slowly beat in the 1/3 cup milk and the vanilla.
Gradually beat in the remaining confectioners' sugar.
Beat in additional milk until frosting reaches spreading or piping consistency.
If desired, add food coloring.
To help control the mess I put my frosting into zip top bags, cut one corner and piped into the jar.
I added a few extra sprinkles to the bottom of the jar.