I have a real treat for you …Breakfast!  These Bread Pudding Muffins are so good you'll have to either hide them in the pantry or put them in the freezer so you don't eat them all in one day.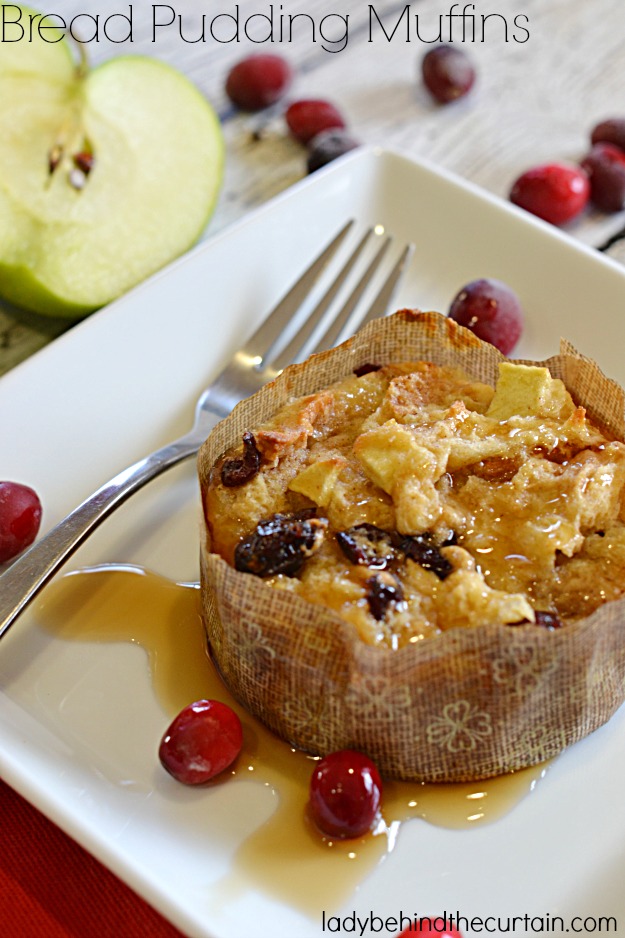 These Bread Pudding Muffins have everything you love about bread pudding.  Fruit, spices and a creamy inside.  We recently went on vacation to Disneyland.  The hotel we stayed at didn't serve breakfast.  Can you imagine?  I thought all hotels served at least a crappy continental breakfast.  🙂   Anyway I took these and they were perfect!  We at least had a microwave so I heated them.  I also ate them cold.  They were so good I didn't care and filling too!
YOU CAN SERVE THEM WITHOUT SYRUP!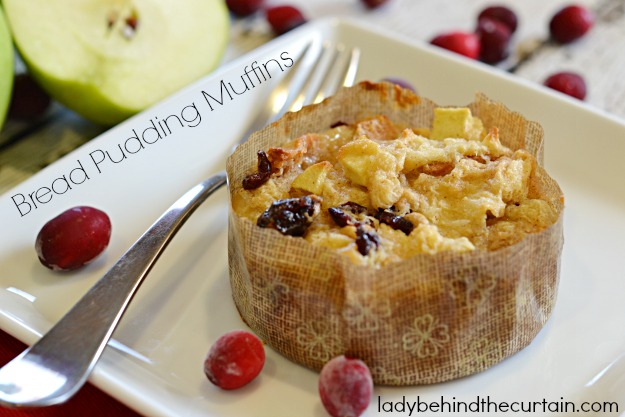 I used Challah bread.  I have a confession…when I first saw challah bread I pronounced it ch-allah bread.  It was later on the Food Network that I heard a chef pronounce it correctly and I was horrified to learn that the c is silent.  Mind you I ordered my bread from a bakery pronouncing it wrong and they let me continue doing it.  😳 WHATEVER!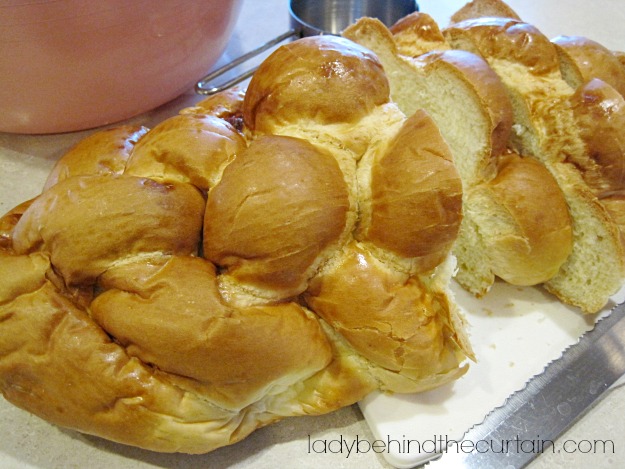 If you can't find Challah bread you can also use these breads; french, broiche, croissant, italian or panettone.  The crusts can be left on or removed.  I leave it on.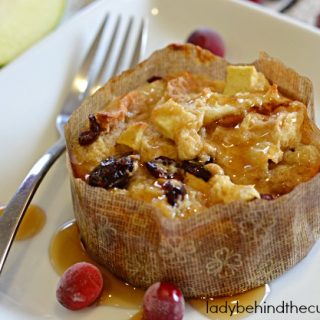 Bread Pudding Muffins
Yield:
Makes 13 Muffins or 3 Dozen Mini Muffins
The perfect grab and go brunch breakfast item.
Ingredients
1 pound (French or Challah) loaf of bread, cut into bite size pieces
1 Cup milk
1 Cup half & half or light cream
4 Large eggs, lightly beaten
2/3 Cup granulated sugar
1 tablespoon vanilla extract
6 Tablespoons unsalted butter, melted and cooled
1/3 Cup all purpose flour
1/2 Tablespoon baking powder
1/2 Teaspoon salt
1/2 Teaspoon ground cinnamon
1/2 Cup dried cranberries
1 Small Granny Smith apple, peeled, cored, and diced or thinly sliced
Instructions
Preheat oven to 350°.
Place rack in the middle of the oven.
Butter well or spray, with a non stick spray. I would recommend using liners.
Place the bread cubes in a large mixing bowl and add the cream and milk.
Let stand for five minutes.
Then stir in the beaten eggs, sugar, vanilla, and melted and cooled butter.
In a separate bowl, combine the flour, baking powder, salt and ground cinnamon.
Stir this mixture into the bread cube mixture and then fold in the cranberries and apple chunks/slices.
Evenly divide the mixture among the 13 muffin cups (about ½ cup each). Bake for about 25 to 30 minutes, or until golden brown and a toothpick inserted in the center comes out clean.
Place on a wire rack to cool. You can dust with confections sugar and drizzle maple syrup on top before serving.
Notes
Mini muffins: Makes 3 dozen, bake 15 minutes. Make sure to make the bread cubes and apple cubes smaller.
This recipe is from Lady Behind The Curtain
MORE BREAD PUDDING RECIPES

1. CINNAMON ROLL BREAD PUDDING  2. CRANBERRY PEAR CINNAMON BREAD PUDDING  3. PECAN PIE BREAD PUDDING