Red Velvet Gooey Butter Cake
Watch your families eyes roll to the back of their heads when they take their first bite of the Red Velvet Gooey Butter Cake!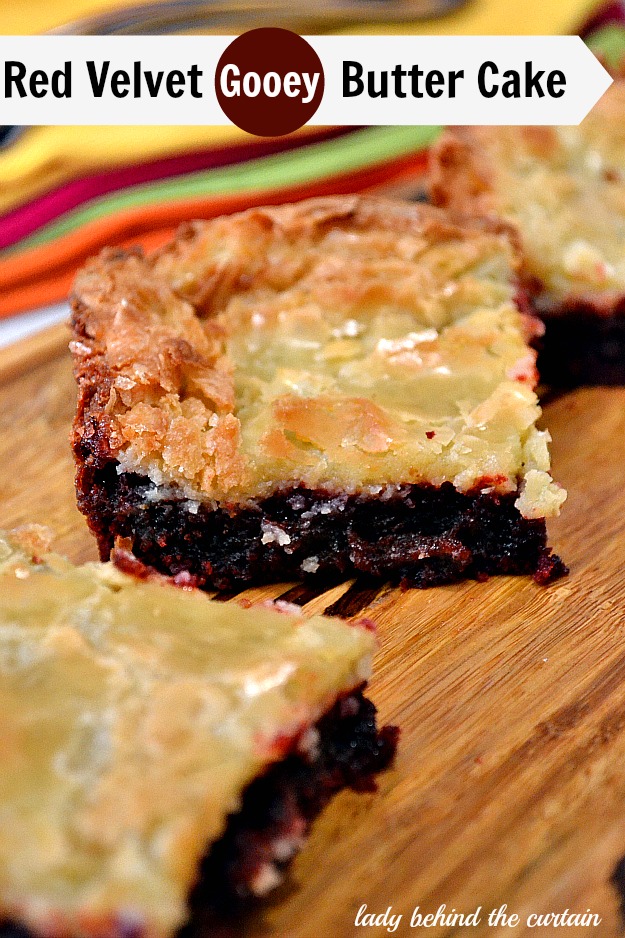 This easy red velvet gooey butter cake will leave you wanting more.  It's the kind of cake that you have to eat with your eyes closed in order to enjoy ALL it's yummy goodness.  So make TWO!  One for you and one for everyone else.  🙂
Create your own Recipe Box and save your favorite Lady Behind The Curtain recipes.  Make a Meal Plan with your favorite recipes and ZipList will automatically add the ingredients to a Shopping List.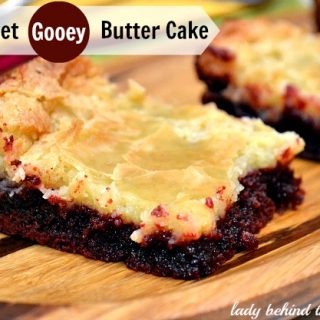 Red Velvet Gooey Butter Cake
Total Time:
1 hour
20 minutes
Make two! So you can have your own!
Ingredients
For the Cake:
red velvet cake mix
1 egg
8 tablespoons butter, melted
For the Filling:
1 - 8 ounce package cream cheese, softened
2 eggs
1 teaspoon vanilla extract
8 tablespoons butter, melted
1 - 16 ounce box confectioners' sugar
Instructions
For the Cake:
Preheat oven to 350 degrees.
Combine the cake mix, egg, butter and mix well with an electric mixer.
Pat the mixture into the bottom of a lightly greased 9x13-inch baking pan.
For the Filling:
In a large bowl, beat the cream cheese until smooth.
Add the eggs, vanilla and butter and beat together.
Add the confectioners' sugar and mix well.
Spread over cake batter and bake for 40 to 50 minutes.
Make sure not to over bake as the center should be a little gooey.